Homemade rhubarb liqueur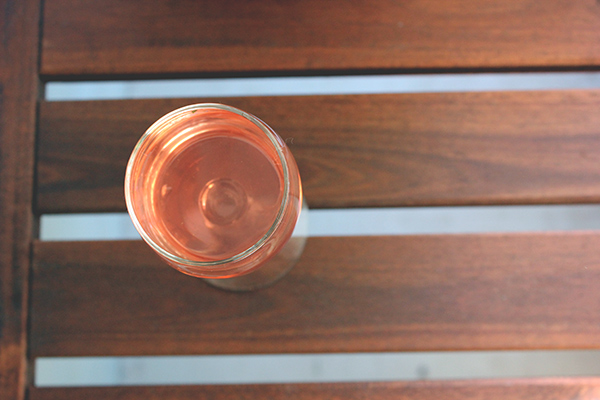 My cooking in the summer becomes a lot more like assembling than really cooking. Assembling, and laying things on the grill, and tossing together vinaigrettes, and washing fruit to eat it straight out of the bowl. That's one reason, among others, that I haven't said much around here lately, but the important point here is to note that now I am here, with something that deserves your attention, especially as this long weekend approaches. (Not that you need a long weekend to make it – really, you need about five minutes.)
This recipe is a doozy, and boozy – a boozy doozy? – and if you're a person, like me, who actually likes flavored alcohol when it tastes like flavors of actual, real-life ingredients, this one's for you. Get yourself a couple of pounds of rhubarb, abundant at our markets these days and perhaps abundant in your yard, your neighbor's yard, your grandmother's yard, etc. etc., then submerge it in alcohol with a bit of sugar and orange and in a few weeks, you'll be set for summer host gifts and picnic contributions and those evenings that require just one more sip of summer before heading to bed.
I originally made this rhubarb liqueur because I bought a couple of big bunches or rhubarb not remembering that we were about to head out of town. So I chopped it up, mixed it together with a bit of sugar and orange liqueur and a whole bunch of vodka, and let it sit for a full month before opening it again. We started drinking it this week, and on more than one occasion have proclaimed it the drink of the summer. Even better than the color (a gorgeous, sunset-like pale pink just beginning to hint at orange undertones) is the aroma, fresh and tart, which leads me to say things like "the essence of garden rhubarb." (Not sure when I started talking like that, or if I've ever even smelled rhubarb in a garden, but you get the point.)
This liqueur is not nearly as sweet as some others that we've made, perfect for sipping without being cloying, but also tart enough that to mix it with soda water or in a cocktail may require a bit of additional simple syrup or other sweetener. I'm looking forward to using it in cocktails, particularly a strong, lime-heavy rhubarb gimlet or maybe in a radler with beer, lemonade, and soda water.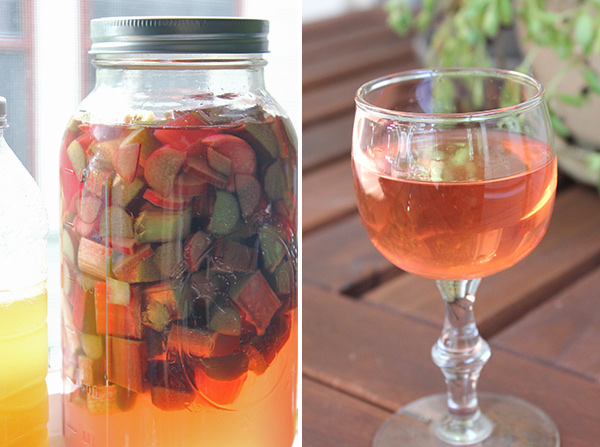 One last thing – if you're looking for some summer picnic inspiration and/or a lovely summer recipe, I recently wrote about picnics over at The Kitchen Gallery's blog, including a recipe for a delicious pearl couscous salad with garlic scape pesto and sauteed radishes. We brought it to the first Concerts on the Square last week, and it was fantastic. See the post here.
Rhubarb liqueur

Makes about 6 cups

Note: Quantities of ingredients here can be approximate. And if you find that you want it sweeter, you can always add more sugar or simple syrup toward the end. 

1 cup sugar
1/2 cup warm water
6 cups vodka
1/2 cup orange liqueur
1-2 lbs. rhubarb, washed and chopped/sliced into 1/2″-1 1/2″ segments

– Combine ingredients In a large (1/2 gallon) jar or other container, first mix together the sugar and warm water until the sugar is at least mostly dissolved. Add the vodka and orange liqueur and stir or shake to combine. Add the rhubarb, cover the container, and leave it at room temperature for 2-4 weeks, shaking the container to mix it up every few days. Strain out the rhubarb after that time and store in a closed container at room temperature.

Storage/making ahead: The liqueur will keep indefinitely at room temperature. Store in a closed container, like a jar or a swing-top bottle.