Caramelized apple Dutch baby pancake
As the holidays approach, I can sense a growing anxiety in the conversations about food that I have with other people. From simple office potlucks to special holiday feasts and everything in between, this time of year can be particularly taxing for folks who start to feel overwhelmed by what needs to come out of their kitchens. There's pressure to make something exciting and to keep up with traditions, to make things that feel special, and to get it all right, even when you've maybe never made the dish before. Sharing and enjoying food you've made can be one of life's best moments, but it's easy to let anxiety build and overshadow the experience. I get that; it happens to me too.
What's my advice for overcoming it? Oh boy. It's woven through my classes and through all the conversations I have with anxious home cooks, but it would take a bit of thinking and a fair amount of time to write it all out – and we all know this isn't a time of year prone to excess time hanging around. So for now, I'll just leave you with a secret weapon – a caramelized apple Dutch baby.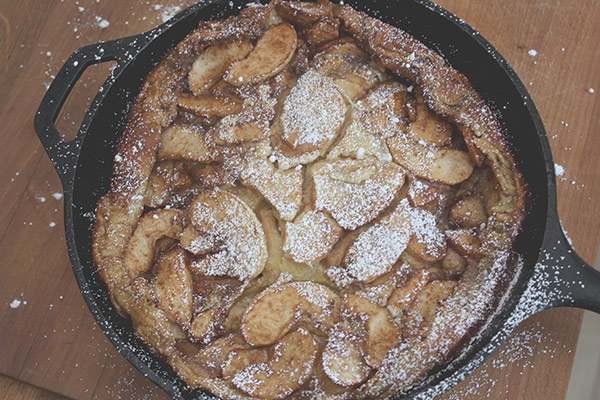 If I were to write a list of strategies for overcoming holiday cooking anxiety, one of the points on that list would surely be to find a selection of simple-yet-impressive dishes that can fill the gaps in both holiday meals and in all those other meals that pop up whenever you have visitors or gatherings. It's easy to forget about all the other breakfasts and snacks and desserts that happen in the days around a big meal, and when you find yourself faced with peckish house guests, you'll need a few tricks up your sleeve. Or maybe it's just you, at home on a sleepy morning or cozy evening, looking for something warm and homey to counteract the hectic days of the season.  In either case, this thick, eggy pancake topped with caramelized apple slices is just the ticket.
I've written about Dutch babies before – a simple yet ingenious combination of flour, milk, and eggs that puffs in the oven to create an elegant yet incredibly easy breakfast dish perfect for simple toppings of jam, maple syrup, or lemon juice and sugar. This takes the Dutch baby to a new level, topped with apple slices coated in caramelized brown sugar and cinnamon. The edges of the pancake coat themselves in that caramelized apple drippings-sugar mixture, taking on a completely satisfying chewy quality, and you'll find yourself picking the crusty edges left behind in the pan. It's a completely natural pairing for plain yogurt or a dollop of créme fraîche, and whipped cream or ice cream transforms it just across the border into dessert territory.
Caramelized apple dutch baby

Makes 4 moderate servings

3/4 cup flour
1/4 cup + 1 Tbsp. brown sugar
1/2 tsp. salt
1/4 tsp. nutmeg
5 eggs
1 cup milk
1/2 tsp. vanilla
1/4 cup (1/2 stick) butter
1 tsp. cinnamon
3 apples, peeled (if you want), cored, quartered, and sliced into 1/4″ slices
Powdered sugar for garnish (optional)
For serving: Plain yogurt, whipped cream, créme fraîche, or ice cream

– Heat oven to 400F. Place an ovenproof 8-10″ skillet in the oven (cast iron works particularly well here).

– Whisk together most dry ingredients – flour, 1 Tbsp. brown sugar, salt, and nutmeg. Set aside.

– Whisk together wet ingredients – eggs, milk, and vanilla. Set aside.

– Caramelize the apples Toss the apple slices with the 1/4 cup brown sugar and the cinnamon. Cut the butter into chunks and place in the hot pan in the oven until melted (just a minute or two). Spread the sugar-coated apples in the pan and bake until soft and bubbling, about 10 minutes.

– Make batter and bake While apples are caramelizing, whisk together dry and wet ingredients until fully combined. When apples are done, remove pan from the oven and pour batter over apples. Put back in the oven and bake until set, about 18 minutes. Remove from the oven and let cool – the pancake will puff significantly in the oven and deflate as it cools. Serve from the pan. Sprinkle with powdered sugar (tapped over the pancake in a mesh sieve is an easy way to make this look really pretty) and serve with plain yogurt, whipped cream, créme fraîche, or ice cream.

Making ahead/storage: The pancake will be best when served still warm from the oven, but leftovers are good at room temperature or slightly warmed in the oven, in a slightly greased pan, or in the microwave.