Lemon-coconut salmon and asparagus grain bowls with pink rice
Between work, teaching, and all the various tasks that come along with expecting a new family member in, oh, four months, I haven't had a lot of time lately to cook creatively and try out new recipes. Even this one isn't particularly new – more like a new combination of things I make fairly regularly. But I'm feeling pretty inspired by the spring produce starting to trickle in, and I've been trying to eat more fish lately (baby, your brain is going to be so powerful!). When the seafood counter was out of my favorite lake trout fillets we decided to splurge on a piece of wild Sockeye and go with that instead, but I prepare trout and salmon pretty much interchangeably, so either would work in this recipe. All together it was a pretty perfect spring dinner, healthy and flavorful and reasonably quick. There are a few good cooking lessons to be learned here (especially in cooking the fish – my all-time favorite, go-to method), so I'll take each component one at a time and add some helpful notes!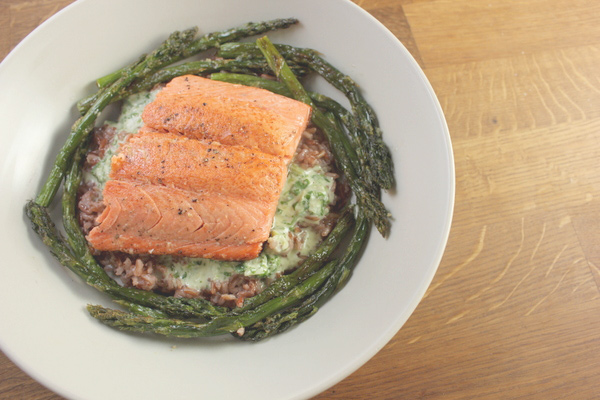 This lemon-coconut sauce is one I use often, but mostly for Thai-inspired dishes. It makes an excellent spring roll dipping sauce and is great in a cold noodle salad, for instance. It's fairly rich but still refreshing and intensely flavorful, especially if you have the forethought to make it a day in advance. You can use a food processor (which I usually do, but our little old Mini-Prep isn't particularly photogenic) or a mortar and pestle to grind up the vegetable base (shallot, garlic, scallion, chili), then stir that rough paste together with cilantro, coconut milk, lemon juice, and salt. It's a pretty unique flavor, but absolutely perfect for spring dishes.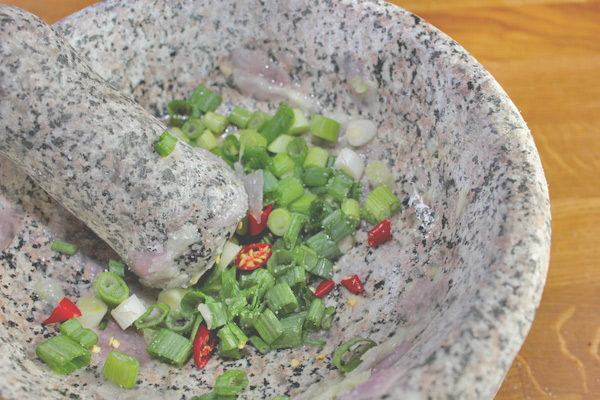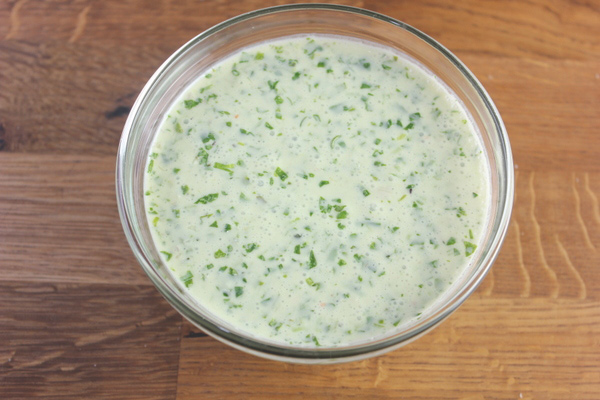 You can really use any sort of grain as a starch base for this assembly. I'm actually not a very outside-the-box user of grains – my dirty little secret is that I don't even like brown rice and really never have it in the house – but I'd heard that the bulk section of our co-op carries some particularly delicious varieties of exotic rices, and when we realized they weren't nearly as expensive as we would have thought, we picked up a few cups of the Madagascar pink rice to see how that went. It cooks up similarly to white rice but is a bit chewier and has a fantastic, earthy, toasty flavor that was a nice complement to the bright, flavors of the lemon-coconut sauce and fish. We'll definitely be buying it again!
Like with other basic rice preparation, you have a few options here – I suggest rinsing the uncooked rice in a sieve before cooking just to wash off a bit of extra starch, but if you skip that you'll still be fine. You can also toast the rice in a bit of cooking oil before adding the cooking liquid, which will bring out even more of the toasty flavor of the rice (or whatever grain you use). I used water to make this rice because it was the most convenient, but cooking grains in meat, vegetable, or seafood stock, coconut milk, whey, or other flavorful liquids is a key method for improving the flavor of basic grains. I'm excited to try the pink rice with coconut milk next time.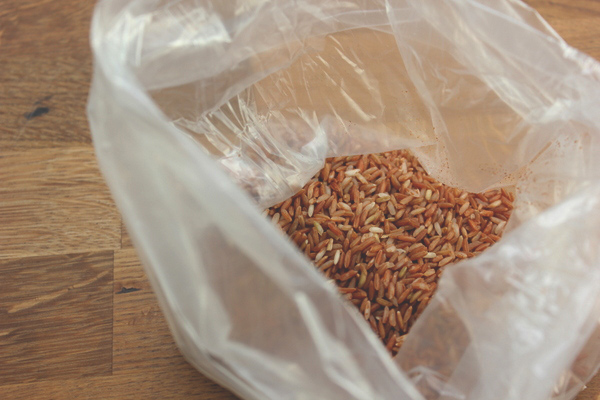 Roasting the asparagus is pretty straight-forward and easy. Just make sure you coat it with enough oil to slick the surface (but not so much that it really puddles around the stalks on the pan), and toss the stalks with a bit of salt and pepper before roasting. I roast vegetables on a silicone baking sheet liner (Silpat brand, though other brands are great too!) for ease in clean-up and to assure I don't leave any stuck vegetable parts behind on the pan, but that's not necessary. Don't crowd the asparagus in the pan – definitely arrange it in just one layer, and with a bit of space between the stalks. This will help the stalks get those delicious brown roasty bits and not just steam in the oven. Adding lemon zest and/or chili flakes before roasting is also really nice.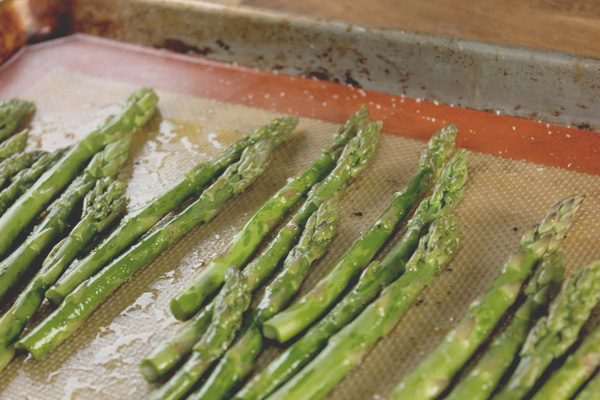 The method I describe below for making salmon or trout fillets is my absolute favorite. The skin side and the top get golden brown and a bit crispy, and you can cook it so that it's cooked through (generally best if you're adding a creamy sauce) or so that it's more tender and raw on the interior. You lightly coat the fillet with oil and seasoning, then start it skin side-down in a hot pan, flip it and slide it into a hot oven (along with the asparagus pan, if you follow the process below) and take it out when cooked to your desired level of doneness. If you go too long the fillet can dry out a bit, but generally you end up with an easy method for tender, flavorful fillets every time. Inspired by the sauce, this time I slicked the fillet with coconut oil before using (which you can see slightly firming up and turning white on the cool piece of fish), which was delicious.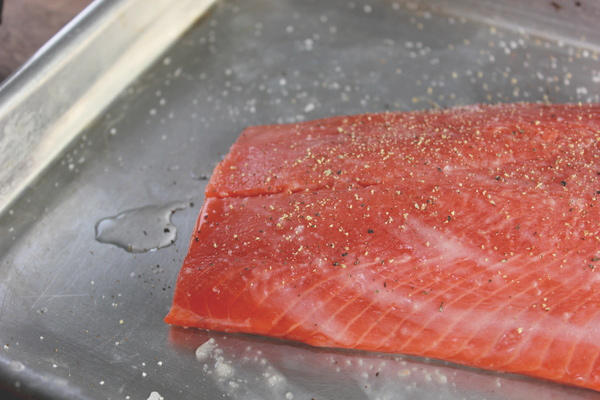 I couldn't quite finish my dish last night at dinner (while the little one is making me hungry pretty much every moment of every day these days, my capacity isn't quite what it used to be), and had leftover fish and sauce with scrambled eggs and toast this morning – an absolutely perfect breakfast!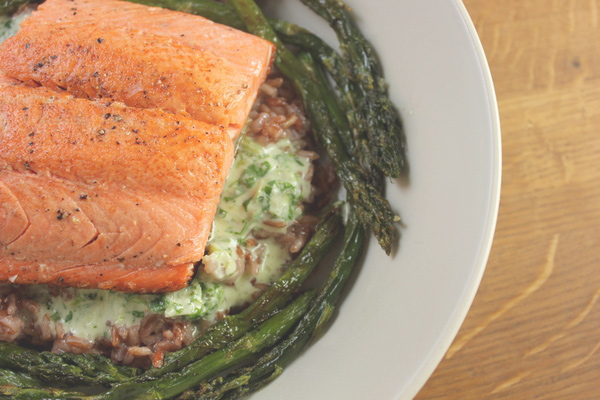 Lemon-coconut salmon and asparagus grain bowls w/ pink rice

Makes about 2 servings; easily scalable

1/2 cup pink rice (or other grain)
About 2/3 lb. fresh salmon or trout fillets, preferably skin-on, left at room temperature for at least 15 minutes before cooking
1 bunch asparagus, woody ends snapped off
1/2 cup (or to taste) lemon-coconut sauce, recipe below
Cooking oil: olive oil, coconut oil, sunflower oil, or a variety of other oils work well here
Salt and pepper

– Heat oven to 375F for the salmon and asparagus.

– Make the sauce If you need to prepare the lemon-coconut sauce, this is the best time to do so. The rice, asparagus, and salmon are all fairly quick. 

– Make grain Depending on what grain you use, preparation will vary. For two moderate servings of pink rice, rinse 1/2 cup rice under running water to wash away excess starch. Combine in a small pot with 1/2 tsp. salt and slightly over 3/4 cup water. Bring to a boil, reduce heat, cover the pot, and cook for 25 minutes. Turn off the heat (or remove from the burner, if using electric) and let sit 5 more minutes with the lid on. Remove lid and taste – pink rice will be a bit more toothsome than white rice, but if it's unpleasantly chewy or there's still water in the pot, put back on low heat without the lid until done and water is absorbed/cooked off.

– Roast asparagus Toss/rub the asparagus with enough cooking oil (e.g. olive oil, coconut oil, sunflower oil) to coat. Add a healthy pinch of salt and some freshly cracked black pepper. Roast until desired tenderness – I like about 15 minutes for moderately sized stalks. (Make sure to arrange the pan in the oven so the fish can fit in too!)

– Prepare and cook fish Coat the fillet with cooking oil (in this case I used coconut oil) and salt and pepper. Heat an ovenproof skillet (no plastic handles unless they've been rated to at least 375F!) over medium-high heat. Add the oiled fillet skin side-down and cook undisturbed for at least 5 minutes, until the skin is golden brown and releases from the pan. Most likely, you'll see from the exposed edges as the cooked part of the fish creeps upwards. Flip the fillet over (skin side-up) and slide into the oven until desired doneness – timing depends on how much of the fillet cooked on the stove and how thick the fillet is, but I find another 5 minutes is usually sufficient (I generally like my salmon on the rare side in the middle, though I'm cooking it more thoroughly now when I'm pregnant).

– Assemble the bowls You can do this any way you like, of course, but I started with a mound of the rice on the bottom of my shallow bowl. My asparagus was tender enough to curve into a "nest" around the rice, then I topped the rice with a few spoonfuls of sauce and half the salmon fillet. (Had I thought ahead about the most photogenic setup for the fish, I would have cut the fillet in half before cooking.) Top with excess chopped cilantro from making the sauce, if you have it.

Storage/making ahead: All elements of this dish will keep a day or two in the refrigerator. The sauce will continue to build in flavor, including spiciness if you've added chilies. Everything is good at room temperature or warm. (Cold rice isn't my favorite thing, but all other parts are good cold too!) Sauce and asparagus will keep for up to 5 days. 
Lemon-coconut sauce

Adapted from 101 Cookbooks

Makes about 1 generous cup; easily scalable

1 small shallot or 1/2 medium shallot
1 clove garlic
3-4 scallions, roots removed and roughly chopped
1 Thai chili or 1/2 serrano or jalapeno pepper (optional, and can be adjusted to desired spice level – dried red chili flakes or chili sauce work well here too)
Large handful chopped cilantro leaves and stems
3/4 cup coconut milk, preferably full-fat
1-2 Tbsp. sunflower oil, coconut oil, or any neutral-flavored oil
2 Tbsp. fresh lemon juice
Salt

– Grind vegetable base Using a mortar and pestle or a small food processor, process shallot, garlic, scallions, and chili (if using) into a rough paste. If using a mortar and pestle, periodically adding small pinches of salt will help greatly in breaking up the material.

– Add other ingredients In a separate bowl, combine vegetable paste with cilantro, coconut milk, oil, and lemon juice. Add salt to taste.

Storage/making ahead: Sauce will keep well in the refrigerator for up to 5 days. Flavors will intensify somewhat, including spiciness if you use chili. You may also want to adjust salt as the sauce sits.