Pretzel buns (All Whisked Up swap)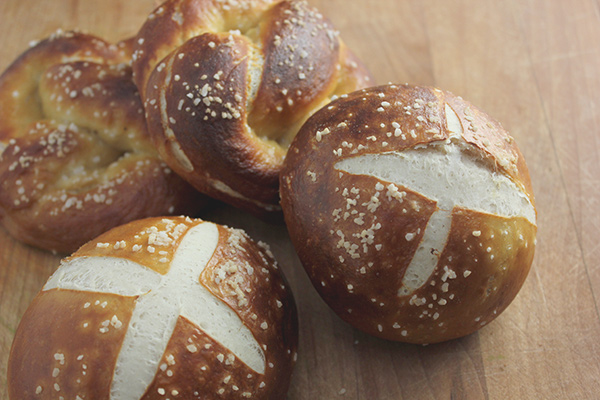 It's time for another All Whisked Up! I'm one of the founding members of Wisconsin Whisk, and every few months we randomly assign blogs to feature one another's recipes and to introduce our readers to other local sites. Perhaps, for some of us, it also helps us commit to writing a little more often … (apologies, apologies).
This round I was pleased to be assigned to All Food Considered, a Madison-area blog from T.J. Thering. T.J.'s background in engineering gives him a particularly methodical approach to his content and, as his title might suggest, the site's recipe index covers an impressive array of cuisines and techniques. My favorite part of his site is his collection of 31 culinary lessons, including his advice on kitchen equipment, an overview of ingredient substitutions, and a detailed guide to eggs (as many of you know, my absolute favorite food). This is the sort of content I've always intended to develop here on my own site, but T.J. has actually made it happen – perfect for the beginning cook, someone looking for answers to basic cooking questions, couples putting together a registry, or a recent college graduate looking for how to stock and use their first real kitchen.
As tempted as I was to make T.J.'s crazy cake with glossy chocolate icing, I'm certainly not wanting for desserts at the moment (thanks to those Girl Scouts lying in wait outside the grocery store, ahem ahem), so I instead landed on his soft pretzel recipe to accompany a dinner of bratwursts, braised homemade sauerkraut, and our favorite German tarragon mustard, generously brought to us from a friend who spent the holidays in Southern Germany. I'm a big fan of soft pretzels and pretzel buns, and had I known how straightforward it was to make them I would have been doing it much more often. It's an easy dough, especially if you use a stand mixer to combine and knead it. There's only one proofing period before shaping the dough, boiling it in a baking soda mixture, and baking it for under 15 minutes. I happened to choose a particularly rough Aldo day to make these, and it still happened.
You can form this dough into rolls, traditional twisted pretzels, or other shapes. I personally like my twisted pretzels to have a bit crispier crust, but this recipe was chewy and soft, exactly as I like my pretzel rolls. My twists were also more closed than usually desired – I should have rolled the dough snake a bit thinner before forming.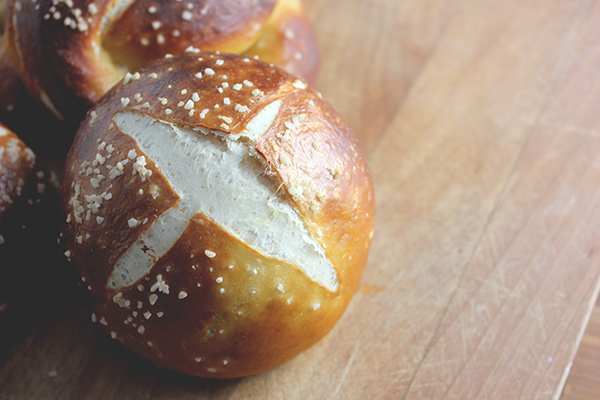 Soft pretzel rolls

Adapted from All Food Considered

1 1/2 cups warm water
2 Tbsp. brown sugar
2 tsp. instant dry yeast
6 Tbsp. unsalted butter, melted and slightly cooled
2 1/2 tsp. salt
Around 5 cups (22 1/2 ounces) flour, slightly more or less as needed for the dough to come together
12 cups (3 quarts) water
3/4 cup baking soda
1 egg beaten with 1 Tbsp. milk or water
Coarse salt (I used a coarse kosher salt that I purchased at Willy Street Co-op)

– Make the dough If using a stand mixer, fit it with the dough hook attachment. Add the warm water, brown sugar, yeast, and melted butter and let sit for one minute. Turn the mixer on low for a few seconds, then add in half of the flour, scraping the sides of the bowl with a rubber spatula as needed. Continue to incorporate more flour small handfuls or 1/3 cup at a time, until the dough is no longer wet (doesn't completely stick to your hands) and comes together into more or less one piece. (If not using a stand mixer, mix the dough in a large bowl with a wooden spoon or your hands.)

– Knead the dough Increase the mixer speed to medium and run for 3-4 minutes, until the dough is mostly smooth, pulls away from the sides of the bowl, and exhibits other signs of being sufficiently kneaded. (If not using a stand mixer, knead by hand on a lightly floured surface for around 10 minutes.)

– Proof the dough (let it rise) Place the dough in an oiled bowl, cover with plastic wrap, and let rest in a warm area until roughly doubled in size (around one hour).

– Meanwhile, prepare for cooking Heat oven to 425F, line two baking sheets with parchment paper or silicone liners, and bring 12 cups (3 quarts) of water to a rolling boil in a large pot.

– Form dough for cooking Once dough has risen, divide it into 8 pieces and shape into traditional pretzel twists, balls, or other shapes. (Here are instructions for shaping pretzel twists – ignore the instructions about the second proofing session; this is a different recipe.) If the formed dough is going to sit more than a minute or two before cooking, place in the refrigerator on a baking sheet.

– Boil the dough Stir the baking soda into the boiling water. Carefully lower the formed dough into the boiling water using a slotted spoon, adding 2-4 at a time (they should have plenty of room to bounce around in the water). Boil for 30 seconds, then place on prepared baking sheets (shaking the slotted spoon a bit to drain off any excess water). When all the dough has been boiled and is on the baking sheets, brush with egg wash and sprinkle with coarse salt. If you'd like to make cuts in the top of the rolls, quickly drag a very sharp, thin knife or a razor blade across the top in an x shape.

– Bake the dough Bake the pretzels for 10-15 minutes, rotating and switching the position of the baking sheets halfway through. Bake until the pretzels are deeply golden brown. Transfer to a cooling rack and let cool for at least 5 minutes before eating. (I couldn't wait that long and desperately grabbed a glass of water to keep from obliterating the inside of my mouth.)

Making ahead/storage: Fresh pretzels will keep in a paper bag or under a kitchen towel for a day or two; a few days longer in a closed container or under plastic wrap. They can be slightly reheated/toasted in a low oven or toaster oven. Baked rolls can also be frozen and thawed/reheated for up to 3 months.
Loading InLinkz ...