Sweet potato muffins for littles (or bigs)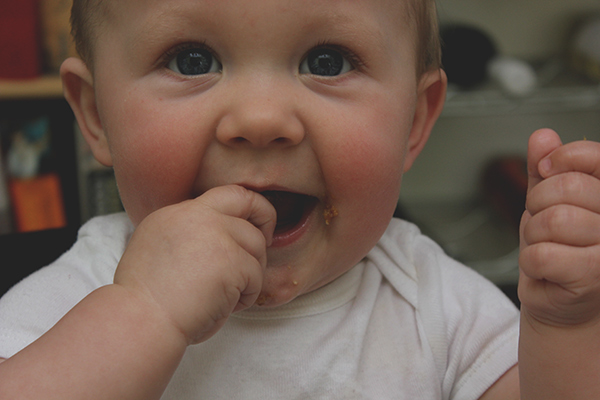 It comes as a surprise to no one, especially me, that Aldo starting to eat solid foods has been one of the most rewarding and fun parts of this whole ordeal. (Can you call having a baby and raising it for nearly eight months an "ordeal"? That seems simultaneously too negative and way too casual. Like I'd need at least 10,000 more words to describe what it's like, but a decent percentage of them would be way more positive than "ordeal.")
Also unsurprisingly, a lot of people ask me what he's eating and what our general philosophy is on how and what he eats. Baby led weaning? Homemade? How quickly to introduce allergens? What to introduce and when? The way we've gone about it is a fairly good indicator for how we've done most things as parents – do some reading, pick and choose the elements we like to form a generalized plan, then see what works and what doesn't, reformulating the plan nearly on a dime as needed. If there's anything I've learned it's that you can't go into anything with too many expectations or being too rigid, because this fantastic little guy is actually a human, and he has plenty of his own thoughts and preferences.
And through everything (and we're not just talking about food here, but also sleep, and play, and everything else he does), I get more and more of this sense that he's going to be just fine. We can provide a general structure, but as long as we go with our intuition and take note of the signals he sends us, it'll all work out okay.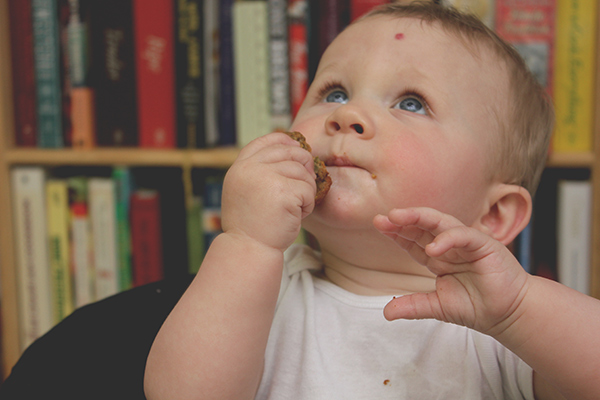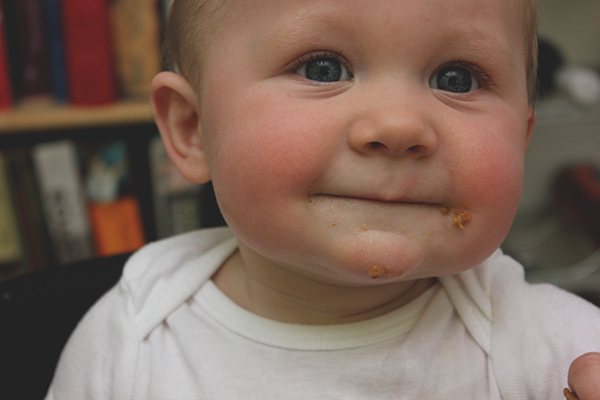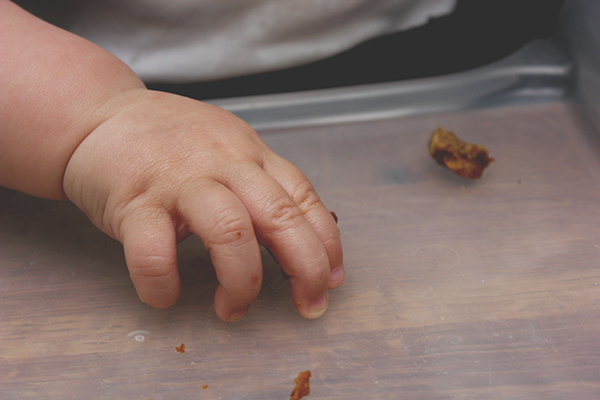 I'm by no means an expert on feeding babies and certainly not any sort of nutritionist or medical professional, but I can share what we did to start and what we're doing now and where we plan to go from here. When Aldo was about 5.5 months old we let him start sucking on raw apple slices, huge pieces of raw carrot, and orange peels (that last one was fully his idea, not ours – and he loved it). He also got a few tiny (really tiny – like nailhead size) bits of avocado and egg yolk in his mouth, but we're not certain they even stayed in. A week or so before he turned six months old, we started with avocado and banana and mashed up steamed apple. He seemed to like these well enough, so from there we introduced a new pureed fruit or vegetable every few days over the next few weeks. After that we stopped paying attention so much to how often we added a new thing and started adding combinations, spices, herbs, whole milk yogurt, and a few other soft, smooth items. Then we introduced chunkier items, like really soft little bites of melon and bits of orange flesh and some blueberries we smashed between our fingers. One night we let him gum a strip of pizza crust and he was like a wild ravenous beast, so we started giving him small bits of bread and similar things. When we add in a new potential allergen, like peanut butter or egg, we don't add anything else new for a few days just to keep an eye on any potential reaction. So far, so good.
For the first six weeks or so we'd make sure to offer food at least once a day, and we committed to eating breakfast and dinner at the table with him (he eats lunch after his midday nap, a little too late for us). Our goal was by seven months to reliably offer him three meals a day, and he took to that quickly – he certainly now lets us know that he is NOT okay with missing a meal. At this point if we wait too long after putting him in the high chair to get that first bite into his mouth, his whole body trembles and he pops his lips open and closed repeatedly like a series of tiny little demands.
One night recently we made roasted red pepper soup and took some out for him before adding the dairy, totally forgetting it already had cayenne in it and was actually quite spicy. He loved it! Okay, then. Since then, when our own breakfast or dinner is baby-relevant we feed him the same thing, or put some through a little food mill so it's softened but not too smooth. And now when people ask me what he's eating, it sounds a little ridiculous. Rancho Gordo giant heirloom beans milled with ground lamb, fennel, leek, and mire poix is not an average meal for him, but he did eat that over about four days of the last week. And just recently – at just over seven months old – he started putting pieces of food into his mouth by himself, like pieces of cereal and diced pear and (his favorite so far) tiny florets of roasted cauliflower.
So now that Aldo's reliably eating three meals a day and both his palate and diet are expanding, I'm very excited to start cooking for him and developing recipes specifically for him. I'm taking pointers from my friends with slightly older babes and going back to blog posts I bookmarked early back in my pregnancy, like these posts from Sprouted Kitchen and these from The Wednesday Chef.
These muffins are the first recipe I've worked on just for him, and he loves them. I also brought them to a mama-baby gathering over the weekend and those babies loved them, too. (It should be noted that the mamas thought they were pretty good too … this is definitely not a babies-only sort of thing.) Mostly we tear the muffin into small pieces that he picks up from his tray, but when I took the photos for this post he immediately grabbed the whole muffin and started taking bites. So I guess I should be prepared for anything …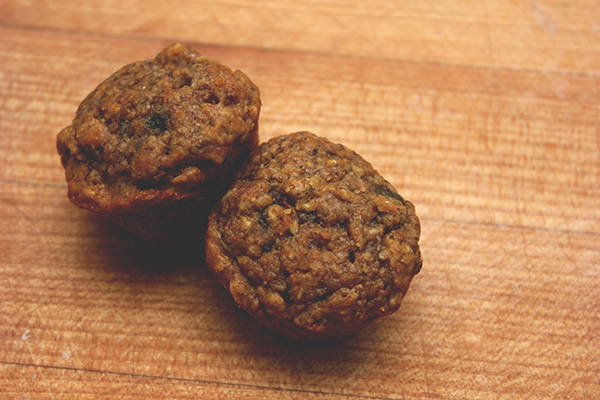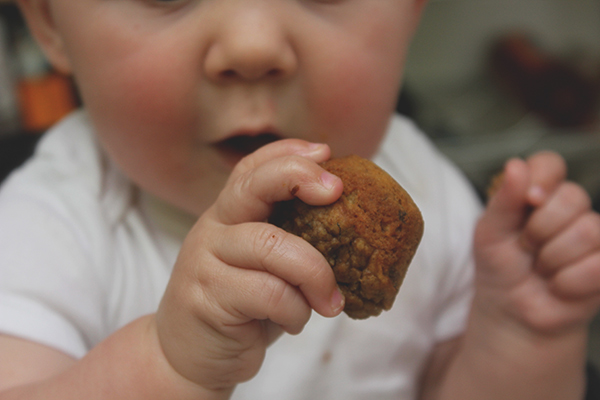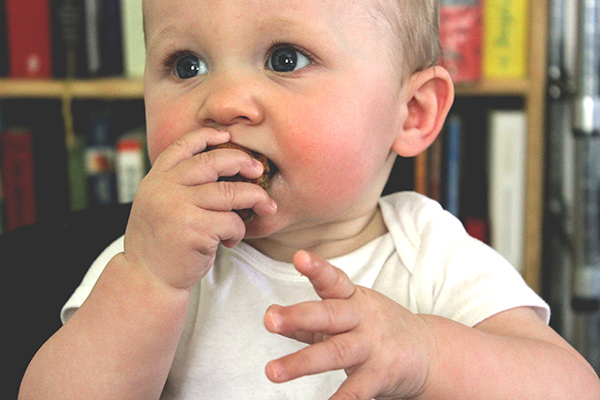 I've added lots of notes on potential substitutions below. Substituting the eggs makes the muffins vegan and I'd guess a good gluten-free flour (and certified gluten-free oats) would work too, though I haven't tried it.
Sweet potato muffins for babies

Adapted from Sprouted Kitchen, makes 24 mini muffins (or about 6 standard-size muffins).

*See notes below for thoughts on substitutions.

2/3 cup rolled oats*
1/2 cup whole wheat flour
3/4 tsp. baking soda
Pinch of salt
1/2 tsp. cinnamon
1 banana (the riper the better)
About 6 oz. or 3/4 cup of steamed or roasted sweet potato flesh, no peel (roughly 1 medium sweet potato)*
2 eggs*
1/2 tsp. vanilla
3 Tbsp. maple syrup*
3 Tbsp. olive oil or melted coconut oil*

– Heat oven to 350F. Grease a mini-muffin pan with coconut or olive oil.

– Mix dry ingredients Prep oats by grinding half (1/3 cup) in a small food processor or blender until a coarse flour-like consistency and set aside.  (If unable to do this, replace 1/3 cup oats with additional whole wheat flour.) Whisk together with the unprocessed oats, the whole wheat flour, the baking soda, the salt, and the cinnamon. Set aside.

– Mix wet ingredients In a large bowl, mash the banana with a fork. Add in the sweet potato flesh and mix to mostly combine (it will be a bit lumpy). Whisk in the eggs until incorporated. Add the vanilla, maple syrup, and oil and whisk to combine.

– Combine and bake Add the dry ingredients to the wet and mix with a spoon or spatula until just incorporated (do not overmix). Fill the prepared muffin pan with batter (wells should be a little over 3/4 full). Bake until the top springs back when lightly pressed – about 16-18 minutes (22-25 for full-size muffins).

Ingredient substitutions:

Oats: If you don't have a way to grind up half of the oats, you can substitute 1/3 cup additional wheat flour (still use the 1/3 cup whole rolled oats).
Sweet potato: Pumpkin (canned or fresh) or winter squash (e.g. butternut, acorn) are fine substitutions for sweet potato.
Eggs: Bananas, flax seeds, and a few other items make good egg substitutes – see this article for more info.
Maple syrup: If your little is over 12 months old, honey will work here too. Agave and other sweet syrups may work as well, though I haven't tried them.
Oil: Any liquid fat will work here, including melted butter and other cooking oils.

Storage/making ahead: Muffins will keep well at room temperature (covered with a kitchen towel or plastic wrap) for up to 2 days, in the refrigerator for up to 5 days, or in the freezer for up to 6 months (I like to freeze on a small baking sheet and put frozen muffins into a ziploc bag). Thaw frozen muffins in the refrigerator a day ahead.