Grilled radicchio with fresh mozzarella and garlic vinaigrette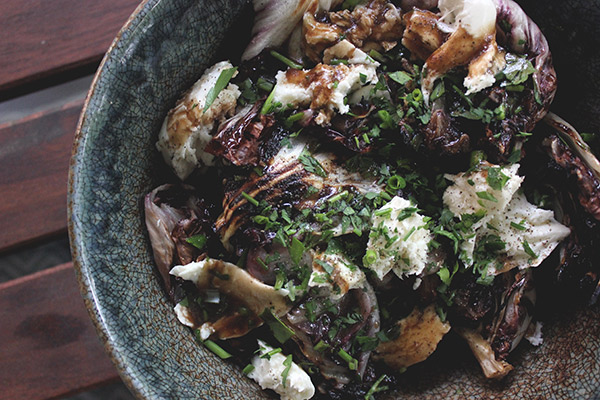 Two days ago we came back from a weekend trip to Pennsylvania for a wedding, and – just like that – it's summer. We've eaten every meal since on the porch, and one of our first tasks when we returned was to exchange our long-faulty propane tank and fire up the grill for our standby summer dinner menu – a mess of grilled vegetables, some sort of starch (in this case, a quinoa pilaf), cheese (we do live in Wisconsin, after all), and white wine (Trader Joe's new boxed sauvignon blanc is actually quite fantastic).
But lately I've had that itch – the one that drives me to pick out random things at the grocery store and try something entirely new – and this time it was (among other things) a small round head of radicchio that called out to me. I planned a slaw at first, but a quick perusing of cookbooks during Aldo's pre-dinner nap led me to grill it in wedges. I made a quick vinaigrette (more on that later) and tossed it all with some fresh mozzarella and herbs, and it was an excellent part of what can otherwise be a fairly standard meal. 
The dish itself is gorgeous – dark and rustic. It would be a perfect accompaniment to a grilled steak or another nice piece of meat as a special occasion dinner, and a particularly easy and interesting side dish to put together, especially if the grill is already hot.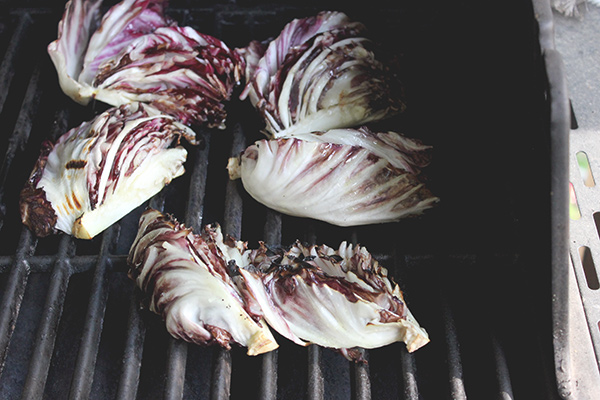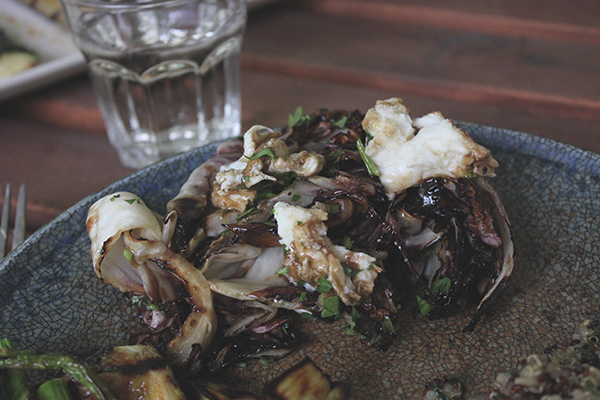 The vinaigrette I put together might be my new favorite for the summer. I rarely ever mix vinegars (no particular reasoning), but this time I used equal parts balsamic and red wine vinegars and it was fantastic. I'm not a big fan of balsamic alone because it's too sweet and I often find red wine vinegar too astringent, but the two together were absolutely perfect. So well balanced, in fact, that it needed only a bit more than an equal part oil, where usually I like my vinaigrettes about 2.5 parts oil to 1 part vinegar. A bit of minced garlic and salt drew it all together even better (remember: salt in salad dressing is a MUST!).
A bit about radicchio: Radicchio is a bitter, leafy chicory, often used for color or garnish in nicer restaurants and recently more trendy to eat on its own as a salad or cooked like in this dish. Grilling or roasting it mellows the bitterness quite a bit, though it does still have bitter undertones that are well balanced in this recipe by the slightly sweet vinaigrette and fresh mozzarella.
Grilled radicchio with fresh mozzarella and garlic vinaigrette

Makes 2 moderate servings or 4 small servings

1 head of radicchio, the size of a grapefruit
3 Tbsp. olive oil, plus more for grilling
1/4 tsp. salt, plus more for grilling
1-2 cloves garlic, minced
1 Tbsp. balsamic vinegar
1 Tbsp. red wine vinegar
4 oz. mozzarella (1 ovoline size, if you can find them)
A few Tbsp. of roughly chopped fresh tender herbs (like chives, parsley, basil, tarragon), for garnish
Flake finishing salt (like Maldon), for garnish

– Grill radicchio Cut the head of radicchio into 6-8 wedges, discarding any outer leaves that detach. Toss with a splash of olive oil (enough that wedges are slicked on all surfaces) and a pinch of salt. Place on a medium-hot grill and cook, turning frequently, until wedges are wilted and tender throughout and edges are charred (this should take about 10 minutes).

– Make vinaigrette Whisk together (or shake in a jar) the garlic, vinegars, 3 Tbsp. olive oil, and 1/4 tsp. salt.

– Assemble Rip or cut the fresh mozzarella into bite-size pieces. Toss the grilled radicchio with the mozzarella and as much vinaigrette as desired (at least half). Top with a large pinch or two of flake salt and chopped herbs.

Making ahead/storage: Finished dish will keep in the refrigerator for up to 3 days. Salt may need to be adjusted to taste.