Eggs poached in smoky tomato sauce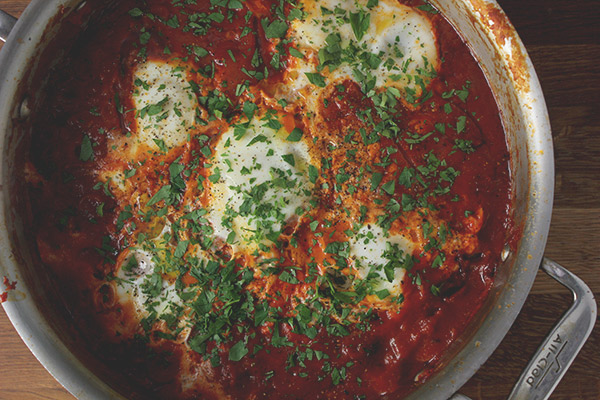 As will come to the surprise of absolutely no one ever, getting a meal on the table becomes supremely more complicated with a kiddo who suddenly wants to participate in every step along the way. There are lids to take off, jars to pour out, "sauces" to make (a recent favorite – chicken stock, sugar, pepper, furikake, and parsley stems), and plenty of ingredients to taste (and then put back in the bowl). We've gotten better at identifying kitchen tasks that will keep him occupied, but overall these days all about simplifying. What's quick, what's tasty, what's not going to turn our kitchen into a complete disaster? (Partial disaster is inevitable.)
This recipe is a perfect example of one of those dinners – hearty, straight-forward, consisting mostly of things we're likely to have in our kitchen at any given time. A few eggs cooked in a hearty, smoky tomato sauce is a perfect main dish to accompany nearly any starch (bread, polenta, pasta, etc.) and can flexibly accommodate nearly any cheese or cooked vegetable you might have around. It comes together in one pan and requires surprisingly little attention, which might be better paid to the child gleefully trying to smash whole eggs on your cutting board.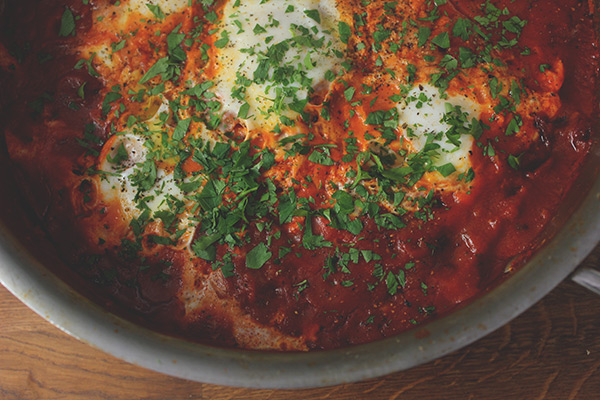 A few notes to keep in mind:
Make sure to cook the onions and garlic until softened – on medium heat, this will take until they're starting to brown. They'll melt into the sauce more readily and add a sweetness that helps balance the acidity of the tomatoes.
Canned tomatoes that aren't fire-roasted will work just fine, but they fire-roasted variety really does add a depth of flavor that both reduces the cooking time (because otherwise tomatoes need to cook a little longer to develop a better flavor) and makes this dish more delicious. The Muir Glen fire-roasted line of canned tomatoes is ubiquitous for a reason.
I usually buy only whole canned tomatoes, or sometimes diced, but using crushed tomatoes in this recipe reduces the cooking time substantially, since they already have a sauce-like consistency.
This dish works wonderfully with a variety of starches: crusty bread, flatbread/pita, pasta, polenta (fried slices or freshly made), cooked whole grains, etc.
The list of potential additions/toppings is huge: fresh chopped herbs, cheese of all kinds (Parmesan, mozzarella, and feta would be particularly good), cooked vegetables (we added sauteed zucchini and mushrooms).
Eggs poached in smoky tomato sauce

Makes 4 main dish servings alongside a starch like bread, polenta, or pasta

Olive oil
1 onion, finely diced
4 garlic cloves, finely diced
1 Tbsp. tomato paste
1 tsp. smoked paprika
A couple of pinches red pepper flakes (optional)
1 8 oz. can tomato sauce (optional)
1 28 oz. can crushed tomatoes, preferably fire-roasted
Salt
4 to 8 eggs, depending on serving size and the size of the pan
A small handful of roughly chopped fresh flat-leaf parsley leaves, for garnish
Freshly cracked black pepper, for garnish

– Saute aromatics Heat a wide skillet that can be covered (even covering with a baking sheet is okay, if you don't have a cover) over medium heat. Add enough olive oil to coat the bottom of the pan and add the onion and garlic. Cook until softened and beginning to brown, around 8 minutes.

– Build sauce Add the tomato paste, smoked paprika, and red pepper flakes (if using) and stir to combine. Cook about 1 minute, until fragrant. Add the tomato sauce (if using), crushed tomatoes, and 1 heaping teaspoon of salt. Stir to incorporate and bring to a simmer for about 5 minutes. Depending on the consistency of your canned tomatoes, you may want to add some liquid (water or stock) to loosen or continue to cook and thicken – you want it to be thick like pasta sauce, but loose enough that it's liquid and bubbling to accommodate the eggs – it should pool a bit if you scrape it around the pan. Taste and adjust salt as needed.

– Cook eggs Crack eggs directly into sauce and cover the pan. (Eggs can be fairly close together, but if they're crowded they may take a bit longer to cook.) After about 5 minutes the whites should be cooked and yolks still runny, but you can continue to cook longer if you'd like your yolks cooked harder.

– Garnish and serve Top with drizzled olive oil, pepper, and parsley. Scoop servings into eating dishes, taking care to scoop out whole eggs.

Making ahead/storage: The sauce up until the addition of the eggs will keep in the refrigerator for up to 1 week or in the freezer for up to 6 months. Warm in a wide skillet on the stove and continue from there. You may need to loosen the sauce with a bit of water or stock before adding the eggs.