Greens and white bean gratin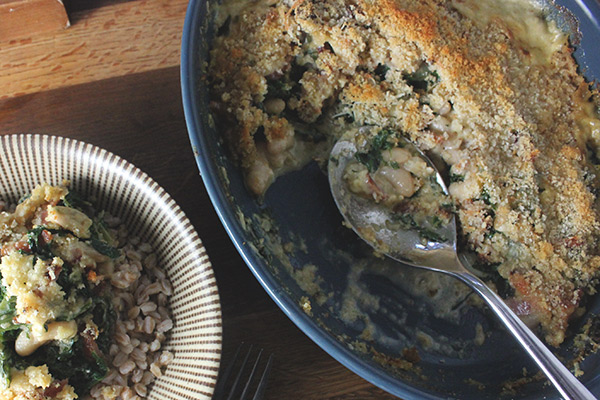 Don't let the greens in this recipe dissuade you – this is not one of the healthier things you could make yourself for dinner. But even my toddler eats greens when prepared this way, and it's written nowhere ever that greens must always be unadorned, chaste, pious. Sometimes they, too, deserve gilding, gusto, and zeal, and I'll be the first to make that happen.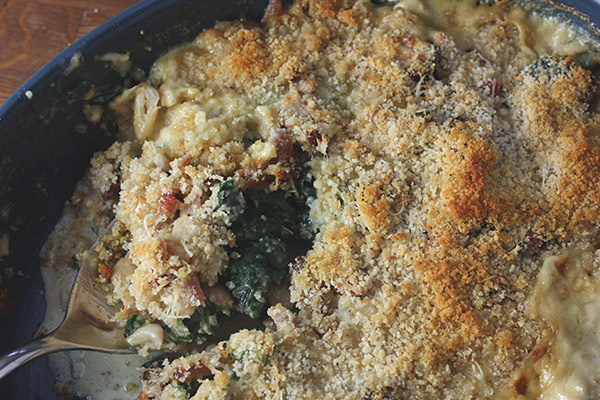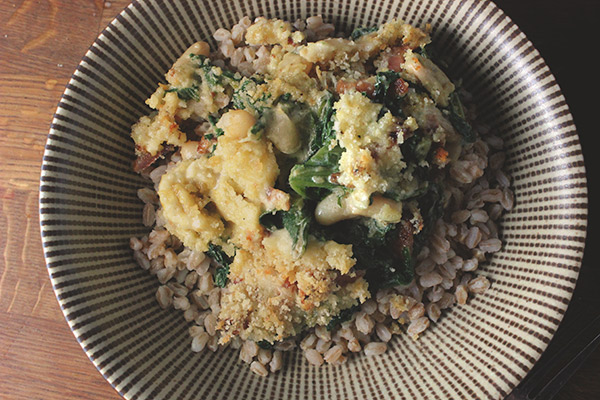 In this case, garlicky cooked greens and silky white beans (preferably cooked from dried, which have a better texture and can add additional flavor) are layered together with bacon or pancetta (if you want – see notes below), a bit of firm, salty cheese, a healthy dose of cream, and breadcrumbs, then baked until bubbly. A perfectly warm, hearty dish for cool spring evenings and a nice bridge between the comfort food of winter and the coming freshness of spring.
Notes for cooking this dish:
This dish could easily be made vegetarian by omitting the bacon/pancetta. Start the "prepare greens" step by adding a large splash of olive oil in the skillet along with the 1 Tbsp. butter.
The texture of this dish is fairly soft, in a good way, but it pairs nicely with a hearty grain like farro or wild rice to add some textural variety.
I usually have a bag of homemade breadcrumbs in the freezer (combination of white and whole wheat breads, usually) but this time I used store-bought in a pinch. Rye or other more flavorful breadcrumbs would be excellent here.
If you'd like to add a bit of heat, some red pepper flakes cooked with the garlic and greens would be lovely. The amount of fat in the dish will temper the heat, so you may want to use a little more than you'd expect.
Winter greens and white bean gratin

Makes 4 servings (generous side dish or moderate main dish over grains or with bread – we like it over cooked farro)

3 strips bacon or 1 1/2 oz. pancetta
2 cloves garlic, minced
2 cups cooked greens (see note below)
2 Tbsp. butter
1/2 cup breadcrumbs
1/2 cup heavy cream
1 1/2 cups cooked white beans OR 1 15 oz. can white beans, both options drained but not rinsed
1/3 cup grated firm, flavorful cheese like Parmesan, Gruyere, aged gouda, swiss, etc.
Salt and pepper

Cooked winter greens: You can use a variety of greens, such as spinach, chard, or kale. For all greens, remove tender leaves from any tough or woody stems, roughly chop into bite-size pieces, and plunge into boiling, salted water until cooked. (Really tender greens like spinach will take less than a minute, where tougher greens like kale or collard greens will take upward of 8 minutes. Chard is usually 2-3 minutes.) Drain and let cool enough to squeeze out extra liquid before using.

– Heat oven to 400F. Have a ready a small baking or gratin dish, at least 1-2 quart capacity (can be bigger – the gratin can be spread fairly thin).

– Prepare breadcrumbs Melt 1 Tbsp. of butter and toss with the breadcrumbs, along with a large pinches of salt and cracked black pepper.

– Prepare bacon/pancetta Place a medium skillet over medium heat and immediately place bacon or pancetta in the pan (before it's hot). Cook, turning as necessary, until brown and crispy. Remove to a paper towel-lined plate (don't clean out the skillet). When cool enough to handle, chop into 1/4″-1/2″ pieces (unless it's already chopped).

– Prepare greens Pour bacon fat out of the skillet, leaving enough to slick the bottom of the pan. Add the remaining 1 Tbsp. butter and melt. Add the garlic to the pan, cook and stir for about 1 minute, then add the cooked greens and a pinch of salt. Cook for a few minutes, until warmed through.

– Assemble dish and bake Transfer prepared greens to a small baking dish and gently toss with the drained white beans. Sprinkle prepared bacon/pancetta over this mixture, followed by the cheese. Pour the cream over the mixture and then top the entire dish with the prepared breadcrumbs. Bake until golden brown and bubbly, about 25 minutes. Let sit for at least 10 minutes before eating.

Storage/making ahead: Finished gratin will keep in the refrigerator for up to 5 days, though breadcrumbs will lose texture. The base mixture (greens, beans, bacon, cheese) can be layered in a dish and kept in the refrigerator for up to 3 days, continuing with cream and breadcrumbs before baking (it may take an additional 5-10 minutes of baking). Leftovers can be heated in a low oven/toaster oven or the microwave, or stirred in a nonstick skillet with a bit of water over medium heat.