Back to work macaroons
by Bowen Appétit on January 4, 2010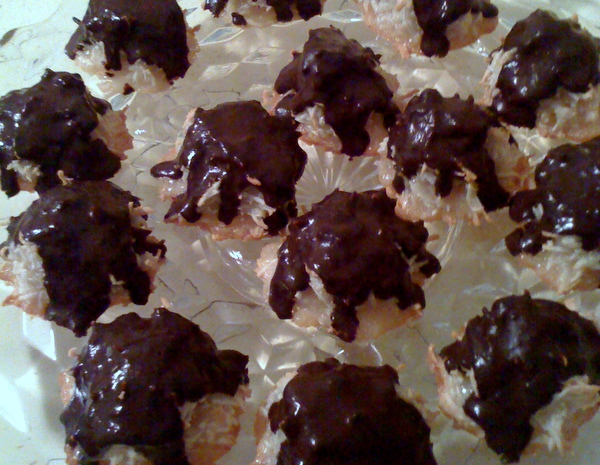 Damn you, Molly Wizenberg. Damn you! (In a good way.)
I received Molly Wizenberg's lovely "A Homemade Life" for Christmas (two copies, in fact), and immediately sank in for two straight days of reading in Portland, which happens to be one of my most favorite activities. The book is taken mainly from her blog, Orangette, which you'll notice I've mentioned more than a few times lately. Each chapter is a story from her life, followed by a related recipe, starting at childhood and ending with her wedding cake.
For New Years Eve I picked out one of her recipes – Buttermilk Vanilla Bean Cake with Glazed Oranges and Creme Fraiche – which called for more egg yolk than white, and oh-so-casually suggested that perhaps I might like to use those whites to bake a batch of macaroons, a recipe for which conveniently appeared a few chapters later. Okay. First of all, anyone who has such concern for how to most effectively use recipe remnants is a friend of mine. Second of all, I love macaroons but can rarely ever eat them because of the almonds they usually contain. This recipe is almond-free, so how in the world could I pass that up? So last night, in an attempt to ward off the back-to-work malaise, I whipped up a batch of Molly's macaroons. And HOLY MOLY are they good! (By the way, same thing I said about the cake/orange/creme deal … she's got good taste in recipes, yes sir.)
If things keep going like this, soon I'll be swimming in baked goods instead of greens (which by the way, we're once again drowning in – any ideas for how to use approximately 1 million pounds of arugula?).
I brought these cookies into work this morning and more than half were gone before 9 a.m. (!) I'm lucky there's at least one left for me to eat when I finish my lunch (Toby's jalapeno tofu pate and black forest ham on homemade sandwich bread with lettuce from our most recent CSA box – yum yum!).
Back to work macaroons
Adapted slightly from A Homemade Life by Molly Wizenberg 

3/4 cup sugar
3 cups lightly packed sweetened shredded/flaked coconut
3/4 cup egg whites (from about 5 large eggs)

Chocolate topping (optional):

4 ounces bittersweet or dark chocolate, roughly chopped
1/2 cup heavy cream

– Cook all ingredients over medium heat in a medium saucepan, stirring frequently, for about 10-15 minutes. The mixture will be dry at first, become fairly creamy within a couple of minutes, and then around minute 10 or 12 will be dry again and individual coconut flakes will be discernable.

– Spread the mixture in a baking sheet, pie dish, or cake pan and put in the refrigerator for 30 minutes to chill.

– Preheat oven to 300F.

– Place lumps of the coconut mixture (approximately 2 Tbsp.each) on a baking sheet with a sheet of parchment or silicone baking liner. Bake for 30 minutes or until tops and edges begin to get golden. Cool them on the pan on top of a cooling rack for about 20 minutes or until cool enough to touch and firm enough to take off the pan with a spatula. Put macaroons on rack over the pan.

– Optional chocolate coating: Heat the heavy cream until steaming (but do not boil). Pour over chocolate and let sit for one minute, and then stir until smooth. Pour over cookies on rack, letting it drip into the pan below. Chill on rack in refrigerator for at least 2 hours (I did it overnight).