Granola, again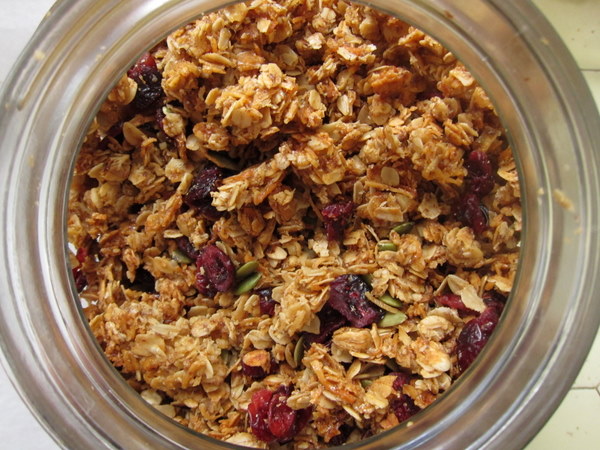 I've spent many years attempting to find a satisfying granola recipe. I have somewhat of a tumultuous relationship with the stuff … I want it to be tasty yet healthy, nut-less (again, so as not to perish), and seedy but not too seedy. I like mine sweet and salty, hearty but not heavy, crunchy and chewy, clumpy but not requiring jaws of steel.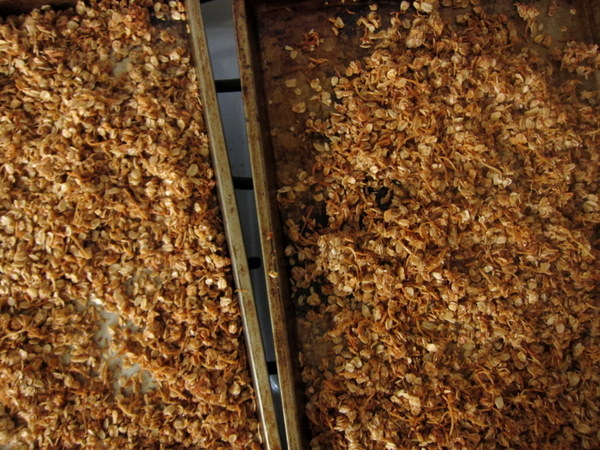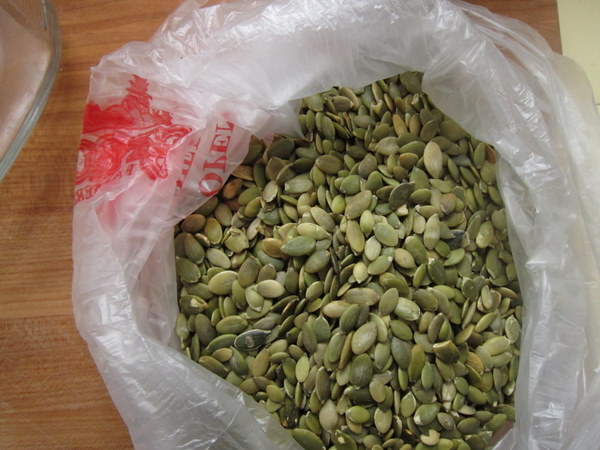 For a few years now this has been my go-to granola. I love the complexity of the honey and olive oil together, and I love seeing how the flavor changes as we buy different honeys and oils.  Grassier oils are particularly interesting, and of course a citrusy oil gives the whole granola a more citrusy taste (and in that case I'll usually add a bit of orange zest to push that element further). I've also used coconut oil with great success – just melt it since it's solid at room temperature, and add as you would the olive oil.  You can easily play with the sweetness from the volume of honey, but don't change it too much or the granola won't crisp and clump as well.
Honeyed Olive Oil Granola


6 cups (20 oz.) rolled oats
1 cup wheat bran and/or flax seed meal (optional)
1 1/2 cup (4 oz.) sweetened shredded coconut
Pinch of salt (or two pinches, if you like a bit more sweet-and-salty flavor)
1 tsp. nutmeg
1 Tbsp. cinnamon
1 cup honey
3/4 cup olive oil or coconut oil (melted to liquid form)
Additions: I like about 3 cups dried cranberries and about 2 cups raw pepitas (pumpkin seeds), but you could add any dried fruits, nuts, or seeds you'd like.

– Preheat oven to 300 degrees.

– Mix all dry ingredients together in a large mixing bowl. Add honey and oil, mix to combine.

– Spread on two ungreased baking sheets and bake 30 minutes, stirring and switching the pans' locations every 10 minutes. Cool outside the oven; it will become crunchier while drying.

– When cool, add cranberries and pumpkin seeds (or other additions) and store. Granola will keep in a covered container for at least one month.