The perfect Valentine's gift
by Bowen Appétit on February 21, 2010
As much as it pains me to say it because it makes my own gift-giving experiences that much more difficult, I do think there is such a thing as the "perfect gift." It varies occasion to occasion and with the particular giver and receiver, but, every once in a while, a gift strikes the perfect balance three scales: (1) frivolity, (2) appropriate unexpectedness, and (3) the "treat factor."
For instance, this year Brett gave to me the perfect Valentine's Day gift – a madeleine pan.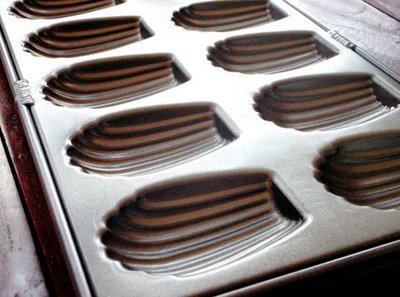 We had agreed ahead of time to do something small for each other to celebrate the holiday – just a small token of appreciation and love – and this struck the right note on every scale.
(1 – Frivolity) I suppose the pan is useful, since it can do something (bake madeleines), but I would also define a cooking device that is useful for one and only one specific thing (baking madeleines) pretty frivolous (other items in this category include asparagus steaming pans, avocado peelers, and those orange peeler tools we had when I was a kid that NEVER, EVER worked).
(2 – Appropriate unexpectedness) This happens in those rare occasions where someone else has realized you would like or want something before you've realized it. I have never in my life thought about wanting a madeleine pan, but immediately loved it. My Gram should be crowned queen of this gift-giving quality – half of my wardrobe (the better half) is items she has bought and sent to me without me telling her I liked or wanted them.
(3 – The "treat factor") I've always thought this to be a pretty important quality in gifts (depending on occasion). The "treat factor" refers to whether the receiver would purchase the gift for themselves or whether it is (here it comes) a treat. This one is particularly big when the gift is supposed to be romantic.
Okay, but to the cookies. So I don't expect that many of you (dear readers, of how many of you there are I am entirely uncertain) actually have madeleine pans, but it's important to point out that you really can make madeleines in anything – muffin tins, dropped onto cookie sheets, etc.
And these cookies are really more of a cookie/cake hybrid, the sort you'd expect to eat with a mid-afternoon cup of tea in a room full of monstrous pink roses and white wicker furniture. However, they are just as delicious on an Ikea couch with a glass of port. Crispy at the edges, fluffy on the inside, encased in a chewy, buttery crust. This version is packed with orange zest, but could easily be made with other flavors (I'm thinking vanilla bean for next time? Or maybe a little lemon and a glaze? I'm going a bit madeleine crazy, but that's to be expected when I have a piece of equipment that can literally do nothing else.)
Perfect Gift Madeleines
Based on Bitten's Madeleines

1/2 cup sugar
3/4 cup plus 1 Tbsp flour
1/2 tsp baking powder
Pinch of salt
Zest of 1.5 oranges (yes, the whole things)
2 large eggs at room temperature
A little under 1/2 cup butter (technically like 0.4 cups), melted
Extra butter and flour for molds or whatever type of pan you're using

– Combine sugar, flour, baking powder and salt.

– Add zest, then stir in eggs and mixing just to combine (adding too much air will make them too fluffy and cakey). Stir in the butter.

– Cover the bowl with plastic and refrigerate for 1 hour (or up to a few days).

– Butter and flour the pan, first brushing or wiping in melted/softened butter then sprinkling with flour, shaking off the excess and making sure the entire surface is covered.

– Preheat oven to 400 degrees.

– Fill pans and bake 9-11 minutes, or until the tops spring back when lightly pressed.

As you might be able to see here, I enjoyed a few of these delightful, romantic little cookies with a glass of port from my family's vineyard, which if you remember was one of the items on my Food List 2010. Another one down, more deliciousness to come!