Summer cocktail: Basil gimlet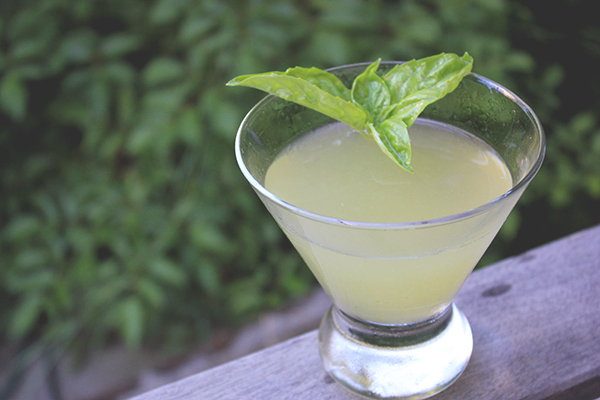 We were able to revel in a few blissful weeks of real summer before heading out on the trip we're currently on (look at me, posting from other states! I'm going to make a t-shirt that says: Not a blogger who writes posts ahead of time and sets them to publish later to look impressive.). A real, though excessively short, summer of barbeques, dinner parties, gardening, and cocktails in the backyard before diving head first this last weekend into wedding season and the start of the schoolyear for both Brett and I.
Quick side note – Brett pointed out the other day that there are some things on my Food List 2010 that require, among other things, summertime. And that summer is almost over. Well, crap. Looks like I might not be able to finish after all? But I'll do some extra-exciting things to make up for it … I promise!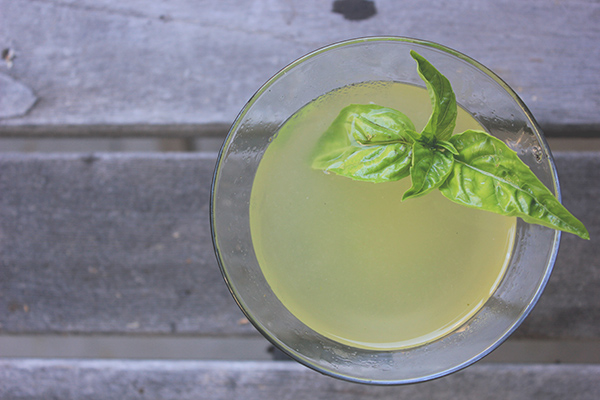 This is all to say that we haven't had as much time as I had hoped to engage in some creative garden-to-glass summer cocktail making, but we have gotten a few good ones in. Such as: the basil gimlet!
I'm a big fan of citrus-based drinks, as well as drinks with some funky herbal or savory ingredient. (Thyme lemonade, anyone?) This was super refreshing after a day at the office, and helped us use up some of our summer basil crop before it goes to seed.
Basil Gimlet


Makes 1, easily scalable (see note below)

5 fresh basil leaves, plus basil tops or leaves for garnish
pinch of sugar
1/2 oz. lime juice
2 oz. gin or vodka (I prefer gin but vodka works just fine)
3/4 oz. simple syrup

– Muddle and soak the basil Add the basil leaves and sugar to the bottom of a cocktail shaker and muddle until the basil leaves are soaked with liquid and look fairly soggy. Pour in the lime juice and let sit for at least 5 minutes for the lime juice to soak in the basil flavors.

– Combine Add the gin or vodka and simple syrup, fill the shaker up with ice, and shake. Strain or pour into glasses and garnish with basil tops or leaves, if desired.

Note about scaling: I've made larger batches of this cocktail in a pitcher or other larger container. For three or more I muddle half the leaves for a bit before adding the rest. Instead of shaking in a shaker I just add ice to the rest of the ingredients and stir vigorously to combine everything and cool it down a bit. Because you're not shaking, it's best to start with cold ingredients all around.