Happy birthday, Mr. Close.
At noon on a Monday, a couch, flannel pants, wool socks, a ginormous mug of tea, and a massive pile of discarded tissues can only mean one thing – home sick from work today. I spent all weekend playing my "don't get sick" cards, which of course meant that it hit me today even worse.
But it was all worth it, seeing as Brett's birthday was yesterday and we had a jam-packed weekend of activities and cooking.  Much of what we cooked and ate I neglected to photograph and/or I'm not prepared to blog about quite yet, but I did want to share a couple of things. First of all, this: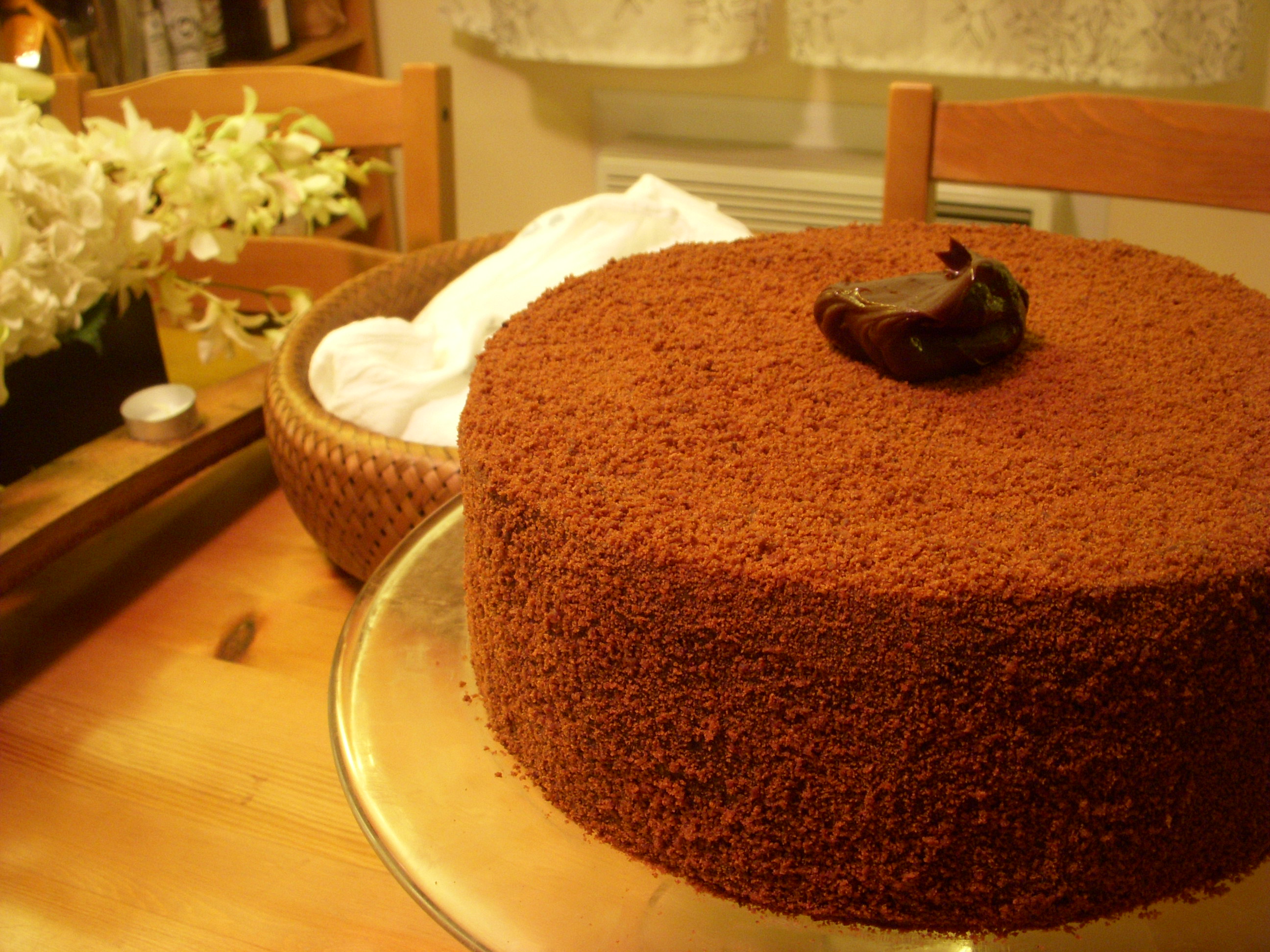 I received the Tartine cookbook for my birthday, and knew that Brett's birthday would be the perfect occasion to crack it open and get started.  It was a devil's food cake with ganache filling and ganache frosting, coated with toasted cake crumbs, and if I do say so myself it was quite pleasant to look at (and to eat). Brett requested I take out the caramel filling included in the recipe, but I definitely won't do that next time – something to cut the 100% chocolate would have been good. But, paired with a custardy homemade vanilla ice cream (from here), this was a perfectly decadent way to celebrate a birthday.
This was preceded by a carefully curated birthday dinner as follows: dirty martinis; broiled goat cheese-stuffed, prosciutto-wrapped figs; no-knead bread; salad with Italian vinaigrette; roasted veggies (parsnips, turnips, potatoes, carrots, onions, zucchini, beets) with garlic and rosemary; braised whole chicken with pears and rosemary (from here); creamy polenta; and both red and white wine. Along with good friends, lots of laughter, and a most-excellent ending to the Missouri/Oklahoma football game, it was a perfect evening!
And the next morning – the start to Brett's actual birthday – he requested huevos rancheros for breakfast (always his favorite, never to be passed over on a menu). I'd never made it before, but knew I'd want to make the ranchero sauce from scratch. The rest would be easy – warm tortillas, cook a can of black beans with onions and garlic and salt, fry up some eggs, cut some avocado and cilantro.  There was also the matter of fresh-squeezed orange juice, especially when we found a 25 lb. bag of early-season, extra-juicy Valencia oranges at the Pomona Farmers' Market for a mere $8.  But armed with my stand mixer's juicer attachment, we had almost a gallon of fresh-squeezed juice in less than 15 minutes (and have still barely made a dent in our haul of oranges …).
The ranchero sauce was much easier than I expected, especially since tomatoes are on the way out and I defaulted to a can from Trader Joe's.  Smoky and spicy from the chipotles and the browned onions, it definitely cleared out my face enough to not feel sick for most of the rest of the day …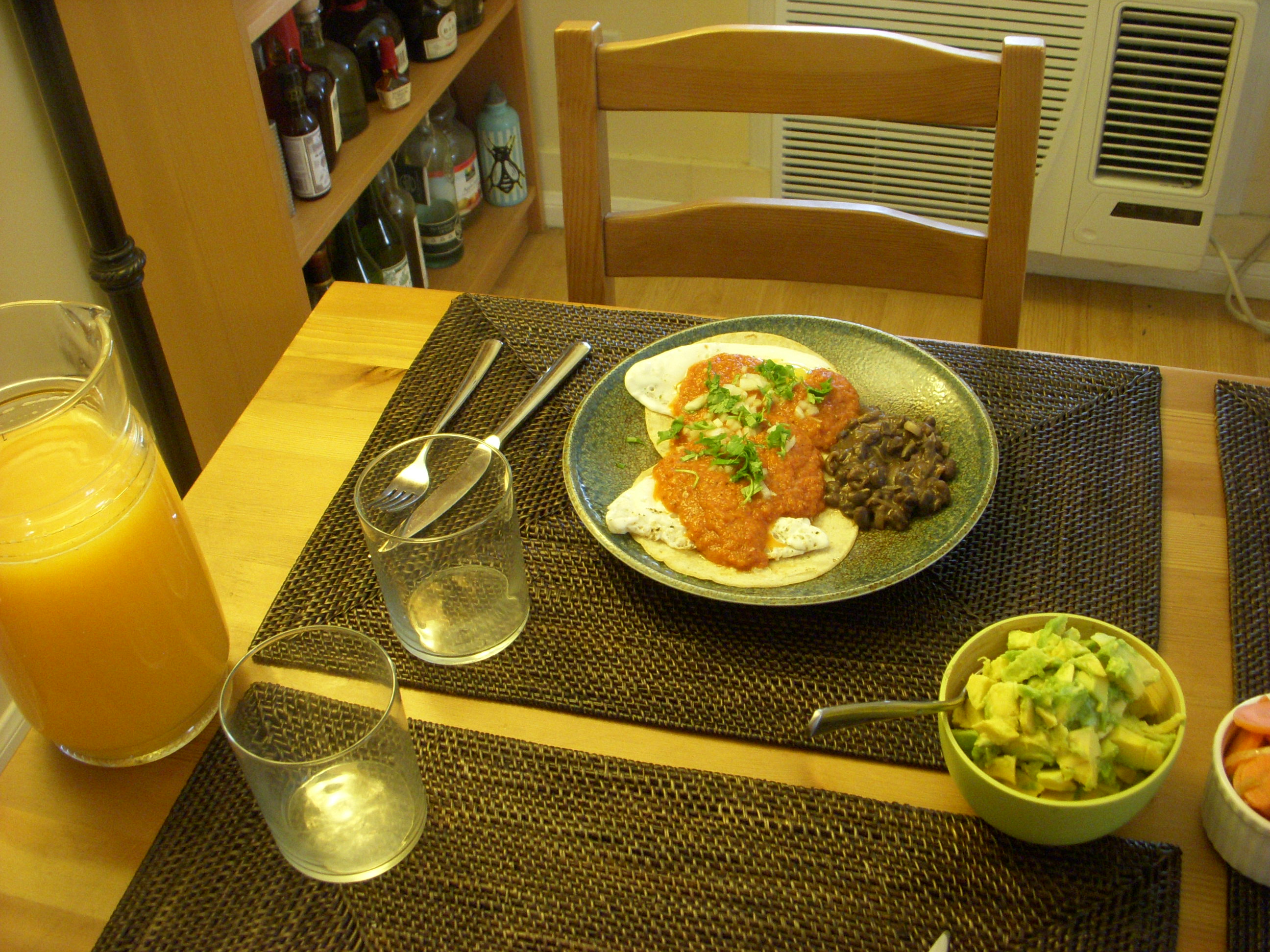 Birthday ranchero sauce

1 14oz can of diced or whole tomatoes, preferably fire-roasted with no additional ingredients (I used a can of fire-roasted diced tomatoes with green chilis from Trader Joe's, because it was either that or whole tomatoes with basil … not always a fan of their canned tomato selection, let me say)
1 small can of green chilis (optional, and only if your less-than-ideal tomato selection doesn't already have them)
1 small can of chipotle peppers in adobo sauce (you won't use the whole thing; it's to taste)
1 medium yellow onion, cut in half and sliced thin
2 cloves garlic, coarsely minced/chopped
Salt and pepper
Olive oil

– Heat a couple of tablespoons of olive oil in a large skillet over medium heat. Somewhat separate the slices of onions into long pieces of onion, and saute for 5 minutes, stirring occasionally.

– While the onion is cooking, chop one of the chipotle peppers from the can. Add the chopped pepper and garlic and cook for another 5 minutes or so, until the onions are cooked through and browning. Take off the heat if the garlic begins to burn.

– Meanwhile (or afterward, timing isn't too important), empty the can of tomatoes (and chilis, if applicable) and 1 teaspoon of adobo sauce from the can of pepeprs into a blender. Add the onion/garlic mixture to the blender and puree/liquify/use whatever setting will blend the mixture thoroughly. Blend until fairly consistent in texture – something like a thick tomato soup or smoothie. If there are some larger bits of items in the sauce, that's okay.

– Add salt and pepper to taste. Add additional adobo sauce, chipotle peppers, and/or hot sauce to taste, depending on how spicy/smoky you want it.

– Return to a small pan to keep warm, if necessary. Serve over sunny-side-up eggs on top of warmed tortillas, along with beans and/or rice (if desired). Sprinkle chopped onion, cilantro, avocado, cheese, salsa, or other such items on top.