A few Sunday activities to pass along
Two important things to share with you after a food-filled weekend.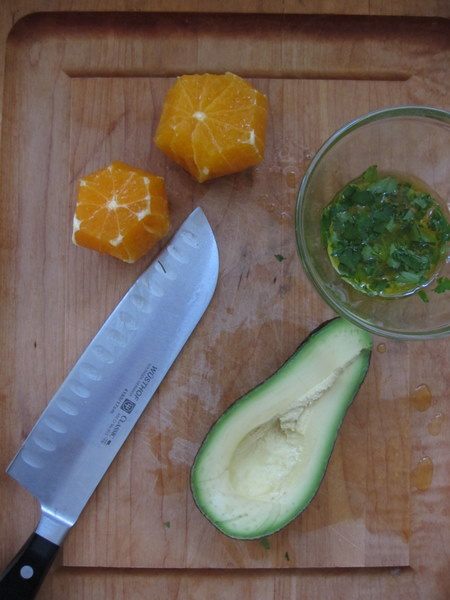 First, this salad: We made a white sauce/mushroom lasagna for dinner last night, which to me screamed out for some sort of crunchy, cold, light salad to balance. This is now one of my favorite winter salads – the combination of the tart, sweet oranges, the creamy avocado, the bite of the raw onion, and the sour saltiness of the olives is fantastic together. I could eat a huge bowl of this as a main dish (and I have).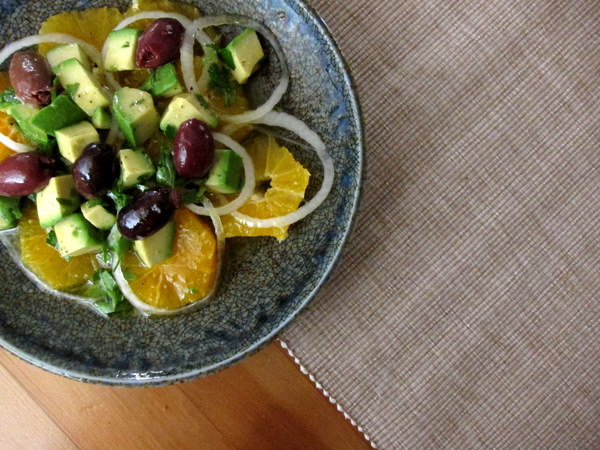 Orange, Avocado, Olive salad
Adapted from Mediterranean, by Jacqueline Clark and Joanna Farrow

Makes 2 side/appetizer servings, but easily scalable

2 oranges
1 avocado, ripe but not soft
1/2 small white or yellow onion (white is preferable because it's more palatable raw, but the thinner you slice it the less this is an issue – I've generally used yellow onions and it's still been delicious)
1/4 cup olive oil
2 Tbsp. lemon juice
1 tsp. chopped parsley
12 Kalamata olives
Almonds (optional)
Salt and pepper

– Cut the peel off the oranges and thickly slice. Peel and cube the avocado. Peel and thinly slice the onion half – as thin as you can, which is easier with a mandoline if you have one – and break into rings.

– Whisk together the oil, lemon juice, and parsley. Season with salt and pepper.

– Arrange orange slices and onions on a large plate or on individual plates.

– Toss the avocado in the dressing, then remove and place over the oranges and onions.

– Place the olives and almonds on top, then drizzle on remaining dressing.
Second, pesto: I should point out that I'm not a lifelong pesto consumer; my nut allergy kept me away from pesto until well into college, when someone (probably Brett) finally pointed out to me that pesto is delicious and that it was worth it to make a nut-free version at home.  I played around with some ad lib versions at home that were pretty good, but my lovely friend Arly has me particularly enamored with her recipe.  I'm pretty sure she runs through a few pints of pesto a week, and now I understand why – this version is creamy as all get out, with a slightly spicy bite and a massive, fresh, floral bouquet explosion of basil. We've gone through quite a few batches of this ourselves, and if there's one seasonal kitchen tip I'd pass along to anyone it would be to make massive tubs of this pesto while basil is at its peak, then freeze it in ice cube trays to have individual serving sizes of pesto available throughout the year. It's what I did here, with the last good harvest of our basil before it loses its tenderness and turns heartier for winter.
I know most people will want to include nuts in their pesto, but you can really just add a handful of pine nuts (which you could toast ahead of time, if you're into that sort of thing) at almost any time during the process. But if you don't have them or don't want to pay their extraordinary asking price, this is still fantastic without!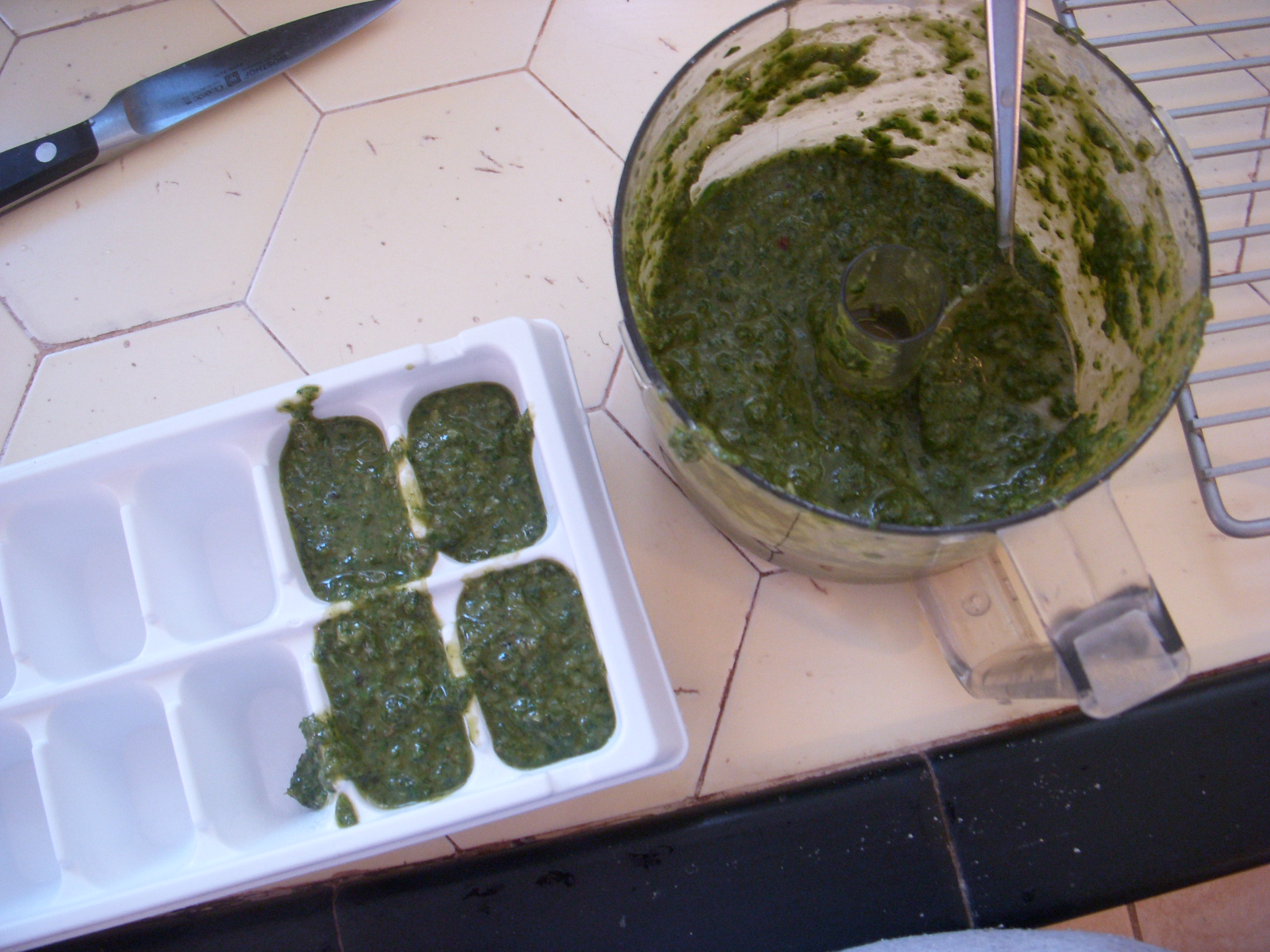 Arly's Pesto


2-3 cloves garlic
Salt, to taste
1/2 cup olive oil
3 cups basil leaves, washed and dried
1/2 cup grated Parmesan Reggiano
3 Tbsp. grated Pecorino Romano (optional)

– Process the garlic and salt in a food processor until evenly chopped/processed.

– Add half the olive oil and basil and process until integrated into a paste. Continue with the rest of the oil and basil.

– Add the cheese and process. Taste and add salt as necessary.

– Use fresh, refrigerate for up to a week, or freeze in an ice cube tray and thaw as needed (approx. 1 cube/serving).