Boiled kale. (No, seriously.)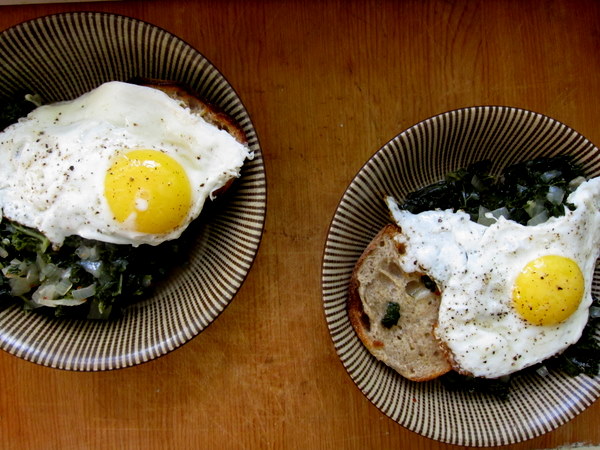 Turns out, boiled kale is fantastic. There has never been a more unappealing phrase uttered as "boiled kale," as Brett made abundantly clear when I suggested we have it for dinner. But I prevailed (as happens), and made it last night for dinner.
Truth be told, this isn't just "boiled kale" … it's kale slowly simmered in homemade stock, with a base of sauteed onions, garlic, and red pepper flakes. Then spooned over thick slabs of toasted bread, rubbed with garlic, and topped with an olive oil fried egg. So really, "boiled kale" is a little misleading.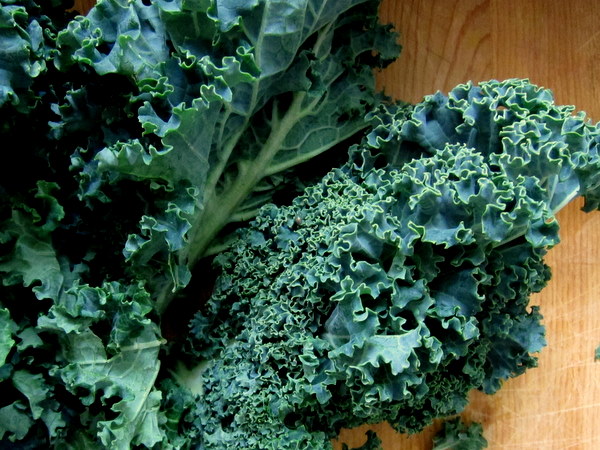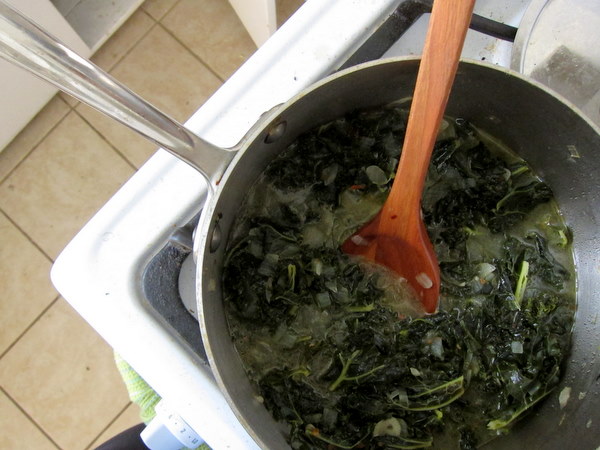 If you ever need some warm comfort food on a chilly night, here's your secret weapon. The bread serves two amazing purpose here: 1) To be bread. Which is delicious and stands on its own, no doubt. 2) To act as a sponge and turn almost creamy when heavy laden with delicious, slightly-spicy, earthy broth.
Just don't tell your friends or sweethearts that you'll be serving "boiled kale,"  and you'll be just fine.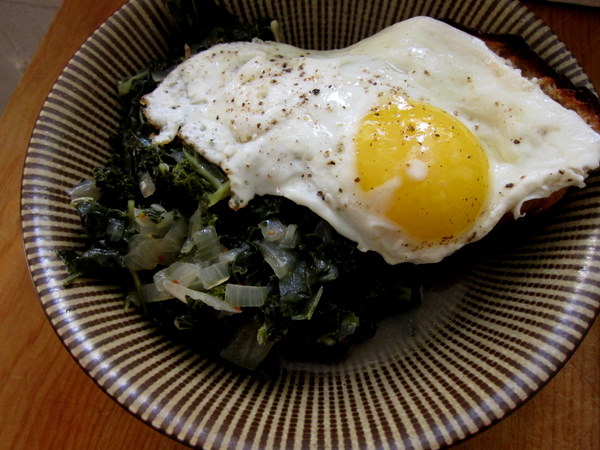 Boiled kale
Adapted slightly from Orangette

Serves three to four.

Two large bunches of kale (I used some particularly beautiful curly kale)
5 Tbsp. olive oil
1 yellow onion, diced
3 cloves of garlic
1 tsp. dried red pepper flakes
4 cups of stock and/or water (I used homemade chicken stock, but you could easily use veggie stock)
Generous amounts of salt, to taste (at least 2 tsp.)
3-4 thick slices of hearty bread (one for each serving)
3-4 eggs (one for each serving)
6-8 Tbsp. fat for frying eggs (2 Tbsp. for each egg – olive oil, butter, bacon grease, etc.)
Salt and pepper to season the eggs

– Prepare the kale: cut away any woody or particularly tough-seeming stems, then cut up or rip the rest into roughly bite-size  (1/2″) strips or pieces.

– Thinly slice two of the cloves of garlic.

– In a 3 to 4 quart pot, heat the olive oil over medium heat and add the diced onion. Cook and stir until the onion pieces start to become translucent and soften.

– Add the garlic, kale, and red pepper flakes and cook until the leaves are slightly wilted. Stir/flip the kale with tongs or a spoon to get the dry pieces on top to wilt.

– Once the kale is slightly wilted, add the stock. It most likely will not cover the leaves, which is fine.  Add a generous amount of salt (probably a couple of teaspoons). Unless your broth is pretty salty you will need quite a bit.

– Bring the pot to a simmer, then cover and simmer for 20-40 minutes, or however long it takes for the kale to be tender enough to eat. You don't want to simmer it to a mushy, vegetal mass … you want it to still have some bite to it, but nothing too tough. You can really use your judgment and taste along the way. Add salt to taste (in other words, until it tastes good) and turn the heat to low or off when ready.

– After the kale is done or while it's cooking (depending on your timeline and penchant towards multi-tasking in the kitchen), you can prepare the toasted bread and fried eggs. The kale can easily sit for a while off of the heat or be rewarmed.

– Toast the bread and cut lengthwise the remaining clove of garlic. Rub the toast with the raw side of the clove of garlic.

– Fry two eggs and season with salt and pepper.

– Places the pieces of bread in low bowls, then top generously with kale and spoon on some broth. Top with a fried egg and season as needed with salt and pepper. You may also grate something like Parmesan or other flavorful hard cheese on top.