Cardamom, love.
by Bowen Appétit on December 19, 2010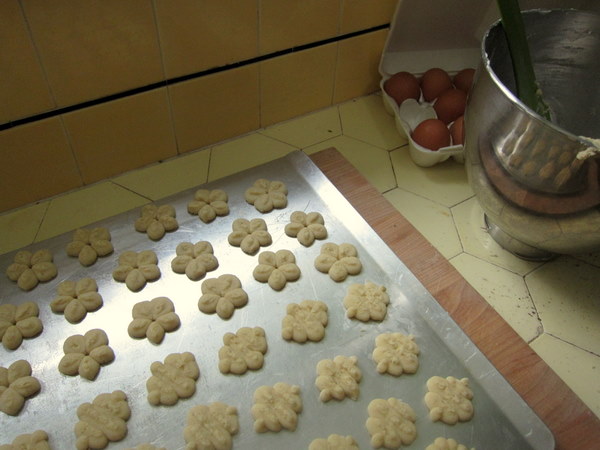 How in the world is it possible that I have not posted these here? Because not only are they one of the most frequent items on rotation in our kitchen, but the entire world should know about these cookies. When we first bought our cookie gun a few years back, we thought we'd play it safe with one of the recipes that came tucked in the instructions – a simple vanilla spritz cookie. With a bit of surprise, we noted the cardamom included halfway down the list of ingredients. It's not often that the recipes included with a cooking gadget – a fairly kitschy, Midwestern cooking gadget at that – would include something so exotic. But we tried it, and were immediately hooked. I think that year during Christmastime we made about three or four batches, even making a batch to bring with us when we traveled so we wouldn't be without them. We got others hooked, and responded to requests for the recipe and for batches to be sent in the mail. We continued to make them well after the holiday season had passed, and even chose them as the favor at our wedding.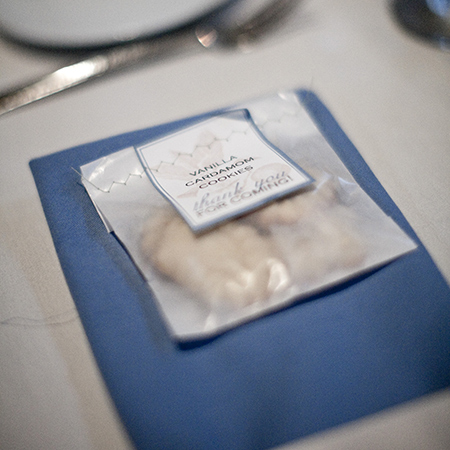 Photo from the always-amazing Erin Hearts Court.
Whether you have a cookie gun or not, these cookies are easy and well worth making. I'll post the same variety of baking instructions that I did for the butter cookies, a few weeks back.
Vanilla-Cardamom Spritz Cookies

1 cup (2 sticks) unsalted butter at room temperature
1 cup sugar
1 egg
2 1/2 tsp. vanilla
1/2 tsp. ground cardamom
1/2 tsp. salt
2 1/2 cups flour

– Preheat oven to 375 F.

– Cream together butter and sugar in a large bowl – use an electric mixer or stand mixer set on medium speed and beat until light and fluffy, about 3-5 minutes.

– Beat in the egg, vanilla, cardamom and salt using the mixer, then stir in the flour with a spoon.

– Put dough in the cookie gun and press cookies onto ungreased baking sheets. Bake for 10-12 minutes, until lightly golden. Cool on the sheets for 1-2 minutes, then cool on wire racks.

– If you want to roll out the dough and use cookie cutters: Divide the dough in half and flatten roughly into 1/2-inch thick disks; wrap in plastic and chill for at least two hours. Roll out to approximately 1/4-inch thick and cut with cookie cutters, dusted with flour as necessary if the dough gets a bit sticky. You can always chill the dough again if necessary to firm it up. Bake as directed above.

– If you want to slice logs of dough (always a desire of mine): Divide the dough in half or thirds and form into logs (round or square or any shape, I suppose) as wide across as you want your cookies to be. Wrap in wax paper or plastic and chill for at least two hours. Slice into cookies approximately 1/4-inch thick slices; bake as directed above.

– If you want to make hand-formed cookies, roll into ball approximately the size of a ping pong ball (or really whatever size you want) and press into approximately 1/4-inch thick cookies. Bake as directed above.