I left my heart in San Francisco (it's at Tartine)
We went to the Bay Area for a week. Sadly, we are back. However, I now have plenty of things to day dream about while I'm at work all day.
Should you too find yourself in the Bay Area and environs any time soon, here's a quick list of things I can't stop thinking about:
Cowgirl Creamery (more wagon wheel cheese NOW, please)
Homemade kolaches with cream cheese/poppy seeds and local (very local) sausage
Russian River wine tasting
Three varieties of venison meat pies (Need more info? I will happily write you a treatise on the merits of meat pies. You'll also probably see some soon here.)
Ferry Building (I became so overwhelmed I was almost physically incapable of choosing something to eat. But in particular, see: Boccalone Salumeria, our ever-favorite Stonehouse Olive Oil, and Heath Ceramics – not food, but beautiful and daydream-worthy nonetheless.)
Prescott Hotel (Free cocktail hour with artisan pizza every evening? Sure, why not.)
Bi-Rite Creamery (See: orange cardamom ice cream) and Market
Chez Panisse (Yes, we did it – it was worth every single penny and I'd do it again in a heart beat.)
And to end, an entirely perfect stay at Cass House Inn, quite possibly my favorite place on the planet. We discovered it on our honeymoon and I will use almost any excuse to go back. Sitting on the patio wrapped in wool blankets with a cheese plate and a glass of wine while the sun came out from the clouds to set over the beach was the perfect moment of the trip.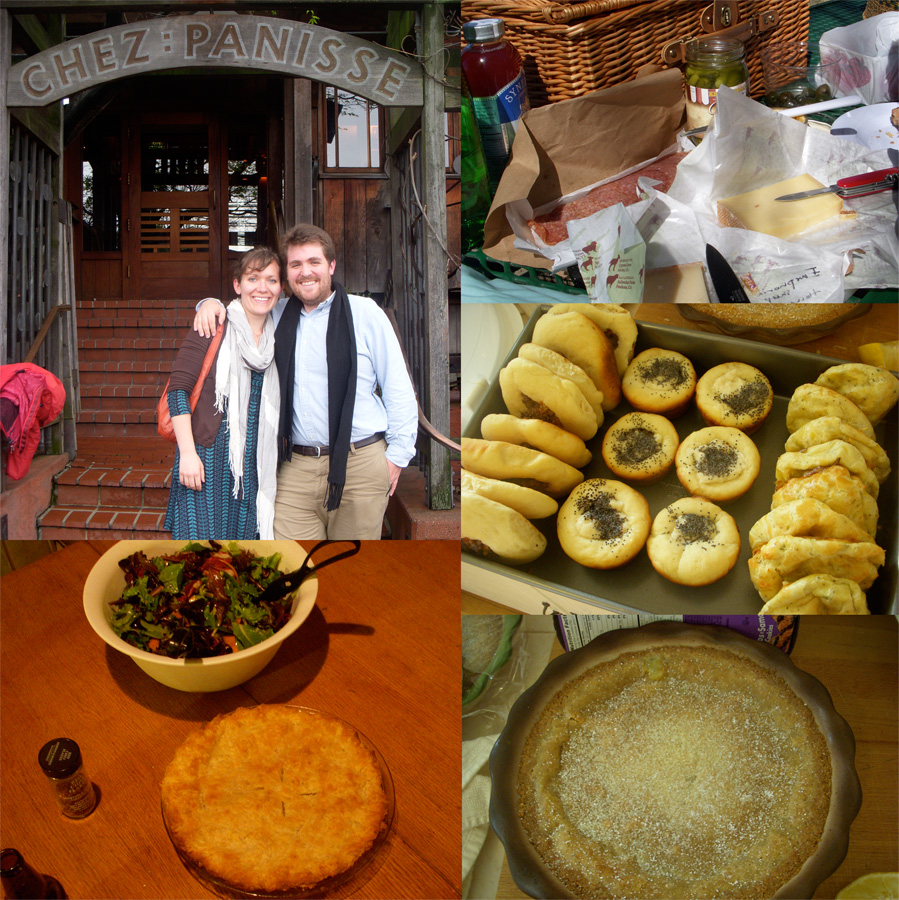 And in commemoration of our trip, here's a recipe from Tartine: savory, fluffy gougeres.
I put gougeres on this year's Food List because I had excitedly tried to make them once before and almost entirely failed – and if that doesn't make for a good Food List item, I don't know what does. But first, let's start at the beginning – in case, like me until about 24 hours before unsuccessfully trying to make them two or three years back, you don't know what a gougere is. Gougeres are at their most basic a pillow of cheesy, eggy pastry. Like if a cream puff and a popover and a block of cheese had a baby. A tasty, pillowy, custardy baby with a crust of crispy baked cheese.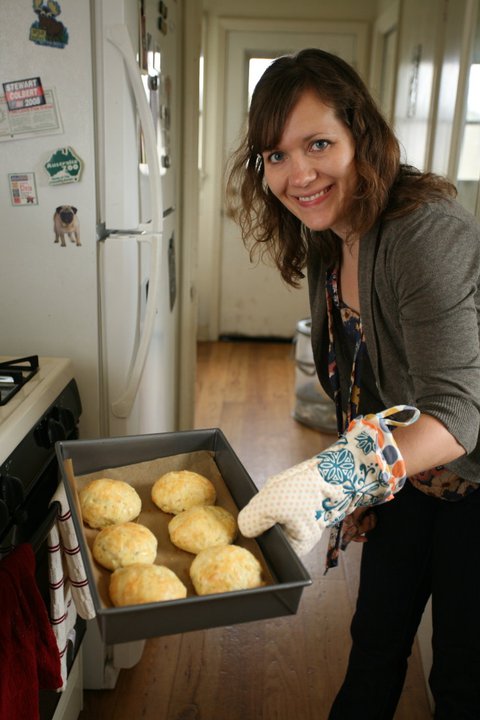 Photo courtesy Tawny. And no, I don't usually smile like that while I'm cooking.
The first time I attempted the gougeres I used a different recipe and made them at their traditional cocktail party size, similar in diameter to a golf or ping pong ball. They emerged from the oven flat like discs, with absolutely no puff nor custardy, flaky, melt-in-your-mouth insides. We ate them heartily (it was still cheese and bread, you know), but I was discouraged, to say the least.  But then a year or so ago we took a dessert-based cooking class that included cream puffs, and after a quick hands-on instruction in making the choux paste of which gougeres (and cream puffs, and eclairs, and many doughnuts) are made, I knew I'd be ready to give it another go.
The last time I went to Tartine Bakery in San Francisco, I ordered one of their gougeres – softball-sized, crispy with baked gruyere on the outside and intensely eggy and cheesy on the interior. Devout followers of Tartine as we are, my good partner-in-bakery Tawny and I decided to give their recipe a go while we stayed with her last weekend in Petaluma.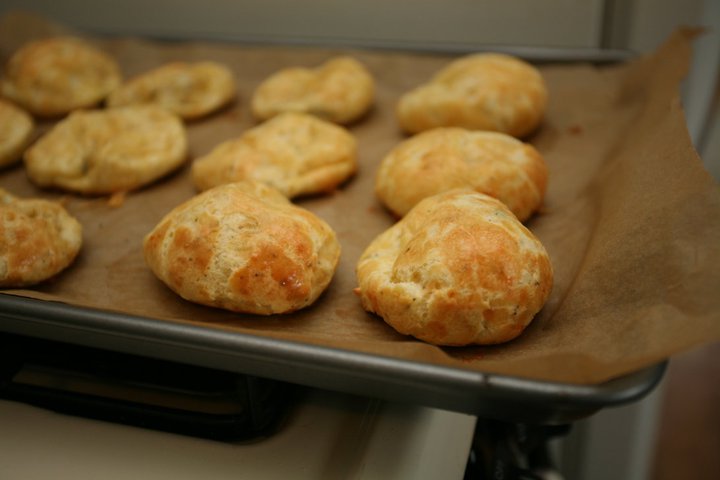 Sure, many of them deflated after coming out of the oven. But they puffed in the first place and remained airy on the inside – something like an almost-deflated balloon – which means we were at least on the right path. Looking at the picture in the cookbook we can easily see how much more cheese we should have sprinkled on the top before baking – it's that dome of baked cheese that helps it keep its shape during and after baking, and that helps with the crisp.
We snacked on these (along with the rather large batch of buttery homemade kolaches we made) for the entire weekend, and they retained their cheesy, peppery taste and soft texture. I can't wait to make them again and fill them as a sandwich, or to have alongside eggs in the morning. Tartine also recommends different cheeses or even mushrooms or shallots as flavoring as alternatives for the gruyere, which sounds pretty promising.
So here's yet another item off one list and onto the closely-related "let's do this again" one.
Gougeres
Adapted slightly from Tartine by Elisabeth Pruitt and Chad Robertson

1 1/4 cups nonfat milk
10 Tbsp. butter
1 tsp. salt
1 cup flour
6 large eggs
3/4 cup grated guyere (or cheddar, or swiss, or other firm cheeses), plus more for sprinkling on top
1 tsp. freshly ground black pepper
1 Tbsp. minced thyme

– Preheat oven to 350F. Grease a baking sheet or line with parchment.

– Combine the milk, butter, and salt in a heavy saucepan to make the choux paste. Heat over medium until the butter melts and the mixtures comes to a boil. Add all the flour at once, stirring vigorously until the mixtures forms a smooth mass and pulls away from the sides of the pan. Continue stirring the mass for 2-3 minutes so some of the moisture evaporates.

– Transfer the choux paste to a stand mixer with the paddle attachment or to a heatproof mixing bowl for use with a handheld electric mixer or for mixing by hand. Add 5 of the eggs one at a time, mixing on medium or using a wooden spoon by hand to incorporate each egg before adding the next. When all the eggs have been incorporated, the dough will be smooth and shiny.

– Mix in 3/4 cup of the grated gruyere, the pepper, and the thyme, and mix together with a wooden spoon or rubber spatula.

– You can now place the dough on the baking sheet. Small gougeres might be 1-inch mounds, large might be 3-inch mounds. They should be 1-2 inches apart, depending on size. For small gougeres you can use a pastry bag to pipe the dough onto the baking sheet.

– Whisk the final egg in a small bowl, and brush the top of each mound with the egg wash. Sprinkle the top of each with a little cheese – we put about a tablespoon on each, but you should probably go with double or triple that.

– As soon as possible put the pan in the oven. Bake until they are puffed and generously browned – 25 minutes for smaller gougeres, up to 45 minutes for the largest. If you make larger gougeres, poke a small hold in the side of each when you take the pan out of the oven, which keeps steam from releasing and helps ward off collapse.

– These are delicious warm or room temperature. You can recrisp cold or room temperature gougeres in a 350F oven for 5 minutes or so.