And then I caught it.
The cold, that is. Funny creatures, those illnesses. Completely gone without a trace from one person for days before showing up in the next.  Brett spent the better part of last week nursing something that kept him down, tired and sniffly and dreary.
And then he was fine. Fine enough to go to San Francisco for a meeting on Friday (and fine enough to venture to the Mission to bring back Tartine for me …), fine enough for a fun date night on Friday, fine enough to join me in approximately 19 hours of "BCS National Championship keepaway" (which did not end well and let's please not talk about it), and fine enough for a 90-minute spinning class Saturday morning.
Not sure if it was the football excitement or the 90 minutes of sweating or the overwhelming perfection of the Tartine morning bun, but somewhere in there I realized I wasn't feeling quite right. Light-headed. Raw in the throat. Then heavy in the head. The sniffly. Uh oh. I spent the rest of yesterday and all day today swinging between "oughhhhhh I need to lie down" and "hey, I think I'm feeling better!," all the time wishing my body would just decide so I didn't have to keep wavering on plans and getting all the way out of the house before realizing I really don't actually feel that well.
And this is all to say that today's lunch was actually quite helpful, on a cold, rainy, lethargic day. A hearty bowl of Minnesota wild rice (perhaps no surprise that when sick, I pick the only food item in the house from my home state), mixed with some steamed Chinese broccoli and topped with a poached egg and a hearty squeeze of lemon. Simple, nutritious, warm, filling.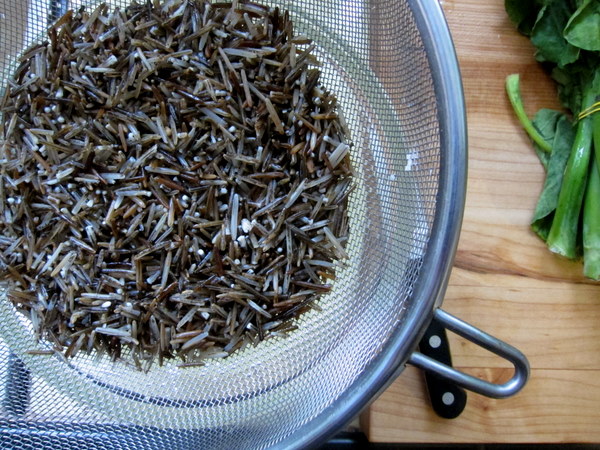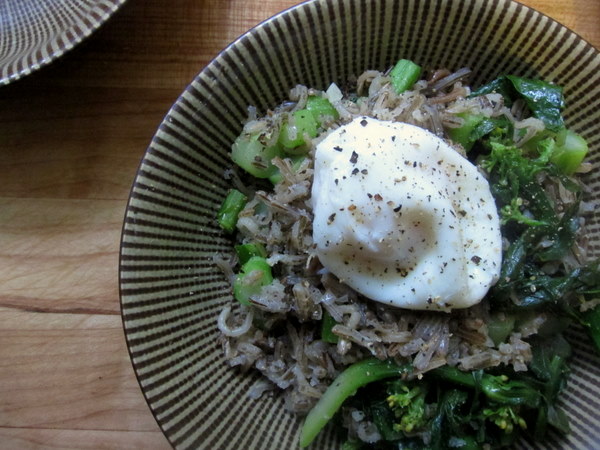 I don't know that I'd say this poached egg was "perfect," which is one of the goal's on this year's list – but it's certainly much closer than previous attempts. Should you ever try to find some good direction for egg poaching, you'll find quite a confusing jumble of information out there. Vinegar, no vinegar. Swirl, no swirl. Boil the water. No, simmer the water. Shallow water. Deep water! Dump it in. Or maybe submerge it slowly via another vessel. Holy crap.
But thus far my extensive experimentation (see: eggs on things) and the only formal instruction I've ever received seem to point to the fairly straight-forward Vinegar-no swirl-slow boil-deep water-dump Method as working fairly well.  I'm planning an eggs benedict breakfast for sometime next weekend, so perhaps then we'll have the final entry on that goal …
But while we're on the topic and before I go heal my sickness with the roasted chicken and homemade bread my dear husband is about to take out of the oven, a few other list updates: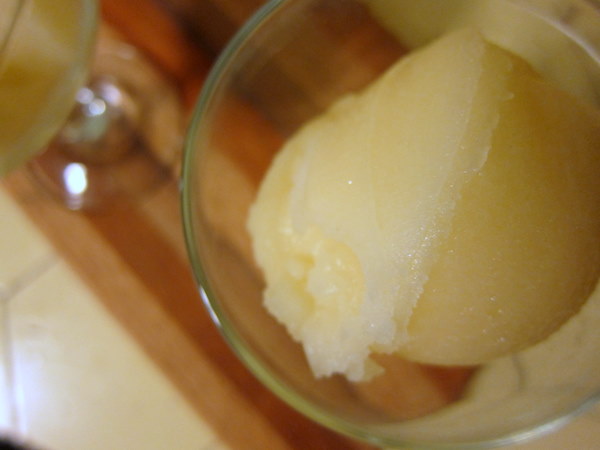 Pear-riesling sorbet from Jeni's Splendid Ice Creams at Home I'm really excited about this book and Jeni's overall ice cream method, and have already gifted the book to two other people. That said, this particular recipe didn't turn out quite as well as some of the others I made from her book (including an amazing watermelon sorbet and a fantastic lemon frozen yogurt with blueberry swirl). But it was very pretty to look at, and especially lovely when swimming around in a cocktail glass with some leftover Tartine caramel sauce.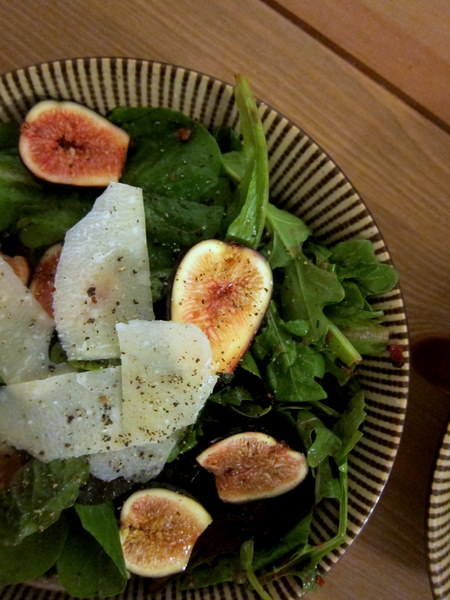 Fig pancetta salad from The Rustic Table This was an lovely early fall salad – fried bits of pancetta, fig vinaigrette, fresh figs, shaved parmesan, and plenty of black pepper on a bed of arugula. Next time I think I'd go with a simpler dressing – maybe just some balsamic and oil – but definitely something to try again.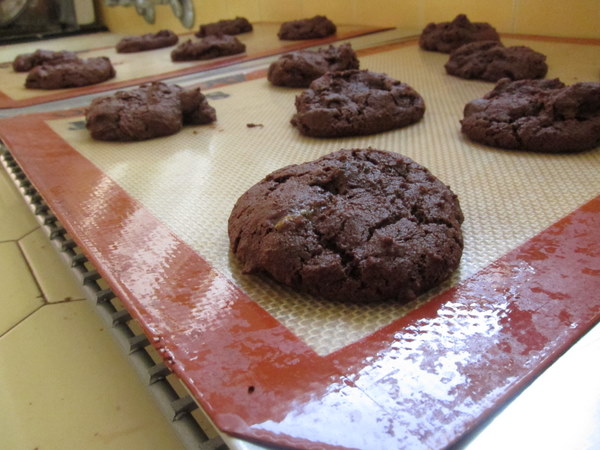 Orangette's chewy chocolate cookies, with added dried cherries. I'd had this recipe saved in my links for quite a while, and when a bag of dried cherries caught my eye at the store one day I went home and baked these immediately.  Rich and chewy, I baked them small to make for a good snack (one at a time), or a good after-dinner dessert (in larger volumes).