Mambo Italiano (including go-to cocktail, of course)
Things are a little nutty at work right now. I'd really rather be in Italy.
Let's do it.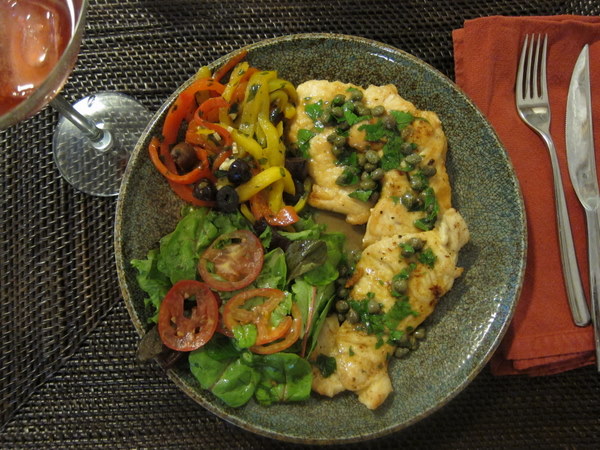 But first you have to promise me that before you start making and eating this meal, you go to Pandora and start a station based on the song "Mambo Italiano." This is necessary for setting the scene and getting all your things in order.
So. What shall we do for our Italian dinner?
Let's start with one of our go-to pre-dinner drinks, the Negroni (which happens to be an Italian apertif, how convenient).  Gin, sweet vermouth, Campari, twist of lemon peel. Sweet, bitter, herbal, floral. Yes, please.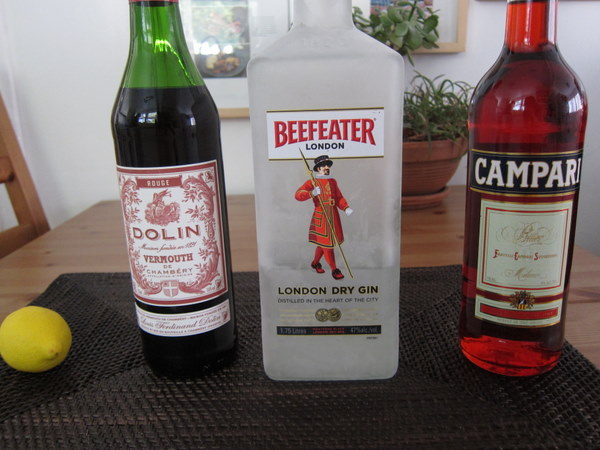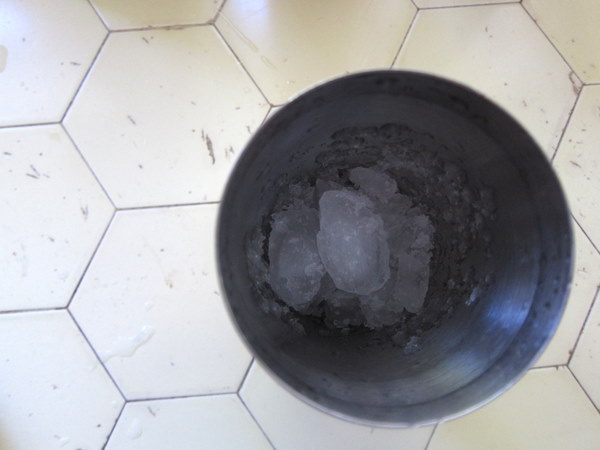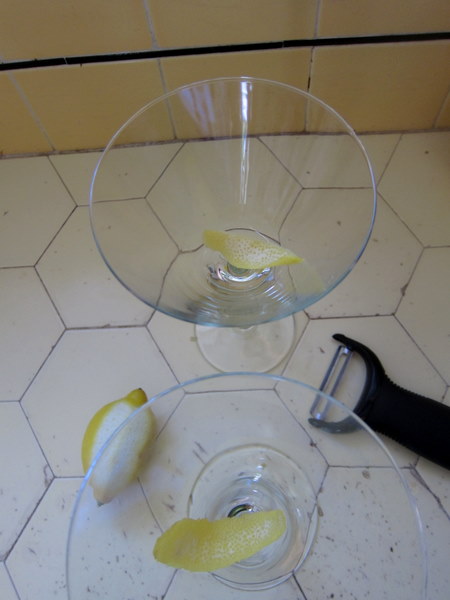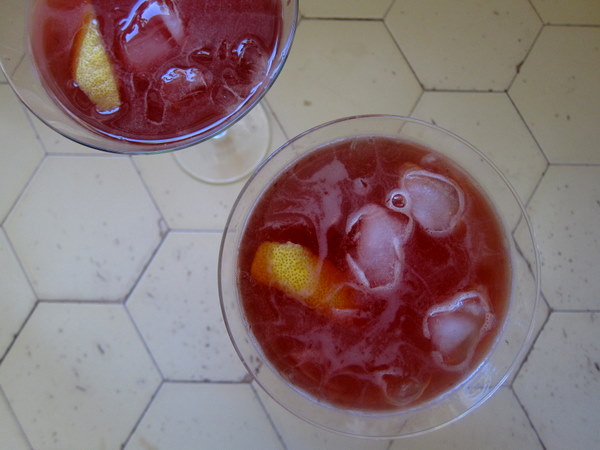 Now that we've got that settled, let's talk about veggies. Maybe some peppers?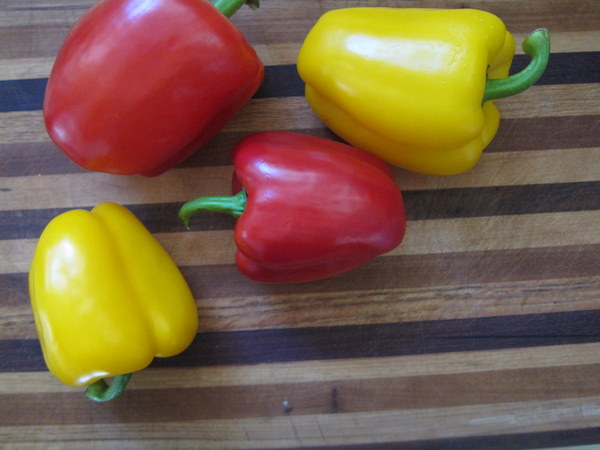 Beautiful. Let's peel 'em.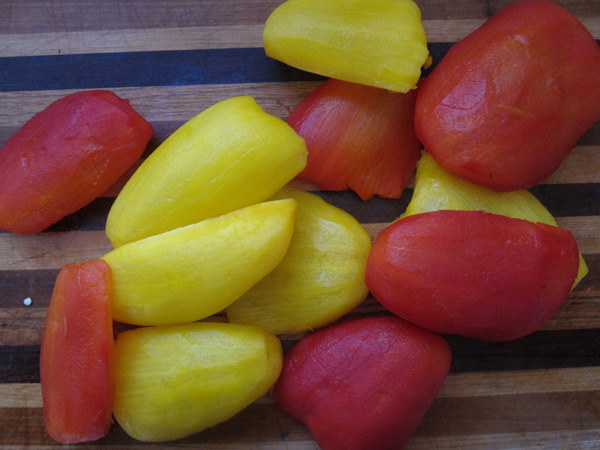 What? For real. I peeled those raw peppers. No more bitter peel! Just sweet, soft pepper flesh. Able and ready to soak up any flavor that might come along.
And boy, are there flavors coming.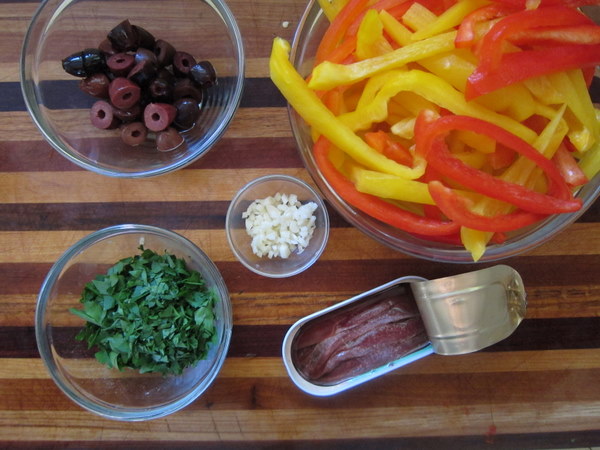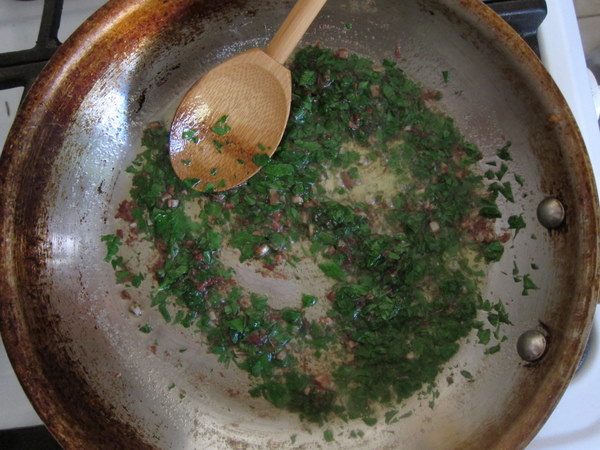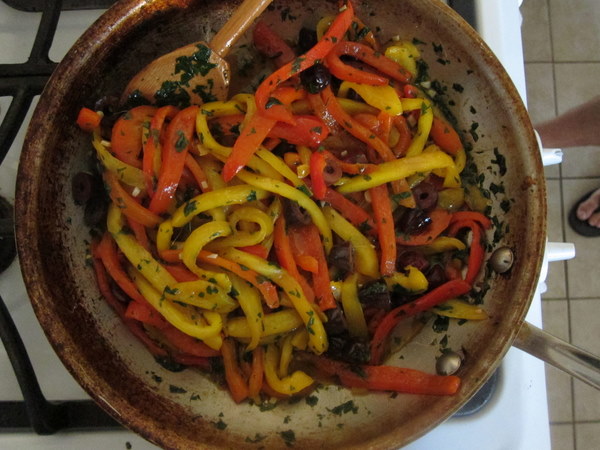 We're going to saute those peppers with lots of parsley, plenty of garlic, and a hefty dose of anchovies. Stay with me now. You may think you hate anchovies, but I almost guarantee you don't. Do you like tuna fish? Salty, ocean-y tuna? Of course you do. Everyone loves tuna. Unless you don't, in which case you might actually not like anchovies. But if you like tuna, and especially if you like salt (c'mon now – everyone loves salt), I think you should give anchovies another chance. Especially in a dish of soft, silky peppers sauteed with herbs and garlic and olives.
But that's not even the main dish here. We need something big in this meal – something flavorful and homey. I'm thinking we should make a little chicken piccata.
Just a little chicken, pounded into thin, tender slices and coated with a bit of savory salt and pepper flour. Browned up nice and topped with a pan sauce of capers, butter, and all those delicious little bits of this and that that stick to the pan while you cook the chicken.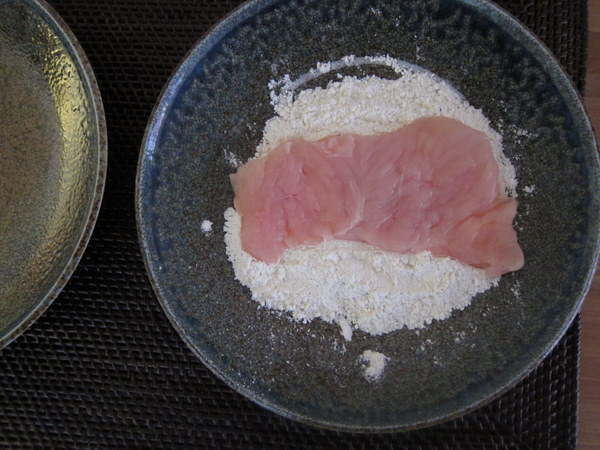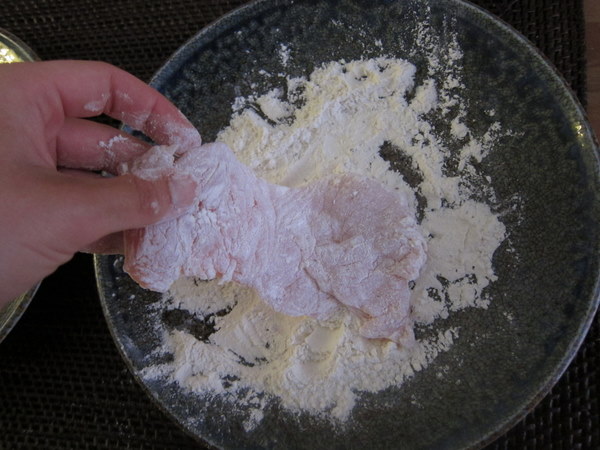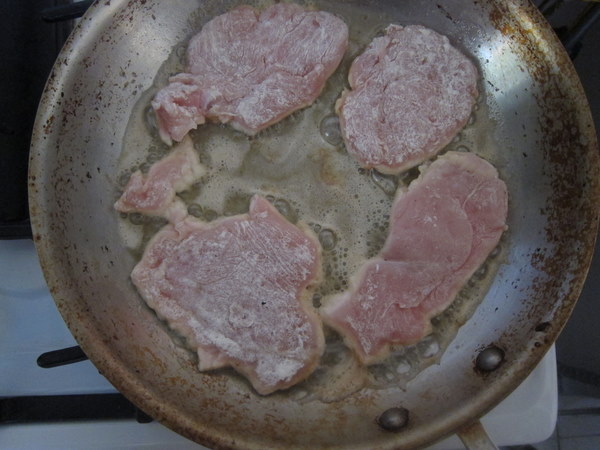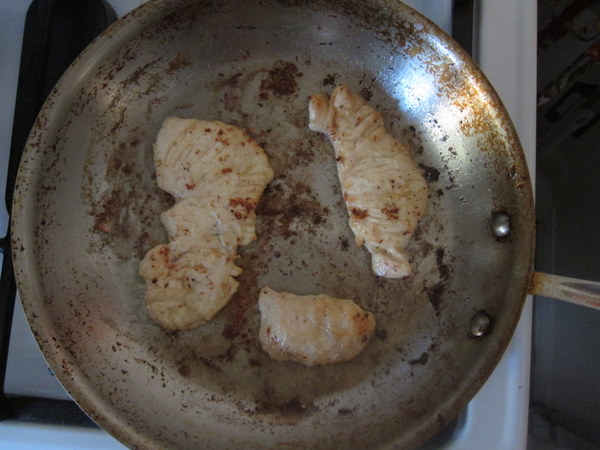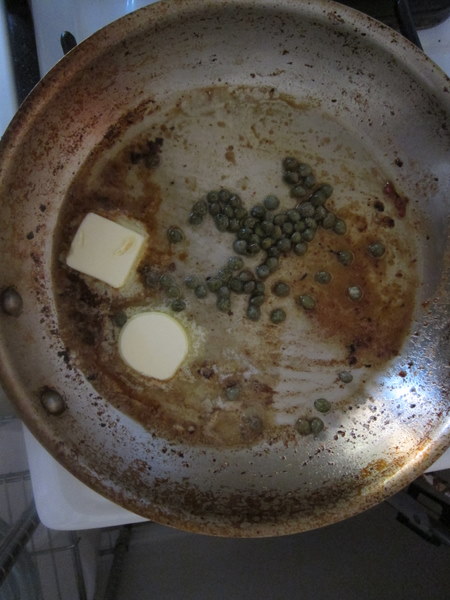 Tender, browned chicken cutlets with a savory, fresh pan sauce. Magnifico!
So now you've got it. Dean Martin's on the stereo and there's a delicious meal on your plate and a tasty drink in your glass (maybe you're even on your second by this point). It might not be a trip to Italy, but it can get you away from life for just a little while …
Negroni

Makes one, easily scalable.

1 part gin (1 oz is a good place to start, since there's other alcohol too)
1 part Campari
1 part sweet vermouth
Lemon wedge
Lemon twist (optional – you can use an actual twist tool for this, or just peel off some rind with a vegetable peeler, see photo above)
Ice

– Mix all ingredients together in a glass with ice. Twist in peel if you like.

Sauteed peppers with anchovies and black olives
Slightly adapted from Marcella Says … by Marcella Hazan

Makes 4 side dish/appetizer servings

4 large bell peppers, two yellow and two red
2 garlic cloves, minced
5 anchovy filets from a container packed in olive oil
A small handful of parsley, chopped
1/3 cup or so of black olives (kalamata, nicoise, etc.) – chopped in half if not very small
Olive oil
Salt and pepper

– Cut each pepper along the creases, which will give you 3-5 pieces of flat pepper. Remove the stem, seeds, and white veiny material, then peel with a veggie peeler. This can be a little obnoxious around the curved top and bottom, but you can cut those  pieces off (they make a good snack while cooking). This might seem a little picky, but the peel is somewhat bitter and inhibits the peppers from fully cooking and sauteing in the pan.  Pepper flesh is quite sweet and soft, and both of those qualities are key for this dish.

– Slice the peeled pepper pieces into thin, long strips (about 1/4-inch wide).

– Heat a few tablespoons of oli in a large skillet, and add in the garlic and anchovies before turning up the heat to medium high. Stir and mash the anchovies to help them dissolve into the oil. They're pretty soft, so this shouldn't be too difficult.

– Before the garlic starts cooking – while it's still a "pale blond" color, rather than starting to turn golden brown – add the parsley to the pan. After stirring a few times, add the peppers and a bit of salt and pepper. Turn the heat down to medium low.

– Cook the peppers until they are just beginning to be tender, then add the olives. Cook until the peppers are very soft.

– You can do all of this ahead of time and then refrigerate the peppers for a day or two, but they should be served room temperature or warm.

Chicken piccata
Adapted from Martha Stewart's Cooking School by Martha Stewart

Serves 2 heartily, or 3 with plenty of other sides

Note: There are a variety of ways to create the thin (1/4-inch thick) chicken cutlets needed for this dish. We chose a pretty straight-forward way that created four small pieces from each breast – we just cut each breast width-wise into four pieces – but you could also butterfly the breasts or buy ready-cut cutlets from your butcher.

Two large chicken breasts
1/4 cup flour
Salt and pepper
2 Tbsp. olive oil
3 Tbsp. butter
3 Tbsp. dry white wine
3 Tbsp. lemon juice
2 Tbsp. capers, rinsed and drained
1 Tbsp. parsley, chopped

– If you want to do it how we did it, take each breast and cut it into four pieces. It doesn't particularly matter how – we cut perpendicular to the length, basically slicing it into four very thick slices.

– Take a piece of chicken and put it between two sheets of plastic wrap, then pound with a meat tenderizer/pounder or a heavy skillet (or some other heavy object) to pound the meat into a thin (1/4-inch thick) piece.  Do the same with the rest of the pieces, using the same plastic wrap for each piece.

– Mix together flour with generous doses of salt and pepper in a shallow dish or plate.

– Dredge each piece of chicken in the flour mixture, making sure each piece is thoroughly coated. Shake/tap to get off any excess flour.

– Heat oil and butter in a large skillet over medium-high heat until the butter starts to sizzle. Sautee dredged chicken pieces until golden brown, about 2-3 minutes on each side. You'll likely need to do two batches of cooking, based on the size of the pan. Transfer the chicken to a plate and drain excess fat from the pan.

– Next you'll make the pan sauce, which should be done right before serving. If for some reason you need delay some part of this whole process, stop now – make the chicken and drain the pan (but don't clean it). Then start again from here when you're ready.  Return the pan to medium heat and add the wine, using a spoon or spatula to scrape up and stir in any browned pits from the bottom of the pan. Cook until the wine has been reduced by about half – should be under a minute. Remove the pan from the heat and stir in the lemon juice, capers, and butter. Before serving, add the parsley and season with salt as needed. Pour over the chicken to serve.