Mambo Italiano, part II
Lately I've found myself particularly drawn to the idea of themed meals. Some recipes, a carefully chosen cocktail, a bottle of wine, and appropriate music, and my kitchen is transported to another time and place.  This stems from the same sort of enjoyment we all get from looking at our glossiest cookbooks; those pictures provide a glimpse into the lives, the culture, the stories, and the rest of the context inextricably linked to the recipes and other food writing in the book.
I'm about to share with you another Italian menu, and it's no secret that I've been spending a lot of time with our growing collection of Italian cookbooks.  It's hard to stay away from scenes of sun-drenched hillsides, freshly caught seafood, rolling vineyards as far as the eye can see, and the ruddy, proud, happy faces of people engaging in the food traditions of their ancestors. It's also really hard to stay away from this food.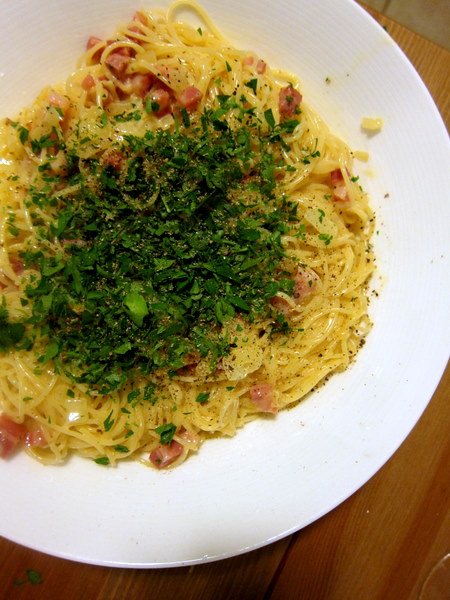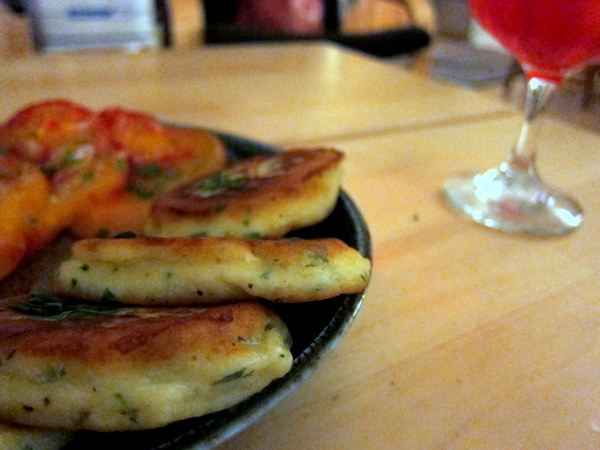 I chose this menu to dive into Culinaria Italy, one in a series of h.f.ullmann's edited Culinaria series and a cookbook we received secondhand from a friend who didn't want it. I can sort of see why – it's a bit overwhelming, with all of its prose and photos and tiny text and open-ended "cook until done"-type instructions.  But I've been spending a lot of time with this book lately, sucked in by the descriptions and stories and tangential notes that wrap around the recipes like a cloak. I don't just read a recipe for Tonno alla palermitana (tuna Palermo style), but also about the tradition of Sicilian tuna harvesting, the varieties of tuna available in the area, and how the traditional fishing lifestyle has changed as pollution and technology have threatened tuna harvests off the Sicilian shores. The book is organized by region, which allows the authors to delve deep into the importance of each recipe and reflects the importance of geography when covering a certain type of food. I'm completely enamored, and if I had the time and financial resources I'd be cooking my way through this book cover to cover.
I also wanted to make pasta carbonara, on this year's list because my growing love of eggs means I can't stay away from a pasta dish that relies in part on raw egg yolk to form a creamy, unctuous sauce.  Also, bacon. Let's be real. (I actually took this recipe from Italian from William-Sonoma, another Italian book I hadn't yet written about – a bit more generic and easy to digest, with a great selection of everyday Italian recipes.)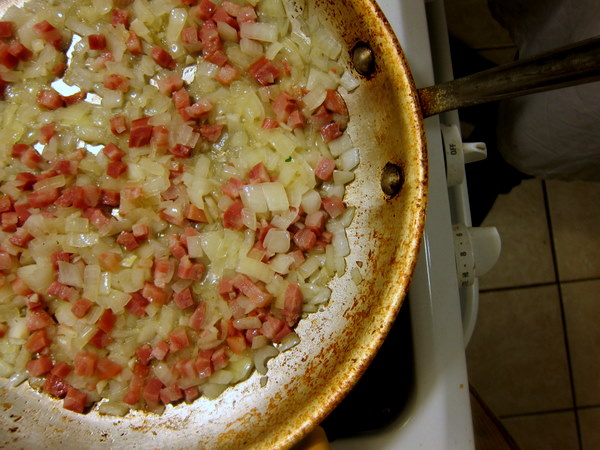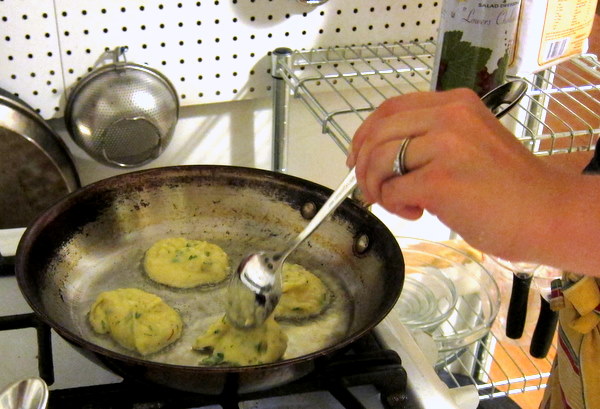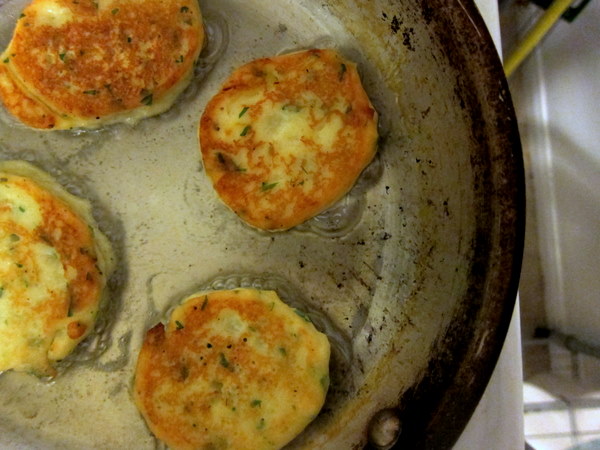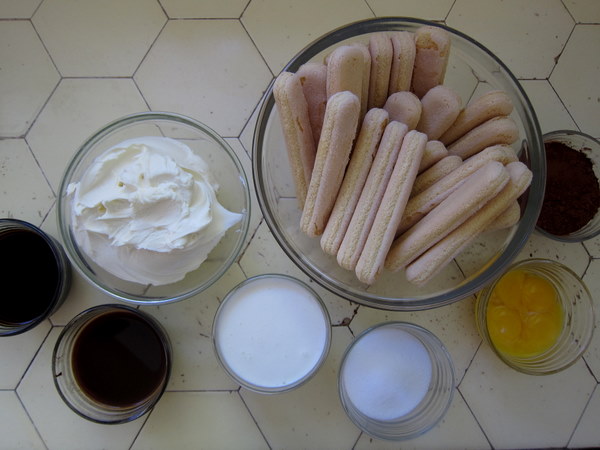 So here's what: 1) Potato saffron cakes. Floral, earthy mashed potatoes pan-fried in a small cake until picked up easily as a finger food.  2) Pasta carbonara. Creamy and salty with eggs, cheese, and pancetta. Perfect comfort food. 3) Tiramisu. Fluffy layers of whipped, creamy marscapone (Italian sweet cream cheese) and spongy ladyfingers, soaked in dark rum and espresso. I literally could not stop eating this the next night, even though we'd already had dessert at another dinner event.  I had to give the rest of it away to save myself.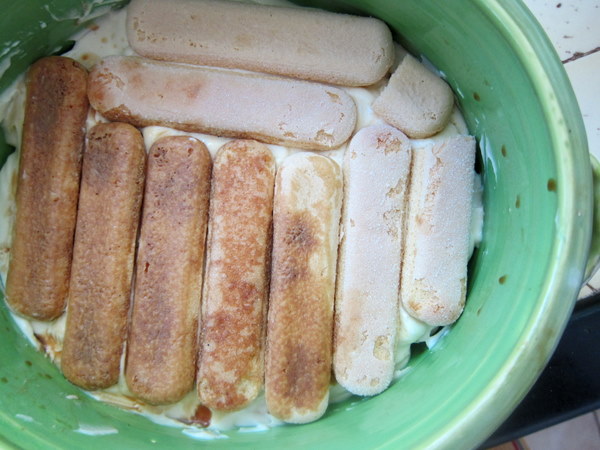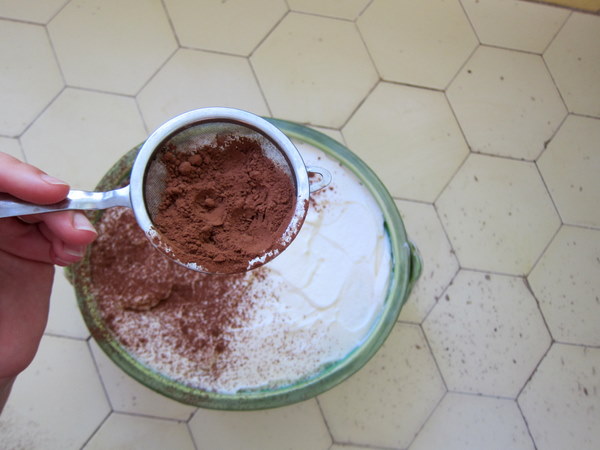 We drank cocktails of gin, orange peel, and Sanbittèr Italian apertif soda as we cooked and some Barbera D'alba with dinner, and put on that "Mambo Italiano" Pandora station I made a few weeks back.  It may not have been Italy, but before a working weekend it certainly felt like a little vacation.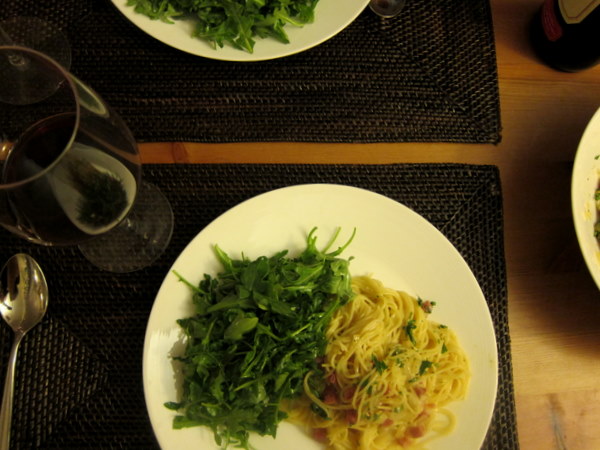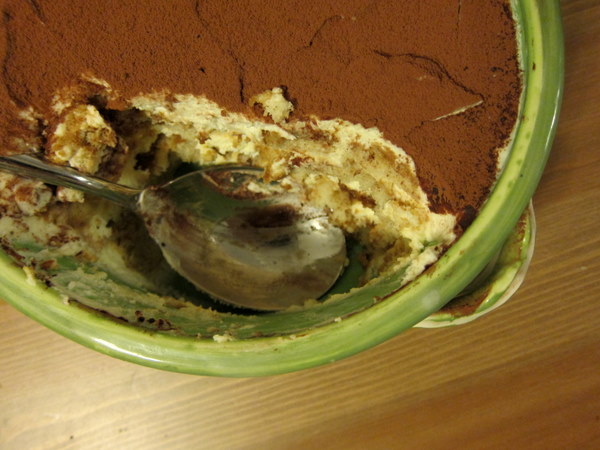 Pasta carbonara
Adapted from Italian from Williams-Sonoma

Olive oil
1 yellow onion, diced
1/4 lb. pancetta, cubed
2 garlic cloves, minced
Salt and pepper
1/2 lb. pasta (spaghetti is the traditional choice, but you could use anything you like)
2 egg yolks, beaten
1/4 cup heavy cream
1/2 cup freshly grated Parmesan cheese
3 Tbsp. minced parsley

– Boil a large pot of water to cook the pasta.

– Coat a large skilled with olive oil and heat over medium high. Saute the onion until softened, about two minutes. Add the pancetta and garlic and cook until the pancetta begins to brown lightly. Set aside.

– When your water is boiling, salt generously and cook the pasta until al dente, according to package directions and your taste.

– While pasta is cooking, whisk together the egg yolks, cream, and Parmesan. Add the pancetta and onions and season as needed with salt (you won't need much).

– Drain the pasta when done and toss with the egg/pancetta mixture until well coated. Sprinkle with parsley and pepper as desired, and serve immediately.
Tiramisu
Adapted slightly from Culinaria Italy from h.f.ullman Publishing

3/4 cup heavy cream
5 Tbsp. sugar
4 egg yolks
1 lb./16 oz. marscapone (Italian sweet cream cheese – available at Trader Joe's, among many other places)
About 36 ladyfingers (Italian sponge cookies – also sometimes available at Trader Joe's and generally always at Italian markets and high-end grocery stores)
3 Tbsp. strongly brewed espresso
3 Tbsp. dark rum
1/4 cup cocoa powder (or as needed to coat the top)

– Using a hand or stand mixer (or a whisk, if you're particularly ambitious) beat the cream with 1 Tbsp. sugar until stiff peaks form.

– In a separate bowl, beat together the egg yolks with the remaining sugar until lightened in color and very creamy – about two minutes.

– Stir the marscapone into the egg mixture one large spoonful at a time, making sure the mixture is smooth. Fold in the whipped cream.

– In a small bowl, mix the espresso and rum.

– Line a dish with a layer of lady finger cookies, and coat with some of the espresso/rum mixtures. Each layer of cookies will be soaked or coated or brushed with this espresso/rum mixture, and it's really up to you how strong you want this to be. I brushed the cookies until there were no dry spots on the top, but I definitely could have used a stronger flavor (we ended up drizzling more rum on top after serving our pieces).  Next time I might very briefly dunk the cookies in the mixture.  Depending on whether you're serving people who like/don't like coffee and alcohol, you can decide how much to include.

– Layer your dessert with alternating layers of soaked ladyfingers and your marscapone/cream mixture, ending with your cream mixture on top. Depending on the size of your dish and the ladyfingers, you may not go through everything you have. I bought a package with 48 cookies, and used exactly 35. My dish was taller than the one pictured in the book, and I think my layers of cream were a little thinner than theirs. There aren't any strict rules here – just use what you have.

– Sprinkle the top of your dish with cocoa powder and chill for at least one hour before eating.