Tequila for dinner!
Let's make dinner!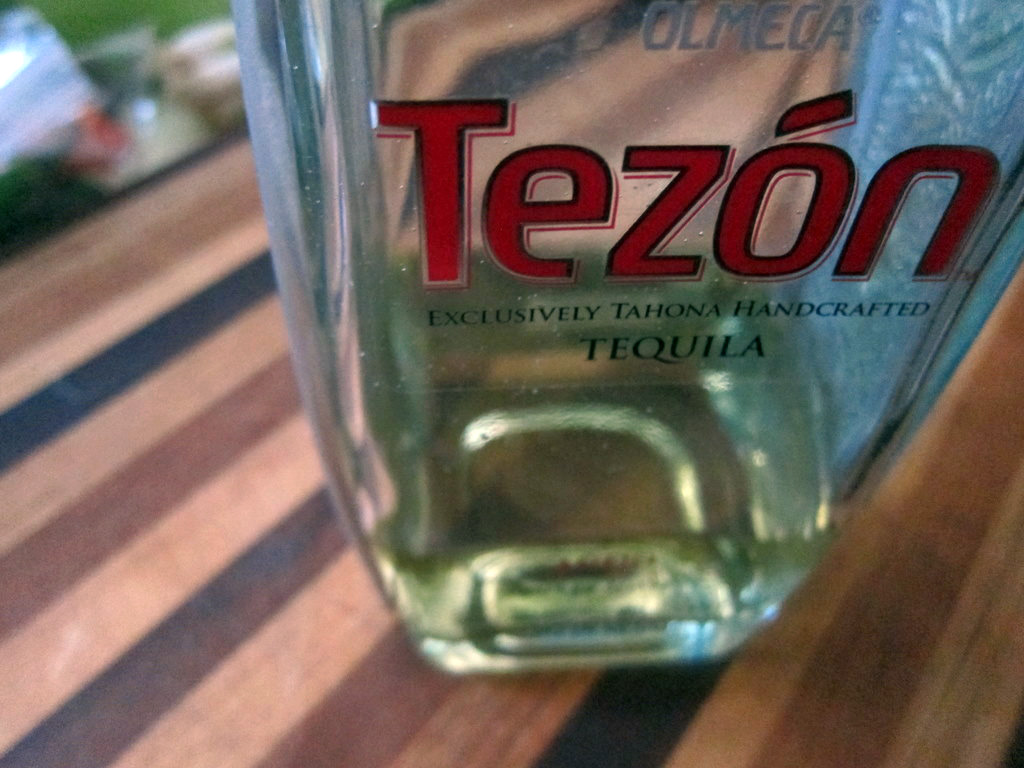 Hey look, it's tequila. Let's have tequila for dinner!
Not in that kind of way. C'mon now. Cocktails only make me want to eat more, not less. I could never be one of those "liquid lunch" type of people.
Let's put this tequila in a drink, certainly, but let's also add it to this.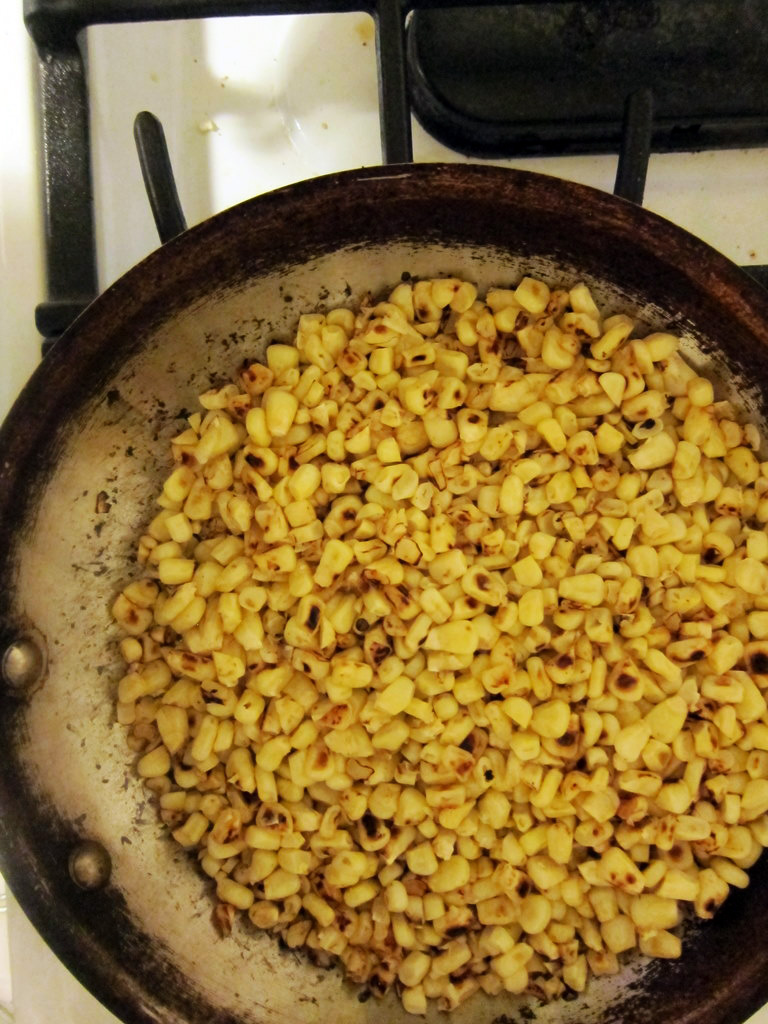 Have you ever thought about this? You can braise things with wine, you can braise things with whiskey – why not braise with tequila? Sweet, caramelized, slightly charred corn, braised with smoky, complex, slightly vegetal tequila.  Tequila and corn are awesome together. Tequila and corn are like your two friends who meet at the party and come together with amazing chemistry and make you go "ohhhhhh – why did we never think about that before?" They're even cooler and funnier and more interesting together than they are on their own. Tequila and corn might like like each other. They're a little confused about these exciting new feelings they have for each other. And I guess in this analogy I'm a creepy omnipotent bystander with confusing and exciting feelings of my own.
Moving on. This tequila and corn combo is pretty killer, but let's make it even better. Let's throw in some tomatoes, some green onions, some cilantro, and a little somethin' somethin' to kick up the heat a bit.  Now we're ready.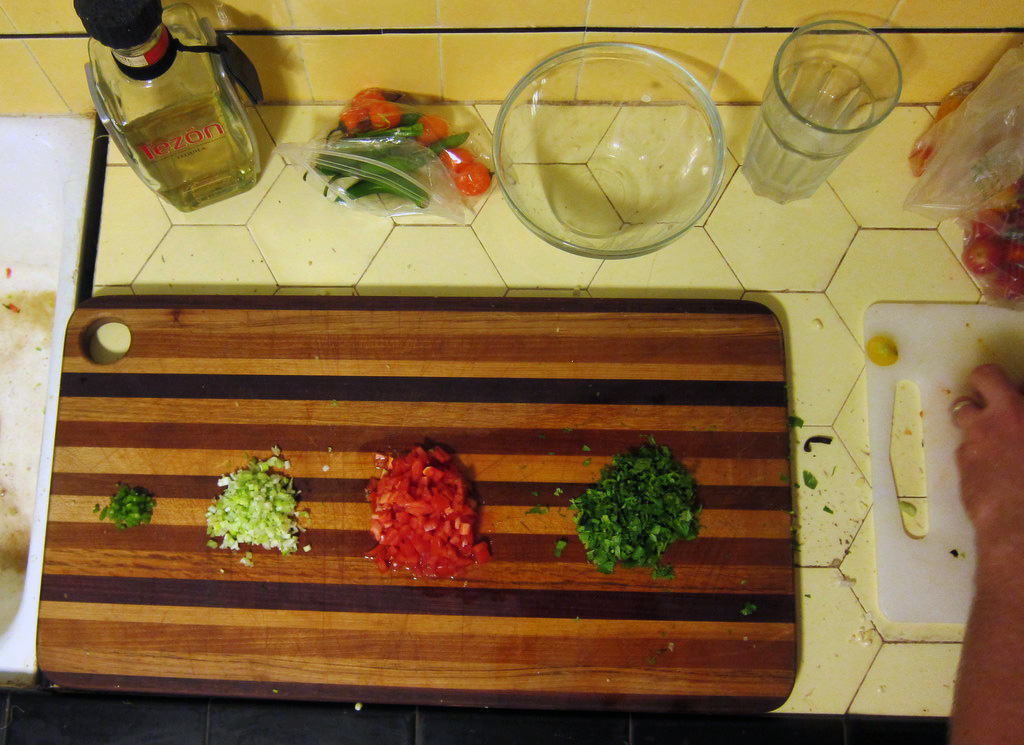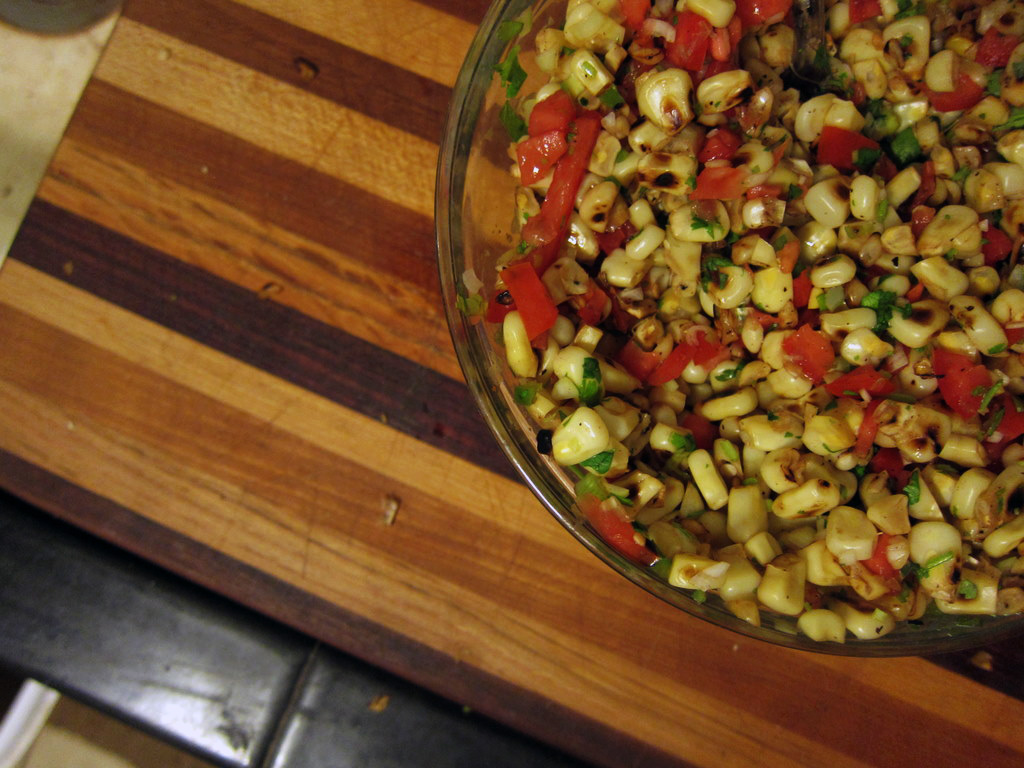 My god, are we ever ready. Please put this in a burrito. Please put this on a chip. Please put this on top of bean dip, or in enchiladas, or in a taco (maybe with some slow-cooker carnitas?). Please put it on a fork and start shoveling it in your mouth, like I did well before the rest of our meal was ready. Or, just put it on your chile relleno, like we did.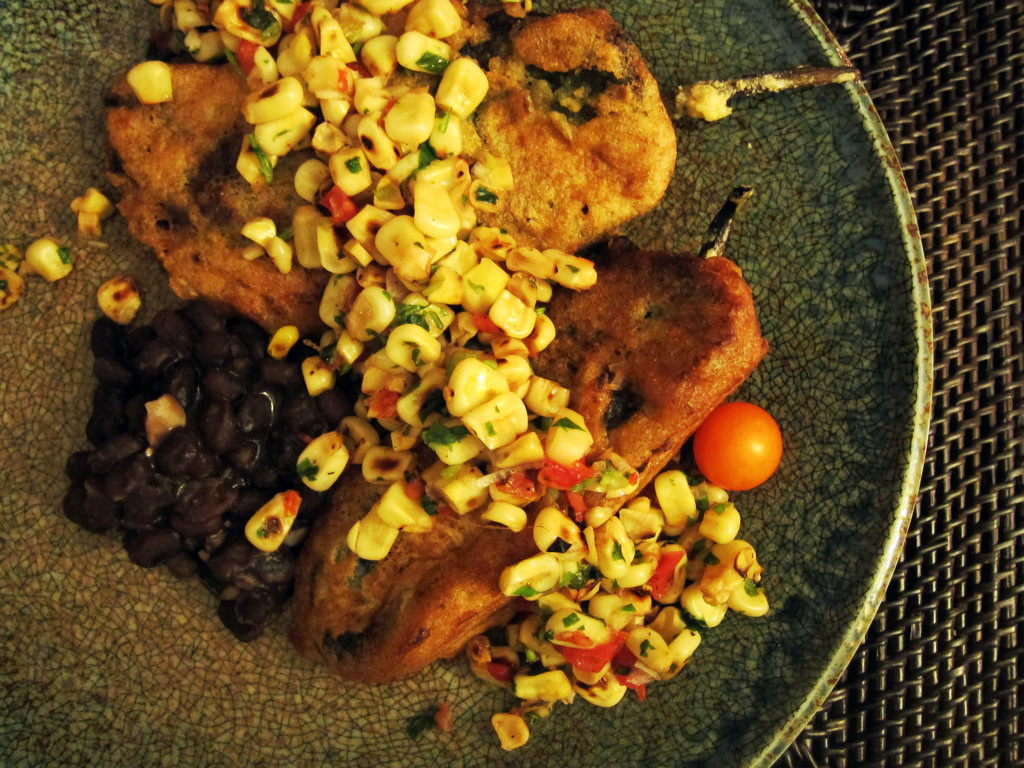 But hold on! We are not yet done with the tequila. It may have served a particularly exciting flavoring purpose here tonight, but it has an even more primary service to provide.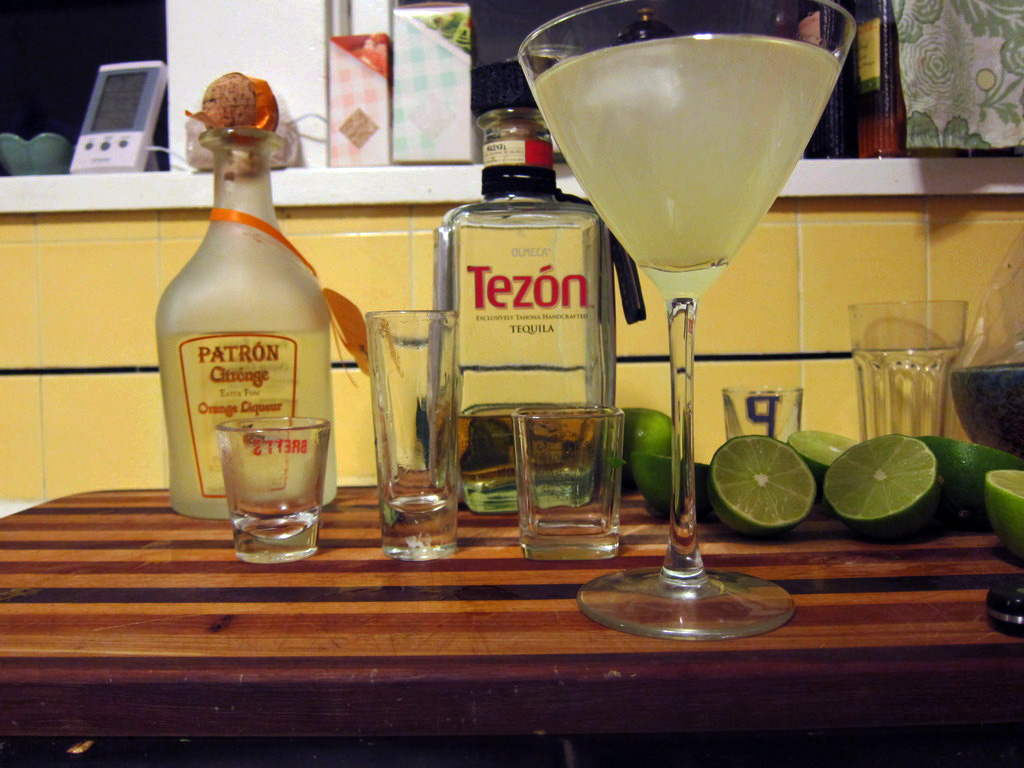 Okay, now we're ready.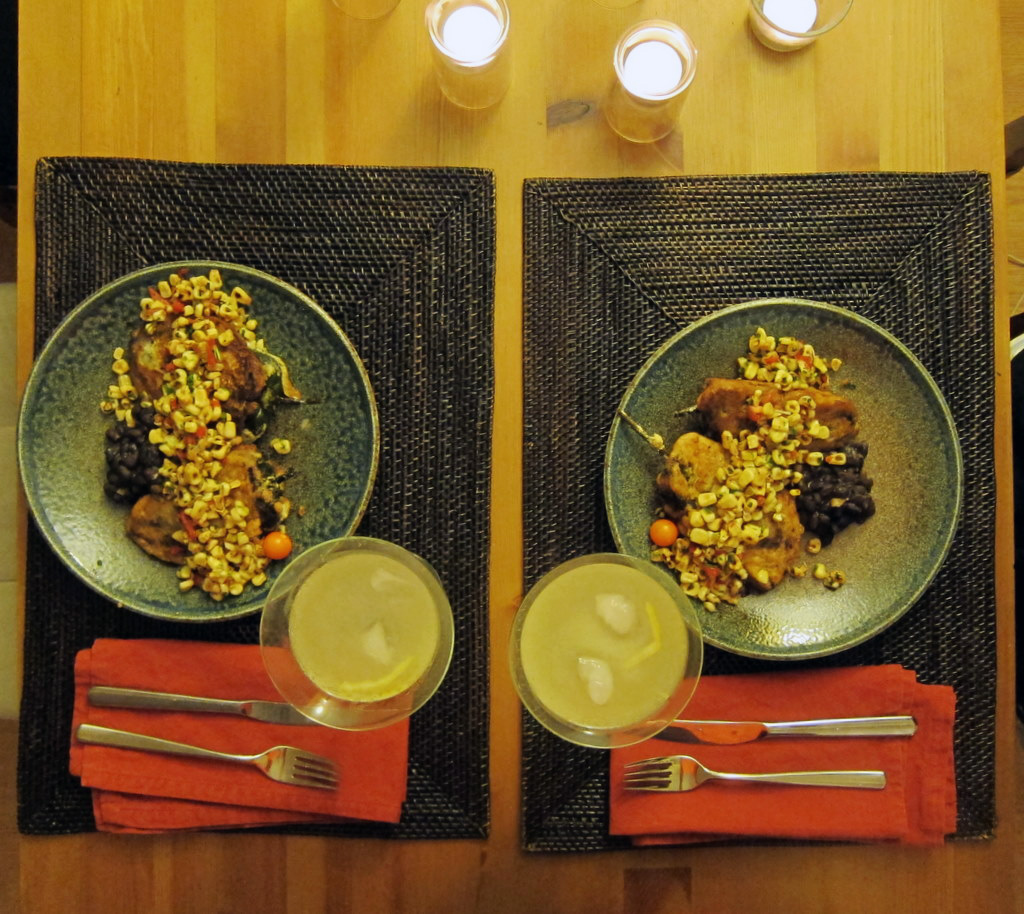 Tequila-braised corn
Adapted from From Asparagus to Zucchini by the Madison Area Community Supported Agriculture Coalition

Makes 4 side servings

2 ears of corn, kernels removed
6 Tbsp. tequila (two shots)
1 plum tomato, diced
Serrano or other hot pepper, minced, added to taste (I used about 3/4 of a serrano, seeds and veins removed)
4 green onions, minced
Small handful of cilantro (including stems), chopped
Salt to taste

– Heat a dry skillet over high heat. Add corn kernels and cook, stirring occasionally, until corn is browned on almost all sides (about 5-10 minutes). As the sugar in the corn begins to caramelize, the smell will be amazing. You'll start to hear a popping noise from the kernels. Brown bits may stick to the bottom of the pan, but that's absolutely okay.

– Add the tequila to the pan. It will steam and boil almost immediately. Use a spatula to stir the mixture around, scraping up brown bits on the pan as much as you can (you may not be able to get much if the tequila cooks off almost immediately – that's okay).  As soon as the liquid is almost entirely cooked off (and this happened very quickly for me), you can remove the pan from the heat.

– Mix the corn and the rest of the ingredients together in a medium bowl. Taste for salt and heat.  You can add more pepper as desired, since it really depends on your desire for heat and the heat of the specific pepper you're putting in. Serve warm, room temperature, or chilled.
Go-to Close Margarita

It's really important to note that this isn't your everyday Mexican Cantina margarita. This is a cocktail. It is strong, it is small, and it does not cover up the taste of the alcohol. This means it is extra tasty, but not meant for gulping. Think of it along the lines of any other simple cocktail – a manhattan, an old-fashioned, a Tom Collins, a gimlet.

I've written about our margarita before, but here for once and all is the official recipe.

1 shot (1.5 ounces) orange liqueur
We prefer Citronge (made by Patron and available at Trader Joe's, among other places), but you can use triple sec, cointreau/controy, or Gran Marnier if you're feeling really fancy (and rich)
A little shy of 1 shot (maybe 1.1 ounces?) fresh lime juice
We generally always squeeze fresh limes, and if you're lucky this will only take 1.5 juicy limes. We use one of these to squeeze, which makes a world of difference if you're often squeezing limes/lemons for drinks or food.  In a pinch, you can use bottled lime juice.
A little more than 1 shot (maybe 2 ounces?) tequila
An easy way to do this is to fill up the rest of the lime shot glass with tequila, since you haven't filled it all the way. Otherwise you can use a little bigger shot glass, which is what I did here.  We like to use the Trader Joe's brand tequila because it's tasty and rather cheap. You don't need to use a high quality, expensive brand of tequila in these margaritas. Fancy tequila is for sipping (yes, you can drink tequila on its own – a good tequila is a very, very different beast than a lower-quality option).
Optional: splash of Gran Marnier – this will add some sweetness and a bit of luxury.
Optional: splash of agave syrup (Trader Joe's carries a good one) or simple syrup (which you could make with piloncillo, "Mexican brown sugar," if you wanted to) – this will tone down the lime tartness if you like your drink a bit more on the sweet side.

– Mix liqueur, lime juice, and tequila together in a glass with ice. Rim the edge with salt and/or garnish with a lime wedge, if desired.