Taqueria night 1 of 2: Roasted mushroom and chorizo tacos with roasted tomatillo salsa
by Bowen Appétit on January 31, 2012
Two nights of authentic taqueria dinners. Why not? This post details night 1 of 2. 
Here are a few things I've learned recently:
Roasting vegetables (or anything, really) with a bit (or a lot) of chorizo in the pan is a very, very good idea
There really is something behind this pricey heirloom bean thing, and the "pot liquor" left at the end of the cooking process really is quite delicious
When dry roasted, tomatillos dance around in the pan like Mexican jumping beans
All together now: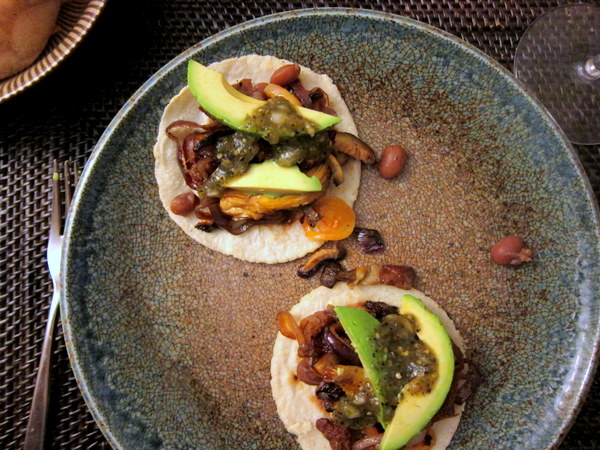 Earthy roasted mushrooms with chorizo and caramelized onions, simply prepared yet creamy heirloom beans, roasted tomatillo salsa, fresh homemade tortillas, and perfectly ripe avocado.  Tacos, my friends – mighty delicious tacos.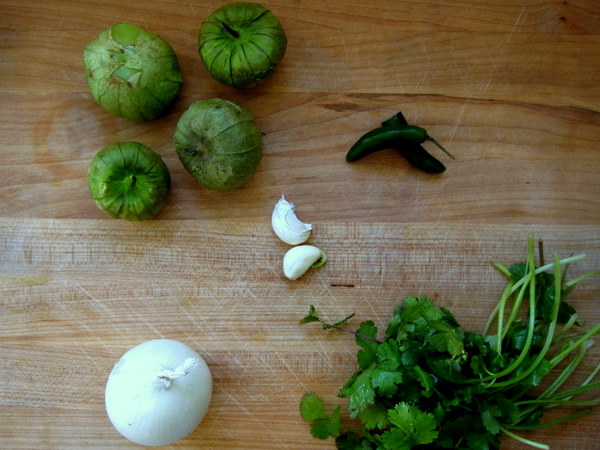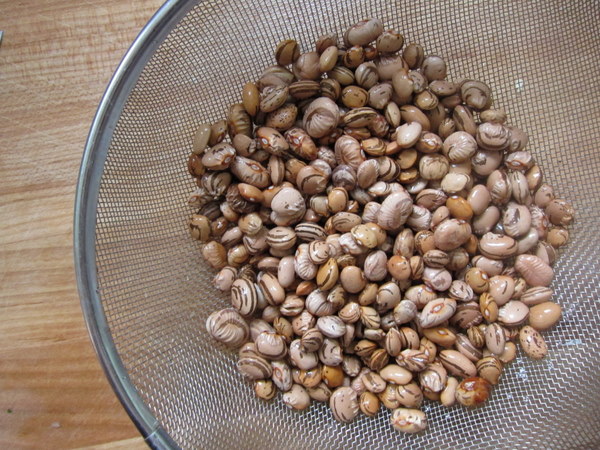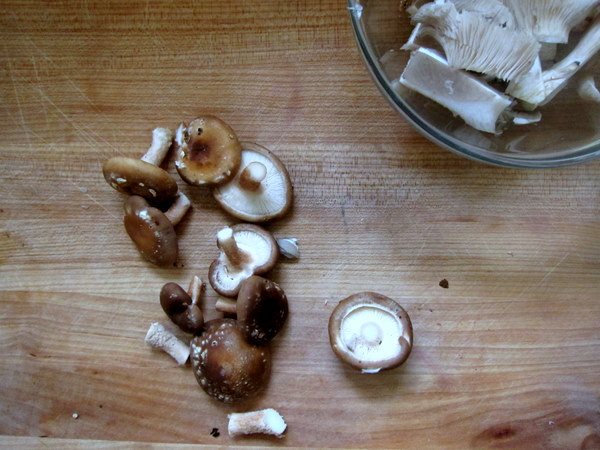 It's no secret that the Close Household loves Mexican food. We love buying it, we love making it, we love eating it. And since we know we won't live in Southern California forever, we're trying to emphasize that making part. I've seen what Mexican food looks like in other parts of the country, and if you have too you know why we want to be able to make it ourselves. Like an arsenal of secret weapons, armed with ancho chili rub, fresh tomatillos, and a bag of fresh masa. Enter a few good Mexican cookbooks, a few favorite local Mexican markets, and two intrepid home cooks, and you've got yourself a pretty good little home taqueria.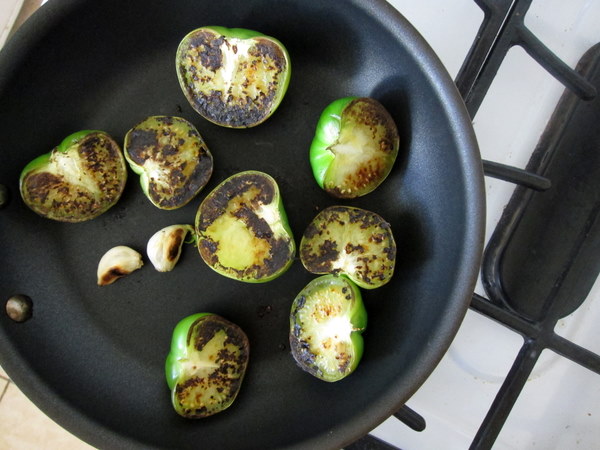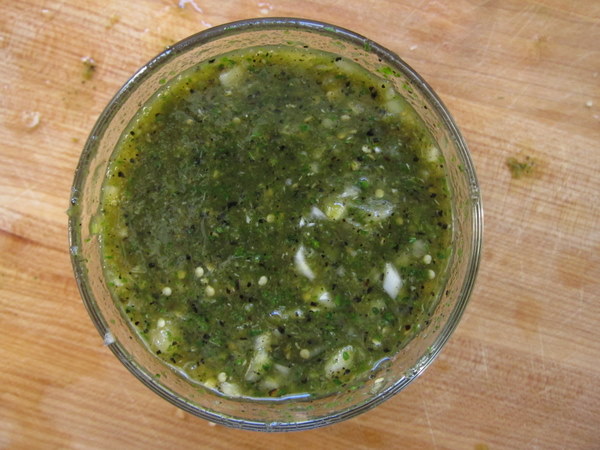 You can scale this menu for as many people as you need to feed – six small tacos for two people (or maybe three people, if you have some other dishes), 18 tacos for six, 30 tacos for ten.  The more you feed the more you may want to take shortcuts – making 30 homemade tortillas may keep you in the kitchen for your entire dinner party, for instance.  But the great thing about doing this for a dinner party is that it's all pretty easy, and much of it can be done ahead of time.  Making a huge pot of beans isn't much different than making a small one, likewise with making a huge batch of salsa.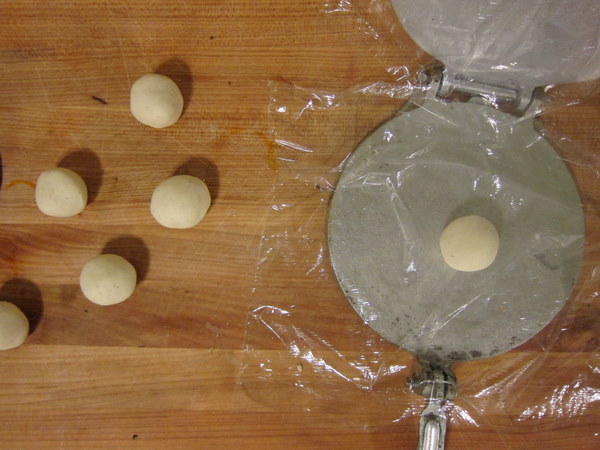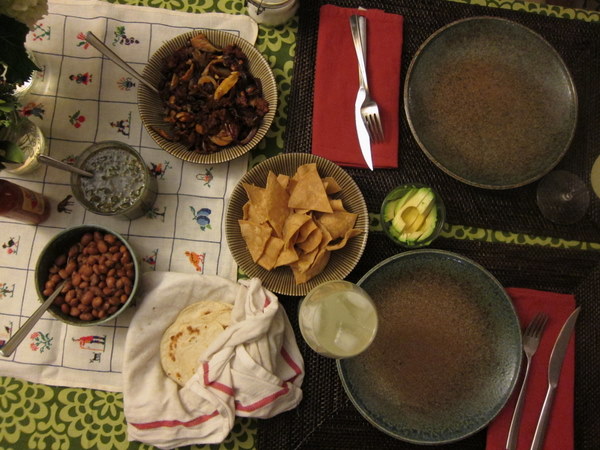 Mexican Dinner II Menu
Roasted mushrooms with chorizo and onions (recipe below)
Simple Mexican beans with Rancho Gordo heirloom Eye of the Goat beans (recipe below)
Homemade tortillas (made with fresh masa purchased at a Mexican market)
Roasted tomatillo salsa (recipe below)
Fresh avocado slices
Tortilla chips
Roasted mushrooms with chorizo and onions
Adapted from Everyday Mexican by Rick Bayless

8 ounces mushrooms, preferably mixed (I used 4 ounces shitake and 4 ounces oyster mushrooms)
4 ounces bulk Mexican chorizo (Note: soyrizo may be a good substitute here. I have not tried it with this recipe, but have eaten it in other recipes and have found it quite good. It likely will not release as much moisture as meat chorizo, though, so you may need to add some oil during the roasting process. Monitor the mushrooms and onions and make sure they aren't drying out. If they do, add in olive oil, flavorless oil like canola, or a bit of lard or bacon drippings.)
1 red onion, sliced into 1/4″ slices and separated into rings

– Preheat oven to 425.

– Slice the mushrooms into small bite-size pieces, removing any dirty or tough stem ends. Keeping in most of the stems is fine, you just want to discard any bits with clumps of dirt or a woody texture.

– "Crumble" the chorizo across a rimmed baking sheet. I say "crumble" because it's pretty wet and doesn't really crumble, per say – more likely you'll pinch of small bits and place them over the sheet.

– Spread the sliced mushrooms and the onion rings over the chorizo.

– Roast for 20 minutes, stirring at least once during the process.
Simple Mexican beans
Adapted from the Rancho Gordo basic bean recipe

1 cup dried beans (I used these)
Cooking grease: flavorless cooking oil (e.g. canola, grapeseed) or (preferably) bacon drippings or lard
1/2 white onion, diced
2 cloves garlic, minced
Salt

– At least 8 hours before eating, rinse and soak the beans: Rinse in a colander and pick out any small stones or other debris that you may find. Place the beans in a pot or bowl and cover with water at least 1″ over the level of the beans. Soak for at least 6 hours before cooking.

– 2.5 hours or so before eating, cook the beans: Saute the onion and the garlic in the cooking grease, until tender. Set aside. Add the beans and their soaking liquid to a large pot (unless you find dirt or other debris in the soaking liquid, in which case drain the beans and add new liquid to the pot). Make sure the water covers the beans by at least 1″ (you may need to add more liquid, since the beans may expand). Add the cooked onions and garlic.

– Bring the beans to a boil and boil rapidly for five minutes. Reduce to a low simmer (likely as low as your oven will go), cover, and cook until tender. Depending on the freshness of your beans, this may take 1-2 hours (or even more). Taste along the way to determine when they're done.  If the water level drops substantially, add more (preferably hot water from a kettle or very hot water from the tap, so you don't lower the temperature too much).

– When tender, add salt to taste.

– If you want to serve beans without the broth (the "pot liquor"), lift them out with a slotted spoon. The broth is likely quite tasty, though, so consider using it in some regard. If you're going to store any leftover beans, keep them in the broth. You can store them in a closed container in the fridge for up to four days.
Roasted tomatillo salsa
Adapted from Everyday Mexican by Rick Bayless

4 medium tomatillos, husked, rinsed, and halved
2 cloves garlic, peeled
2 spicy chilis (e.g. serranos, jalapeños), or to taste, seeded and veins removed
Large handful cilantro (leaves and stems)
1 Tbsp. fresh lime juice (about 1 lime)
1 tsp. agave syrup
Salt
1 medium white onion, diced

– Heat a large non-stick skillet over medium-high heat. When the pan is hot, add the tomatillos cut side down and the two cloves of garlic. Let them roast until charred, then turn as needed to char each side. The tomatillos should be soft when done (heat as long as necessary to soften them). The garlic will likely be done before the tomatillos, depending on their ripeness.

– Meanwhile, finely process the chilis and the cilantro in a food processor.

– Add the roasted tomatillos and garlic to the food processor. Let them cool for a few minutes, then process into a smooth mixture.

– Add the lime juice and agave syrup and about 2 tsp. of salt and process. Process in water as needed for desired consistency (which will depend on the amount of liquid in the tomatillos) and add in additional lime juice, agave, and salt to adjust the flavor. You'll likely need more salt. The agave, salt, and lime juice balance each other's sweetness, saltiness, and acidity (respectively), so if you have too much of one flavor you can add additional of the others.  The tomatillos will likely be fairly acidic to start with, so you may need to add more agave and salt.

– Pour the salsa into a serving bowl or storage container and stir in the onion. Adjust flavors again if needed, and if you make ahead of time make sure to taste again before serving since the flavors will develop (and in some cases subside) as it sits.