Roasted mushrooms, chorizo, and sweet potatoes with chipotle quinoa (plus more exciting announcements!)
Nearly two years ago, when we decided we were moving to Madison, I began seeking out other like-minded folks and food-related organizations to start getting to know my new hometown. Among many others, I was delighted to find a couple of other food bloggers (Vicky of Things I Made Today and Sarah of Wisconsin From Scratch) and the three of us have been getting together regularly over the past year or so to chat about our businesses and find ways to support each other.
Over time, we found there could be a lot of benefits of working together as a group – we could coordinate our efforts, cross-promote each other, brainstorm future collaborative projects … after a few meetings we had generated a pretty sizable list of ideas. So we've officially joined forces together as Wisconsin Whisk, a collective of food website coming together to share our love of cooking and of rooting our work here in Wisconsin. We even have an intern! (That's official.)
There's more to come on Whisk later – like a shiny new website! – but for now, we're very excited to announce a rather fortuitous turn of events, unveiled today. Madison Magazine's Best of Madison 2015 list was announced this morning, and the three of our sites have been listed as Madison's best food blogs! Thanks most of all to all the readers (that's you!) who helped vote us here. Woo hoo!
And in the spirit of collaboration, we're teaming up to bring you a celebratory three-course meal, each of us contributing a recipe. I'm here today with the entree of the meal, an easy and flavorful one that's been on my table at home a few times over the recent weeks.
Before I say too much more, let's talk about what comes before and after (important to know what you're in for!).
First course
Creamy sun-dried tomato soup

"I've been on kind of a sun dried tomato kick recently, and using them in soup form seemed like a logical next step. Obviously fresh tomatoes aren't quite in their prime during winter, so the sun dried version is an excellent alternative …"
Entree
Roasted chorizo, mushrooms, and sweet potatoes with chipotle quinoa

"… a wonderful, modern interpretation of some great Mexican flavors."

See recipe below
Dessert
Blood orange cornmeal upside-down cake

"I swapped out the butter in the cake for olive oil, whose fruitiness I felt sure would complement the oranges. I added some coarse ground cornmeal for texture and  more rustic feel …"
My contribution is fairly simple to put together – perfect for a weeknight dinner; enough for two people with plenty of lunch leftovers the next day. Roasting chorizo, onion, and mushroom together is one of my favorite taco fillings, as I've written about here before, and it's balanced perfectly by creamy roasted sweet potatoes. Adding chipotle to quinoa or any other grain is a perfect way to add some flavor and give it a kick, and topped with some basic Mexican-style garnishes (especially avocado, cheese, and/or crema if your quinoa ends up pretty spicy) this is a wonderful, modern interpretation of some great Mexican flavors.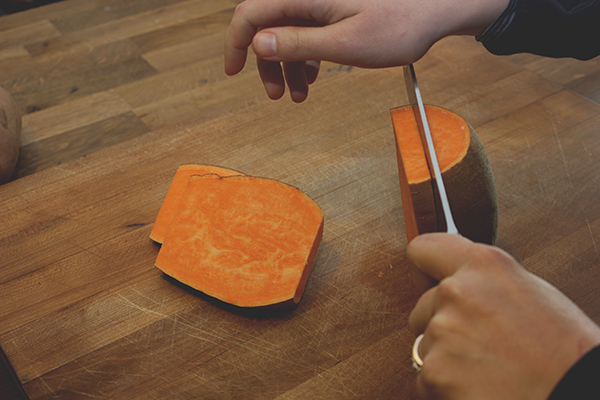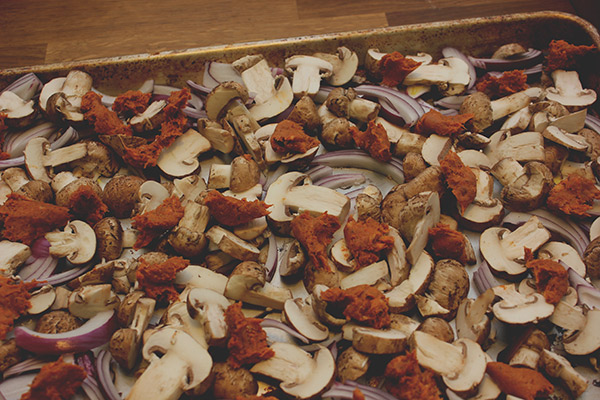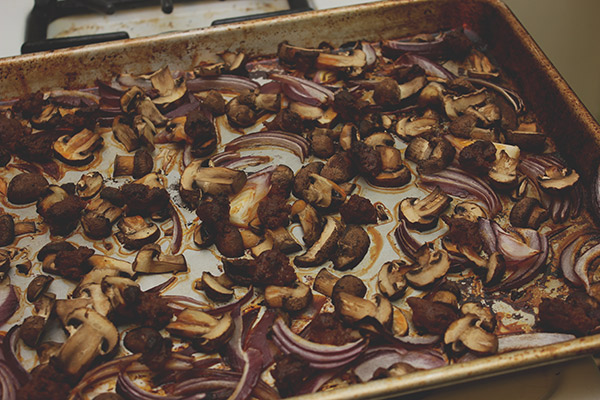 We're lucky here in Wisconsin that we can get a number of these ingredients locally. Cesar's Cheese in Columbus makes some of the best Mexican-style cheeses I've had, and we use their queso fresco and Cotija-style cheeses often in the Mexican food we make at home. This time I picked up some non-local pork chorizo at Mercado Marimar, but a number of local places make it as well, and during the warmer months I like to get chorizo from Jordandal Farms' market stand, among other places. (And make sure you're getting soft, uncured, Mexican-style chorizo – not the smoky, Spanish salami-like chorizo). And, of course, sweet potatoes and onions are in heavy rotation this time of year.
A note about the chipotles in adobo: it's on my everlasting to-do list to make these from scratch one day, but in the meantime I buy them in little cans from Mexican groceries (though you can often find them at regular grocery stores as well). It's great if you can find the really tiny cans, like the one pictured above, since most recipes only require one or two peppers and even those tiny ones have 8 or so. I find a can will last in the refrigerator covered in plastic wrap for a couple of weeks.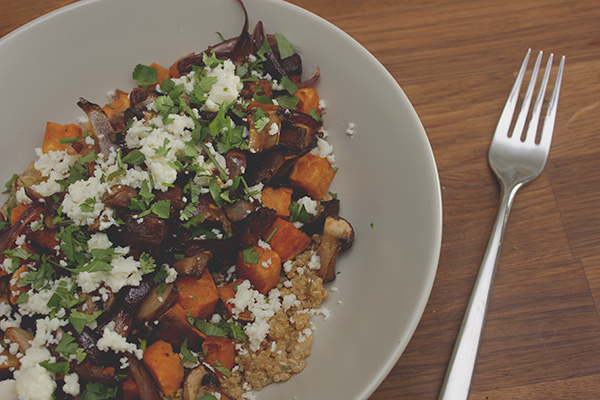 Roasted mushrooms, chorizo, and sweet potatoes with chipotle quinoa

Serves 4 heartily


2 large sweet potatoes, around 2 lbs., 1/2″ dice
Olive oil
1 lb. cremini, button, or mixed mushrooms, cut or sliced into bite-size pieces
1 red onion, cut into thin crescents
5 oz. Mexican-style chorizo (pork or beef; I prefer pork)
1 cup quinoa (white or other variety)
2-3 chipotle from a can of chipotles in adobo sauce, plus a few teaspoons of sauce
1 1/2 cups water, chicken stock, or other cooking liquid
1 tsp. salt plus more as needed
Optional garnishes: avocado, chopped cilantro, crema/sour cream, Cotija/queso fresco/other crumbly cheese, hot sauce, etc.

– Heat oven to 425F.

– Roast sweet potatoes, mushrooms, chorizo, and onion  Toss diced potatoes in enough olive oil to coat, plus a pinch or two of salt. Spread on a baking sheet. Spread prepared mushrooms and onions on a second baking sheet and top with pinches of the chorizo (see photo above). Put both baking sheets in the oven and roast until vegetables are fully tender and chorizo is cooked through, about 45 minutes.

– Meanwhile, cook quinoa Finely chop the chipotles in adobo, set aside. Rinse quinoa under cold running water for about 1 minute. Heat a small pot over medium-high heat, add a splash of olive oil, and toast quinoa in the pan until moisture absorbs and quinoa begins to smell toasty. Add cooking liquid, chipotles, and 1 tsp. salt, stir to combine, and bring to a boil. Cover the pot, reduce heat to low, and cook undisturbed for 15 minutes. After 15 minutes, turn off the heat but do not remove the lid or stir the quinoa. Let sit for 5 minutes, then remove the lid and fluff with a fork. If there's residual liquid, turn heat back up to medium-high and cook, stirring occasionally, until liquid cooks off. Taste and adjust salt as needed.

– Assemble and serve Serve the quinoa topped with the roasted sweet potatoes and mushroom mixture and topped with desired garnishes – I particularly like some crumbled queso fresco, chopped cilantro, and crema.

Storage/making ahead: All elements keep well refrigerated for up to 5 days; reheat in a pan with a bit of oil. This recipe makes particularly good leftovers for future meals.