A brunch party
by Bowen Appétit on October 6, 2011
We all have ways to we like to express our affection for friends and family, and I've discovered that my preferred strategy is hosting parties. I apparently specialize in wedding-related parties (e.g. showers, bachelor(ette) parties, engagement parties), but will take a birthday party or a going away party or anything else that might be thrown my way. Want to celebrate that it's Thursday? I'll throw you a bash that will make Thursday the new Saturday. Oh. Well, that kind of already happened. But that might just be on college campuses, or for other people who don't actually have to get up and be in an office on Friday mornings (soon to be ME!).  In any case, our Thursday Celebration party will be awesome, and it will have lots of food.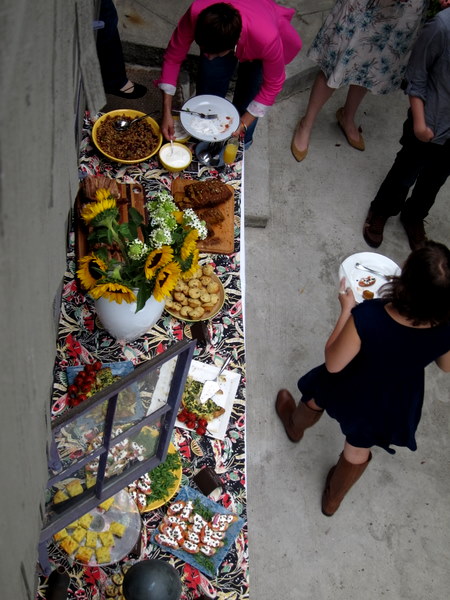 I love the process of putting together a party meal – pouring over recipes, designing serving style (finger food? cut in slices? circles? spooned?) and picking servingware, puzzling together a menu within the constraints of timing and oven space and transport.  I love seeing it all laid out on the table, and more than anything I love seeing people enjoying the food and getting feedback on what people liked.
And to that note, I'm going to be starting a new Menus feature here on the site. Up above you'll be able to find menus I've catered for parties, dinner parties we've had at home, and simple everyday meals. Whenever I post a menu together in one post I'll make a concerted effort to list it all together so it's easy to see.  You'll see a new post when it's ready!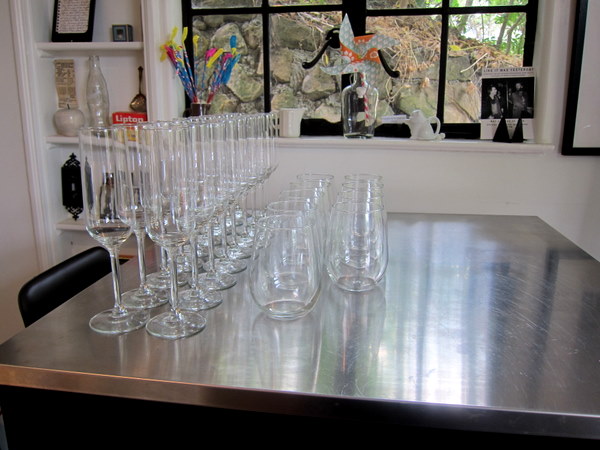 Back to the point – I started this meaning to write about a specific party. I just get distracted with all this talk of  party planning and new features and by the unfinished grape galette sitting the kitchen, steadily shrinking as I continue to break off a couple of bites at a time (more about that galette in a future post).
A few weeks ago I co-hosted an engagement party for my dear Erin and her fiance Mike, and provided (almost all) of the food. We were lucky enough to have co-hostess Rachel's beautiful, amazing, crush-worthy house for a venue and to have Erin and Mike's warm, lovely group of friends as party guests, and all in all it was a great success.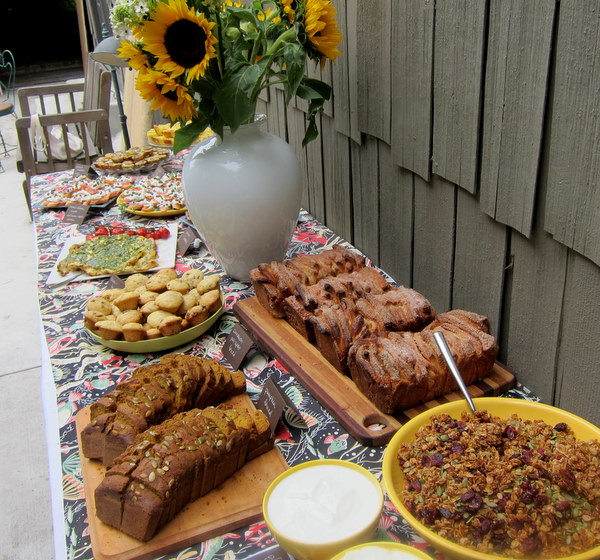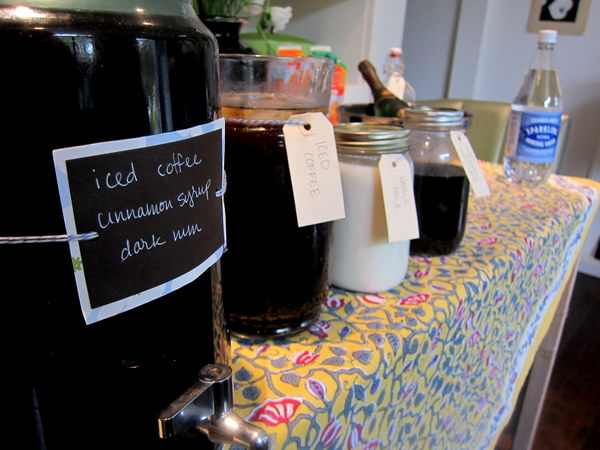 We designed the party as a brunch, so I focused primarily on breakfast-type foods – frittata and other sorts of egg dishes, smoked salmon and capers, muffins and breads, and granola and yogurt.  Brett developed an iced coffee cocktail and we toasted the lucky couple with that and mimosas. I'm going to share just one of the recipes here today, but if you want any others just let me know.
Mochaley Enagement Party Menu
Crustless mini quiches filled with pancetta, mushrooms, and parsley
Potato frittata with roasted on-the-vine tomatoes
Green chili egg souffle (see recipe below)
Crostini with homemade ricotta, smoked salmon, red onion, capers, and salt
Bacon, fig, caramelized onion mini-muffins
Pumpkin bread with pumpkin seed oil and pumpkin seeds
Homemade honeyed olive oil granola and yogurt
Mimosas with homemade cranberry liqueur
Iced coffee with dark rum, piloncillo-cinnamon syrup, and whole milk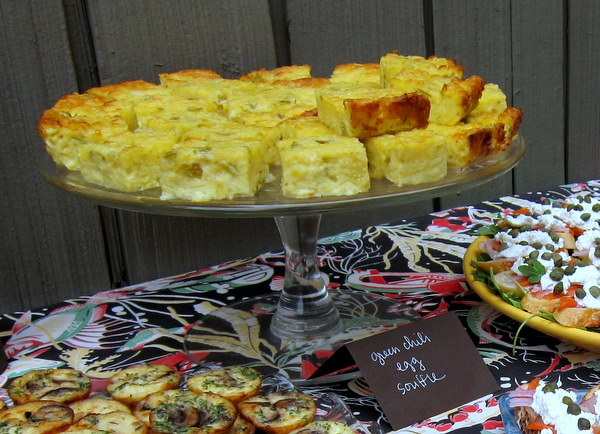 Green chili egg souffle
From Val Close

Serves 10-12 as a main dish, or upwards of 30 as part of a larger menu.

Okay, so this is actually called "chili egg puff." But I really didn't want to write that on the sign at the party, so I fluffed it up a bit.

Do not be scared of the ingredients in this dish. Cottage cheese! Ack! Flour in eggs! Wha??? So much cheese! But this is one of the most delicious egg dishes I've ever had, and I received more requests for this recipe at the party than I did anything else. So if you also want to be a successful human being, get over your fears and just make it and give it to people. Done.

Another important thing to note: I did a taste test to reconfirm that I cannot handle any aspect of cottage cheese, including flavor, smell, and texture. But it's part of why this dish is so creamy and flavorful, so don't even think about changing it out. The finished product shares almost nothing in common with cottage cheese in any of the myriad ways that it is terrifying.

Also you should consider putting other things in this. Sauteed mushrooms? Tomatoes? BACON? The possibilities are endless.

Butter to grease the pan
10 eggs
1/2 cup flour
1 tsp. baking powder
1 pint cottage cheese
1 lb. jack cheese, shredded
2 4oz. cans diced green chilis
Salt

– Preheat the oven to 350F and generously grease a 9×13 pan (preferably glass/pyrex or ceramic, but anything is fine) with the butter.

– Lightly beat the eggs in a large bowl.

– Mix together the flour and baking powder in a small bowl.

– Add all ingredients, including the flour mixture, into the eggs. Mix together until somewhat consistent. There may be lumps of cheese or other ingredients, but make sure that the cottage cheese, flour, and baking powder are mixed in.

– Bake approximately 30 minutes, until golden brown and fairly firm. It may still jiggle a bit in the center, and that's okay – it will continue to set as it cools.

– This will keep well if made days ahead, and can be served room temperature or warm. It's also tasty cold, but you may not want to serve it that way. If using within two days of making, cover and refrigerate. Warm if desired in a warm oven (up to 350F), or just sit out for a couple of hours to become room temperature.  If making more than two days ahead, cover and freeze. Reheat in a 350 oven until warmed through.