Dhaka: The Food
After two weeks in Bali, we spent a very quick two days in Bangkok before flying to Dhaka, Bangladesh, to visit a good friend of ours who works at the US Embassy there.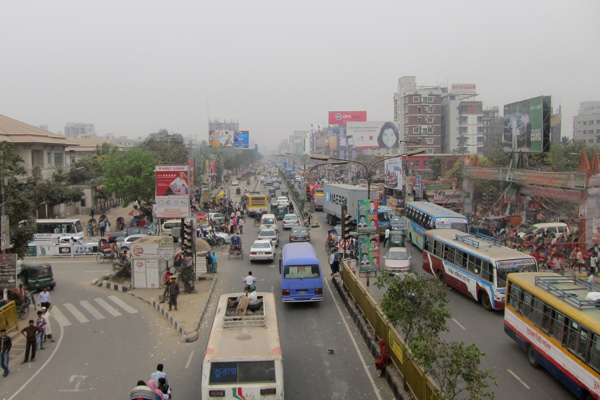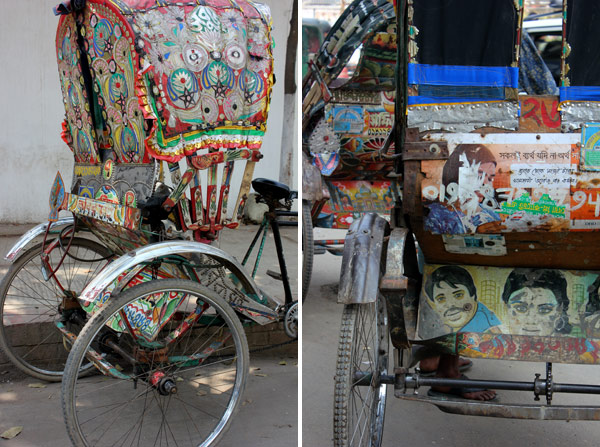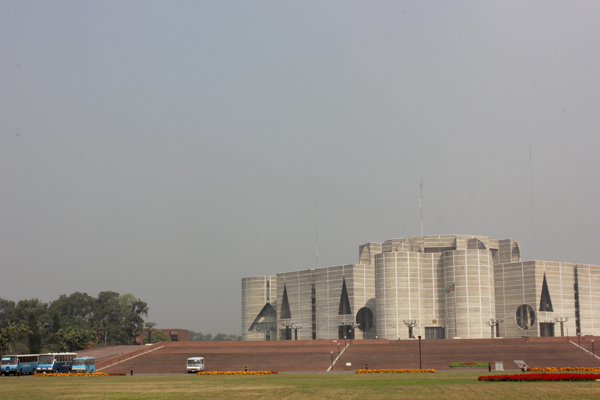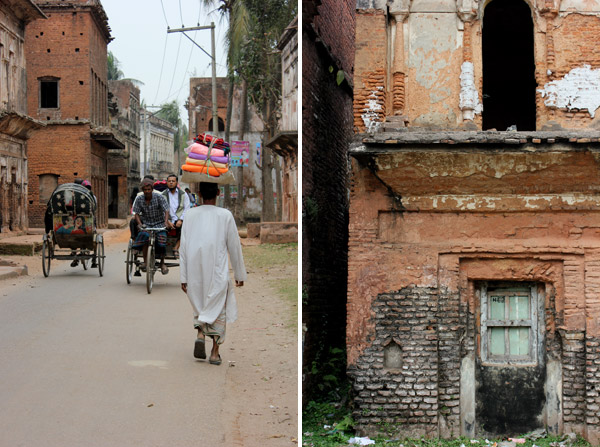 There's so much to say about Dhaka that I'm not really sure where to start. It's not the sort of place we would have put on our itinerary if we hadn't had a friend to stay with and show us the ropes, and that's exactly why we went. We had an amazing time – a once-in-a-lifetime sort of experience, actually – but it was certainly not an easy place to travel. We had it about as easy as humanly possible, with a lovely big apartment to stay in and a kitchen in which to cook with items bought from the American Commissary and a constant source of distilled (i.e. safe to drink) water, a driver to bring us where we wanted to go, a ready-made social group of our friend's lovely colleagues, and a friend to bring us to great restaurants (more on that later) and recommend places to go and things to see. Without all of that, Dhaka would have been much more difficult.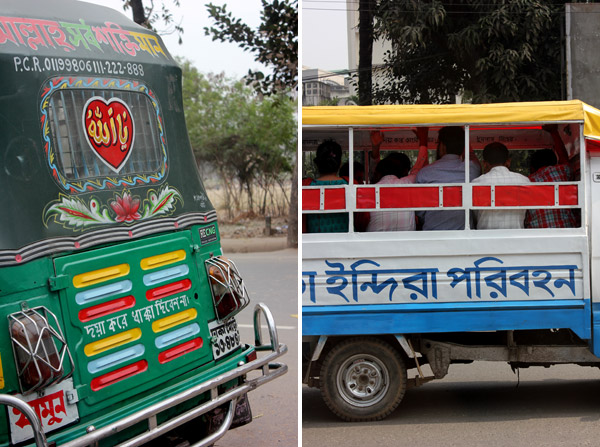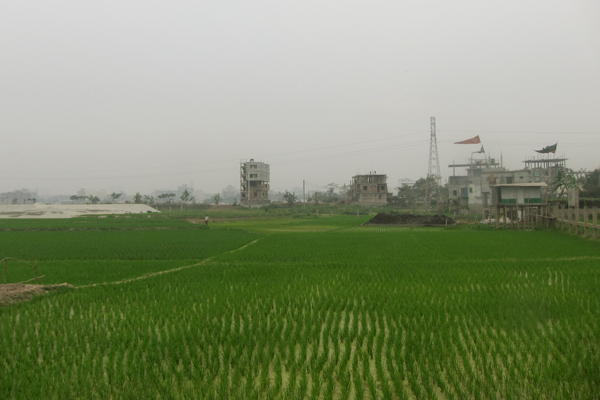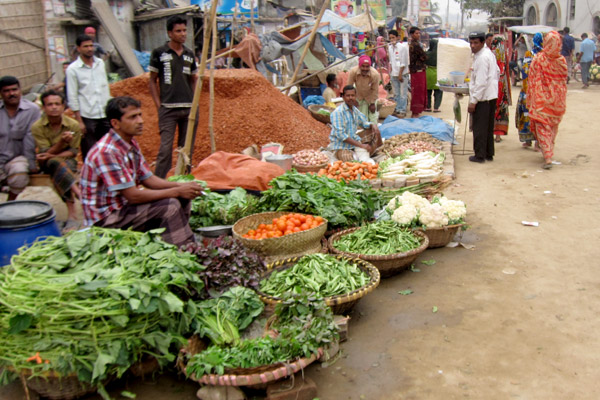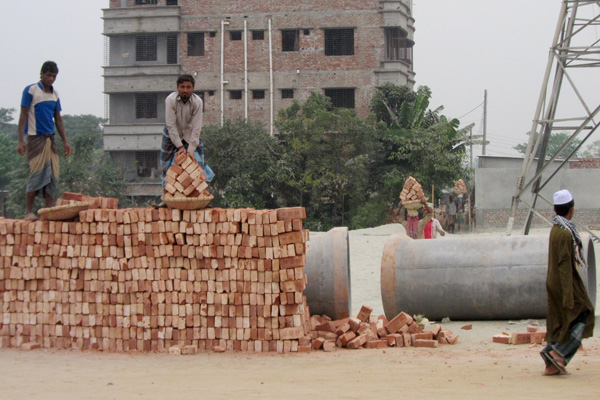 Dhaka was chaos. It was hazy and smelly and crowded and dirty and seemingly without any sort of logic in the flow of people and vehicles (my god, so many vehicles – cars and trucks and buses and motorbikes and more rickshaws than one could ever dream of). But the people were by far the friendliest we've met anywhere we've been, I never once felt unsafe, and once I got the hang of the chaos I actually kind of liked it. (I should note that we spent much of our time in what is called the "dip zone," the area surrounding the dozens of embassies, high commissions, consulates, aid program offices, and other expat-type institutions and organizations in Dhaka. Our friend referred to this area as the "Beverly Hills of Dhaka." Our experience may have been significantly different had we spent more time in other parts of the inner city and if we had been able to travel a bit more into the rest of the country, both of which we weren't able to do because of the massive political protests taking place in Old Dhaka while we were there. There's more I can say on that as well, but search for recent New York Times articles about Bangladesh or Dhaka and you'll find a lot more information there. Also I'm sure we'll talk about that more when we post about Dhaka on our travel blog.)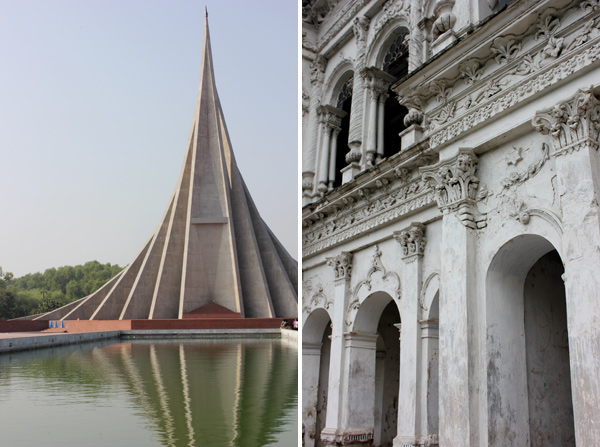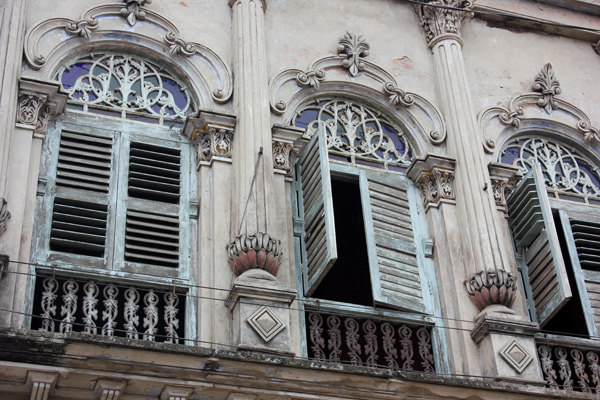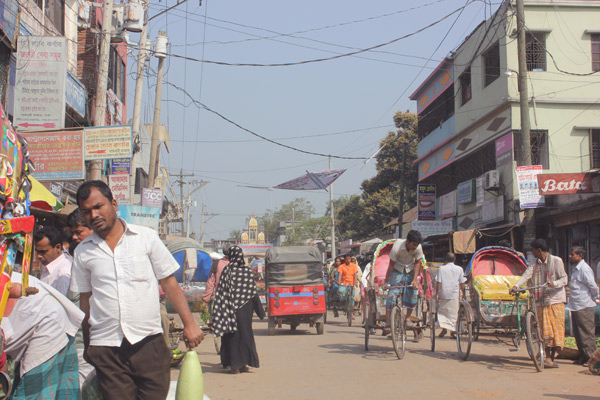 But before I get too involved with my thoughts on Dhaka, let's chat about food. Bangladeshi food is actually not too accessible to the foreign traveler, since it's eaten mostly in the home or in small, local, street food-type restaurants, all of which would have been fairly risky for us. We ate three Bangladeshi meals the entire time we were there – two in nicer restaurants and one homecooked, all incredibly delicious – but otherwise ate American food in our friend's apartment (lasagna! roasted vegetables! chocolate chip cookies! oatmeal! bourbon! crêpe party! [not American, but still] so much excitement!), aside from one other meal out at an absolutely delicious Turkish restaurant (there's a fairly decent selection of restaurants in the city targeted at wealthier locals and the expat community). So, this is to say that for this post I have even less of an understanding of the local food culture than I do in other places we've been …
The Bangladeshi food we had was fairly similar to Southern Indian food, as far as I could tell (I'm sure there's someone out there who could tear apart that argument in a second). Lots of curry, lots of spice, lots of lentils and chickpea flour and flatbreads, similarly tending towards heavy use of oil/ghee and salt. Mustard was a dominant flavor, which is wonderful in smaller doses but can get overwhelming when used heavily in more than one dish in a meal. One evening we had a meal of steamed fish coated in whole-grain mustard, curried cauliflower and peas, naan, sweet tomato-date chutney, and a cumin-heavy raita. Everything was perfect in combination with each other, particularly the mustard tempered by the sweet chutney and the creamy raita. The homecooked Bangladeshi meal we ate consisted of curried vegetables, flavorful yellow lentils, delicious egg curry, and white rice. 

Bangladeshis cannot drink alcohol. I think. I'm not actually entirely sure of the legal/policy circumstances surrounding consumption of alcohol in Bangladesh (and my internet connection isn't currently sufficient enough to engage in some quick research about the issue), but I know that foreigners are allowed to do in under certain circumstances, and locals are generally not. (I do also know that locals can get a "medical exemption" that allows them to drink alcohol, which I find hilarious.) I don't know if this is why restaurants seemed to serve a variety of fancy fruity, spritzy beverages, but it certainly seems like a reasonable explanation. My favorite thing to order was a lime soda, which consisted of a pint glass of soda water accompanied by small pitchers of lime juice and sugar syrup. I do believe restaurants in the United States need to pick up this method, post haste.
I'm also not entirely sure how this works legally/policy-wise, but there is a locally-brewed beer. It is called Hunter's and it is absolutely, without a doubt, the worst beer I have ever tasted. Brett pointed out that perhaps the government has dictated that it must be awful to discourage the population from drinking alcohol. It is so bad that this would likely be quite effective.
Bangladeshis have kind of an intense sweet tooth, and this extends to their caffeinated beverage of choice – black tea brewed incredibly sweet with either normal or condensed milk. We had some just once while we were there, made by a local in our friend's apartment, but it was sold along the street almost everywhere.
Where potato chip and snack flavors in Bali and Bangkok tended toward the more typical Southeast/Eastern Asian flavors – salmon teriyaki and seaweed and sweet chili – in Dhaka it was more South Asian/Indian (which makes sense). We ate garlic chili and masala chips and thoroughly enjoyed a bag of "Bombay Snack Mix," a hodge podge of various crunchy bits flavored like curry and lentils.