A check-in and a sort-of recipe
Just a quick check-in, and the first recipe in ages. It's not really a recipe recipe, per se, but it's still something.
We're in the midst of our whirlwind three-week United States tour – San Diego, Los Angeles, Eugene, Davis, Minneapolis, Madison, New York, New Orleans, Portland, and finally back to Eugene for a week before we head out again. Right now we're in the portion of the trip where we're visiting (in rapid succession) and then choosing the city where we'll be moving at the end of the summer, which might even involve us signing a lease for our new home. All in the next five days. Whoa.
This comes in the midst of a sort of vicious and sneaky exhaustion that crept up during our last week in Southeast Asia, only to be exacerbated by jet lag and all the rapid travel that's happened since. It's all taken a toll on our diets, especially as we've been getting together with friends and spending more time in airports than I would like to admit.
So during our brief 18-hour stay in Eugene, 18 hours that included going through our mail from the last five months, doing our taxes, going for our first run in five months (ouch), buying new phones and a new laptop for me (yay!), and reorienting ourselves with our belongings enough to pack for this part of the trip (oh, and sleeping, sort of), I took full advantage of my little window of opportunity to use a real kitchen and made myself exactly the sort of meal I've been craving for months.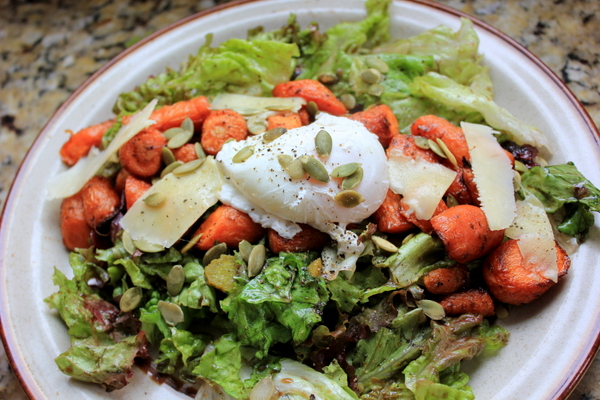 I make this kind of thing a lot, especially when I'm stretched for time or when I need to recover from heavier eating or when I've built up a good collection of leftover bits and pieces in the kitchen.  It's a sort of not-salad salad, packed with whatever delicious cooked and raw things I can pull together with what I have around. This one in particular included dried cranberries, raw pumpkin seeds, chopped dill pickles, roasted carrots, a poached egg, and shaved raw cheddar, all of which I found within a minute of rooting around in my in-laws' kitchen. I tossed the greens with a simple olive oil/balsamic vinegar combo, though at home I'll usually use my basic simple vinaigrette, which I almost always have in the fridge. If I've planned ahead or if I'm feeling fancy, I'll make a more complicated dressing, like one with preserved lemon or avocado and cilantro or orange and sesame.
I've surprised even myself with the sorts of things I've thrown in these salads – pretty much any sort of cooked and/or smoked meat or fish is fair game, along with cooked grains and dried or fresh fruit and croutons and a million other things. There's almost always some sort of poached, fried, or soft-boiled egg, delicious in any case but particularly here because the yolk can soak down and mix with everything else to make a sort of fortified salad dressing. I generally try to mix up the ingredients so there's a good variety of textures and flavors – crunchy and chewy, salty and sweet, creamy and piquant – but it really doesn't require even that much thought to be delicious.
I suppose this sort of thing is often called a "kitchen sink" dish, since you can throw in everything but … and that's definitely true here. It's infinitely adaptable and creative and always in season (as long as you can get your hands on some salad greens).
Easy main-dish salads (aka "kitchen sink salads")

It would take pages to document all the various additions and combinations that work well for this sort of thing, but the basic formula is:

well-dressed and well-seasoned (salted) salad greens
add lots of stuff (see ideas below)
maybe put the egg and the prettier additions on top of the salad once it's plated instead of tossing those things into the greens
maybe add some flaky sea salt, freshly cracked black pepper, or a drizzle of vinegar or oil on top

And for inspiration's sake, here are some categories of additions to think about, along with a few of my favorite examples:

Cooked vegetables (e.g. roasted carrots or beets, sautéed mushrooms, grilled zucchini or eggplant, curried cauliflower)
Fresh vegetables (e.g. avocado, cubed cucumbers, in-season cherry tomatoes)
Dried fruits (e.g. cranberries, currants, chopped dates)
Fresh fruits (e.g. Asian pears, grapes, firm stone fruits, thin kumquat slices)
Frozen and thawed vegetables (e.g. peas, corn)
Cooked grains (e.g. quinoa, Israeli couscous, barley)
Croutons (preferably homemade, preferably with garlic and salt and plenty of olive oil)
Cheese (e.g. goat cheese or feta crumbles, shaved or shredded hard cheeses)
Meat and fish (e.g. smoked fishes, shredded chicken, chopped ham)
Eggs (e.g. poached, soft-boiled, fried)
Nuts and seeds (e.g. pumpkin seeds, sunflower seeds – either of which can be candied before adding)
Pickles of some sort or another, chopped into bite-size pieces

And a few of my favorite specific combinations, off the top of my head:

Bacon lardons, blue cheese crumbles, halved red grapes, poached egg
Chopped ham, soft-boiled eggs, roasted asparagus, preserved lemon vinaigrette (this one was right after easter)
Smoked salmon, cubed Asian pear, green onions, cucumber
Roasted carrots and beets, avocado, pumpkin seeds, thin but creamy cilantro dressing (like this one on top of lettuce)
Bulgur, roasted fennel, cherry tomatoes, diced celery, za'atar spice mix
Roasted butternut squash, sautéed mushrooms, Israeli couscous, creamy lemon dressing