Best-ever basic lentils (plus feta, caramelized fennel, mushrooms, and tomatoes)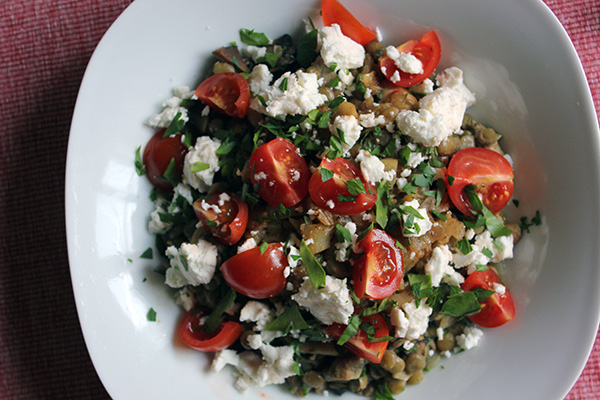 One of our favorite activities in Vienna is to pass the afternoon in various cafés and coffee houses. Vienna is famous for them, I suppose as many European cities area, and most still exude the same old-school style that they have 50 years (or more – one of our favorites looks almost the same as it did circa 1900). Waiters in tuxedo-like uniforms, chandeliers hanging from the ceilings, and glass cases packed with frilly strudels and dense cakes and other confections. Coffee drinks and towering ice cream sundaes arrive on tiny metal trays, each accompanied by the traditional small side glass of water (I've heard many reasons for why, all logical but completely different, so I still don't know the answer). You can generally also order fancy wine spritzers, coffee with Gran Marnier and whipped cream, a sip of brandy, or a variety of other beverages destined to make your day feel a little more elegant.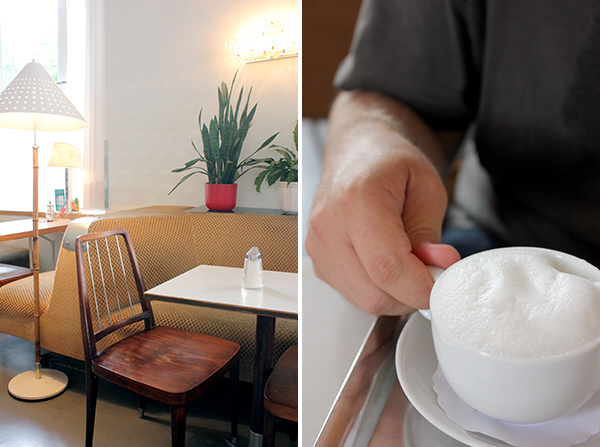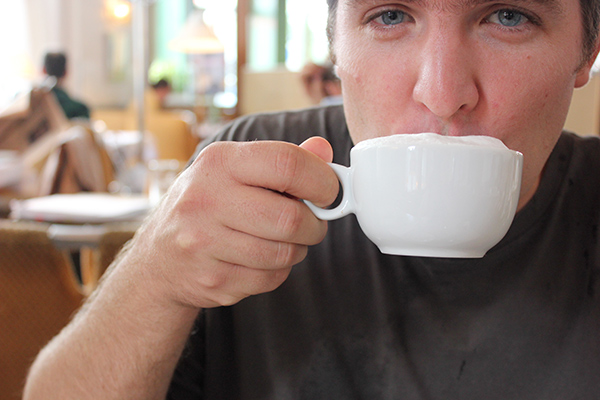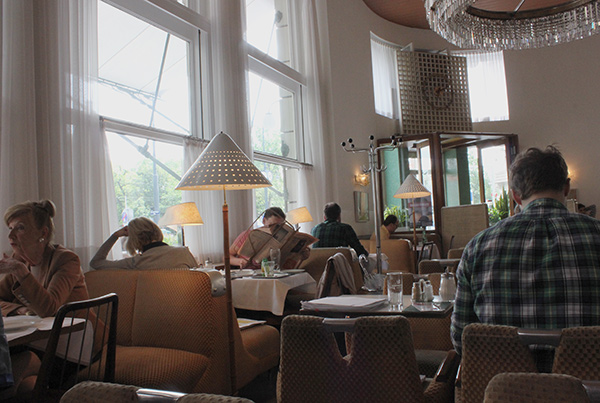 But despite the seeming formality, these are still the everyday sorts of haunts that coffee houses are in other places – people come to read the paper (there's always a selection of them, usually mounted in wooden frames to make them easier to read without spreading them on the table), chat with friends, read, or study.  And there are plenty of more casual options as well, our favorite being the Aïda chain, all decked out in pink with waitresses in matching 50s-style pink uniforms. It's full-on 50s diner style, but with the same deluxe espresso drinks and elegant desserts as the more ostentatious places.
I've never been to a city with such a gilded edge, and the coffeehouses are a perfect example of how everyday life in Vienna (at least in the center areas) is just a little more … adorned than it is elsewhere. (Also, Wikipedia has a surprisingly good entry for Viennese coffee houses.)
And we've been going to them fairly often, soaking in a type of atmosphere not really available in the United States, and enjoying a steady stream of espresso drinks and desserts and snacks and everything else. But afternoons full of whipped cream and pastry and plenty of going out for döner and schnitzel and wurst (especially those cheese-filled käsekrainers), along with 10 months without the level of exercise we're used to, means we've ben trying to keep our home-cooked meals on the healthier side.
But at least in this case, healthy definitely doesn't mean bland.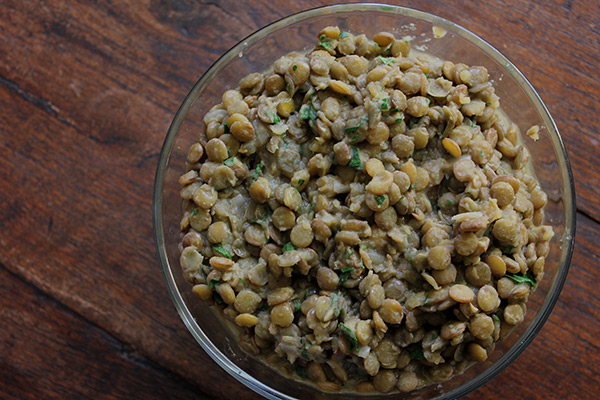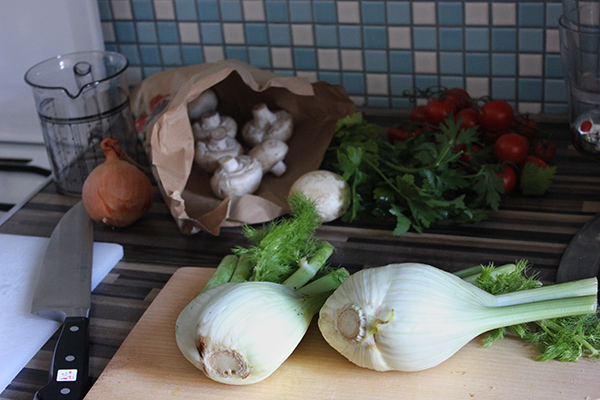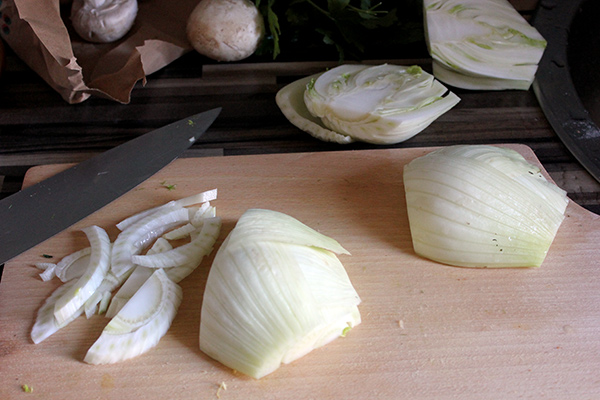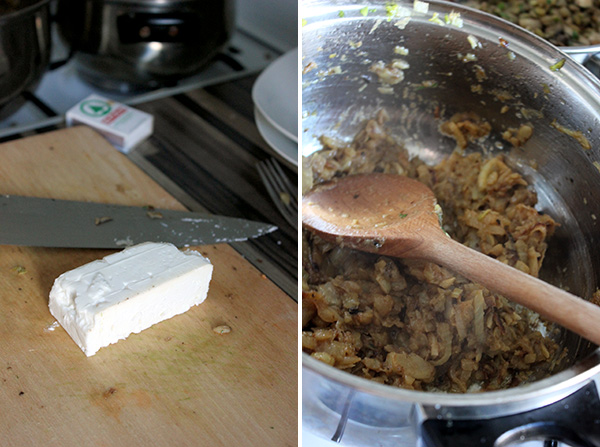 It's mainly lentils, sure, but of the "best-ever" sort, a recipe and technique that ensures you'll get the best bowl of lentils you've had. And then we fortified them with mushrooms and fennel, the latter cooked slow and long to brown and caramelize until it releases its sugars and slumps into a golden, jammy mass. A small handful of feta is melted in at the end, part of the secret behind the "best-ever" declaration, lending creaminess and an incredible depth of flavor. This part alone could change your lentil life forever. But then there's a handful of chopped parsley and a splash of vinegar, thrown in to brighten everything a bit, then it's all topped with halved cherry tomatoes and more of that feta, crumbled on top.
It's a meal of lentils, undeniably, but one that would never remind you that you're atoning for two afternoons of Apfelstrudel topped with whipped cream.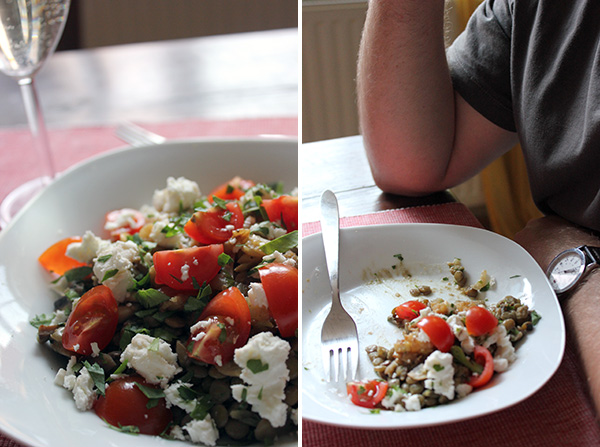 Lentils are particularly great if you're a fan of beans but have trouble coordinating the overnight soak necessary for most dried beans. Lentils are small enough and with a skin thin enough that they don't require a soak, meaning you can have a pot of delicious lentils ready in less than 45 minutes after deciding to make them.
I'm listing the lentil and the caramelized fennel strategies separately here, since they make such great elements on their own. The compiled recipe for this dinner is at the bottom.
Best-ever lentils

1 cup dry lentils will make about 2 to 2 1/2 cups cooked lentils, which will feed 2-3 people as a main dish. You can scale this recipe up or down, but keep the lentil:liquid ratio 1:2.

1 cup dry brown lentils (not green/French/Puy, red, yellow, or other types – I love them all, but they each cook differently)
2 cups cooking liquid: chicken stock (best), vegetable stock (good), or water (fine – but consider adding scraps of celery, carrot, or other veggies to add more flavor, and a bay leaf if you have it)
1/2 onion, peeled and chopped finely
2 cloves garlic, peeled and smashed or roughly chopped
A few stems of fresh parsley, thyme, and/or rosemary, if you have them
Optional: 1-2 ounces (around a 1-inch cube) of feta, goat cheese, or some other crumbly, salty, creamy cheese
A small handful roughly chopped parsley
A splash of vinegar (any kind will do) or lemon juice
Salt to taste

– Prep the lentils: Rinse and pick through the lentils in a colander, discarding any shriveled lentils, small stones, or other debris (these are fairly common to find in lentils).

– Combine and heat: Combine the lentils, cooking liquid, diced onion, garlic cloves, herbs, and a healthy pinch of salt in a medium pot. Heat on medium-high to a rapid simmer, then reduce the heat to a low simmer and cook (uncovered) until the lentils are cooked through, 20-30 minutes. Test at least four or five lentils to see if they're done, since sometimes you can find a few that are done when most of the pot isn't quite there yet. When the lentils are done there may be some liquid left at the bottom of the pot – if you don't want this, you can strain the lentils at this point then return them to the pot to flavor. I generally keep the liquid in, especially if I'll be storing some as leftovers. This helps keep the leftover lentils from drying out, and gives me a starting point if I want to turn them into soup or add them to a sauce. Also pick out the herb stems, if you come across them.

– Flavor: While the lentils are still warm, add the feta/goat/other cheese, if using. Mix in until completely incorporated, putting the pot back on a low heat if necessary. Add the parsley and the vinegar or lemon juice, then salt to taste. (Don't salt to taste until after adding the cheese, since it will add some salt on its own.)
Caramelized fennel

Makes about 1 cup, easily scalable when using strategy 2 (see below) or completing strategy 1 in batches

Note: There are two strategies for caramelizing fennel. Strategy 1: Larger pan, where the fennel pieces can lie in a single layer. Cooking is hotter and faster, and pieces brown on the edges. Strategy 2: Smaller pan/pot (like a soup pot, which is all I had available this time), where fennel piles on top of itself a bit more. Cooking is lower and slower, more like caramelizing onions. After a good 20 minutes or so, it will start to turn jammy, brown, and soft, but the edges will not brown like in strategy 1. 

2 bulbs fennel

2-3 Tbsp. olive oil
1-2 Tbsp. butter
Large pinch salt
Pinch sugar
Splash balsamic, apple cider, or red wine vinegar (optional)

– Prepare the fennel: Trim the bulbs of their fronds and any brown or rough spots. Slice into strips by cutting each bulb in half lengthwise, then placing each cut-side down on your board and slicing against the grain.

– Cook the fennel: Heat the olive oil and butter in your pan or pot (see various strategies, above) over medium-high heat. Add fennel pieces along with salt, sugar, and optional splash of vinegar. If using strategy 1, keep heat high and cook for 10-15 minutes until the pieces are deeply browned and tender. If using strategy 2, reduce heat to medium or medium-low and cook, stirring regularly, until completely tender and golden brown. You'll likely need to add liquid to keep the fennel from sticking to the bottom of the pot too much. You can use water or white wine, which adds some good flavor, and each time you add liquid you can scrape a bit of the brown bits that might accumulate on the bottom of the pan.
Lentils with feta, caramelized fennel, mushrooms, and tomatoes

Serves 3-4, depending on serving size. Scales easily. 

8 ounces (or so – like two overflowing handfuls) crimini or white button mushrooms
1-2 Tbsp. olive oil or butter
Salt to taste
1 cup or so caramelized fennel (see above)
2 cups or so cooked lentils (see above)
Large handful feta
A dozen or so cherry, grape, or other small tomatoes, halved or quartered (depending on size)
A handful roughly chopped parsley

– Saute the mushrooms: Clean and slice the mushrooms. Saute in olive oil or butter over medium-high heat until tender. Salt to taste.

– Assemble dish: Combine sautéed mushrooms, caramelized fennel, and lentils. Pile in individual or serving bowl and top with crumbled feta, halved/quartered tomatoes, and chopped parsley.