Summer cocktail: Herbed citrus radler (or shandy, should you prefer)
I hope I haven't been holding out on you. I've talked about radlers before, right? I'm sure I have. I must have. In our house (I suppose I should say "house," these days) it's a pretty clear line from the first hints of warm weather to a glass filled with lemonade and beer.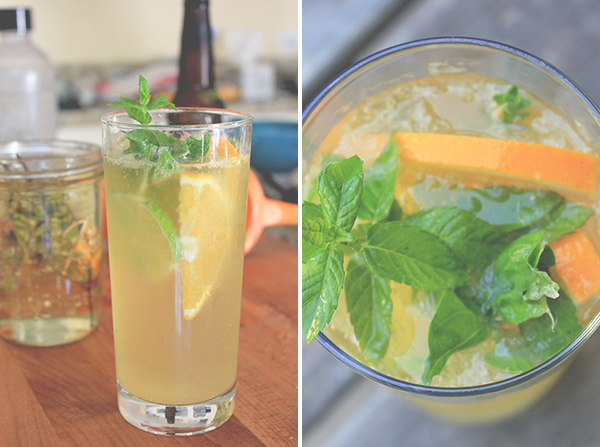 You might know this as a shandy, which is acceptable, but in either case I don't know how we've gotten this far without me talking about one of my all-time favorite go-to summer drinks, fizzy and cold and completely replenishing.
I think folks in the United States are just coming around the idea of mixing beer and juices, but these sorts of things have been a mainstay of European cafés, bars, and parties for years. (If you're super intrigued, check out the Wikipedia entries for radler and shandy.) People drink them for lots of reasons, the primary one being that they're delicious and refreshing, but also because they want something slightly boozy but not as strong as a full-strength beer.
Worth noting for the summer party and barbecue circuit: you can have a few radlers instead of a few beers, and still be able to drive home or on to the next shindig.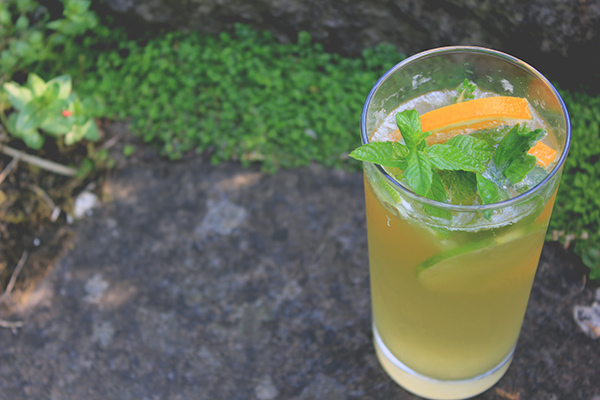 We started making radlers at home a few years ago, and I think it was last summer that I first saw a canned shandy here in the States. My friends went gaga for the things, while I muttered under my breath about how they had scoffed or ignored us when we first went "radlers, OMG!" all over the place. I personally like the freshly made varieties better, just like I'd always pick fresh lemonade over canned, but I've definitely enjoyed some canned ones and I'm generally just happy to see them around more. (I should also note that they're widely available in cans everywhere I've been in Europe, too, and in a huge variety of different fruit flavors.)
Most of the time radlers are made with some sort of lighter, fizzier beer like a pilsner or a lager, which is generally what I go for (this is also a perfect time to use up those low-brow beers you have lingering in the back of the fridge), but it's worth nothing that in Munich I once had a dunkel (dark) radler made with heavy dark beer and it was pretty fantastic. The more flavorful your beer the more strong you may want the lemonade to be. Or not. In general you can play with the ratios as you like, using more/less citrus or sugar or beer or water as you like.
We generally go pretty simple – sugar, lemon, sparkling or still water, beer. Usually we make the lemon syrup I mentioned in the Frühling's 19 recipe, just shaking together sugar and lemon juice and mixing it with water to make lemonade. But I've been waiting for months to do something a little more involved, so last night I made some quick herb/citrus simple syrup and added some orange and lime juice to our lemonade before we mixed it with the beers. I stuffed some orange and lime slices and sprigs of fresh herbs into the glass, an easy way to make things seem a little fancier, and we drank these along with a dinner of grilled chicken and peanut cole slaw.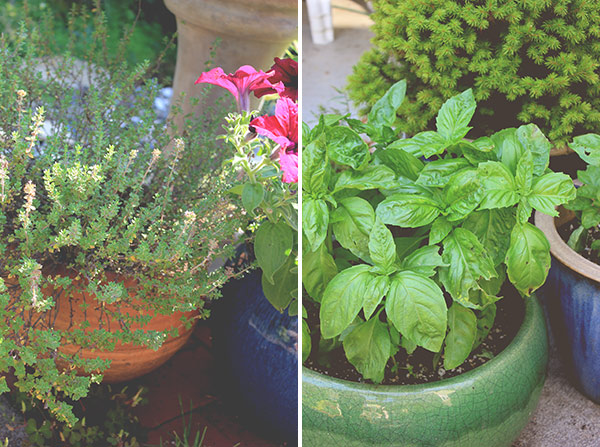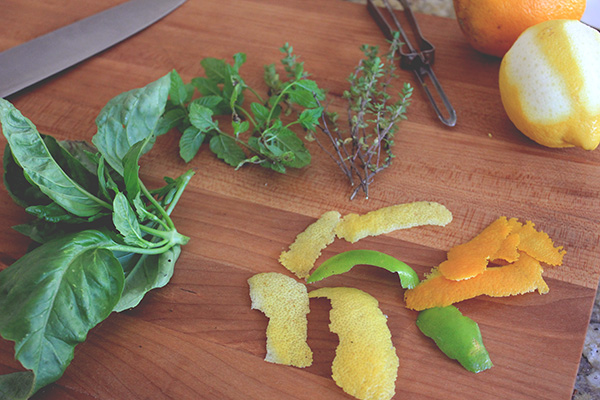 Herbed citrus radler

Makes 4 11 oz. drinks, easily scalable

3 oz. (6 Tbsp.) double-strength herb citrus syrup (recipe below)
3 oz. (6 Tbsp.) citrus juice, about 1 lemon with a bit of orange and lime (see note below – if you don't have orange and lime, just lemon would be fine)
24 oz. (2 average-size bottles) beer, preferably something light and fizzy, like a pilsner or lager
14 oz. soda water (still water will do if necessary)
Fresh herb sprigs and orange, lemon, and/or lime slices for garnish

– Combine ingredients: First combine the herb citrus syrup and citrus juice in a bowl or liquid measuring cup, stir until well integrated. For each radler, combine 6 ounces (1/2 bottle) beer, 1 1/2 ounces (3 Tbsp.) of the syrup/juice mixture, and around 3.5 ounces (a little less than 1/2 cup) soda water in a tall glass. Stir once or twice with a spoon or stirrer.

– Garnish: Add citrus slices and herb sprigs to the glass.

Note about ratio/quantity: This makes a radler with slightly more beer than lemonade – you can easily adjust quantities based on your tastes and how flavorful your beer is.

Note about citrus juice: To get to 3 ounces, I used 1 small lemon and then squeezed in the ends of the orange and lime after I made some slices for garnish.
Herb citrus syrup (double-strength)

I call this double-strength syrup because it's a simple syrup made with a 2:1 sugar-to-water ratio. If you like 1:1 simple syrups better you can make the recipe with 2 cups of water instead (but then you'll probably want to add more syrup in the recipe above).

Makes 2 cups syrup, easily scalable

2 cups sugar
1 cup water
Small handful of fresh herb sprigs (see note below – the amount in the picture above was for a double batch of syrup)
A few small strips of orange, lemon, and lime zest, made with a vegetable peeler (if you don't have orange or lime, just lemon would be fine)

– Make simple syrup: Combine sugar and water in a small pan and heat over medium heat, stirring occasionally, until sugar is dissolved. Remove from the heat.

– Infuse: Plunge the herbs and strips of zest into the syrup and cover. Let steep for at least 15 minutes. If it's cool enough, taste to make sure there's herb and citrus flavor to your liking. When the syrup is cool enough to handle, strain or scoop out the zest and herbs and pour into an airtight container (I like to use canning jars). Heartier herbs like thyme and rosemary can stay in the syrup to continue to add flavor.

Storing syrup: Syrup will keep in an airtight container in the refrigerator for 1 month.

Note about herbs: You can use one type of herb or a mixture. Here I used basil, thyme, and mint. Rosemary, lemon verbena, and OTHERS would be great options too.