Birthday banana cream pie with (slightly) salted caramel and ganache
Today is my birthday, so I'm not going to say much. I have firm plans to do not much of anything for the rest of the afternoon, and I don't want to be late.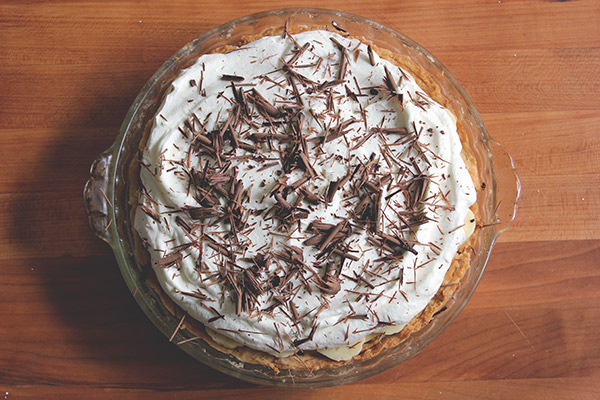 But I do want to share with you, finally, the recipe for the banana cream pie I've been fixated on for the last half-dozen years or so. It's deeply inspired by the one at Tartine in San Francisco – flaky pie crust, layers of caramel and dark chocolate, filled with pastry cream and fresh bananas, and topped with billowy whipped cream and chocolate shavings. But I've been adding my own touches here and there over the past years, finding the perfect recipes for each of the various elements, and it's finally ready for sharing.
This isn't an everyday dessert, with all those layers and chilling times and everything else. But it's worth every single minute that goes into it, no question. I've made this for my birthday the past two years, and I think it might be the rule now. Birthday, banana cream pie.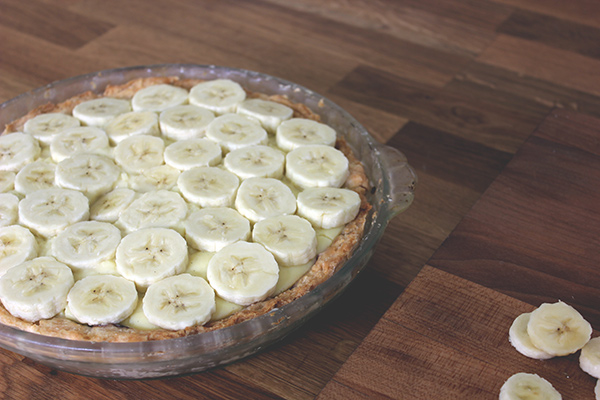 And note that this isn't the most photogenic dessert on the planet, once it's cut into. This is the sort of dessert you make for people you love but don't need to impress with formality, since it quickly and comfortably slumps into a delicious, billowy mess on the plate. It's the people who won't care about that sort of thing that one wants around them on their birthday anyway, as far as I'm concerned.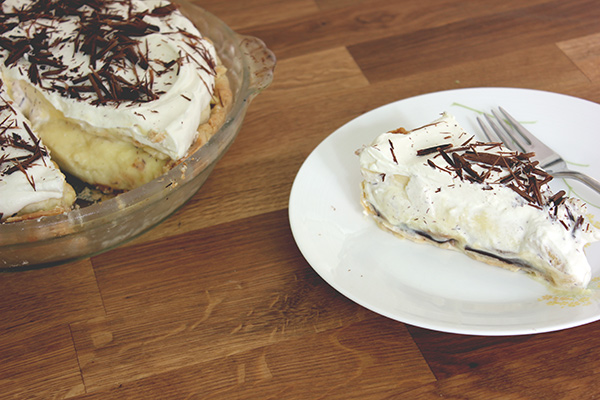 Oh also, there's definitely room for variation here. One time I made this pie with cajeta, cinnamon and cayenne ganache, coconut pastry cream, plantains, and cinnamon whipped cream, and that was pretty excellent. And I've been saying for years that one day I'll put in a layer of peanut butter sauce instead of caramel. That should happen, right? Yes.
Banana cream pie with salted caramel and ganache
Inspired by Tartine Bakery

Makes one 9″ pie

One fully baked and cooled pie crust in a pie dish (In essence: roll out your pie crust and shape into your pie dish. Line with parchment and pie weights – I use dried beans – and bake in a 375F oven for 20 minutes, until lightly browned even in the middle. Remove the parchment and weights and bake for 5-10 minutes more, until golden brown all over.)
Around 1/2 cup slightly salted caramel (recipe below)
3 oz. dark chocolate, plus more for garnish shavings (if desired)
1 cup (8 oz.) plus 3 Tbsp. (1 1/2 oz.) heavy cream, divided
1 batch pastry cream, at least slightly cooled (recipe below)
2 ripe bananas
A few Tbsp. granulated or powdered sugar, to taste, for sweetening whipped cream

– Make and add ganache Finely chop chocolate and place in a small heatproof bowl. Heat 3 Tbsp. (1 1/2 oz.) heavy cream in a small saucepan over medium heat, until steaming and bubbles appear around the edges. Pour hot cream into the bowl of chocolate and stir until combined. Pour into the bottom of the baked and cooled crust, smooth with a spatula, and place in the refrigerator or freezer until firm to the touch.

– Add caramel Pour around 1/2 cup caramel over the firm ganache and smooth. It may pick up some smears of chocolate, but that's okay. You may need to bring the caramel to at least room temperature or warmer to make it easily pour/spreadable.

– Add pastry cream Spread prepared pastry cream over the caramel (if the caramel is warm, let sit and/or chill until slightly firm).

– Add bananas Slice bananas into approximately 1/4″ slices and place on top of the pastry cream. Press lightly down on the slices to push them slightly into the pastry cream.

– Prepare and add whipped cream and garnish Whip the cream and sugar (adding to desired sweetness) into medium-to-firm peaks, using whatever method you prefer (stand mixer, hand mixer, whisk, etc.). Spread on top of the bananas and pastry cream. If desired, top with chocolate shavings made from dark chocolate and a knife or vegetable peeler. Chill at least 3 hours and up to 4 days before eating. (If chilling more than 6 hours or so, the whipped cream may change in texture – I would suggest making the pie up through the pastry cream step, then adding the bananas and whipped cream 3-6 hours before serving.)
Slightly salted caramel
Adapted from Tartine


Makes about 1 1/2 cups (note: this is about 3 times as much as needed for the pie – I don't like to scale the recipe down too much because melting the sugar gets a little trickier, but it's not really a problem because who doesn't want extra homemade caramel sauce around?)

2/3 cup (5 1/2 oz.) heavy cream
1/4 vanilla bean (or 1 tsp. vanilla extract or vanilla bean paste)
1 1/4 cups (8 3/4 oz.) granulated sugar – this cannot be larger grained/raw sugar (including the organic sugar they sell at Trader Joe's) – the grains will not melt properly
1/4 cup (2 oz.) water
1/2 tsp. salt
2 Tbsp. light corn syrup
3/4 tsp. lemon juice
3 Tbsp. (2 oz.) butter

– Infuse cream and vanilla Heat cream and vanilla (if using a bean, split lengthwise and scrape inner seeds into cream) over medium-high heat in a small saucepan. When bubbles form around the outside and the cream begins to steam, reduce heat to low.

– Make caramel base Combine sugar, water, salt, and corn syrup in a medium saucepan. Bring to a boil over medium heat, stirring to dissolve the sugar. Stop stirring but continue to cook until the mixture is amber, around 7-10 minutes. If it starts to darken in certain places, swirl the pan to distribute the caramel that is cooking more quickly. Remove from the heat.

– Add cream Immediately pour the cream into the sugar syrup. It will boil vigorously and be extremely hot, so be careful. Using a long-handled rubber spatula or other heat-resistant utensil that will be easy to clean, stir until it stops bubbling and becomes smooth. Add the lemon juice and let sit for 10 minutes.

– Add butter Cut your butter into 4 small pieces and whisk them into the warm caramel individually, stirring after each addition.

Making ahead/storage: The caramel will keep in an airtight container in the refrigerator for up to 1 month.
Pastry cream
Adapted from The Joy of Cooking


I use this pastry cream in pies or other items that I want to maintain some structural integrity.  It is firm enough that slices of pie will maintain some semblance of shape as you remove and plate them, though you can see from the photos above that it's still pretty soft.  

Makes about 2 1/2 cups, or enough for one 9″ pie

2/3 cup (4 2/3 oz.) sugar
4 Tbsp. (1/4 cup | 1 1/4 oz.) cornstarch
1/4 tsp. salt
2 1/2 cups (20 oz.) whole milk
1 1/2 tsp. vanilla or vanilla bean paste
4 egg yolks + 1 whole egg
3 Tbsp. butter

– Combine most ingredients Whisk together sugar, cornstarch, and salt in a medium saucepan (preferably one with curved sides, which will make it easier to scrape the bottom). Gradually whisk in the milk and vanilla, then the egg yolks and whole egg. Whisk until no streaks of yolk remain.

– Cook until thickened Stirring constantly with a rubber spatula, cook over medium heat until it just begins to bubble, somewhere around 10 minutes (depending on your stove and pan). Make sure to constantly scrape the bottom and corners of the pan, since as the cream thickens it can easily collect on the bottom and scorch. Your spatula may collect some thickened cream from the bottom, but that's okay. After a bubble forms, momentarily remove from the heat and use a whisk to thoroughly stir and smooth the cream. Bring back to the heat for 1 minute, whisking constantly.

– Strain and finish Strain the cream through a mesh strainer into a large bowl. The strainer will catch any imperfections in the cream, liked any cooked bits of egg, and smooth out any lumps. Cut your butter into 3 pieces and whisk each one into the warm pastry cream.

Making ahead/storing: Pastry cream will keep in an airtight container in the refrigerator up to 5 days. Store with a piece of plastic wrap pressed onto the top surface so it doesn't develop a skin.