Raised waffles with Patterson Sugar Bush maple syrup
When I wrote a few weeks back about how much I love the slow mornings we try to wrest out of our week, I heard from many of you that you love these mornings as well, and that you too work hard to wrest them out of your weeks. This tells me two things – first, that we need more of the quiet mornings and less of the wresting, and second, that we have a special love for the food we eat in the mornings, whether they're slow or fast. We each have foods we eat to make our mornings, perhaps in an attempt to steer the rest of the day in a direction to our liking, and we hold these foods with special regard, whether they're routine or more improvised. As far as I'm concerned, breakfast is the official opening to the day regardless of when it's eaten, and I generally put a good amount of intention into what I choose.
If you'd like to open the day in a particularly lovely way, these waffles might be the ticket.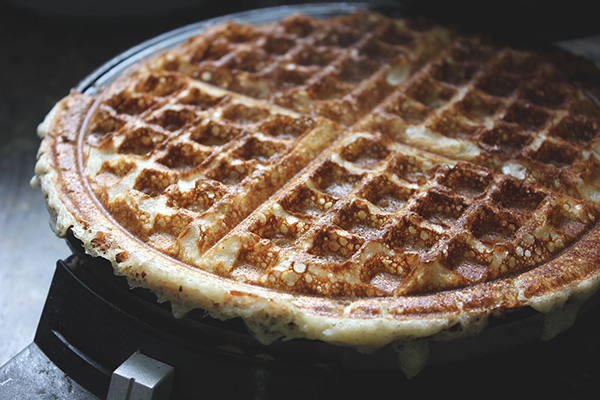 Perhaps you already have a favorite waffle recipe; many people do. This one has become mine, and that's why it's here. You can certainly find this particular recipe other places – it seems every food publication and food writer has discussed it at some point or another over the last 30 years – but much of why I have this site is to catalog all of my favorite recipes, so here it is.  It was Marion Cunningham's unassumingly fantastic The Breakfast Book that made this recipe famous, but it can actually be traced back to an 1896 Fannie Farmer cookbook, and your grandmother and her mother and her mother probably used something similar in their kitchens.
The waffles it produces have an subtly rich and intricate flavor that can only come from yeast and an overnight rest (oh, and a decent amount of melted butter), with only a bit of sweetness and a wonderful hint of malt, like a high-quality pastry dough. The edges are airy, lacy, and crisp, unlike other homemade waffles that I often find to be sort of limpid and heavy, and the interior is somehow both light and custardy (the extent to which you get this will depend partially on the thickness of your waffle maker, but ours is particularly thin and we still get some of this texture as long as we don't cook them too long).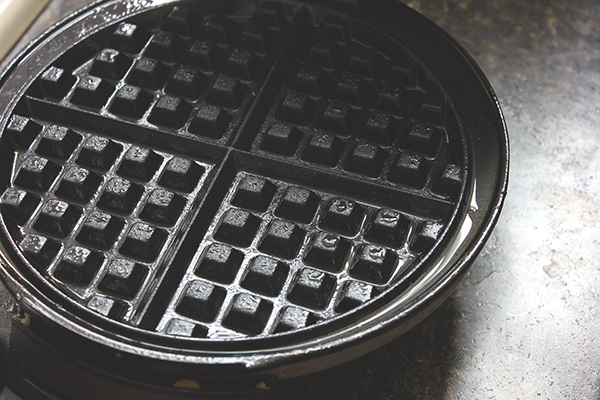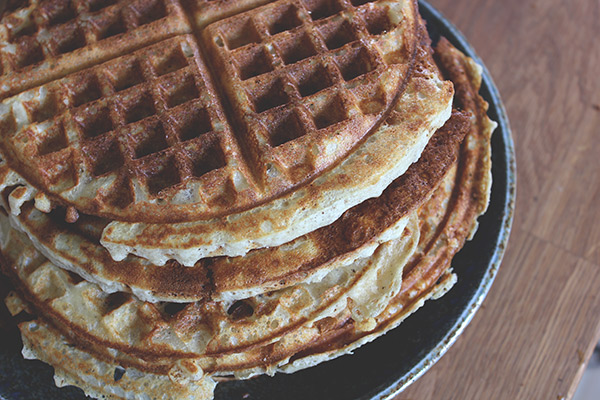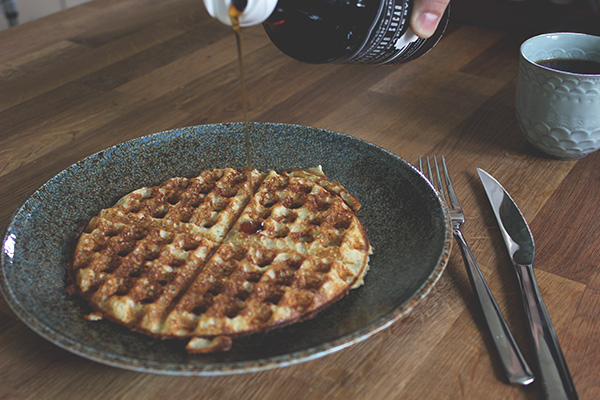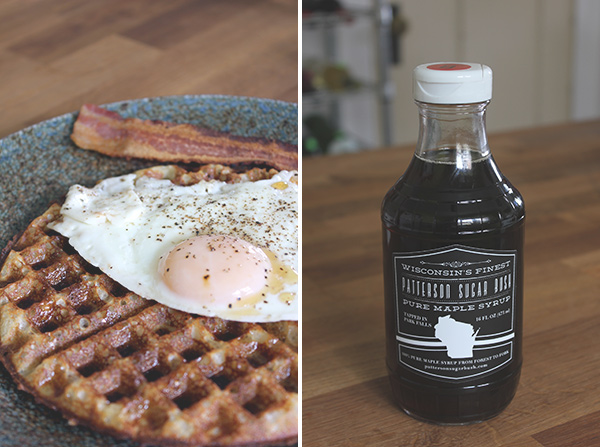 Yes, the recipe requires you mostly make the batter the night before. But instead of seeing that as a hassle, I see it as an even easier morning. And there's yeast, which is amazingly powerful at turning many people off from making something. But for the most part the batter is a simple dump-and-whisk procedure that takes only a handful of minutes to put together, and if you're looking for a way to get comfortable working with yeast, this is probably the easiest possible way to do it.
And as if I needed any more reason to put these waffles in my life, I was approached recently by a friend who wanted to know if I was interested in writing about a maple syrup made here in Wisconsin, by the family of a friend of hers. If you read this site much you know I don't regularly highlight specific products, but I'm more than happy to help spread the word about products made in ways I believe in and want to support. And the fact that the family behind this operation is the Pattersons, my maiden name, didn't hurt either (but to be clear, there's no relation here – at least that we know of).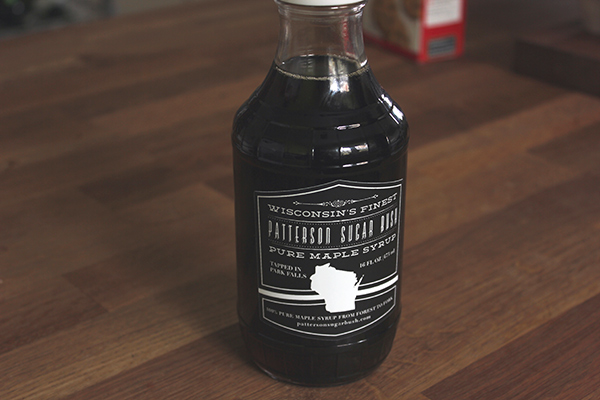 For five generations, the Pattersons have been making maple syrup on their family land between the two forks of the Flambeau River in Park Falls, Wisconsin. It has been commercially available as Patterson Sugar Bush syrup since 1988, when Dik Patterson took over the sugaring operation, and in 2005 his son Tim began selling it in Madison, where it's available to consumers and featured in a variety of restaurants. Despite having thousands of taps, they're still a family operation, and they're committed to being a good steward of their land, with low-impact collection practices and an energy-saving cooking system. Their pride in producing an all-natural "forest to fork" product is clear in how they talk about what they do.
But what strikes me most about Patterson Sugar Bush syrup is how intensely flavorful it is, strong maple backed up by sweetness instead of the other way around like many other syrups. It's a syrup for folks who love maple, and would work amazingly in savory applications as well as sweet ones (and cocktails, of course!). It's a perfect match for this waffle recipe, both flavorful and slightly less sweet than other versions and together making a meal far less heavy than most waffles and syrups might.
In Madison, Patterson Sugar Busy syrup can be purchased at Underground Butcher and the Eastside Farmers' Market (during market season), or individual purchases can be coordinated by emailing pattersonsugarbush@gmail.com. Restaurants in Madison that use their syrup include Pig in a Fur Coat, Brasserie V, Green Owl, Forequarter, and Grandpa's Pizza, which uses it in their sticky ginger cake (which I can't wait to try). Other purchasing options can be found at the Patterson Sugar Bush website.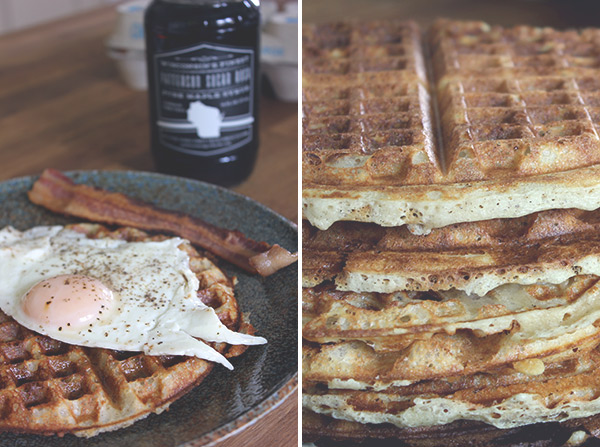 Raised waffles, with buckwheat option
Adapted slightly from Marion Cunningham's The Breakfast Book

Makes approximately 12-14 waffles, but depends on your waffle maker

1/2 cup water, slightly warmer than room temperature
2 1/4 tsp. (1 packet) instant or active dry yeast (note difference in directions, below, depending on type of yeast)
2 cups milk, slightly warmed
1/2 cup (1 stick or 4 oz.) butter, melted
1 tsp. salt
1 tsp. sugar
2 cups flour (buckwheat option: 1 1/3 flour, 2/3 buckwheat flour)
2 eggs
1/4 tsp. baking soda

– Prep yeast, if needed If using active dry yeast, combine it in a small bowl with the 1/2 cup warm water. Let sit 5 minutes before combining it with the other ingredients.

– Combine most ingredients Whisk together milk, butter, salt, sugar, flour, water, and yeast (if using active dry, water and yeast will already be combined together) in a large bowl until smooth. Cover lightly with plastic wrap and let sit at room temperature overnight (up to 12 hours) or in the refrigerator for between 12 hours and 2 days.

– Finish batter and bake When ready to make, whisk the eggs and baking soda into the batter. The top surface of the batter may have formed skin, but that's okay – just whisk it back in. It should smell slightly sour and yeasty. At this point, the batter will keep fairly well in the fridge for another day or two, if needed or if you want to make them two days in a row. Pour into your waffle iron – ours takes between 1/2-3/4 cup of batter. Bake until golden and crisp. We like to keep the oven heated on low while we're making them and put finished waffles on a plate in the oven to stay warm while we make the rest.

Making ahead: The recipe above notes how and when the batter can be made ahead. Baked waffles can be stored in the refrigerator and reheated in a toaster oven or oven, but will not regain quite the same texture.