When I can get it
Our daily schedule here in Madison is in some ways quite different than the one we had in California, and one of the unfortunate differences is that six days of the week I'm out of the house within 15 minutes of waking up, packing a breakfast that needs to sit for two hours at room temperature before I eat it. For the most part this means nothing warm, nothing toasted, nothing prepared much at all, which eliminates much of what I like to eat in the mornings. I get by with granola and milk or baked goods or peanut butter sandwiches, but I really miss my breakfasts of fresh bread with butter and honey, or eggs and toast, or steaming hot oats with fruit and cold milk, and not having a chance to be in the house in the mornings has been leaving me feeling a little burned out on these cold and blustery days.
But that one morning each week when I have time to eat at home in the morning is something I look forward to all week. It's not an elaborate breakfast but generally the most simple that I want the most; something fitting for a leisurely morning at the dining room table with a cup of coffee or a few shots of espresso or some sweet, milky tea, with the curtains open to let the light in and plenty of time for Brett and I to sit at one end of the table together and quietly eat and read or write or work on whatever needs our attention. On these cold winter days in particular, my quiet and slow mornings are a very needed opportunity to recover from the rest of the week.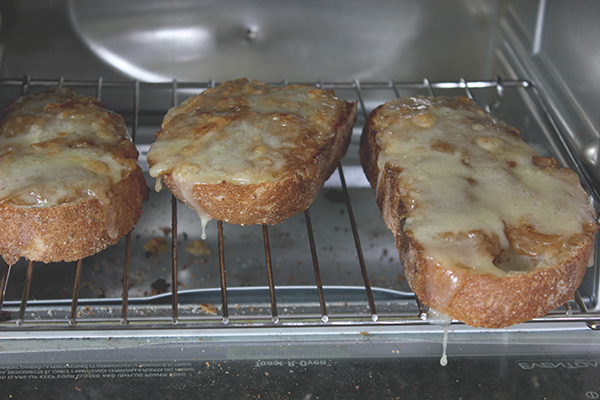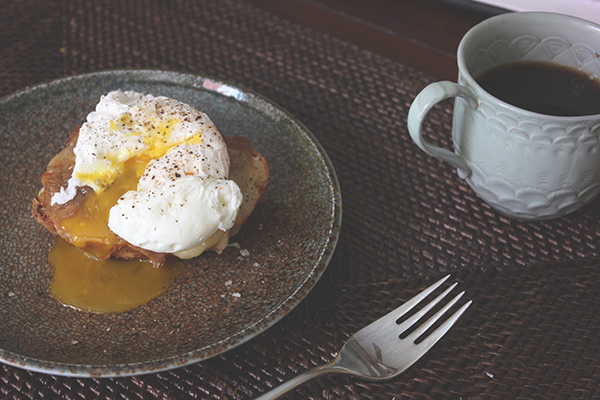 This isn't so much a recipe to write about as it is a way of thinking of these meals – as long as there's eggs and bread (or tortillas, or barely-sweet scones, or some other good base) in the house, the other bits and pieces we pull together have a knack of making exactly the meal I needed. There's a lot you can put between a slice of bread and a cooked egg, and in my experience almost all options are good ones. In this case it was caramelized onions and the last scraps of a block of Otter Creek Summer Cheddar, boosting up our favorite eggs from Pecatonica Valley Farm and slices of Batch Bakehouse's cracked wheat loaf, all followed by more slices of bread spread with cold butter and drizzled generously with vanilla-infused honey. I played some of my favorite studying albums from college, and we sat at the table for the rest of the morning, quietly working and catching up on reading. We managed to spread it out until it was time to transition into a quick lunch of leftovers before I headed to a work event, and the pace of the morning kept me sane through a scurrying afternoon and evening.
I never thought of myself as a person who enjoyed a slow, quiet morning – always wanting to get a jump start on the work and activity for the day – and perhaps if all of them were this way I wouldn't appreciate it nearly so much, but for now, the ones I have are exactly what I need.