Classic risotto recipe and caramelized onions (plus mushrooms and bacon)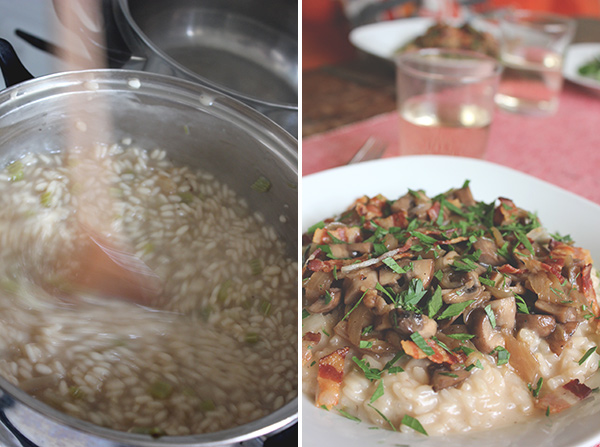 So you'll have to bear with me a little, here. I realize risotto probably isn't what most of you are thinking about, as you head into the warmer part of the year. Particularly one topped with things like mushrooms, caramelized onions, and crispy bacon. (Delicious as they are.) Vienna seems to be stuck in sort of a 55-and-raining holding pattern, and our compasses are set toward soups and stews and roasted vegetables and home-baked bread and other things that help our little apartment stay warm, instead of turning toward summer. But risotto is one of those things I keep in my back pocket through the entire year, an easy way to pull together something basic but a little extravagant at the first sign of a cool evening.
Risotto itself has a reputation of being particularly finicky or difficult, but I actually find it to be pretty straight-forward. It requires a bit of mostly dedicated time, yes, but it's mainly a series of adding things to a pan and giving it some basic supervision until it's done. And once you get comfortable with it, the process requires less and less supervision. What you get back from that bit of work is something comforting, hearty, and lighter and healthier than restaurant versions. I actually spent many years feeling meh about risotto after eating a series of heavy, filmy restaurant versions, and it wasn't until I started making it myself that I realized what a different sort of creature it is when it comes from a home kitchen.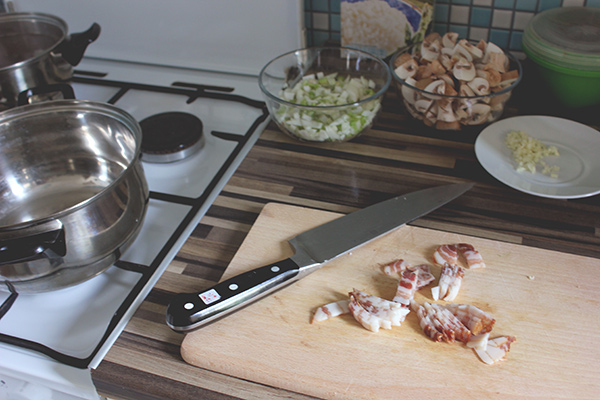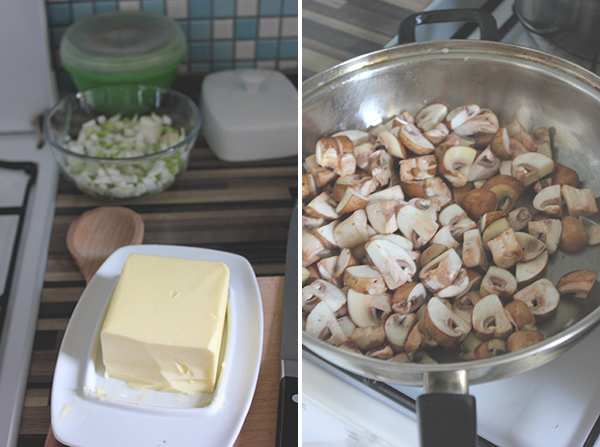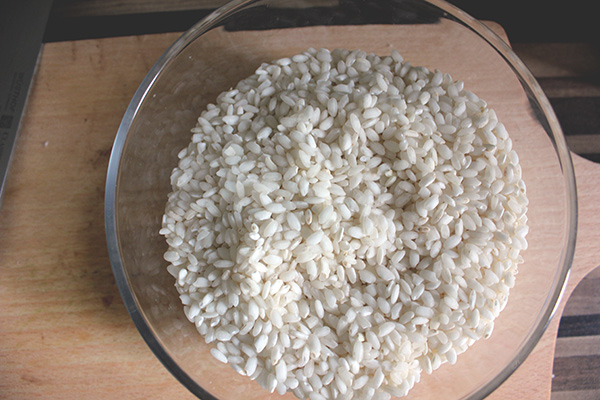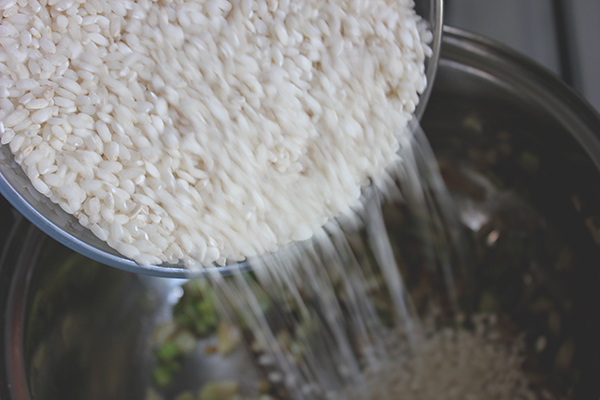 And how adaptable it is! You can serve it for its silky, stripped-down self as a side dish, or as a main dish mixed or topped with almost any combination of cooked vegetables, meats, eggs, and sauces. This is a perfect opportunity to experiment and go with whatever you're craving or what looks good at the market. In the late summer you might serve it topped with grilled garlicky eggplant; in the winter you can tint it deep fuscia with cubed roasted beets and vinegar-soaked shallots, or cook it with dried mushrooms mixed in and top it with leftover roasted pork or beef; in the spring it might be artichoke hearts, herbed goat cheese, and flaked poached or smoked salmon; in the summer it might be lemony, peppery greens and some grilled zucchini. Risotto is particularly apt at soaking up bits and pieces of things – a scrape of tapenade here, a bit of chicken breast there, the remaining cubes of roasted squash. It's one of many methods of coaxing trailing pieces into feasts.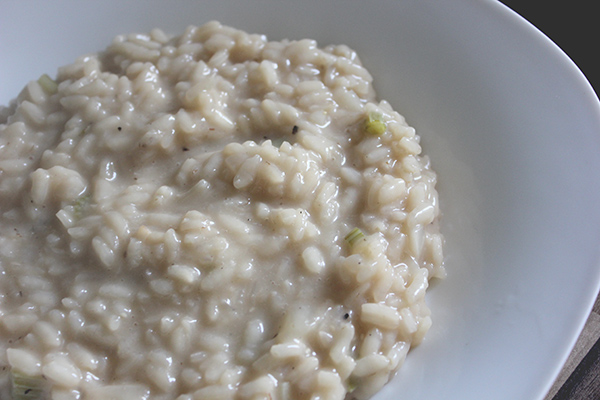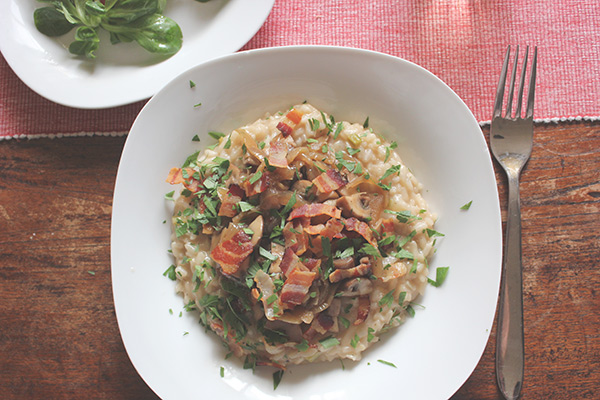 There are plenty – thousands, I'm sure – of places to find a basic risotto recipe. I'm posting what I do for a couple of reasons; one is to strip away all that cookbook language and all those rules and just share how I make it and what I see as the important elements, for whatever that's worth. The other is that I'm working away at that "meal building block" project that I mentioned a few weeks ago and starting to put together some of my most reliable basic recipes that I use as a foundation for our everyday meals. The lentils were one, as were the polenta and salad posts (those last two being not very specifically recipes, but hopefully still helpful). The project has kind of grown into another beast, but as I'm pointing my eye toward starting to teach cooking classes again once we get to Madison it's helping me organize my thoughts.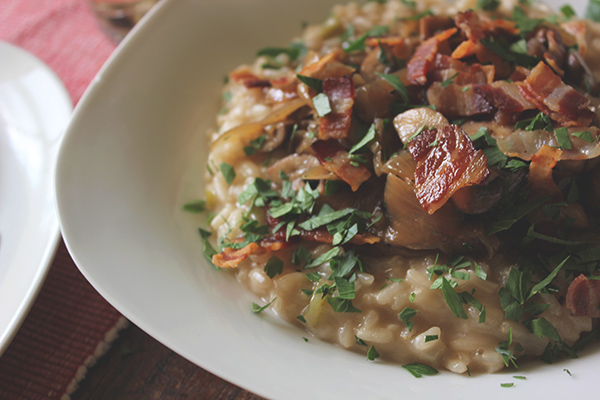 Before we get to the recipe, a few things to note about risotto, in case you're interested (if not, feel free to skip ahead to the recipe):
Risotto rice: Risotto is not like other rice dishes, and requires a specific sort of rice. These are short- or medium-grain rices that specifically let go of starches as they're stirred (unlike almost all other sorts of rice, which you never want to stir) and give risotto that great creamy, saucy texture. Arborio is the most common in the United States, but I've seen carnaroli rices now and again as well. (I also generally use these rices when making paella, since it's so difficult to find traditional Spanish paella rice in the United States.)
Warm stock: I generally use chicken or vegetable stock, but any meat or vegetable stock would work. (If you like mushroom risotto, consider making a stock from mushroom scraps and/or using the liquid from reconstituting dried mushrooms.) You certainly don't have to warm the stock ahead of time, it just makes the process go much faster. While I'm prepping the rest of my ingredients I usually warm up a pot of stock to just below a boil, then turn it off – it will stay warm enough through the whole process. The microwave would work well too.
The steps: Each of the steps listed in the recipe below are pretty important and traditional to making risotto. The first and last steps develop the flavor, and the middle develops the texture. The onion and celery let go of flavor while they cook, which is then soaked up by the rice, which then toasts a bit to lend a bit of a nutty flavor. The wine is the next thing the dry rice soaks up before it bathes in stock for the rest of the process, constantly building up more flavor, and the Parmesan adds a huge boost of flavor at the end. You can certainly change things up – like omitting the cheese at the end (if you use olive oil and vegetable stock, this can make risotto vegan) or the wine in the beginning – but it will slightly change the flavor and texture. I'd suggest making it as listed a couple of times, then playing around to see what you like.
Tasting while you cook: The only real way to know that risotto is done is to taste it along the way. It's impossible to know how much stock this will take and exactly how long, since it's done whenever the texture of the rice is right. Note that you won't salt until the end, so while you're tasting along the way the flavor will be kind of … boring. The Parmesan, salt and pepper, and (if you want it) butter and/or lemon at the end will change everything.
Basic risotto

Serves 2, easily scalable

1/2 onion, diced

1 to 2 stalks celery, diced
1 to 2 Tbsp. butter and/or olive oil
1 cup (125 g) risotto rice, like arborio or carnaroli (don't rinse the rice ahead of time)
Around 1/4 to 1/2 cup dry white wine or vermouth
3 to 4 cups warmed vegetable or meat stock (warm water would work too, but would give far less flavor)
Around 1/2 cup grated Parmesan
Salt and pepper
Optional: another pat of butter and/or a squeeze of lemon to add at the end

– Cook vegetables: In a medium saute pan or pot (the heavier the better – it will disperse heat more evenly), cook the diced onion and celery in the butter and/or olive oil until translucent.


– Toast the rice: Stir in the rice and cook until it has soaked up the moisture in the pot, then for another bit (30 seconds or so). Stir occasionally during this process, just to make sure things aren't sticking to the bottom of the pot and burning. The rice will start to smell a bit toasty and get translucent around the edges.

– Add the wine: Pour in your wine or vermouth and stir. It will steam and make a racket since the pan will be pretty dry, but that's okay. Cook, stirring every so often, until the alcohol has cooked off (when you can't smell alcohol anymore, just wine) and the rice has soaked up most of the liquid.

– Add stock in increments and stir: Start adding stock in increments, somewhere around a 1/2 cup at a time, keeping the mixture at a low bubble. Stir fairly consistently through the cooking process, scraping along the bottom of the pot to make sure the rice isn't sticking to the bottom of the pan – because that rice is releasing all that lovely starchy sauce, it can start to stick fairly easily. Your first few times, it's best to stir almost the entire time, to get used to how the process progresses. After a while you'll be able to do other things in your kitchen between stirrings, but even experienced risotto makers have somewhat of a tether to the pot while it's going. Whenever liquid doesn't pool at the bottom of the pan while you're stirring, add another batch of stock. Do this process for somewhere between 15-25 minutes (or maybe more, even), stirring and adding stock until the rice is cooked through. Start tasting around minute 12 so you know how progress is going, and as it gets close start adding less stock each time so you don't end up with soupy risotto. When done, risotto rice will taste a bit al dente and chewy, but it should be enjoyable to eat – not crunchy or unpleasantly undercooked.

– Remove from heat and flavor: When the rice is tender, remove it from the heat or turn off the burner. Add a bit more stock if you'd like it to have a looser texture, then add in the grated Parmesan. Add salt and pepper to taste, then the additional butter and/or lemon if you'd like. Serve with desired toppings or garnishes.

Making ahead/saving leftovers: Cooked risotto will keep well in the refrigerator for at least a couple of days. It will firm up quite a bit in the refrigerator and will require a bit of liquid (water/stock) and fat (oil/butter) to regain a good texture. You can also cook it just partway, then chill it and bring it back up to heat to finish cooking later (this is what many restaurants do). It will also probably require more liquid and fat to have a good texture. You can also form leftover chilled risotto into balls, perhaps around cheese, meat, or other fillings, then coat them with breadcrumbs and fry them to make arancini (a quick Google search comes up with a variety of good recipes for that).
Caramelized onions

Makes around 1 cup – I usually scale this up to 10-15 onions at a time to make a large batch

2 lbs. onions (about 4-6 medium to large ones), peeled and sliced into crescents – red, yellow/brown, or sweet onions work best

2 tsp. butter and/or olive oil
1 small branch fresh thyme (optional)
Large pinch sugar
Large pinch salt, plus more to taste
Splashes of white wine and/or vinegar (optional)

– Caramelize: Heat the fat in a wide pan or pot (I use a large pot when I make big batches) over medium-high heat and add the onions. Add the thyme (if using) and the sugar and salt. Reduce heat to medium-low and cook, stirring occasionally. Whenever the pan starts to dry out and/or the onions start to stick and brown a bit too much, add a splash of water (or white wine or vinegar) and add a cover if you want to slow things down a bit. After about 45 minutes of stirring, cooking, and adding moisture if needed, the onions will have reduced into a sweet, golden brown, jammy slump. It will resist looking jammy until the moment they're ready, so if it's not there yet, keep going. When done, taste and add more salt as needed.

Storing leftovers: Leftovers will keep in the refrigerator, covered, for at least 1 week, and freeze well for up to 6 months. 
Risotto with mushrooms, bacon, and caramelized onions

Serves 2

4 slices bacon, preferably thick-cut
Olive oil
Around two big handfuls (8 ounces or so) mushrooms (here I used creminis, but anything will work well)
2 cloves garlic, peeled and chopped
Salt and pepper
Two servings of risotto, recipe above
1 cup caramelized onions, recipe above
Small handful flat-leaf parsley, roughly chopped

– Cook the bacon: Slice the bacon crosswise into 1/2″ pieces (see picture above). Cook in a skillet until crispy, then drain on a paper towel. Set aside, leaving the bacon grease in the pan to cook the mushrooms (if you like – otherwise olive oil is just fine).

– Prep the mushrooms: Clean and slice or quarter the mushrooms into bite-size pieces. Heat a bit of olive oil in a clean pan or add a bit to the bacon grease in the bacon pan and heat over medium-high heat. Add the mushrooms and saute until they start to soften, then add the garlic and cook until everything is tender. Salt to taste.

– Assemble the dish: Mix the caramelized onions into the mushrooms, then layer half of the mixture on top of each serving of risotto. Top with half of the bacon pieces, then with chopped parsley.