Weekend Links, April 14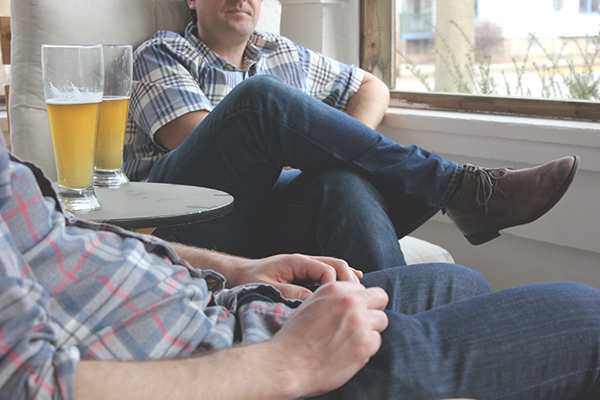 First porch happy hour of the year!
Yesterday I posted one good thing to do with homemade ricotta – here's another! I'm not sure why they specify store-bought ricotta, because the homemade stuff would work beautifully. And I love the comment at the bottom about using coconut milk or greek yogurt instead of cream … I'll have to try that soon.
Oh, and here's yet another idea. Simple, but perfect for spring.
London chefs divulge their guilty pleasure foods. (One of mine? Potato chip, peanut butter, and jelly sandwich on the softest white bread possible.)
Bartenders share their hangover prevention tips. (Mine? Water water water water water ibuprofen water.)
I'm really excited about David Lebovitz's new book, particularly because of this buckwheat madeleine recipe.
As many of you may know, I cannot pass up a good link about food and hip-hop. Funkmaster Flex's hilarious instagram feed. I think "Nice! Who likes salads???" is my favorite.
Helpful, helpful. How to read a French wine label.
I love eggs in cocktails! Well, I love eggs almost anywhere, but in cocktails they are so interesting! The last one we made was basically a negroni shaken with an egg, and it was fantastic.
Six-Onion Pizza with white onions, leeks, shallots, red onions, scallions, and chives! I'm in.
If you hate looking at pictures of adorable newborn lambs, don't click here. A lovely day-in-the-life series of photos from a farm in Nova Scotia.
And if you're going to click on just one of these links this week, make it this one, a fascinating article that touches on the science of taste and flavor, how food corporations develop their products, and why there's really only one ketchup, as far as most of America is concerned.
This week's meal plan – we're trying to keep things fairly easy and simple as the semester comes to a close over the next month, so our plans will be a little less involved than normal:
Last night – the maple-glazed pork belly we didn't get to two weeks ago, with wild rice and roasted broccoli
Packaged Indian food (the lentil and eggplant options from Trader Joe's are quite delicious) with packaged frozen parathas (we're obsessed lately) and homemade raita
Mac and cheese with peas and tuna (a classic comfort food for both of us)
Lunches: ham sandwiches with homemade whole wheat sandwich bread, kale salads with white beans and coconut (recipe to come, or at least that's the plan!)
Breakfasts: bran raisin muffins and banana bread with yogurt
Dessert: lemon curd tart (testing for an upcoming class)