Weekend Links, May 5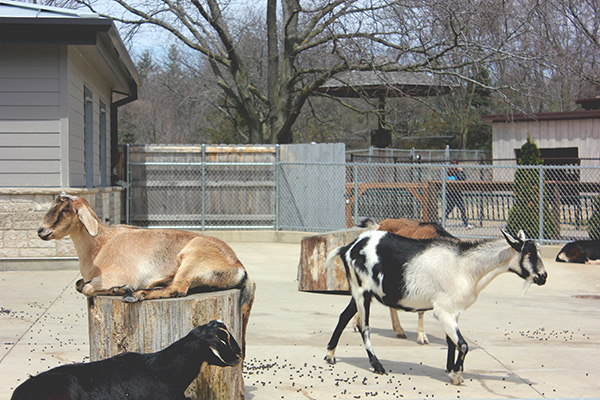 Quick visit with my friends the goats, Madison zoo.
I'm excited to be speaking at the next Ignite Madison event on Wednesday, May 21. Food is the theme of the night, and I'll be giving a talk about fear and eating joyfully. See more about the event and the rest of the line-up at the event's Facebook page, and get tickets here!
I hadn't made our staple granola in months, which is sort of strange, but realized I maybe needed to change things up a bit. Made a big batch of Molly's lastest granola recipe yesterday, and I'm in love. Well-balanced, flavorful, and satisfyingly crisp. I used pepitas, poppy seeds, and flax seeds instead of nuts for me; almonds, pecans, and hazelnuts for Brett.
Snacks Quarterly – bringing together artists and other creative folk to talk about a favorite pastime. (Snacking, that is.)
How the Obamas are changing the White House's own culture when it comes to health and nutrition.
"So I declared a spaghettata." Love this. (If only I was ever up that late.)
Data on what people actually order at Chipotle. (Almost 60% of orders are burrito bowls?!) Fascinating – I would love to see this type of data for all sorts of different restaurants!
Speaking of fast food, new data on which cities partake the most. (First thing learned: Do not move to Florida. Second thing learned: Madison, WHOA.)
Milking moose in Russia.
By day, nurse. By night, an Instagram sensation crafting hip hop references from leftovers. (via First We Feast)
David Tanis, making me miss our time in Vietnam. (I took a class at that same cooking school in Hoi An and made rice paper that same way, which reminds me I really need to do that again soon. In case you're also longing for Vietnamese food, you can see my recap from last year here.)
And if you want something completely unrelated to food, Gabourey Sidibe's speech from the Ms. Foundation Gala is absolutely fantastic. Go read it.
This week's meal plan:
Grilled mozzarella, prosciutto, ramp pesto sandwiches on sourdough
Massaman curry with carrots, potatoes, and mushrooms, jasmine rice
Thawed venison stew (need to clean out our freezer!)
Braised chicken legs with tarragon, grapes, and bok choy (one of my favorite recipes from my time at Hipcooks)
Breakfasts: granola (see link above!)