Sweet, savory butternut-tahini spread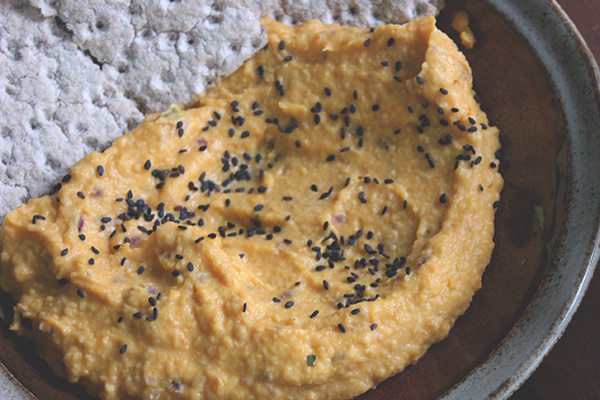 I'm pretty good at posting things just a little too late. (Remember last year, when I posted the 4th of July cake on the 10th of July? Like that, but even worse.) It can be more work than expected to get a perfect storm of interesting recipe, notable finished product, written recipe notes, and decent photograph, and sometimes by the time I've managed to piece it all together, it's a little later than it should have been.
But this time – this time I'm AHEAD of schedule! You maybe haven't even thought about squash yet, though if you also live in a place that has had the wonky growing season we've had here, maybe you're starting to see fall produce at your farmers' markets, too. (I find it exciting, though I wouldn't dare say so in public for fear of rabid winter-fearing Wisconsinites.)
Perhaps you haven't thought about squash since that first hint of green came out in tender baby greens, scallions, and fresh peas early last spring. (Cast off those root vegetables, come forth for green! Green!) But whether you like it or not, squashes are on the way, and when you do find yourself in front of that display of butternuts, do not hesitate! Pick up a few, roast them tender with some red onion and garlic, and whir it all into velvet along with some Greek yogurt and tahini. Salty, sweet, luscious – perfect for picking up with pita chips, spreading on crackers, or serving as a rich puree alongside a piece of roasted meat. (If you're feeling really adventurous, blend it with a few cups of warm chicken stock and maybe a splash of cream or milk for what I'm guessing would be an excellent soup.)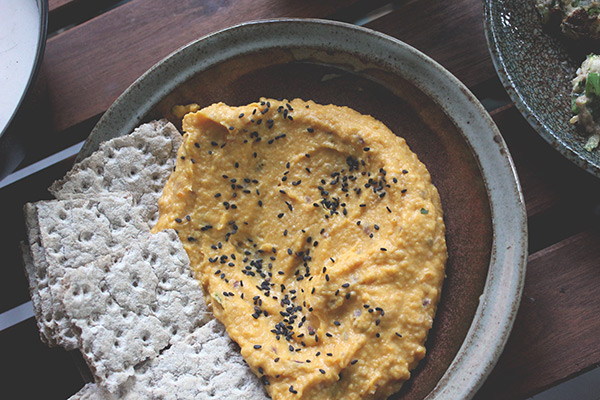 Butternut-tahini spread
Adapted heavily from Jerusalem by Yotam Ottolenghi

Makes approximately 4-5 cups

Around 3 lbs. butternut squash (about 1 large or 2 medium squashes), peeled, seeds removed, and diced into 1/2″ cubes
1 red onion, peeled and cut into large chunks (about 1″)
3-4 cloves garlic, peeled
Olive oil
Salt
1/2 c. plain Greek yogurt (fat content doesn't matter, and non-Greek yogurt will work in a pinch)
2-3 Tbsp. tahini paste
White and/or black sesame seeds, for garnish

– Heat oven to 425F.

– Roast the vegetables Toss the squash, onion, and garlic with a large pinch or two of salt and enough olive oil to coat. Spread on 1-2 baking sheets and roast until tender, 30-40 minutes. (It can take longer if the pieces of squash are larger and/or if the squash is harder.)  Roast until they're tender enough to eat deliciously on their own. The more the vegetables are spread out, the more they'll brown and get crispy edges – that's fine and can add some flavor, but is certainly not required.

– Process ingredients When the vegetables are done, let cool for at least a few minutes, then put in a food processor or blender with the yogurt and tahini (putting the yogurt in the machine first will help the ingredients come together a little more easily). Process until fully combined and salt to taste – the starch in the squash will soak up salt fairly well, so it might take more than you think.

– Serve Transfer to a serving dish and sprinkle with sesame seeds as garnish.

Making ahead/storage:  This dip can be served warm, room temperature, or cold (I find warm or room temperature to be best, but it's good cold as well). It will keep well in a covered container in the refrigerator for up to 1 week and can be reheated in a pot over medium heat or in the microwave.