Polenta layer cake with fruit and créme fraîche whipped cream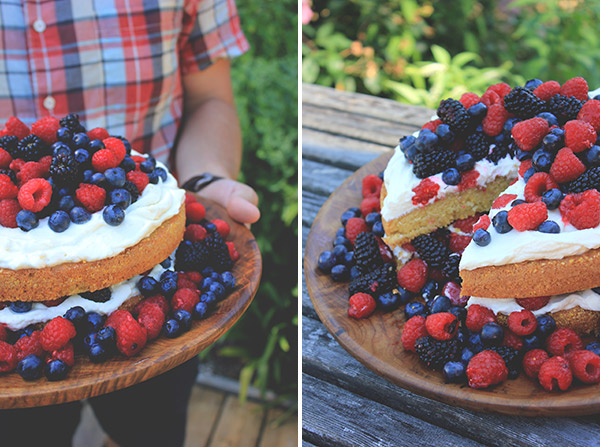 Oh doesn't that look like an amazing cake to make for 4th of July?
I'm so helpful.
I did make this cake for 4th of July, but that means I can't write about it until after 4th of July, which makes it a little late for all of you. But wait! You can actually make this cake any time of the year. Woo hoo! Now you're set and I'm not late at all.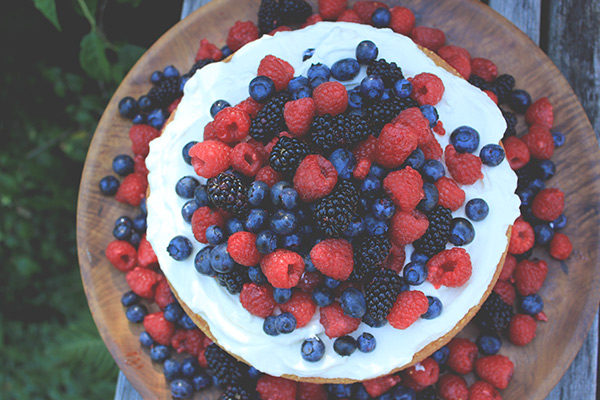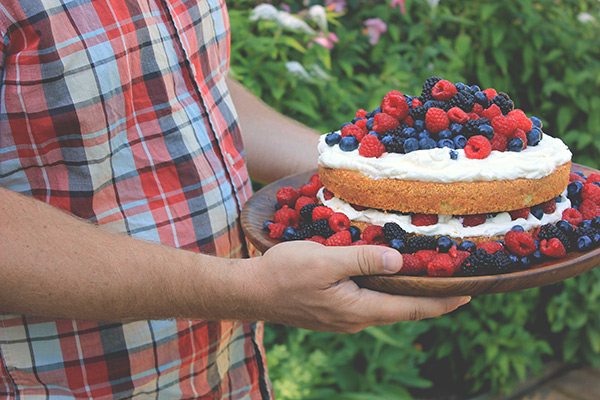 And yes, this cake is piled high with an astonishing quantity of fresh, seasonal, local Oregon berries. But should you want to make this at a time that amazing local berries aren't abundant and available for a reasonable price, know that you can just as easily use other fruits as well. Slices of peaches and nectarines? I think so. Cherries and plums? Yep. Beautiful segments of variously-hued citrus – oranges and pomelos and grapefruits? Absolutely.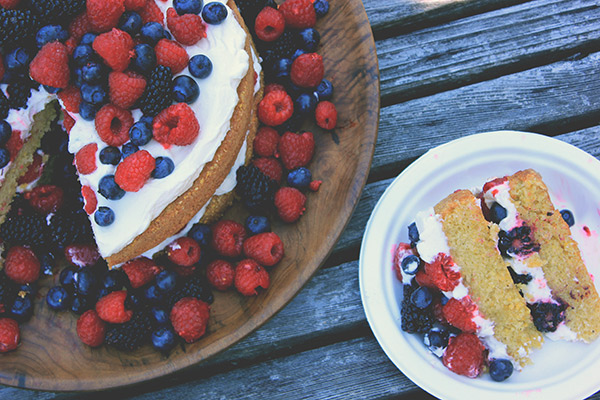 This is a cake with a great bang-to-buck ratio, in terms of baking skill. Not an avid baker? Does concocting frosting make you nervous? Not confident in your cake decorating skills? This is probably the cake for you. Assembly is as simple as can be, with swaths of créme fraîche-laden whipped cream and piles of fruit. Everyone loves fruit and whipped cream, and everyone will love you. (As if they already don't! You're obviously great.) You could even do two one-layer cakes, maybe with different fruit on each cake, which would make you seem like a particularly generous and loving dessert provider (another idea: for my birthday party last year I made one huge layer cake with my grandmother's massive layer cake pan, and topped that with the créme fraîche whipped cream and some local Minnesota raspberries).
I definitely need to stop for a moment to reiterate the créme fraîche part. Have you ever folded it into whipped cream? Because you definitely, definitely, definitely should. Heavy cream and sugar make great whipped cream, but folding in some thick, tangy créme fraîche makes something otherworldly. (Greek yogurt would work well here too!) I assembled this cake at the 4th of July party we attended and forced no fewer than five passersby to taste the whipped cream before I spread it on the cake layers. After each taste we shared the look, like the look two people might share after making an exciting discovery together, usually accompanied by a nod and a sly smile.
I love that look.
Polenta olive oil layer cake with fruit and créme fraîche whipped cream 

Makes two 8″ or 9″ layers, 10-12 servings

Note: With medium-grain cornmeal, you may get a bit of crunchiness from some of the larger grains, especially if you're using a stone-ground whole grain meal (like Bob's Red Mill). Many people have specifically commented to me that they like this, but it's just a warning/explanation in case you find that happens in your cake. 

1/2 cup (4 oz. / 1 stick) unsalted butter, room temperature, plus more for greasing pans
3/4 cup (4.5 oz. / 128 g) medium-grain polenta/cornmeal
1 cup (4.5 oz. / 128 g) all-purpose flour
2 tsp. (10 g) baking powder
1 tsp. (6 g) salt
1/2 cup (4 oz. / 110 g) olive oil
5 large eggs, room temperature
2 large egg yolks, room temperature
1 tsp. vanilla extract
1 1/3 cups (9.3 oz. / 266 g) sugar
Fruit – enough to put between the layers and on top (I went a little overboard with the berries in the pictures above). For berries, 2 pints is sufficient. For citrus, I'd say 3-4 large fruits would be great. For stone fruit, probably 4-5.

For the whipped cream:

6 oz. heavy whipping cream
4 oz. créme fraîche
Large pinches granulated or powdered sugar, or more to taste

– Heat oven to 350F.

– Prepare cake pans Smear extra room temperature butter over the inside of 2 cake pans and line the bottom of each pan with a parchment round (You may be able to skip the parchment – I haven't tried doing it without, but with a good smear of butter I think it would be okay. If you try this, let me know and I'll update the recipe.)

– Combine (most of the) dry ingredients In a small bowl, sift together the flour, polenta/cornmeal, baking powder, and salt.

– Combine (most of the) wet ingredients In a separate small bowl, whisk together the olive oil, eggs and egg yolks, and vanilla.

– Cream the butter and sugar Beat together the butter and sugar, using a stand mixer (3-5 mins) or handheld electric mixer (6-8 mins) on a medium-high speed until the mixture is light and fluffy.

– Add wet ingredients Reduce the mixer speed to medium-low and slowly add the egg mixture in 4-5 batches, mixing after each addition until completely incorporated.

– Add dry ingredients Turn off the mixer and mix in the flour mixture by hand, stirring until just incorporated (don't over mix!).

– Bake Scrape the batter into the prepared cake pans and smooth the top. Bake until the top of the cake springs back when lightly pressed, or when a toothpick comes out with a few crumbs attached, about 20 minutes. Let cool for 30 minutes before inverting the cakes onto a cooling rack. (If using parchment, remove that from the bottom of each layer.)

– Make whipped cream To make the whipped cream, beat the heavy cream and sugar together using a whisk, a stand mixer, or a handheld mixer, until stiff peaks form (taste at least once through the process to taste for sugar, adding more if desired). Mix in the creme fraîche using a rubber spatula or a large spoon.

– Assemble Place one layer cake on your serving platter. Spread it with a little less than half of the whipped cream and one layer of fruit, pressing the fruit down slightly into the whipped cream so that the next layer will lay flat on top. Add the next layer and top with the rest of the cream and fruit. If you have extra fruit and it would look nice, display it around the edge of the cake.

Note: You can make the cake layers and the whipped cream ahead of time, but it's a good idea to assemble the cake close to when you want to serve it. Cake layers will keep well if well-wrapped in plastic wrap in the fridge for 36 hours and will freeze for up to 3 weeks (whether refrigerated or frozen, bring the cake to room temperature before serving). If the cake seems dry, brush the tops of each layer with a simple syrup before assembly. (This also works if the cake is a bit overdone and dries out.) Whipped cream can be made up to 24 hours ahead of time, though fresher is always better.