Herbed (or not) rum apple cake
What if I said I made three of these cakes in two days?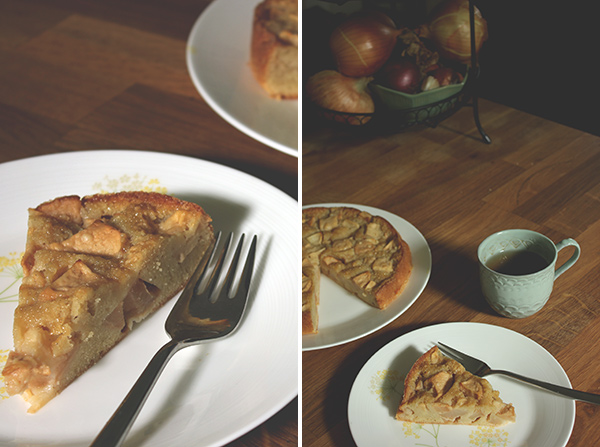 There was a reason, see, and a pretty good one at that – a waxed cardboard box full of apples from Minnesota, bequeathed to us by my grandmother on Labor Day and rapidly softening thanks to the hot streak that followed. (Even Midwestern basements can't store apples well in 95-degree heat.)
So I made 16 cups of apple pectin stock and 3 different types of apple jelly (Jameson, chili, and red wine/bay leaf), each of which was re-branded a glaze after utterly failing to set (whoops). But even that project used up only about half the apple stores, and with only a few days of usability remaining I turned my eye to desserts. So I opened up the usual suspects – a few favorite websites and books – to find inspiration, only to be almost immediately questioned by Brett as to why I would make anything other than this apple cake that I first made a few years back. It's actually been on this site since back then, but tucked in the archives under the relatively unassuming name "Simple Apple Cake," and after this binge I figured it deserved an updated page and a new title.
I mean, simple is somewhat applicable here. It's simple to make and definitely simple to eat – I can say from experience that a full quarter of a cake can disappear into one person faster than you'd expect – but far from simple in body and flavor. Practically more apple than cake; substantial cubes of fruit held together in a custardy batter packed with dark rum and, if you're feeling adventurous, thyme and rosemary infused into the butter.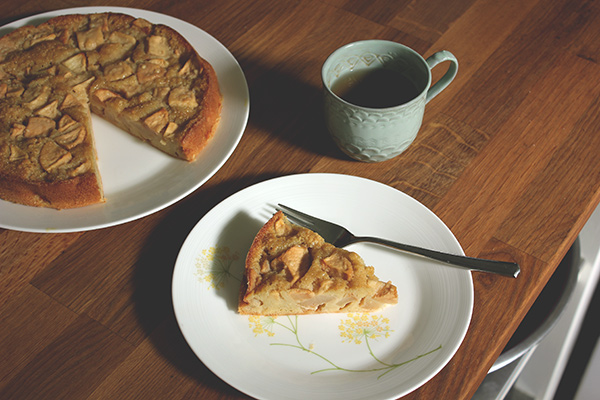 Sure, I realized after the first cake that using 4 apples at a time wasn't going to get us very far into our stocks. But that didn't stop me from making another to bring to friends and co-workers, and yet another to freeze for later. There were 8 apples left in the box, but I left them to languish while I headed out of town for the weekend to celebrate the 3rd birthday of my favorite godson. (I only have one; don't go thinking I'm terrible.)
But some of the things I said about this cake back in 2010 still apply – it's consumed just as easily for breakfast or a snack as it is for dessert, and it might be the world's most perfect application of my favorite créme fraîche whipped cream. Should you find yourself under a pile of apples this fall, as I did last week, turn here. It may not use up your apples as quickly as other things, but you'll certainly be happy.
Apple rum cake, optionally herbed
Very slightly adapted from Dorie Greenspan via David Lebovitz

Makes 1 8″ or 9″ cake, roughly 8 servings

8 Tbsp. (1/2 cup | 4 oz.) butter
Medium sprigs thyme and rosemary (optional)
4 large apples, about 1 1/4 lb. before peeling/coring
3/4 cup (3 3/8 oz.) flour
3/4 tsp. baking powder
1/4 tsp. salt
2 large eggs
3/4 cup (5 1/4 oz.) sugar
1/4 cup (2 oz.) dark rum (I usually stock Whaler's in my home bar)
1 tsp. vanilla extract or vanilla bean paste

Note: The original recipe specifies using a springform pan to make this recipe. I've used a springform pan, removable bottom cake pan, and a dark metal cake pan, and have found the best results come from the dark metal cake pan. Any of the three is fine, though, just note that since the first two options need to bake on a cookie sheet to protect against leaks, the baking time will be longer.

– Heat oven to 350F.

– Prepare pan If using a springform or removable bottom pan, heavily butter the inside of the pan and place it on a rimmed baking sheet. If using a regular cake pan, heavily butter and then flour the inside (place a small handful of flour the pan, tilt and shake to coat the bottom and sides with flour, then invert and hit the pan to shake out the excess).

– Melt and cool butter Cut butter into small pieces and melt in a small pan or in the microwave, then set aside to cool while preparing the rest of the recipe. If using herbs, place in the bowl or pan with the butter and remove just before adding butter to the batter.

– Prepare apples Peel and core the apples, then chop into roughly 1 1/2″ cubes. Set aside. (Apples may brown while you're waiting to use them, but that's okay.)

– Combine most dry ingredients In a small bowl, combine flour, baking powder, and salt. Set aside.

– Whisk eggs In a medium mixing bowl, whisk eggs until slightly foamy.

– Add remaining ingredients Whisk sugar, rum, and vanilla into the eggs. Using a wooden spoon or rubber spatula, gently in half of the flour mixture, then half the melted butter (first removing the herbs, if using), then remaining flour, then remaining butter. Fold in the apple pieces until well-coated with batter.

– Bake Pour/scrape apples and batter into prepared pan and bake for 45 minutes to 1 hour (the cake will bake more quickly in a cake pan, more slowly if using a springform or removable bottom pan on a baking sheet), or until a knife inserted into the center comes out clean. Rotate the cake halfway through (if baking more than one at once, switch shelves in the oven as well). Let cool in the pan on a cooling rack for 10 minutes, then run a knife around the edge to loosen the cake from the pan since apple pieces can easily stick to the sides. If using a springform pan, remove the sides. If using a removable bottom pan, place the pan on a can, drinking glass, or other item taller than the pan and push down on the sides of the pan to remove. If using a cake pan, invert onto a plate or cutting board to remove the cake, then invert back onto a serving plate (or cooling rack, if the cake is still quite hot).


Making ahead/storage: This cake keeps well at room temperature for up to 3 days (and in fact gets better as it sits). Since it is so moist, plastic wrap may stick quite badly; I recommend draping a clean kitchen towel (tea towels work very well) over the cake or pressing plastic wrap directly on any cut surfaces but not the rest of the cake. I have a whole cake wrapped in plastic wrap and tin foil in my freezer now, but don't yet know what the results are. I'll update this post when I know.