Roasted sunchokes with pumpkin seeds, pickled red onion, and shaved Parmesan
It took me years to take a serious look at a sunchoke (aka Jerusalem artichoke). I'd pass them by at the market, eagerly turning to more comprehensible things. I had no idea what they were, much less how to prepare them, and I wasn't even sure if they were vegetable or some exotic form of ginger. I mean, look: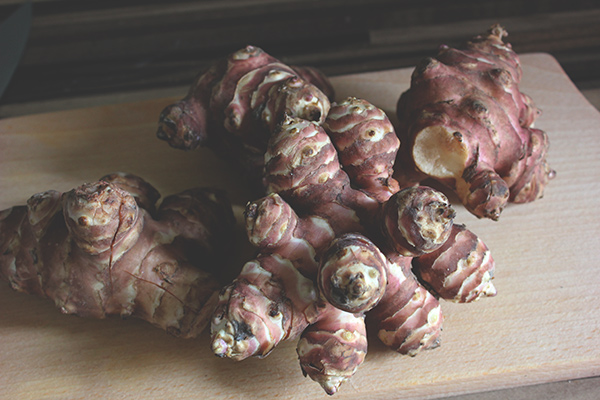 Not exactly the sort of vegetable that inspires confidence. That peel. Those knobs. The sheer wall of intimidation, having no idea what one might do with such a thing.
But, boy, was I wrong. Despite their gnarly outer appearance, sunchokes are pretty fantastic. They have a sweet, nutty, almost creamy flavor that retains a hint of crisp even when thoroughly cooked, sort of like a water chestnut, and they're lovely roasted or pureed or even deep-fried in thin slices like potato chips. There's no need to deal with the peel, which is thin and edible, and cutting off the knobs is actually kind of fun. Should you find yourself facing a sunchoke, do not shy away! Go on in.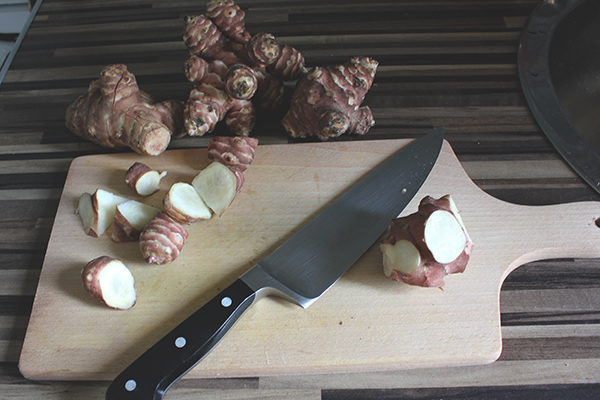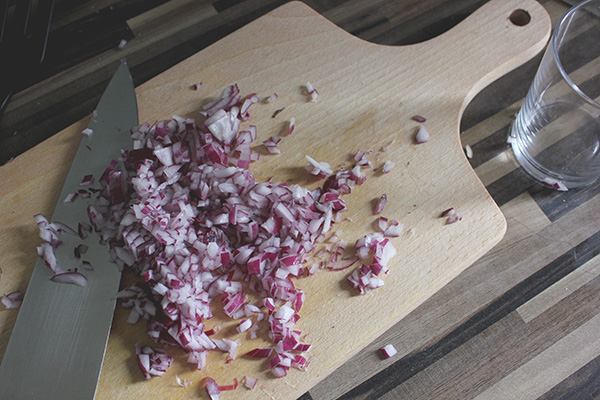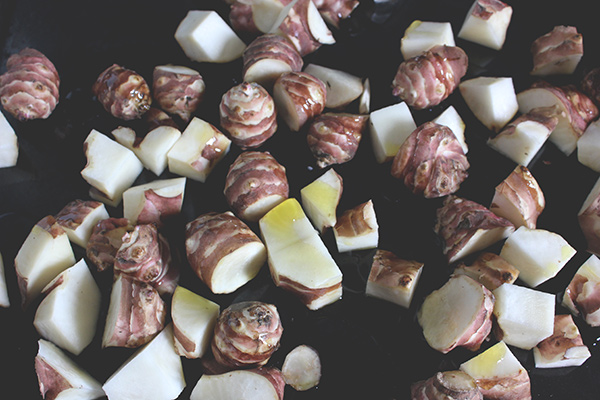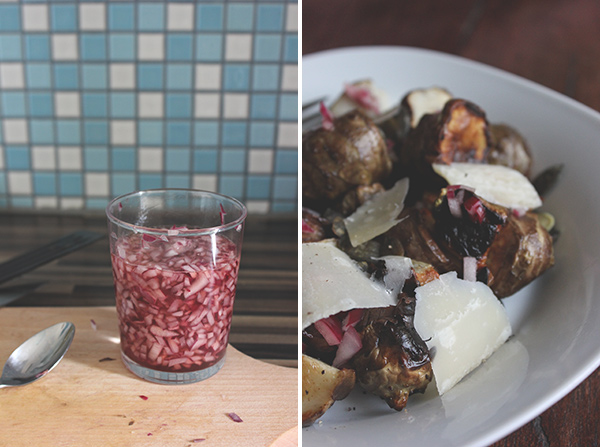 Warm, roasted sunchokes make a perfect combination with the nutty crunch of pumpkin seeds, the pert little bursts of cold, crisp, piquant pickled onion, and the creamy shavings of Parmesan. I wish I could have added a splash of pumpkin seed oil (more on that in a second) as well for a little rich, smoky flavor, but we don't have any around at the moment so I'll have to save that for next time.
A note on pumpkin seed oil: It's a popular delicacy in Austrian cooking, which is probably why it was on my mind, though ironically we don't have any here. We do have a bottle in storage in the United States, though, waiting patiently for us to have a kitchen again. It's shockingly dark forest green and richly flavorful, reminiscent of things smoky, roasted, and nutty.  I'm guessing some other sort of rich oil – maybe walnut or hazelnut? – would add something similar. And we always have pumpkin seeds around since they're a great nut substitute for me, but I'm fairly certain you could use nuts here instead. Walnuts? Hazelnuts? Smoked almonds? I've never had more than a tiny, cursory taste of a nut in my life, but those just sound right. I'm sure others would work too.
It would also be easy to make this a main dish recipe by adding a poached egg on top, which would add more warmth, body, and creaminess. With a thick slice of toasted bread and a glass of white wine it would be just about the perfect meal. (At least in my world, where a plate of roasted vegetables with a poached egg constitutes perfection.)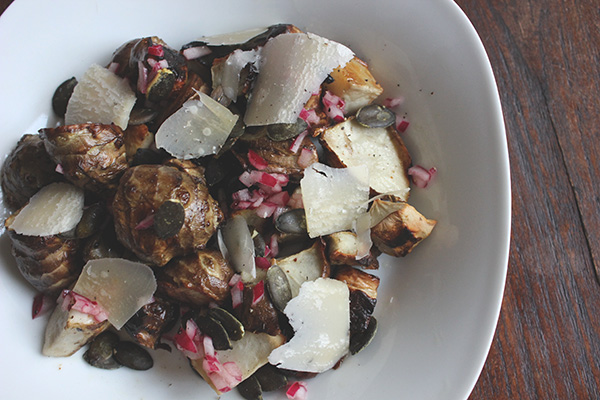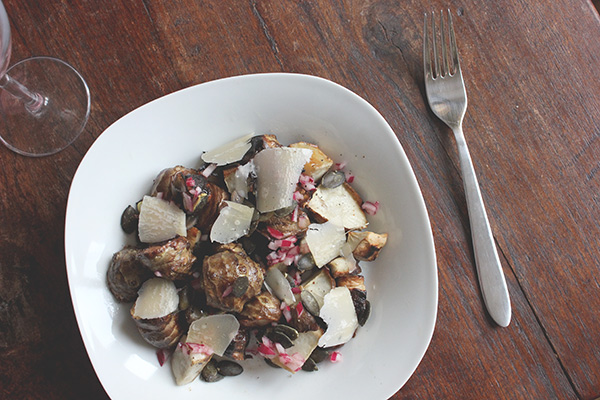 I'm also really into the idea of this dish for a special-occasion dinner party, since the ingredients, flavors, and look of the whole thing are a little unique. You could pair this with something else pretty basic and still have an exciting and interesting meal.
Roasted sunchokes (Jerusalem artichokes) with pumpkin seeds, pickled red onion, and shaved Parmesan

Serves 2 as a hearty side dish

4 large sunchokes or the equivalent (enough to fill two open hands held wide)

Olive oil for roasting and finishing
Salt and pepper
1/4 red onion, peeled (this will probably still give you leftovers – I did a full 1/2 onion and used only a few teaspoons for this dish)
A few taablespoons vinegar for soaking (I prefer white wine or apple cider vinegar, but others work too)
A few tablespoons pumpkin seeds (raw or toasted, salted or unsalted – anything works)
Parmesan cheese to shave for the top
Optional: A splash of pumpkin seed or other rich, flavorful oil
Optional: 2 poached eggs for serving

– Roast the sunchokes: Preheat oven to 425F. Clean sunchokes by rinsing under cold water and scrubbing with a brush or loosening any spots of dirt with your fingertips. Cut into bite-size pieces – I cut off the knobs first, then cut the remaining rectangular middle piece into large cubes. Lightly coat the pieces with olive oil, salt, and pepper, and roast until tender and browning at the edges, about 25 minutes (or more, depending on your sunchokes and your oven – some may be as tender inside as a fully cooked potato, and some may have a little more crispness; roast until you enjoy how they taste).

– Pickle the onion: Finely dice the red onion quarter and put in a small glass or bowl; pour over vinegar to soak. Let this sit at least 15 minutes before using.

– Assemble dish: Add salt and/or pepper to the sunchokes if needed. Add a splash more olive oil, if they seem a little dry. Toss together with a small spoonfuls of pickled red onion, pumpkin seeds, and pumpkin seed or other oil if using (and adjust quantities of all to taste). Spoon into serving or eating dishes and top with pieces of shaved Parmesan, made with a vegetable peeler. If adding a poached egg, place those on top before serving and top with black pepper and/or a drizzle of oil (olive or pumpkin seed).