Fresh corn caprese with nectarines
Hello there, all the way from over here in Maternity Leave Land! I left my job at REAP just over a week ago now, leaving myself a few weeks (maybe – turns out babies come on their own schedule) to rest, to avoid much of our August heat and humidity, and to make final baby preparations. I've been joking about how I might not get dressed on a daily basis, but that isn't actually much of a joke – you try finding suitable clean clothes to wear day after day when you're 8.5+ months pregnant. It's exhausting enough to require a nap.
In any case – the really exciting part of this whole maternity leave business is that when it's all done, Bowen Appétit will be my main gig. I'm not going back to REAP after babe arrives, and I'm very excited that in the fall I'll be able to focus more on offering more and a bigger variety of classes in new locations. I'll be scheduling quite a few private parties and classes over the holiday season (for those folks who like planning ahead, feel free to get in touch now!), and as with last year I'll be offering gift certificates for private classes and class registrations. If you have any thoughts or ideas, definitely get in touch. And make sure you're signed up for our monthly email newsletter (also on leave until the fall) to be the first to hear about classes and other fun announcements.
That said, I have a pretty great summery recipe for you today, one that was part of my celebration dinner last week on the night of my last day of work. I make a lot of fresh corn salads in the summer, though usually I throw in whatever haphazard mix of vegetables, herbs, and other things I can find roaming around the fridge. In this case I had a pretty specific vision, the result of which is the beauty below:
The hardest part of making these salads is getting the corn prepped, which can take a bit of practice. I've found the easiest way to do it is to stand the corn cob upright in the bottom of the widest bowl I have, gripping it by the top end and running a sharp knife (sharpness is key here) down the sides to strip the kernels from the cob. Sometimes the knife gets stuck in the cob and you have to start that strip over, or sometimes you need two runs down a side to get everything you can, but in the end it all works out. It's a bit awkward at first, but once you get the hang of it you'll be eating fresh corn salads like a champ.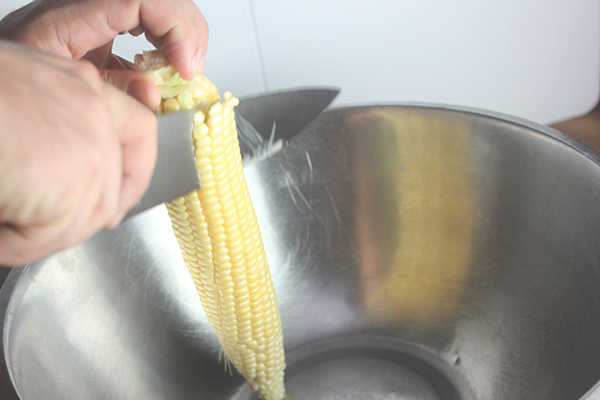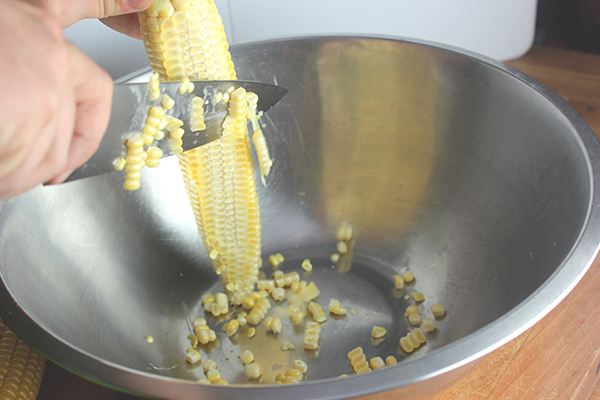 A few other general cooking tips relevant when making this salad:
When making a vegetable or grain salad, texture and color can be almost as important as flavor. In this salad, red onion and basil leaves add quite a bit of visual variety among otherwise yellow-white-red ingredients. There's pretty clear research showing people enjoy eating things more when they're visually/aesthetically pleasing, which can be as easy adding chopped fresh herbs to a dish. When prepping ingredients, think about making pieces roughly the same size, or at least all in relatively large or small pieces. Seems a little silly, but enjoying how something feels in your mouth will make what you're eating more delicious. In this case, the tomatoes and mozzarella are roughly the same shape, as are the corn, the nectarine, and red onion. Makes for a better eating experience!
Soaking raw onions in vinegar for a few minutes makes them far more palatable. Same goes for shallots, leeks, garlic, and other items from that family. A quick vinegar soak slightly pickles them and greatly reduces the spicy raw flavor they otherwise have, and the more finely you chop them, the more and faster that will happen. I do this almost any time I add onion-like ingredients into something raw, and it's an important step in my all-time favorite vinaigrette.
And some other ideas for fresh corn salads:
Black beans, cherry tomatoes, avocado, cilantro, lime juice, oil
Cucumbers, tomatoes, feta, black olives, parsley, red wine vinegar, oil
Potatoes (cooked), green beans, bacon, vinegar, oil
Basil, mint, shallots, fish sauce, brown sugar, lime juice (maybe with some grilled Thai/Vietnamese chicken, beef, or pork on top?)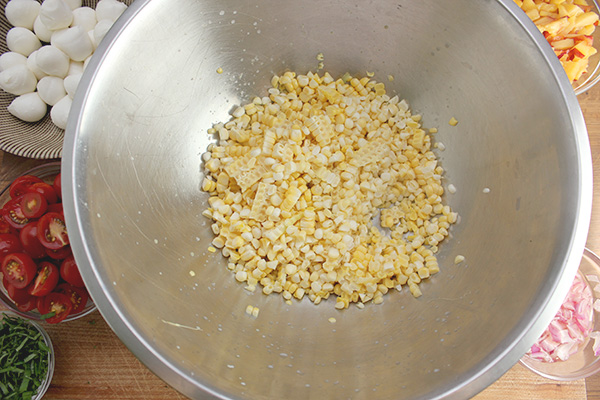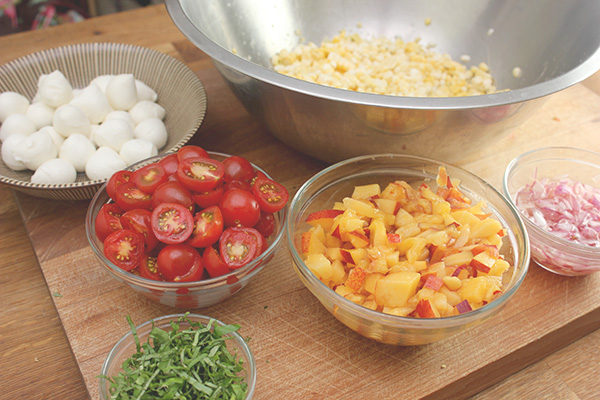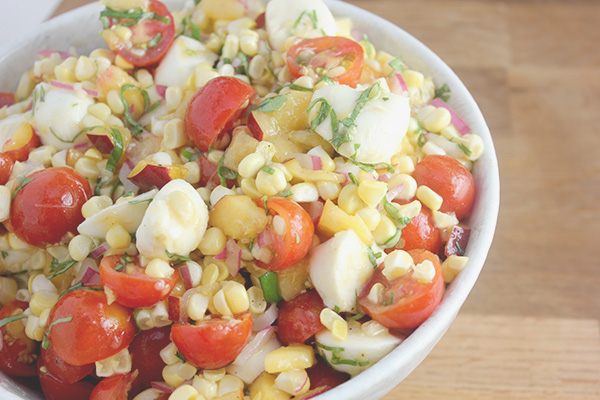 Fresh corn caprese with nectarines

Makes 6-8 servings

About 1/2 cup finely chopped red onion (about 1/2 small or 1/4 large red onion)
2 Tbsp. white balsamic vinegar (regular balsamic, white wine, red wine, or other salad vinegars would work well here too, though keep in mind that balsamics are likely a bit sweeter than the alternatives), plus more to taste
4 ears fresh sweet corn, shucked (alternatively, about 2 cups of thawed frozen corn kernels would work okay)
1 large nectarine, diced (peaches would work well too)
1 pint cherry tomatoes, halved
1 8-ounce container of fresh mozzarella ciliegine (cherry tomato-sized balls of fresh mozzarella), halved – about 2 cups of prepped mozzarella
A small handful of basil leaves, finely chopped or sliced chiffonade (into thin strips)
2 Tbsp. olive oil, plus more to taste
1 tsp. salt, plus more to taste
Freshly cracked black pepper, to taste

– Soak red onion In a small bowl, soak chopped red onion in vinegar while you prepare the rest of the salad (at least 10 minutes). It's okay if the vinegar doesn't completely submerge the onion.

– Prepare the corn As described above, cut the kernels off the ears of corn.

– Combine salad ingredients Add nectarines, cherry tomatoes, mozzarella, basil, olive oil, salt and pepper, and red onions along with their soaking liquid to the corn. Mix thoroughly and taste – adjust oil, vinegar, salt, and pepper to taste.

Making ahead/storage: Salad is best freshly made, but will keep fairly well in the refrigerator for a couple of days before it starts to get a bit slimy. After a couple of hours, you may want to adjust salt and vinegar to taste.