Pumpkin pie granola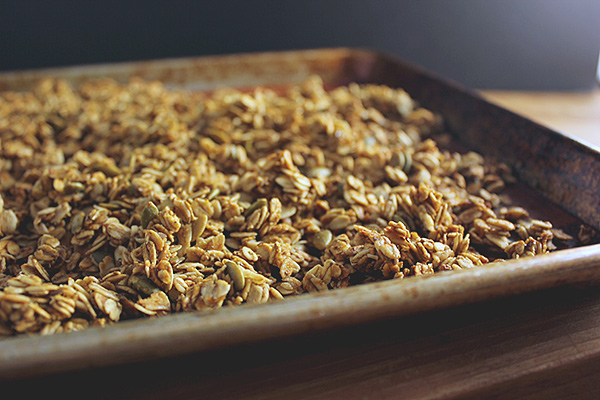 One bite of a pumpkin cheesecake sample at Trader Joe's last week and my pumpkin spice floodgates burst wide open. I'd been sort of inadvertently avoiding it all fall, but it's nearly impossible to walk around in fall wonderland of the Midwest and ignore the most potent of fall flavor profiles. And when some quick googling told me I could easily work some pumpkin puree into granola, my path was set. 
This is very (very) loosely based on the granola that's been my favorite for the past few years: Molly's Granola No. 5. Before that, my favorite was the recipe I have here on the blog, which I still love, but there's a depth and satisfying crispness to Molly's recipe that's pretty difficult to beat. (Fun fact: the top photo in my granola post is blown up to poster size and framed above our stove, which means I look at that granola in the jar every darn day.) Molly's recipe with some added pumpkin pie spices and a big dollop of pumpkin puree? I'll be wanting this for breakfast every day from now until it's time to put away the pumpkin spice until next year.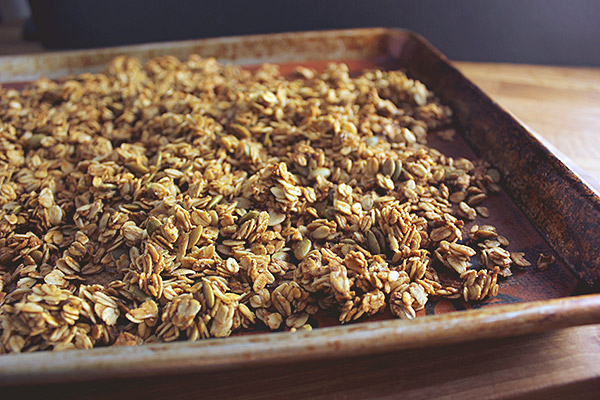 Granola tips:
Don't skimp on the oil and maple syrup! Enough fat and sugar (but not too much, unless you're looking for some darn delicious special occasion granola) is the key to good granola, and makes it worth eating. (Want something lighter? Turn the corner to muesli.) I know maple syrup can get expensive, and you can substitute up to half of it with honey or agave syrup if you really want to, but it's a really fantastic use for true maple syrup. In this case, the pumpkin puree allows for a reduction of oil and maple syrup from the original recipe, since it adds both sweetness and moisture.
I find I like granola much better with a bit more salt than most recipes – it tempers the sweetness and enhances the flavors of the oats and other ingredients in a way that makes it seem slightly more toasty and savory and complex.
Baking granola long enough is a bit of an art – I mostly look for uniform browning and darkening. I often include untoasted, unsweetened coconut in my granola recipes because you know the granola is done when the coconut is gorgeously browned. But in this case, it shouldn't feel too soft and springy and should be golden brown all over. If it hasn't crisped crisp enough after cooling, you can put it back in the oven for a bit (but remember it needs time to heat up before it really starts cooking again, so it may take longer than you think during round two).
Pumpkin pie granola

Makes about 3 quarts – recipe can easily be halved

6 cups oats
1/2 cup raw pumpkin seeds/pepitas
(Optional) 1/4 cup flaxseed meal
(Optional) 1/4 cup wheat bran
(Optional) Up to 1/2 cup other raw nuts/seeds (pecans and hazelnuts would be particularly good)
1 tsp. cinnamon
1/4 tsp. ground ginger
1/4 tsp. ground nutmeg
1 large pinch ground cloves
2 tsp. salt
1/2 cup olive oil
2/3 cup maple syrup
2/3 cup pumpkin puree

– Heat oven to 300F. If desired, line two baking sheets with parchment or silicone liners (this makes cleanup much easier).

– Combine dry ingredients In a large bowl, toss together the oats, pumpkin seeds, flaxseed meal, wheat bran, other nuts/seeds, cinnamon, ginger, nutmeg, cloves, and salt.

– Combine wet ingredients In a medium bowl, whisk together olive oil, maple syrup, and pumpkin puree.

– Combine all and bake Stir wet into dry ingredients and spread on two prepared baking sheets. Bake until browning and beginning to crisp, about 30-35 minutes. Rotate and switch the baking sheets halfway through, and at the same time toss the granola around on the sheet with a spoon or spatula (spread or flatten it back out before putting the pan back in the oven). The granola will crisp significantly as it cools. Let sit on the pans until completely cool, then transfer into an airtight container.

Making ahead/storage: Granola will keep in an airtight container for upwards of three weeks, as long as your kitchen/pantry isn't too humid. It also freezes well.