A duo of winter cocktails with Top Note Tonic: The Bitter Bee and The Woman About Town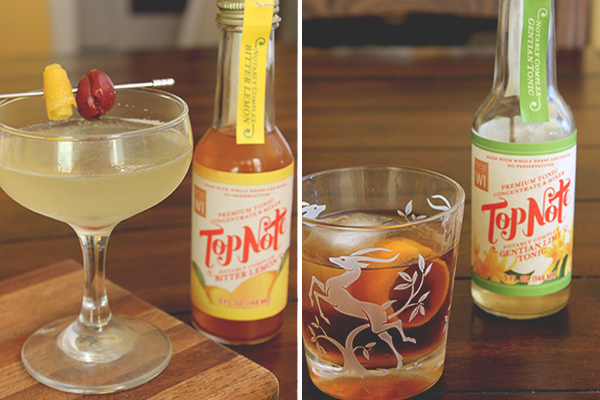 When Sarah, Vicky, and I started Whisk, one of the projects we were most excited about was connecting our member blogs with Wisconsin-based artisan producers – providing opportunities for our members to expand their work and challenge themselves with new projects, and providing opportunities for local companies to showcase their products and grow their businesses. We've loved watching this part of our organization grow, and we each personally have loved getting to know local businesses and working with their products.
I am incredibly excited to be working with Top Note Tonics, out of Milwaukee. I generally hesitate to share recipes here that require specific products, but Top Note's concept – boldly-flavored, non-alcoholic tonic concentrates made from whole botanicals and cane sugar – was a hard one to pass up, especially given how much I miss the pre-Aldo fun we used to have with testing and tweaking new cocktail recipes. I was excited about the potential for use in classic gin and tonics or other similar drinks, but I was also interested to see if they could be used in place of bitter liqueurs like Campari or Aperol, and for their potential as non-alcoholic apertifs that don't just rely on sweetness, like most non-alcoholic mixed drinks tend to do. They sent samples of all five concentrates – four with a tonic-like bitter profile (Bitter Lemon, Bitter Orange, Gentian Lime, and Indian Tonic) and one Ginger Beer concentrate. I tasted each on their own and got to work putting together a recipe testing plan (which I've learned is very important when it comes to cocktail testing, unless you're willing to let things get away from you a bit.)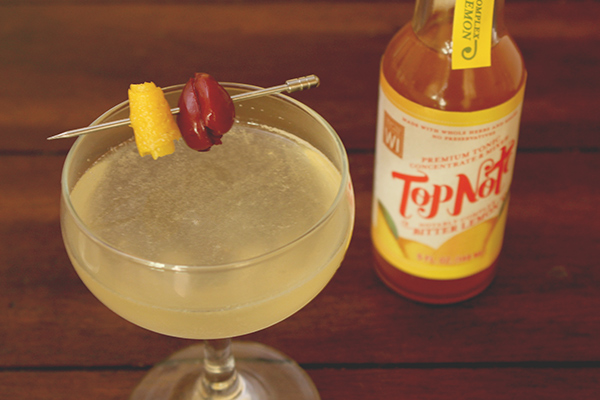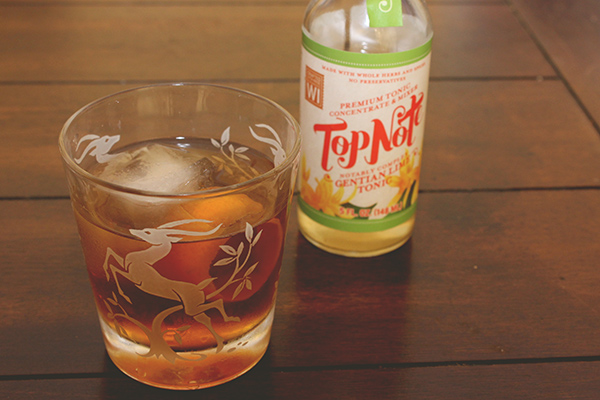 So I planned and I tested and I tasted and I tweaked, and finally narrowed it down to these two as my favorites. I only needed to develop one official recipe as part of our agreement, but I ended up having a difficult time even narrowing it down to these two! And I like presenting you with one clear liquor option and one brown (as my mother in law pointed out to me the other day, I often voice my cocktail requests in this way – "something brown, please!") so if you do as well, you now have options for both.
And I should note, in case it's not quite yet on your radar, that a certain gift-giving season is approaching, quite rapidly (so rapidly!). I wouldn't hesitate to say that Top Note's tonics would be an excellent gift for the cocktail-loving person in your life. In Madison, you can find Top Note products at: Star Liquor, Metcalfe's, Riley's, Fromagination, Woodman's, Steve's Liquor, Trixie's Liquor, and Fresh Madison Market. You can also purchase all five varieties in two sizes (10 oz. and 25 oz.) on Amazon.
One more thing, before we get to the recipes: using Top Note's Indian Tonic in place of the Campari in a Negroni (equal parts gin, sweet vermouth and Campari) is a really, really fantastic idea – a recipe I thought too simple to publish here, but was one of my favorite testing results.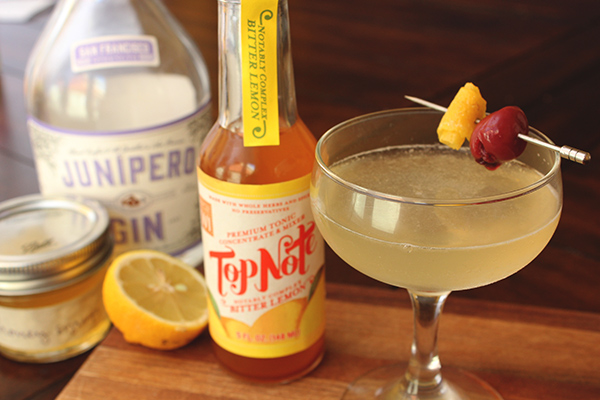 The Bitter Bee is a take on a Bee's Knees, a classic 3:1:1 combination of gin, honey, and lemon (3:1:1 being the typical ratio of liquor:sour:sweet in many classic cocktails, and a very good framework for getting creative). All of the original elements are included here in a slightly different ratio, plus a splash of Top Note's Bitter Lemon. Normally I'd call a cocktail with honey and lemon a spring cocktail, but the addition of the tonic adds a bracing complexity that I think would be perfect to brighten up a gray winter day.
Cocktail tips:
As I usually do when incorporating honey into a drink, especially as the weather turns colder and my honey becomes more firm, I shook the honey with a bit of water to make a syrup.
Good maraschino or other sweetened, preserved cherries make a difference here (I'd rather skip it than use the fluorescent kind). Luxardo cherries are lovely (they also make a wonderful gift) but there are less expensive versions, and Trader Joe's Morello cherries work quite well as garnish. We tested a few homemade recipes two summers ago and are still working through that stash, but the next time we make them I will post our favorite recipe on this site.
The Bitter Bee

Makes one cocktail, easily scalable

1 1/2 oz. gin
1/4 oz. Top Note Bitter Lemon tonic concentrate
1/4 oz. honey syrup (see note below)
1/4 oz. lemon juice
Lemon twist, for garnish
Cocktail cherry, for garnish

To make honey syrup: shake two parts honey and one part water in a jar until combined. I usually make a batch of 2/3 cup honey, 1/3 cup water.

– Assemble cocktail Add gin, lemon tonic, honey syrup, and lemon juice to a cocktail shaker half-filled with ice. Shake and strain into a cocktail glass.

– Garnish and serve Garnish cocktail with a lemon twist and a cocktail cherry (I like to make twists with a vegetable peeler, sometimes twisting them, dunking them in the cocktail to add the released oils, and then rolling them up and spearing with a cocktail pick, as seen in the photos above).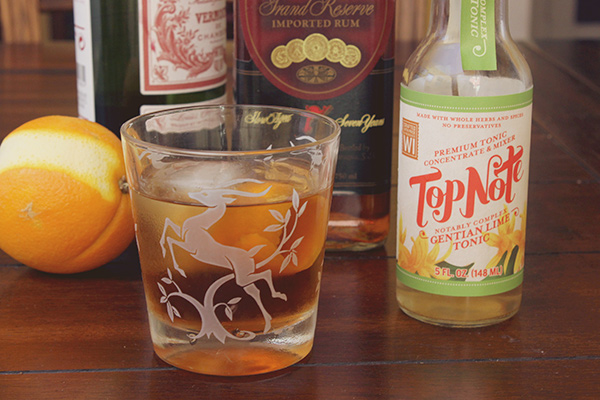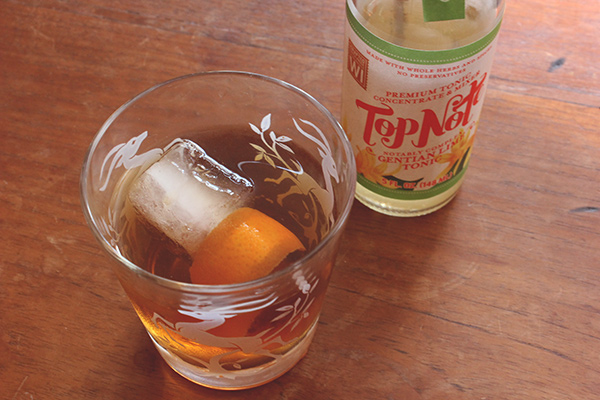 The Woman About Town is essentially a twice-removed variation of a Negroni – replace the gin with rum and the Campari with Top Note's Gentian Lime, and you're set. Equal parts of those two and sweet vermouth and you have a lovely pre-dinner drink, the bitter notes of the tonic and the fruity notes of the vermouth balanced by the sweet caramel tones in the rum.
Cocktail tips:
We love to have Dolin brand vermouth (both sweet and dry) on-hand for cocktail making. It's inexpensive enough to use in cocktails but good enough to drink on its own as an apertif (or mixed with a dash of bitters in Leslie's Americano).
As I've mentioned more times on this site than I might care to admit, we always have Flor de Caña 7 year golden rum in our bar – it's the only liquor we're completely loyal to. It was perfect in this cocktail, which isn't surprising, since it's perfect all around. (Cheeky, but true.)
The Woman About Town

Makes one cocktail, easily scalable

3/4 oz. aged rum
3/4 oz. Top Note Gentian Lime tonic concentrate
3/4 oz. sweet vermouth
Orange twist, for garnish

– Assemble cocktail Add rum, lime tonic, and vermouth to a cocktail glass with a cube of ice and stir until incorporated. Garnish with an orange twist (I like to use a vegetable peeler).
Disclosure: Top Note sent me tonic samples and compensated me to create recipes. As always, I only partner with high-quality products and companies I truly love!