Remember way back in February when I announced my official collaboration with Things I Made Today and Wisconsin From Scratch? We're back with more developments. Developments that might even include you! We've been gradually working on this behind the scenes for over half a year now, and today we're excited to make some major new announcements! Together the three of us have formed Whisk, a collaborative project for Wisconsin-based food bloggers and other media folks. We have a lot of long-term plans to grow this community, helping us support each other and build new skills and offering opportunities to partner with local producers and businesses.
For now? The most exciting part of this announcement is that we are accepting member blogs as of TODAY! If you're interested, head over to our website, see what we're offering, submit your info, and we'll be in touch soon. Whether you send us your info or not, we're also hosting our first meet-up on Thursday, September 3 from 5-7 p.m. (location tbd). Join us to chat with other local food bloggers and hear what Whisk is all about! (The sad news it that it's fairly unlikely that I'll actually be there, since that's nearly two weeks after my due date … but Vicky and Sarah will host you excellently.) We'll post more details on our website and on our respective social media sites as more details come together.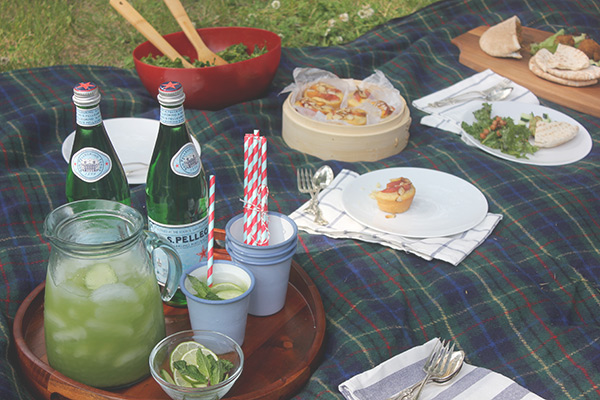 In celebration of this launch, we recently hosted a little picnic for ourselves featuring a collaborative summer menu perfect for all your remaining summer picnic plans (even our amazing intern Alice got in on the action – that's her delicious kale salad with crispy chickpeas you see in some of the photos).
Want to picnic with Whisk? Here's what you're in for:
Fava bean falafel w. mint-yogurt sauce

Lebanese-style falafel, packed with chickpeas and fava beans, and paired with a cooling mint-yogurt sauce. 
Cucumber mint agua fresca


A pitcher-worthy cooler packed with garden-fresh cucumber and mint.

See recipe below
Mini peach almond cakes


Handheld sweets packed with fresh peaches make sharing easy!
I chose to contribute a beverage for the event as somewhat of a challenge to myself, struggling to get excited about fun summery beverages that are non-alcoholic. As cucumbers flood into gardens and farmers' markets this time of year, this is a perfect one to bring to your next picnic or party or to have stashed in a big jug in the fridge. (And if you wanted to add a splash of gin or vodka, heavens knows I wouldn't stop you … I have it on good authority that it's delicious.) Read more