Apparently, I love cabbage!
It is not the wedding ring on my finger, the china in the cupboard, the guest bedroom, nor the solid wood bedroom set we bought ourselves for Christmas (I love you, solid wood furniture, by the way) but the sentence I am about to write that officially makes me an adult: Braised cabbage might be one of the best things that has ever happened to me.
Okay, so yes – I do tend toward the superlative here on this blog. But seriously, this was incredible.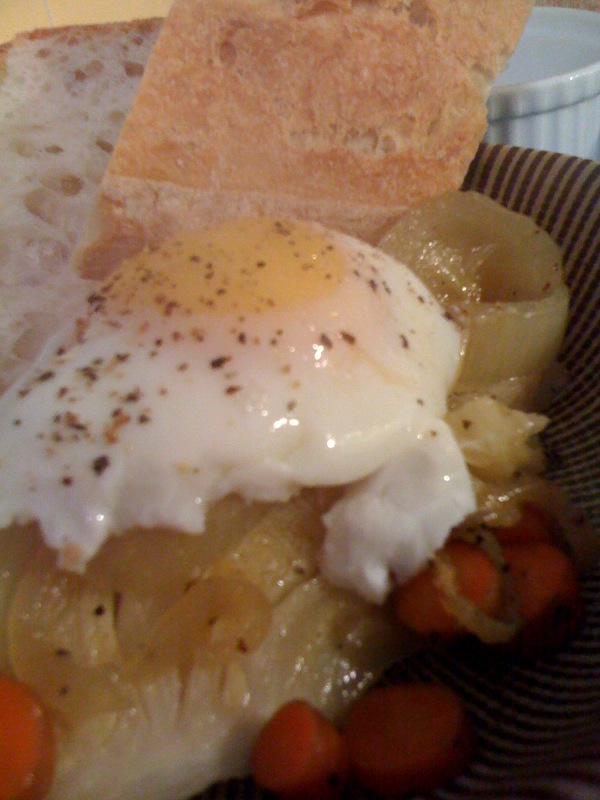 And … again, the photographic power of my phone seriously undermines my attempt to describe to you the pleasure of a dish.  Because, I agree … that photo does not exactly depict the stuff of youth-stealing confessions of lust for slow-cooked brassica.
But lust it is, because after 2 hours in the oven with sliced onions and carrots, a bit of stock and oil, and plenty of salt, pepper, and red pepper flakes, this head of green cabbage was a melty, sweet, tender delight.  To make it a meal and at the suggestion of Orangette (yes, again), I topped a hearty serving of it with a poached egg and, very importantly, plenty of salt and pepper. That's not to say there wasn't enough flavor otherwise, just that the salt and pepper really knocked it out the park, so to say.
Braised Cabbage with Onions and Carrots
From Orangette, recipe here

1 head green cabbage, cut into 8 wedges
1 medium onion, sliced
3 carrots, sliced into rounds
1/4 cup stock (I used homemade chicken stock, but anything would be fine)
1/4 cup olive oil
1/4 tsp-ish red pepper flakes
Salt and pepper
2 eggs

– Preheat oven to 325

– Place cabbage wedges in 9×13 baking dish (or any sort of baking dish, really). They will overlap, but try to get them as spread out as possible.

– Top cabbage wedges with veggies, stock, oil, and pepper flakes. Salt and pepper generously.

– Cover pan tightly with foil and bake for 1 hour. After one hour, gently turn over cabbage wedges, re-cover, and bake for about 45 minutes more, until cabbage is very tender.

– Turn oven up to 400, uncover dish, and roast for about 10 minutes, until veggies start to brown on the edges.

– While the veggies finish roasting, poach eggs (we did 1 per person, but I did get a bit hungry later in the evening, so 2 might have been better). I had never done it before, but it was super easy using Molly's method.

And together we ate about 3 wedges, which means tons leftover for other meals. I can't wait to try this as a side with other things, too … like roast chicken, or those two wild boar sausages we have left in the freezer!  If you're afraid of cabbage because it's … well, because it's cabbage, please consider giving this a try. And please consider inviting me over when you do.