Big ol' snickerdoodles
by Bowen Appétit on January 19, 2011
I've never really taken note of cookies without substantial … additions. Be it chocolate, dried fruit, oatmeal, fruit puree, or even a simple glaze or frosting, it generally takes something a little special to catch my eye. Plain old sugar cookies just haven't really done it for me. Don't get me wrong – I'm never one to turn down a cookie – but let's just say that there is a long list of types of cookies I'd choose to make or to buy before turning to something like the one I made this weekend.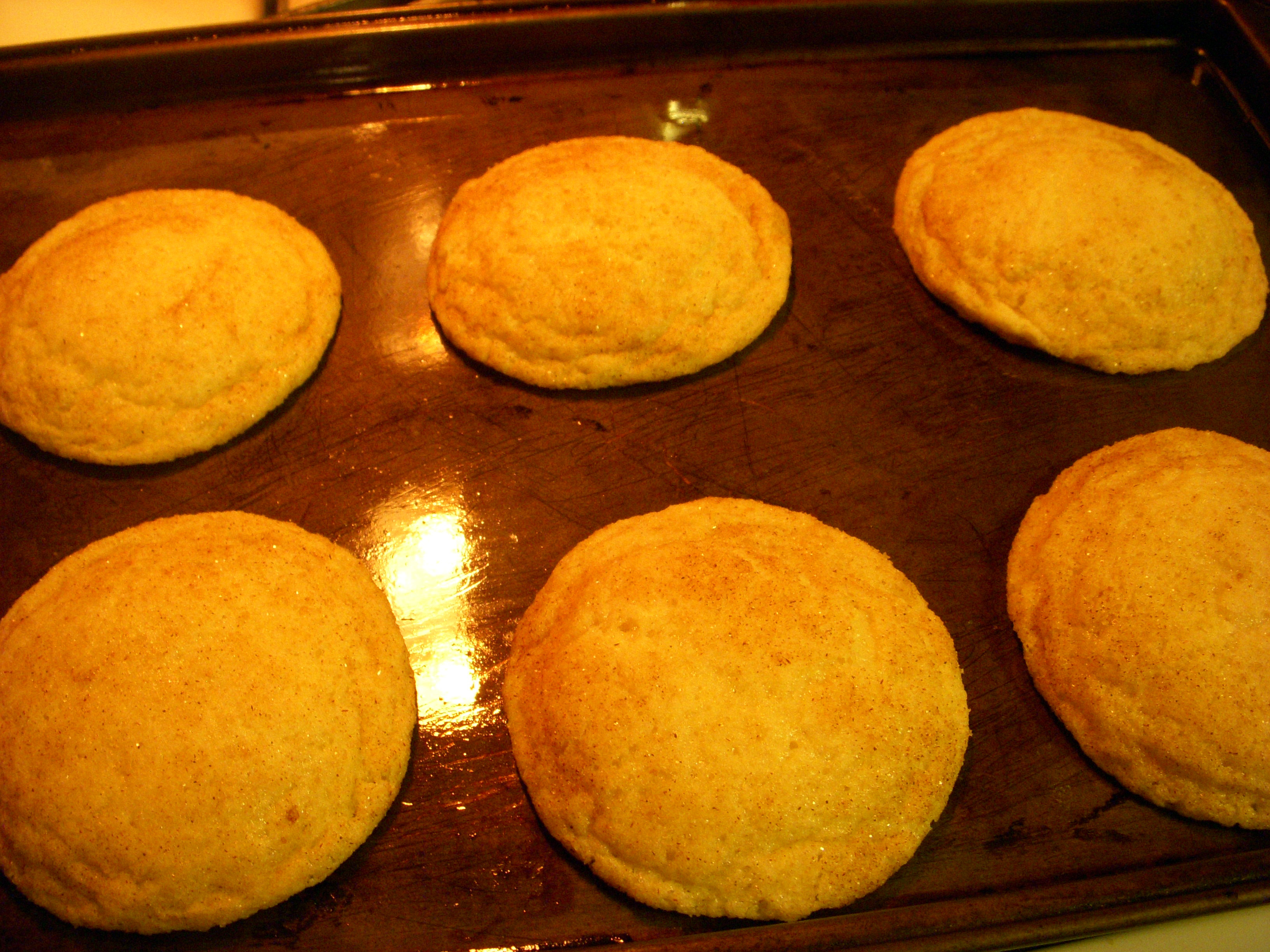 And I suppose a snickerdoodle isn't really just a sugar cookie. It's a sugar cookie coated with cinnamon sugar, which lends it a slightly spicy, earthy flavor. (Especially when you use the best cinnamon ever made.) According to some brief internet research, snickerdoodles are also notable in that they can be either chewy or crispy, which doesn't really seem notable to me at all but apparently there is some system of cookie norms that is unknown to me.
In any case, I should probably tell you why I chose these cookies, since this category of cookie-ness generally does not excite me.  Brett and I spent this weekend up in Big Bear with a group of new friends and we were responsible for dinner on Sunday night. We chose roasted vegetable tacos with a huge variety of Mexican-themed elements, and needed something fairly simple and crowd-pleasing to go along with it. Here was my train of thought:
1. Need something easy that people are likely to like (nothing weird)
2. Need something that goes reasonably well with Mexican food
3. Need something that would be easy to make in an unknown kitchen with unknown inventory of equipment/tools (foreshadow alert) and has ingredients I can easily pack and bring with us
4. Need something to go with a large variety of after-dinner drinks, be it tea/coffee/hot chocolate or something more along the lines of hello, you're going to a cabin in the woods with a bunch of friends, you're not going to be drinking tea/coffee/hot chocolate after dinner
5. Should pick something from one of our dessert-themed cookbooks to knock another off the list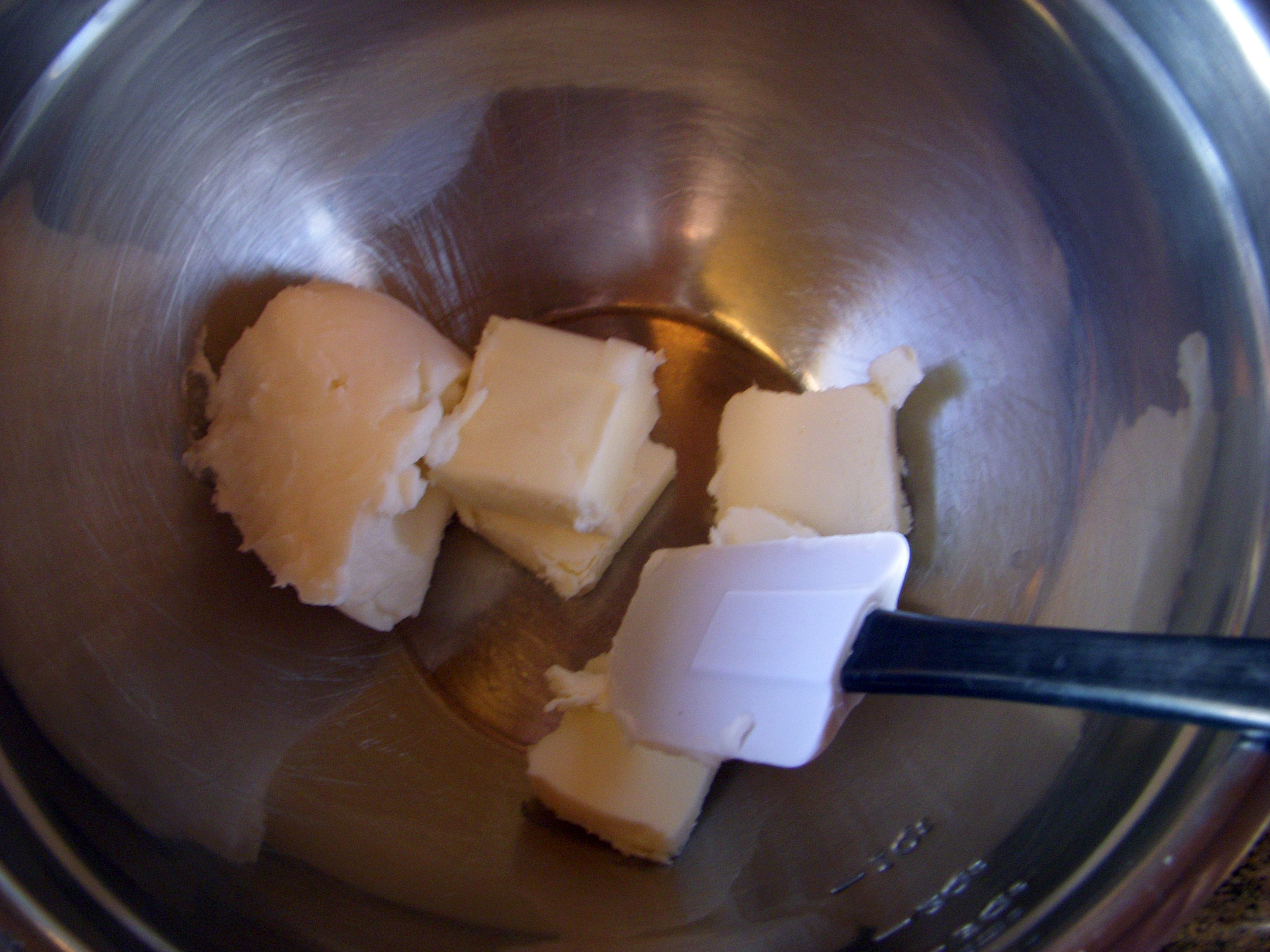 1+2+3+4+5+6 = big, chewy snickerdoodles. I chose a recipe out of Great Cookies, which my Gram gave to me a few years ago and that has so far served me pretty well. But I amended it a bit, including two techniques from the NYTimes chocolate chip cookie recipe – to chill the dough for 36 hours before baking and to incorporate some cake flour along with normal all-purpose.
If you, like me, are a lover of soft, caramely, chewy cookies (see: here and here), these cookies are for you.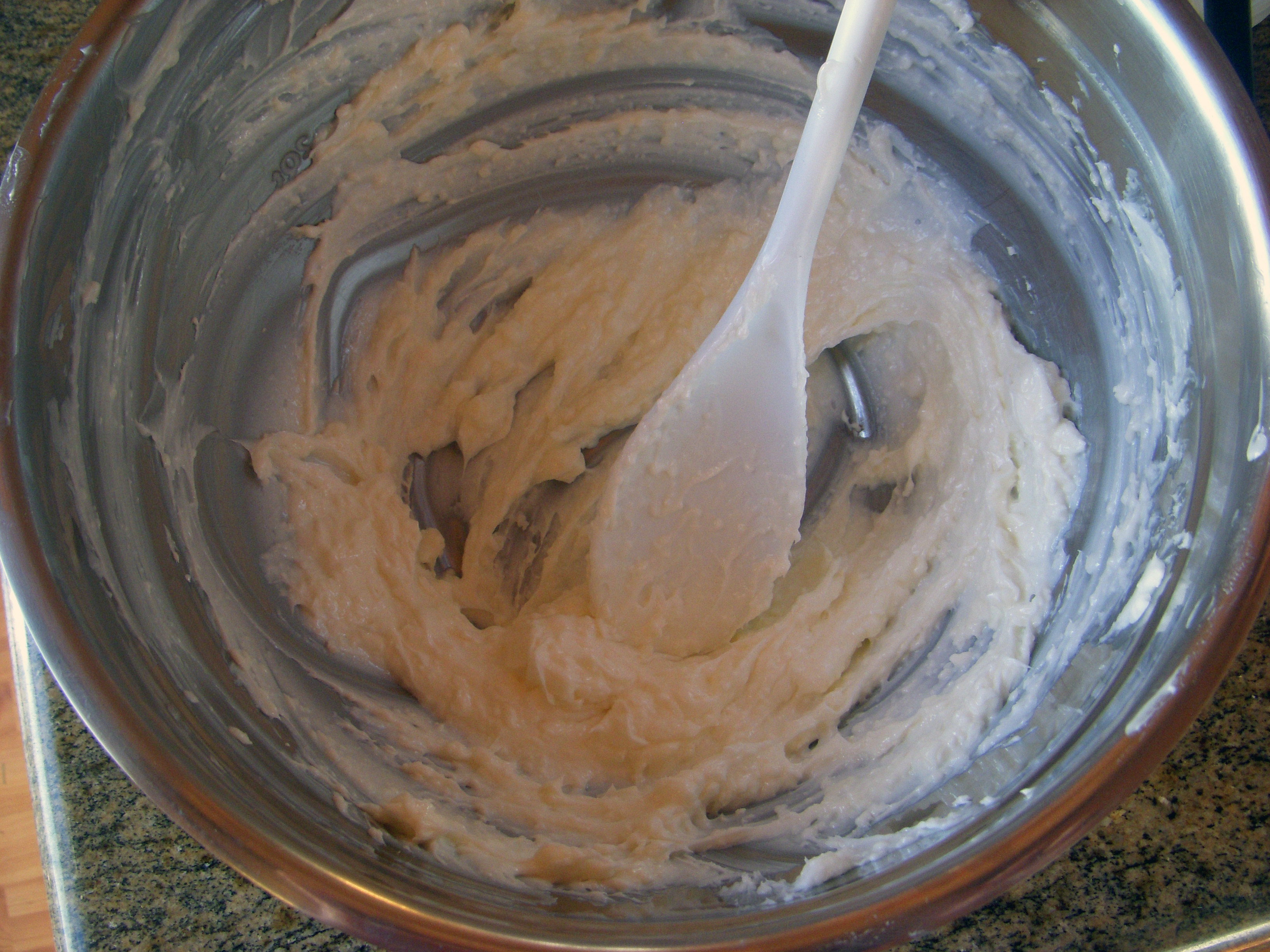 HOWEVER: I would suggest that when you want to bake cookies in an unknown kitchen, FOR THE LOVE OF GOD make sure they have an electric mixer or bring your own. Because the last thing you'll want to do on a Saturday morning (which is when you'd need to make this dough for Sunday night cookies) is cream butter by hand with a plastic spoon. See how, below, the recipe says cream for 6 MINUTES? HA! I laugh at that six measly minutes. Because I creamed this butter for what felt like an infinite expanse of minutes, so long I attended my great-great-grandchild's 124th birthday party. And then I added the sugar and did it all again.
Admittedly, part of the problem with this is my recently acquired high standard for the creaming process. Prior to a year or so ago, I would mix the butter and sugar together until they were mixed together and then stop (what a concept). But then Martha told me the creaming process should take around 10 minutes or so, until the mixture is extremely lightened in color and very fluffy. This seemed like a ridiculous amount of time to use an electric mixer, so I ignored it. But then someone else told me, and I read it again somewhere, and I finally got the message. And my cookies have been so much better ever since!
So I'm not even sure I really creamed enough here, since I was doing it by hand. But I did it until I thought my arms might fall off, then another 30 seconds or so, then I stopped. And maybe said a four letter word. (I was on vacation, it happens.)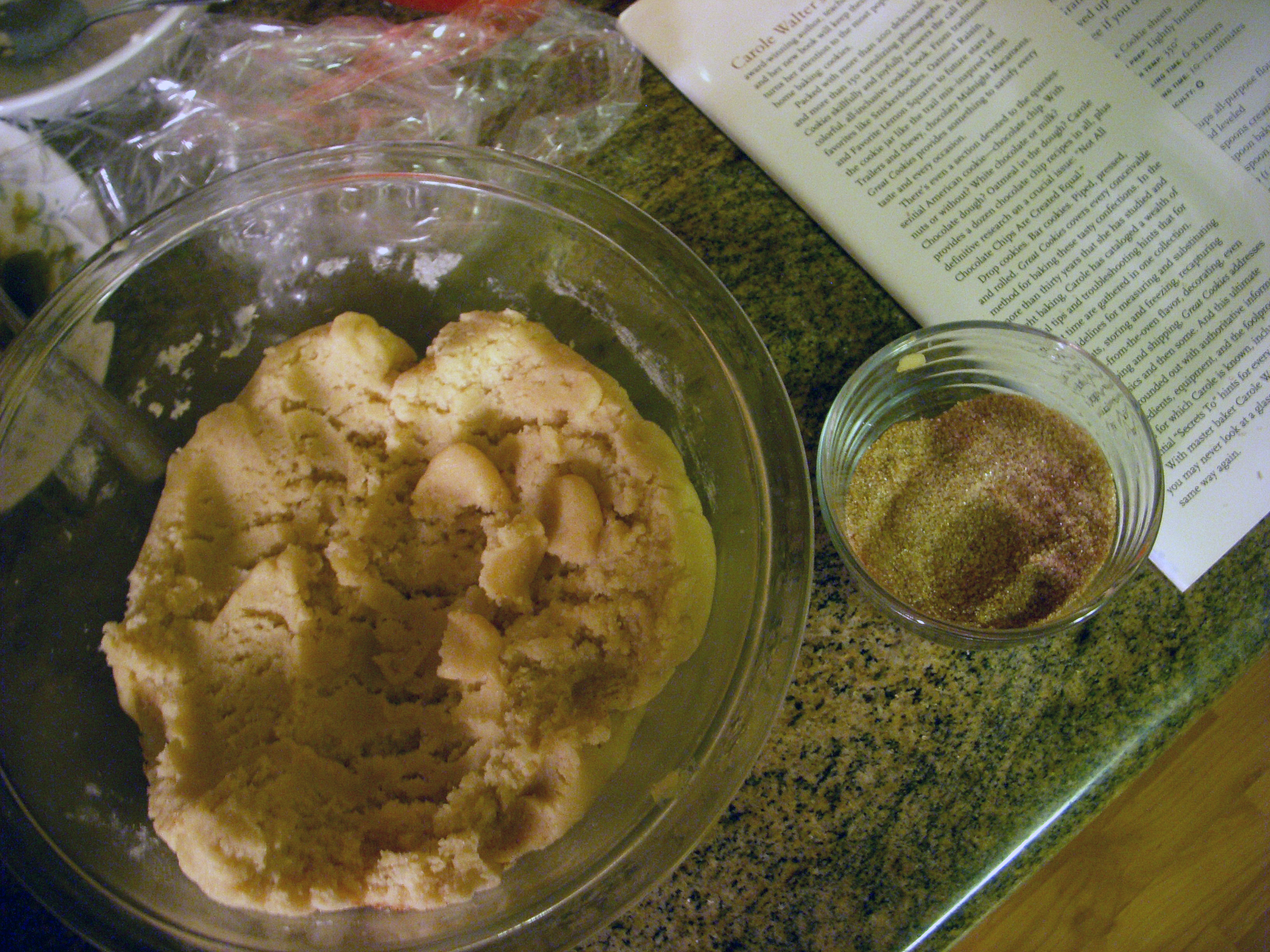 Another thing you probably want to think about: something on which to actually BAKE these cookies. The rental house had one tiny baking sheet, but considering I didn't want to spend my entire evening taking this sheet in and out of the oven (especially considering the 5 minute sitting time before removing the cookies from the sheet), I had to improve. I used the back of a roasting pan and a cake pan (the back so that I wouldn't have trouble getting the cookies off the pan afterward), which worked reasonably well.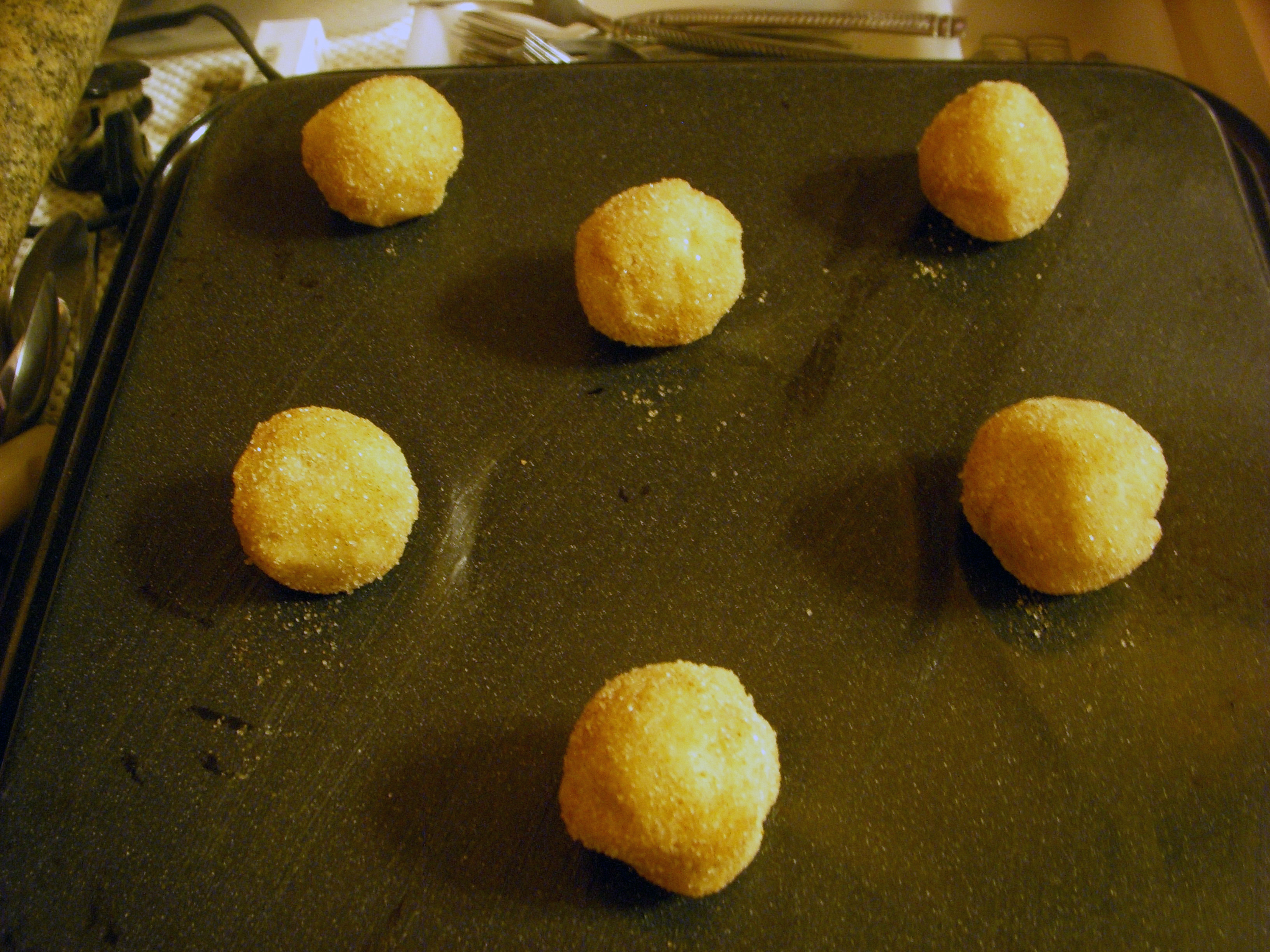 As noted in the recipe below, I spent a few batches experimenting with baking times. One batch was so soft a few drooped through the wire rack, but believe me – they were ridiculously delicious in the way that nothing other than an underbaked cookie can be. Others crisped up entirely in the next few days, but some stayed soft. They were delicious either way, and I can see the crispier ones being fantastic dipped into some coffee or hot chocolate.  The cookies will be pretty soft coming off the baking sheet no matter what, so you'll really have to figure out for yourself how you want them.
Chewy Snickerdoodles
Adapted from Great Cookies by Carole Walter

1 1/2 cups all-purpose flour
1 cup cake flour
2 tsp. cream of tartar
1 tsp. baking soda
1/2 tsp. salt
1 stick butter, room temperature
1/2 cup vegetable shortening
1 3/4 cups sugar
2 large eggs
1 1/2 tsp. vanilla
1 1/2 tsp. cinnamon

– In a medium bowl, whisk together the flour, cream of tartar, baking soda, and salt.

– In a large bowl, cream together the butter and shortening until lightened (about 6 minutes with an electric mixer, approximately 34,594,957 hours by hand). Add 1 1/2 cups of sugar and mix for another 4 minutes.

– Reduce mixer to low and beat in eggs one at a time. Stir in the vanilla.

– Add the dry ingredients to the wet in two additions.

– Refrigerate the dough for 24-36 hours. A little more is fine, a little less is fine. The original recipe says 6-8 hours or overnight, but I'm becoming a dough-chilling convert.

– When ready to make, preheat the oven to 350F. Lightly butter two baking sheets (or use parchment or a silicone baking liner).

– Combine the remaining 1/4 cup sugar and the cinnamon together in a small bowl.

– One piece at a time, roll a golf ball-sized ball of dough in your hands and dredge in the sugar mixture to coat the dough. You could make them smaller, I suppose. Or bigger! Yes!

– Place the cookies on the sheet 3 inches apart and bake for 12-15 minutes, until lightly browned on the edges. A shorter baking time will give you a chewier cookie, and a longer time will give you a crispier cookie – you can always make just one pan in the first batch to judge how you want the rest of the cookies.

– Remove the pans from the oven and let the cookies cool on the sheet for 5 minutes before transferring to a wire rack to cool.