Perfecting Gram's chocolate chip cookies – success!
by Bowen Appétit on August 22, 2011
After years of trying to perfectly recreate my grandmother's chocolate chip cookie recipe – tweaking ingredient quantities and baking method and everything else under the sun – I FINALLY DID IT.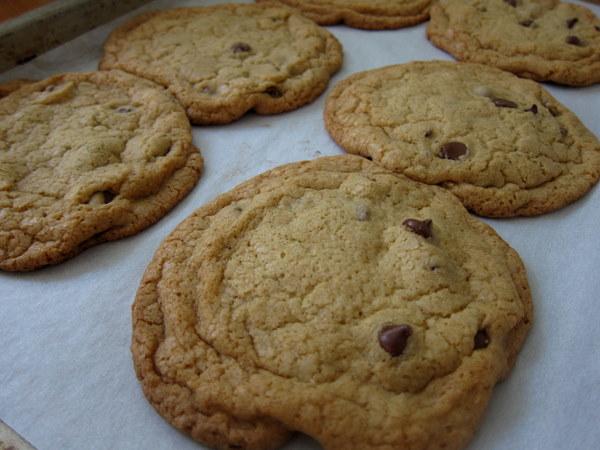 I've been getting closer and closer over the last year, and you can read Part I of the story here, including an explanation of why these cookies are so important to me.  There's even more about the cookies – sort of a prelude to the story – here. You can see this is kind of a big deal for me. There have actually been Parts II and III and probably IV of this saga that I haven't written about – there's only so much you can say about "hey, made those cookies again – and they weren't quite right for this or that particular reason, blah blah blah."
But all of that doesn't matter, because this is the definitive, Part FINAL post about my grandmother's amazing chocolate chip cookies.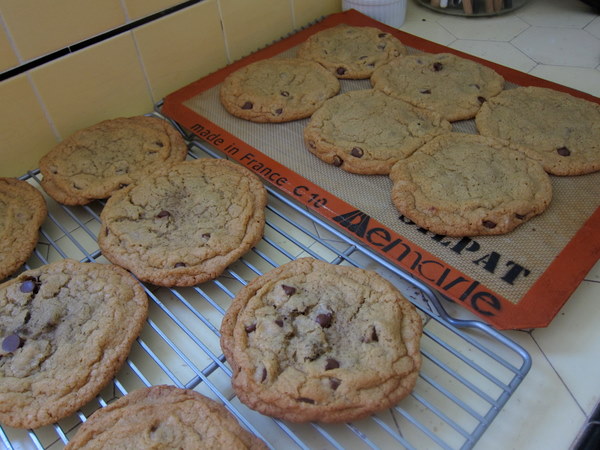 As I've distributed the batch, more than a couple people (people who really know their cookies) have told me that these were the best chocolate chip cookies they've ever had, which I don't hesitate to broadcast to the world because, yeah – I totally know these are the best chocolate chip cookies in the world.  And they're not mine – they're my grandmother's – so I feel completely comfortable telling you I made the best chocolate chip cookies in the world.
Not that I'm biased, or anything.
As I've mentioned before, it's the larger quantities of brown sugar (vs. regular granulated sugar) and vanilla that help make these cookies amazing. There's also something to said for size – in this case bigger IS better, not just because that means you have more cookie but also because it allows for a variety of textures within the landscape of a single cookie. Chewy on the edges, soft in the middle. It also means that the cookies often run into each other on the baking sheet, which sometimes causes right angles or even the rare completely square cookie that I always went for first when I was a kid. The seams where the cookies meet are even chewier than other edges – prime cookie real estate.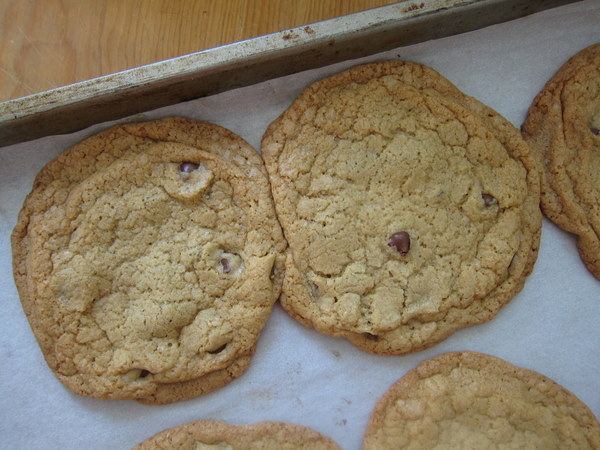 Gram's chocolate chip cookies

Makes about 30 large cookies (5 batches of 6 cookies on a conventional-size baking sheet)

Note: This recipe can easily be halved (or even quartered) to make fewer cookies. I transcribe it below in its original spirit, since no smaller batch has ever been made in my grandmother's house.

Note #2: You can also refrigerate (in the bowl or already portioned, for a few days) or freeze (portioned, almost indefinitely) leftover dough to bake it later. Bake at the same temperature and keep an eye on the cookies. From frozen, they will take an additional couple of minutes at least. But that said, I don't think the cookies are quite as good when the dough is chilled or frozen.

1 lb. (4 sticks) butter, melted and slightly cooled
1 cup (7 ounces) sugar
3 cups (22.5 ounces) brown sugar , lightly packed
4 eggs
1 Tbsp. (3 tsp.) vanilla extract (or vanilla bean paste)
4 1/2 cups (20.25 ounces) flour
2 tsp. baking soda
2 tsp. salt
12 oz. chocolate chips

– Preheat oven to 350F. Line baking sheets with parchment paper – you could also use a silicone liner, but I prefer (just barely) parchment for these cookies. You can see that I tried a batch with the silpat, but they didn't get quite the same crisp around the very edges.

– In a large bowl, stir together the butter and sugars until well incorporated. No need to cream together here – but a little extra stirring doesn't hurt. I prefer a wooden spoon, but you could use a hand or stand mixer on a lower speed.

– Add the eggs and vanilla, and mix until incorporated.

– Combine the flour, baking soda, and salt in a medium bowl. Mix into the wet ingredients.

– Mix in the chocolate chips.

– Scoop dough onto prepared sheets, using a #16 (2 oz., 4 Tbsp., 1/4 cup)  scoop – this will make mounds just smaller than a baseball. (You can make smaller cookies that are quite good, but you won't get quite the same lovely chewiness.)

– Bake for about 12-15 minutes, until the outer edges just begin to firm up and the middle appears and feels underbaked. The cookies will puff up as they bake, then deflate and firm up into a wrinkled/crackled appearance as they cool.

– Cool in the pan for a few minutes, then remove the cookies and parchment and cool on a wire rack (still on the parchment) for at least another 10 minutes. You can cool all the way on parchment if you want, or remove at this point.