Pumpkin seed mole (pipián verde)
I realized a few days ago that over the span of my cooking years (the last ten years or so) I've inadvertently drifted toward simplicity. I love vegetables, I love eggs, I love simple braises and pasta dishes. I love simple desserts that feature fruits, good dairy, or nice chocolate. I'd generally choose a simple stew and a hand-torn hunk of bread over a meticulously-plated meal of dozens of components, and if a meal is going to take hours to prepare I'd rather it be because it's braising or roasting away in the oven while I'm comfortably enjoying happy hour or socializing or reading a book or otherwise enjoying myself outside of the kitchen.  I can't imagine my life without the significant time I invest in food – writing, talking, planning, shopping, preparing – but over the years my feeling about cooking and food seem to have clarified around trying to appreciate and focus on the simple things. The beauty of a poached egg broken open on a pile of perfectly cooked greens; the brightening power of a huge handful of fresh herbs; the allure of caramelized edges; the power of a bit of acid, fat, or salt in transforming something humble into something revelatory. Much of the time, the joy of cooking is about finding opportunities to turn something simple into something really spectacular without adding complicated technique, expense, or effort-intensive time (and that's exactly what I love to share with students when I teach).
But sometimes, simplicity simply doesn't cut it. There are worlds of dishes and cuisines that require more complication – even if only because they're unfamiliar – and those recipes provide opportunities to learn something new, to invest a bit more in a meal to make it special, or to provide yourself with something you can't otherwise access.
This recipe is one of those. There's nothing inherently complicated about it, aside from a decent number of ingredients, but if you're not regularly making mole sauces at home or don't generally have a good stock of Mexican ingredients (and especially if they're hard to find), it presents itself as more of an investment. An investment solidly worth it, I might add, but an investment nonetheless.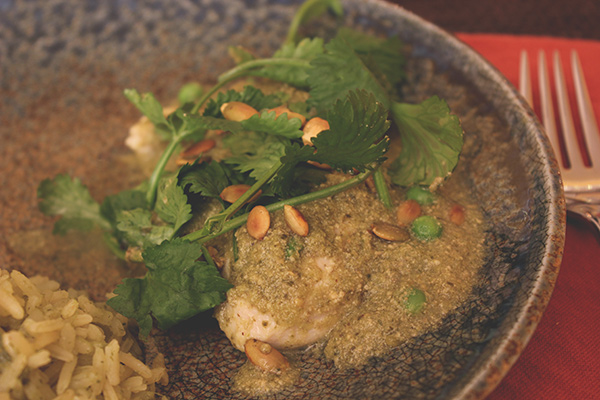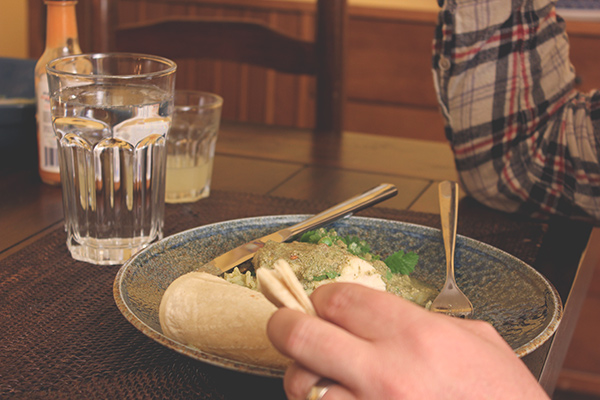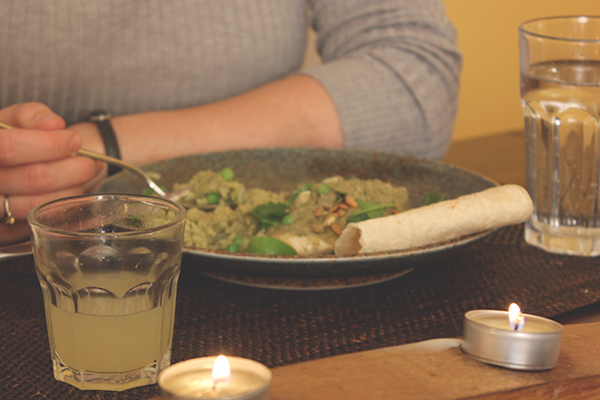 Particularly worth it for me because my nut allergy puts many moles into forbidden territory for me, making it almost impossible for me to eat them at restaurants unless I can really trust they know the ingredients. (And don't even get me started on the nuts vs. seeds conversation – even I don't know how to explain why I can eat some and not others.)
Pipián sauces, however, are generally safe. Pipiáns are a category of moles that generally utilize squash or pumpkin seeds instead of other nuts and seeds and that usually rely on herbs and other fresh ingredients, making them a slightly fresher and lighter alternative to heavier, darker moles. This one uses a huge range of flavorful ingredients including tomatillos, onions and hot chiles, cilantro, and even romaine or another flavorful lettuce, if you want. It's perfect for simply-cooked chicken or flavorful, hearty fish like salmon or trout, and is particularly great with peas, fresh cilantro, and crispy toasted pumpkin seeds as garnish. It would also make a great sauce for enchiladas, and leftovers go particularly well with omelets or other egg dishes.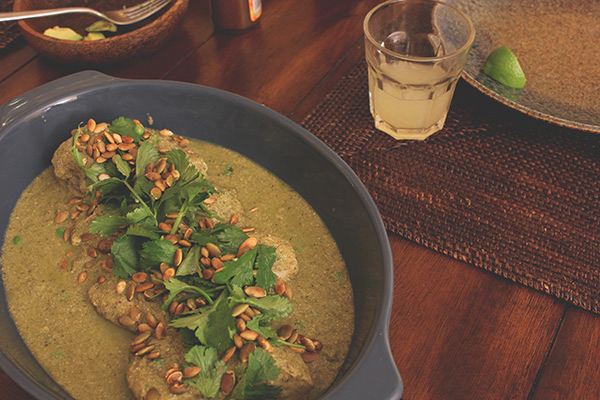 We served this at a dinner party earlier this week, and it was a great choice for a day when Brett had some time at home in the afternoon to get it started. It might be a little hard to get on the table after a day of work, otherwise, but some of the prep work could be done the night before if you wanted to spread out the process (alternatively, you can make it up to two days ahead of time and combine it with the meat/fish/etc. before serving). We served it with some arroz verde and corn tortillas, all preceded by a simple black bean soup garnished with crema and avocado. And margaritas, of course, with tequila and controy straight from the Yucatan.
Pumpkin seed mole (pipián verde)
Adapted slightly from Rick Bayless' Authentic Mexican

Depending on how much the sauce is reduced, makes 3-4 cups of sauce for 4-6 servings

Just over 1 cup (about 4 1/2 ounces) raw pumpkin seeds, plus more for garnish
3 cups chicken or vegetable stock, divided
Scant 1/4 tsp. cumin seeds (or full 1/4 tsp. ground cumin)
Small (around 1″) cinnamon stick (or heaping 1/2 tsp. ground cinnamon)
2 cloves (or a pinch ground cloves)
Around 6 medium (about 12 ounces) tomatillos, husked and washed (if you can't find fresh tomatillos, around 1 13-oz. can of tomatillos, drained, will work)
Around 3 serrano or 2 jalapeño chiles, stemmed and seeded
5 large romaine or other flavorful lettuce leaves (optional), torn into rough pieces
1/2 medium yellow or white onion, roughly chopped
3 cloves garlic, peeled
Full handful fresh cilantro, including stems
1 1/2 Tbsp. lard or vegetable oil (or other neutral cooking oil)
Heaping 1 cup frozen or fresh peas
Salt to taste

– Prepare pumpkin seeds Toast the pumpkin seeds in a dry medium skillet over medium-low heat. Stir or shimmy them around the pan constantly once the first one pops, until they're all or mostly browned and puffed (see the seeds used for garnish in the pictures above). Remove them from the heat and cool for at least a few minutes. Set aside a small handful for garnishing, then pulverize the rest in a spice grinder, small food processor, or powerful blender (we used our Magic Bullet). Mix in a small bowl with 1 cup of the stock and set aside.

– Prepare spices If using whole spices, toast them briefly in a dry pan over medium heat until fragrant, then pulverize (using a mortar and pestle, spice grinder, or other tool) and set aside. If using ground spices, simply measure out and set aside.

– Prepare vegetables Simmer tomatillos and chiles in salted water to cover until tender, about 10-15 minutes, and drain. (If using canned tomatillos, skip this step and simply drain them – don't worry about simmering the chiles.) Place in a blender or food processor along with the lettuce, onion, garlic, and most of the cilantro (set aside a small handful for garnish).

– Process vegetables and spices Add the spices to the vegetables and blend or process until smooth.

– Cook the sauce Heat the lard or oil in a large skillet or saucepan over medium heat. When heated, add the pumpkin seed-broth mixture and cook, stirring constantly, until it thickens and darkens (about 5 minutes). Add the vegetable puree and cook, stirring, for another few minutes.

– Simmer and finish the sauce Add the remaining 2 cups of chicken stock to the sauce and simmer, stirring occasionally, until thickened and reduced (this is fairly subjective – reduce as much as you'd like). Add the peas (if using) in the final minutes to heat through. Season with salt to taste (it could take quite a bit, since you haven't salted anything yet). If you're serving with cooked chicken or fish, you can add it to the sauce now to warm everything together (you can also just pour the sauce over whatever you're serving it with).

– Garnish with fresh cilantro and the rest of the toasted pumpkin seeds. 


Making ahead/storage: You can make the sauce up up to two days ahead of time; stop right before the peas are added and store it in the refrigerator in a closed container. Warm back up in a saucepan and continue with the recipe as written above, adding additional stock or water as needed to loosen the sauce as it warms back up. You can also make the meat or whatever you're serving it with ahead of time (as appropriate – some some fish and other items you wouldn't want to make too far ahead no matter what the recipe) and warm it back up along with the sauce.