Why I do what I do, plus Gram's oatmeal raisin cookies
by Bowen Appétit on May 16, 2014
Sorry for a bit of silence over the last week. You may have noticed there weren't Weekend Links on Monday. I apologize for doing that without warning or explanation! Bare with me for a moment, and you'll get both an explanation and a cookie.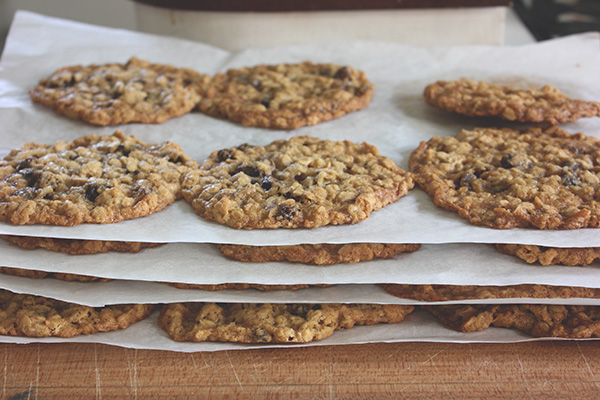 Next week I'm speaking at Ignite Madison, a story-telling event where participants give a talk based on a theme (in this case, "All About Food"). I'm speaking about eating joyfully and overcoming fears about food and cooking, and in the process of putting together the talk I've been thinking a lot about why I do all of this – why I love teaching, and why I have this site, and why I'm so eager to let it all eat up my evenings and weekends and keep my kitchen a perpetual disaster zone. All of the food work I've been doing over the past four years has been pretty consuming, in both good and bad ways. I spend a lot of time happily planning classes and daydreaming about the little kitchen I eventually want to open, but I also spend a decent amount of time feeling a little tired, a little self-conscious, a little confused about the whole thing, and sometimes even a little defeated.  It's hard trying to figure out what you want to do when you grow up, and sometimes it's even more difficult figuring out how to make a stable living out of it. 
So why do I keep doing it?
I do it because of those moments where I help people get really excited about food. I love helping people engage with their food and help them find joy in cooking, eating, and sharing meals. These experiences are powerful and connecting, and I love seeing how many different ways people find happiness in it. Food is a universal language, and a compelling tool for engaging people in all sorts of discussions and experiences. (That's really vague. What I'm trying to say is that food can be a great way to have conversations about topics that people never thought they'd have – in my case, the people, places, and stories behind the food.) This concept has been at the center of my work going way back to the research I did in college and graduate school, even if I didn't realize it at the time, and a lot of the past ten years have been about me figuring out how to make a living out of it.
There's a lot more I have to say about it, but I don't want to give away too much of my talk for Wednesday – if you're in Madison, buy tickets! If you're not in Madison, well – if it all goes well I'll post the link to the recorded talk after it happens next week. And my plan is write more about all of this as time goes on, so you'll hear more about it now and again.
And here's how it wraps back into this site and, eventually, to the cookies. Long story short, thinking about all of this has inspired me to focus a bit more on building my teaching business and on getting back to the original purpose of this site, which was to share my favorite, most reliable recipes and write some extended pieces on various culinary topics (like making pie crust and setting up a home bar). So you'll see a little less here in the coming months. I'll still try to post once or twice a month, but focus more on the recipes and ideas I really love and find some good ways to produce content that's educational and interesting and supports the classes I teach. I'll still share links I find interesting, maybe now and again as a dedicated post or wrapped into a recipe post, and more frequently on the Bowen Appétit Facebook and Twitter.  I've never really considered myself a "food blogger," even though that's obviously what this is, but it's easy to get sucked into that world and I've ended up a little confused about what I'm doing here and what role this site plays, when I've never really intended for it to be a money-maker or the main part of my business. 
So let's get back to basics! You might be surprised at how much we use this website as our home cookbook, constantly referring to it for our favorite dishes, and I love the idea that it can be a window into how we cook and what recipes we rely on to fill our table on a daily basis. These oatmeal raisin cookies are a perfect example of one of those favorites, and along with my Gram's famous chocolate chip cookies I've been eating them since before I can remember. In my first few confusing and lonely years of college, these were the cookies I'd request most often, and at the end of each visit back to Minnesota she'd thrust a box containing a double batch (that's four dozen very large cookies) into my arms as I left for the airport. I never had the heart to tell her that at the time I didn't have nearly enough friends to finish that many cookies in a reasonable amount of time, but let's just say that my Freshman 15 (more like 30) came more from boxes of these cookies and everything else she sent me than on dining hall food or late-night pizza.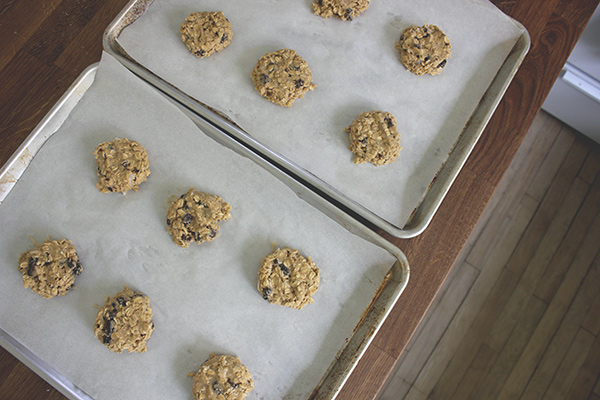 At most events my grandmother catered, these oatmeal raisin cookies were alongside the chocolate chip, each a foil to the other. The chocolate chip more rich and chocolaty by comparison, these more caramelized and toasty. (I would know – as a kid I'd often grab one of each to eat while I poured through a book in the back, waiting patiently for the end of the event.) These always strike people as the healthier option, what with the oats and raisins and coconut, but you can note that the basic ingredients and techniques are basically the same between the two. Like it's chocolate chip companion, this one features the melted butter and brown sugar that make the cookies tender and chewy even days later, and their size gives the same textural topography (crisp near the edges and soft in the middle, satisfyingly chewy in the zones between) as the chocolate chip ones I know a lot of you have adopted as your favorite as well.
So whether or not you want to convince yourself they're a bit healthier (it's easy to do; I would know), here's a cookie you might work into your home favorites as well.
Gram's oatmeal raisin cookies

Makes 2 dozen large cookies (4-5″ cookies using about 1/4 cup dough)

1 1/2 cups (6 3/4 oz.) flour
2 tsp. salt
1 tsp. baking soda
1 cup (2 sticks or 8 oz.) butter, melted and slightly cooled
1 cup (4 1/2 oz.) lightly packed brown sugar
1 cup (4 oz.) sugar
2 eggs
3 cups (12 oz.) rolled oats
1 heaping cup (around 6 oz.) raisins
1 heaping cup (around 3 1/2 oz.) shredded sweetened coconut

– Heat oven to 350F. Line baking sheets with parchment or silicone liners (parchment is nice so you don't have to wait to remove the baked cookies from the silicone before baking the next round).

– Whisk together flour, salt, and baking soda in a small bowl and set aside.

– Combine butter and sugars in a large mixing bowl. No need to mix beyond simply combining the ingredients.

– Add eggs into the butter-sugar mixture, stirring until just combined. 


– Add everything else First mix in the flour mixture until incorporated. Add oats, raisins, and shredded coconut and mix until spread throughout the dough.

– Bake cookies Scoop dough onto prepared baking sheets. These cookies are meant to be large, about 1/4 cup of dough each and should fit about six to a regular-size baking sheet. You can make them smaller, but the texture won't be as great and you'll want to reduce the baking time. Bake cookies for 15-18 minutes, rotating sheets halfway through. The cookies will be done when the edges are dark golden brown and start to look fully baked – the center will likely still look a bit underbaked and puffy. Let the cookies sit on the hot baking trays on wire racks for a few minutes before removing the cookies and parchment and using the trays to bake another batch. During those few minutes, the center of the cookies will deflate a bit and appear baked.

Storage/making ahead: Fully baked cookies will keep well at room temperature in a closed plastic bag or container for up to 5 days. They also freeze well for up to 6 months. (And taste pretty good directly from the freezer!)