Grilled fingerlings with bacon, ramps, and Dijon vinaigrette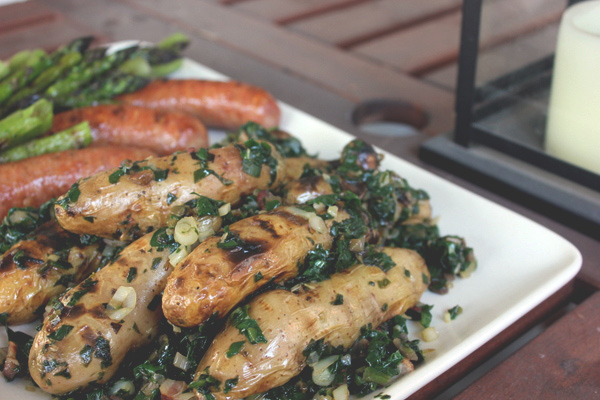 We're getting into the thick of farmers' market season, at least here in Wisconsin, and folks have started asking me about my strategies for shopping there and what to do with all the fresh produce. I always try to have a few things in mind beyond a simple "throw it on the grill," and being a little inventive with potato salad-type creations is a nice way to feature interesting produce. "Potato salad" can mean just about anything and be as simple or complex as you like – you can add bacon, sausage, smoked or tinned fish, boiled or soft-cooked eggs, pickled items, fresh tomatoes or corn, creamy or vinegar-based dressings. It's a nice base to think about using up items languishing in the back of your refrigerator or that you picked up at the market but don't know what to do with.
We picked up two bunches of ramps at last week's market (yes, another ramp recipe today), with no plan in mind, along with a fairly random mix of other vegetables and basics (like eggs – we can never get out of the market without at least one dozen eggs). I started dreaming up a rampy vinaigrette to toss on something, and focused my vision on the bag of wonderful Rose Finn fingerlings we picked up from Butter Mountain Farm, which appears to produce potatoes direct from heaven. (Side note: I'm generally not much of a potato enthusiast – don't actively dislike them, just generally don't get much excitement from them – but pregnancy cravings combined with Butter Mountain's incredible potatoes have me buying them every week!)
So I cooked two bunches of ramps with another one of my very favorite recent discoveries – bacon ends from Willow Creek Farm, available at Willy Street Co-op (among other places, I'm sure). Smoky, meaty, irregularly cut chunks of bacon that are perfect for adding to a pot of beans or dicing up into little nibs to add to a dish. I chopped up just about an ounce, cooked it somewhat to render out some fat, and added the ramps. This mixture was tossed with a bit of white wine vinegar (any salad vinegar will do), Dijon mustard, a bit more oil, and the potatoes, fresh from the grill. In hindsight, using just one bunch of ramps would have produced a bit more of a vinaigrette where we otherwise ended up with more of a bed of ramps under the potatoes, but I'm definitely, definitely not complaining about too many ramps in my meal.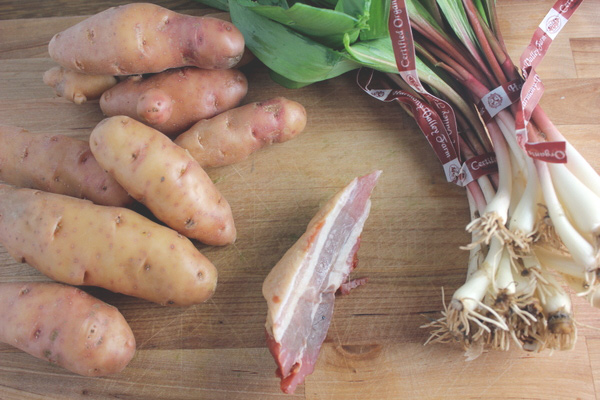 Together with a few grilled sausages from Conscious Carnivore and some market asparagus, we ended up with perfect and almost entirely local spring dinner, one of our first enjoyed out on the porch this year.
Grilled fingerlings with bacon, ramps, and Dijon vinaigrette

Makes 2-4 side servings

1 lb. fingerling potatoes (we picked up some fancy and very delicious Finn Rose fingerlings at the last market, but any fingerlings will do!)
1-2 oz. diced bacon, preferably diced from a chunk or otherwise from slices cut cross-wise (diced pancetta would also work)
1-2 bunches ramps, bulbs and leaves separated and both roughly chopped
Olive oil
Salt
1 1/2 tsp. white wine vinegar
Around 1/2 tsp. Dijon mustard

– Grill or roast potatoes There many ways to accomplish the same thing here, but our preferred strategy is to first par-cook the potatoes in a steamer, then rub with oil and salt and transfer to the grill to finish and get some nice browning and grill marks. If you don't have a grill, roasting the potatoes with a bit of oil and salt at 425F until tender will accomplish a similar thing. Or you can grill in a foil packet. I halved any particularly thick potatoes lengthwise, but otherwise kept them whole. You can do this or cook in chunks, which will cook faster and have more surface area for browning.

– Prepare ramps and bacon Add the prepared bacon to a medium skillet and heat over medium-high heat. Once the pan is hot and some fat has been rendered out of the bacon, add the roughly chopped ramp bulbs. (You may want to add another drizzle of oil here if the bacon isn't rendering enough fat to slick the bottom of the pan for cooking the ramps). Once the ramp bulbs are tender, add the roughly chopped ramp leaves and cook until wilted and all is tender. Taste for salt – the bacon will add some saltiness, but you will likely want more.

– Prepare vinaigrette and assemble Whisk together the white wine vinegar and Dijon mustard, along with a little splash of olive oil. There is oil on the potatoes and in the ramp mixture, so you may not end up needing more than that. Toss together the potatoes, vinaigrette, and ramp mixture, and add more oil if it things are looking dry. Toss in a pinch of salt as well, preferably the coarser "finishing"-type salt if you have it (e.g. Maldon, other flaky sea salt) – potatoes are starchy, and will require more salt than you think.

Making ahead/storage: Finished dish keeps well in the refrigerator for up to 5 days and can be reheated in a low oven, slowly on the stovetop with a bit of water in the pan to create some steam, or in the microwave. You may need to add a splash more vinegar and a bit more salt, as flavors tend to dissipate over time. You can also easily make the ramp mixture ahead of time (up to 5 days) to toss with freshly cooked potatoes.