Sweet and spicy caramelized pumpkin seeds (for salads, and otherwise)
If you've been around here for a while, you've probably noticed I like to use pumpkin seeds quite a bit (like with sunchokes, on free-form salads, with roasted vegetables, in muffins, always in my go-to granola, in chewy granola bars, in cookies). They're the best substitute I can think of for nuts, which I can't eat, and in their raw and unsalted form they're easy to add just about anything for a little extra roughage, protein, and nutty flavor.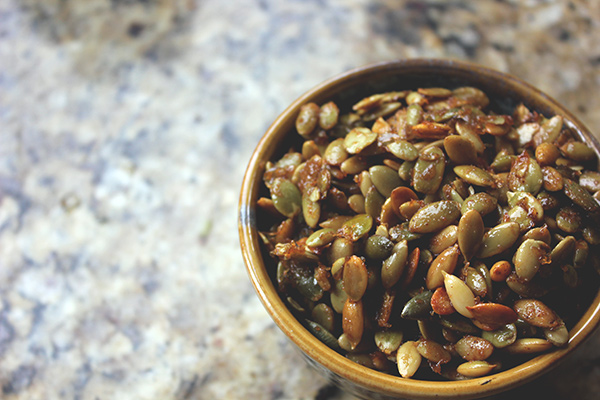 But these are no everyday pumpkin seeds. I mean, sure, you could eat them every day, and they're by no means difficult to make. But these are are pumpkin seeds gone luxury, coated in a sweet and spicy mixture of brown sugar, butter, and spices and baked until toasted and caramelized. They emerge from the oven crunchy, buttery, sweet, and spicy, and completely addictive. I made this batch to put on a salad for a dinner party at a friend's house, and together with leaf lettuce, roasted carrots, vinegar-soaked red onion, sugar snap peas, and a mish-mash of herbs from my mother-in-law's garden they were perfect. 
It also goes without saying that these do not have to make it onto your salads. They could go on roasted vegetables or tarts or a million other things, but what I'm really trying to get at is that they don't have to go on anything at all, because they make a pretty fantastic snack on their own. All you need in that case is a bowl, if you feel like moving them there from the baking sheet before popping them into your mouth.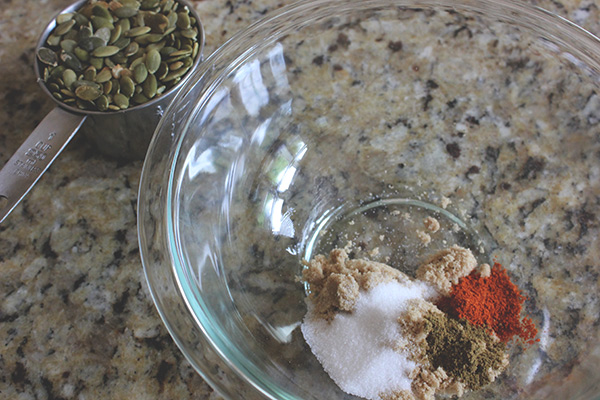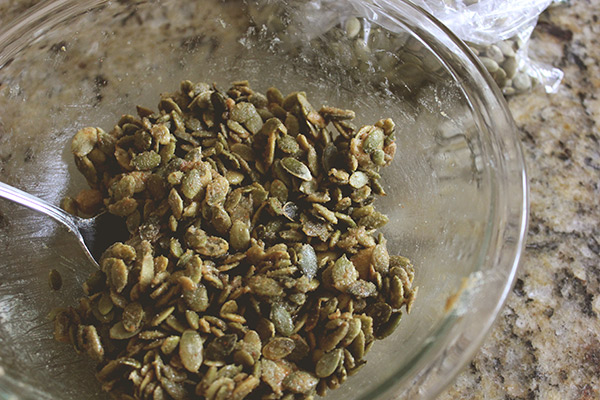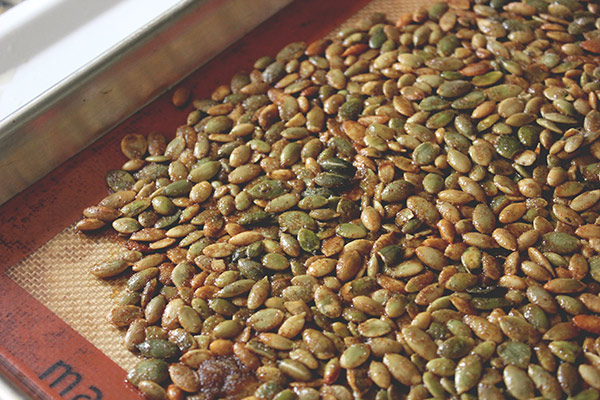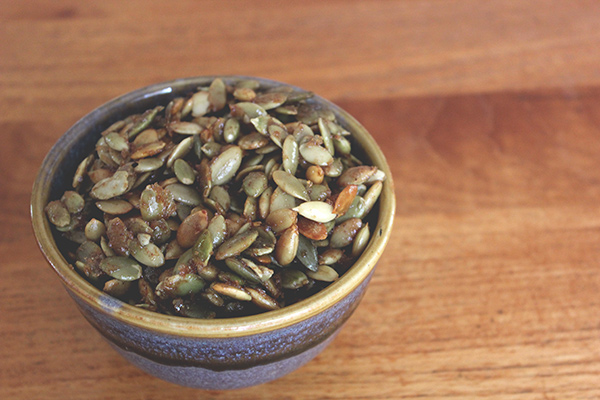 And it should be noted that while I specify cayenne and cumin below, there's a lot of flexibility here. For curried pumpkin seeds, think about things like cinnamon and turmeric, or straight-up curry powder. For wintery spiced seeds, think about cinnamon, cloves, allspice, nutmeg, and all those baking sorts of spices. Adding a sprig of rosemary, thyme or other hearty herb would also probably be really lovely (I'd add the sprigs to the pan before baking, then take them out when the seeds are cool). Or some of that smoked paprika I'm really into these days, which would give them a great smoky flavor. I also just realized I should think about adding some lime juice or zest to the cayenne-cumin combo, since a bit of tartness would be nice too. The possibilities are pretty endless, as you can see, and feel free to let me know if you have questions or ideas that could use some guidance.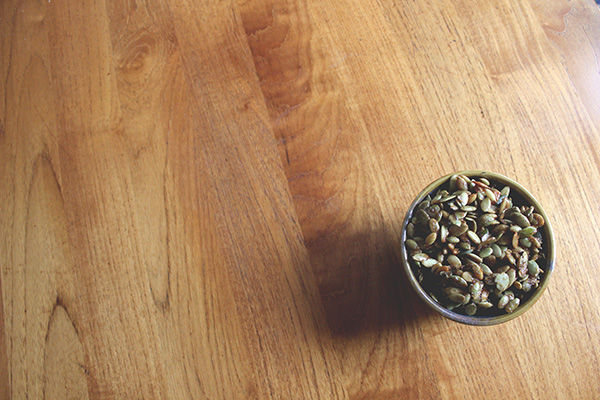 Sweet and spicy caramelized pumpkin seeds

The quantities below make 1 1/4 cup, which is quite a bit – probably enough for two or three main dish salads for 4-6 people. But they store well – in a sealed plastic bag or container they'll last indefinitely in the fridge or for about 1 week at room temperature or in the fridge. Just bring up to room temperature for serving. You can also easily scale down by dividing in 3, starting with a heaping 1/3 cup pumpkin seeds and using just a pinch each of the cayenne and cumin. 

1 1/4 cup unroasted, unsalted pumpkin seeds (aka pepitas)

3 Tbsp. brown sugar
3 Tbsp. butter, room temperature (melted and cooled will work in a pinch)
1 1/2 tsp. salt
1/4 tsp. cayenne
1/4 tsp. ground cumin (preferably whole seeds toasted and ground, but already ground is just fine)

– Heat oven to 350F. Line a baking sheet with parchment or a silicone liner, if you have it – these things help with clean up in case a bit of sugar burns at the edges.

– Mix all ingredients together in a small bowl and spread on the prepared baking sheet.

– Bake for 10 minutes or until the seeds are golden brown and things smell toasty and caramelized when you check them. Stir the seeds around a bit at the 5 minute mark, making sure to spread them back out again before you put them back in the oven. They'll be a bit gooey when you take them out of the oven, but as they cool they'll crisp up. You can easily break them up with a wooden spoon or your fingers.